A salary cap may finally be on the horizon for Major League Baseball. Without one, a small market team must hit more than they miss on drafting, developing, and trading.
The Pirates are one such team.
Word came out last week that Pirates pitcher Chris Archer would need another surgery, most likely ending his Pirates career and highlighting one of the worst trades in team history.
In light of the Archer news let's see why the last 15 years of Pirates baseball has continued a mostly downward slide, with only three wildcard berths to hang their baseball caps on. I know it's been 28 years since they had a division winner, but I just don't have the stomach to wade through that much slop.
Littlefield's Last Stand
2006 and 2007 were the dying days of the Kevin McClatchy/David Littlefield era. They were sort of the

Abbott and Costello of baseball management teams.
The last two drafts Littlefield was in charge of were headlined by Brad Lincoln and Daniel Moskos. The lack of talent acquisition in these drafts hurt even more because both years the Pirates selected fourth. They passed on the likes of Max Scherzer, Tim Lincecum, Madison Baumgardner, Matt Weiters, Andrew Miller, and Clayton Kershaw.
There were two more nails Littlefield drove into his own coffin.
The first was his acquisitions in 2006 of the geriatric trio of Joe Randa, Jeromy Burnitz, and Jose Hernandez. The three combined for just over 600 AB, 22 HR, and 81 RBI, which would have been respectable…for one guy!
The final nail was driven in when he inexplicably traded for pitcher Matt Morris in the summer of 2007.
Earlier that year, Littlefield made what looked like a shrewd deal to acquire power hitting first baseman Adam LaRoche. LaRoche did more damage when his teams were 20 games out of first place than any player in baseball history. Still, the move was viewed as solid and gave Littlefield the slightest of reprieves.
Then at the trade deadline the deal for Morris was squeezed in. On the surface it wasn't that bad. The Pirates only gave up Rajai Davis, who some how has managed to kick around the majors for 13 years. However, Morris came with a dead arm and a $10 million contract. The Pirates were in no position to take on that amount of dead money. By the middle of 2008 Morris and his 9.67 ERA were history.
This was an absolutely miserable period for Pirates fans. McClatchy saved baseball in Pittsburgh but could never find a GM with a winning vision.
To Littlefield's credit he did draft/sign Neil Walker, Andrew McCutchen, and Starling Marte. Those three would play vital roles for three playoff teams in the next decade.
Three Blind Mice
By end of season 2007, there was a new management team in place. Surely it wouldn't match the abject failure of the last regime. Welcome to the Bob Nutting/Neal Huntington/Frank Coonelly era.
This regime had a plan to spend more on the draft, and to a certain extent it worked. Through the 2015 draft, Huntington and crew picked the following players: Pedro Alvarez, Jordy Mercer, Robbie Grossman, Justin Wilson, Jameson Taillon, Gerrit Cole, Josh Bell, Tyler Glasnow, Trea Turner, Walker Buehler, Austin Meadows, Reese McGuire, JaCoby Jones, Adam Frazier, Cole Tucker, Mitch Keller, Kevin Newman, Shane Baz, and Ke'Bryan Hayes.
Huntington and staff identified some good players, but not enough. Moreover, as we will see, they were beyond lousy at developing the talent.
Mercer, Wilson, Grossman, Jones, and Frazier became solid, but not spectacular major leaguers. Only Mercer and Frazier remained with the Pirates for any length of time. Frazier, for now, is the incumbent at second base.
Hayes hasn't hit the big leagues yet, but is knocking at the door. Newman, Keller, and especially Tucker, haven't had long enough to prove themselves.
McGuire was actually added to a salary dump trade of Francisco Liriano. He may never become a high end catcher in Toronto, but considering the lack of catching talent in the Pirates organization it might be nice to still have his services.
Turner and Buehler were never signed and went back into the draft. Turner is now a star in Washington and Buehler is headed that way in LA.
Baz, Meadows, and Glasnow were shuttered to Tampa in the now infamous Chris Archer trade.
Pedro Alvarez was Huntington's first pick back in the 2008 draft. He hit some prodigious home runs while with Pittsburgh, but struck out way too much. Then he developed throwing issues at third base and proved he couldn't play first base either. He was traded to Baltimore to be a DH, where he was gone from baseball as fast as one of his errant throws flying into the stands.
Cole was the diamond of Huntington's drafts. He excelled in Pittsburgh, but not like he did after his trade to Houston where he was allowed to cut it loose. Worse, he was traded for a bunch of spare parts.
That leaves Taillon and Bell.
Taillon has dealt with more bad luck than any human should. Hopefully this time off is giving his arm a chance to get back to full strength. He easily becomes the Pirates best pitcher upon his healthy return.
A salary cap would help the Pirates retain a guy like Bell long term. He showed off all star power last season and a new coaching staff may help him improve his defensive shortcomings.
Again, you can't totally deny that some good players were drafted. However, mostly drafting near the top of the draft should have netted more high end talent.
Just as Littlefield provided the team with Starling Marte, Huntington brought on the mercurial Gregory Polanco, who still has an outside shot at being a difference maker. The problem is that much money was sunk into the Latin American pipeline and little was culled from it by Huntington and crew.
Free agency and Pittsburgh usually don't mix well, but giving every dog their due, Huntington was able to lure catcher Russell Martin to Pittsburgh. Martin was good on the field and even better off. He was a huge catalyst on the Pirates playoff teams. A year later Francisco Liriano would provide the pitching staff with a jolt.
Additionally, Huntington made some shrewd trades, starting in 2012, that helped push the Pirates into contention. Trading essentially nothing to acquire veteran AJ Burnett got the ball rolling. Using some of the spare parts left over from the last regime, Huntington picked up role players like Gabby Sánchez, Wandy Rodriguez, and Travis Snider.
During the lead up to 2013 Mark Melancon was acquired, and then at the August trade deadline Marlon Byrd and Justin Morneau were acquired. Byrd was key to the Pirates playoff push in 2013.
After that you thought maybe a seismic type of move would be made, but that move never happened. Vance Worley, Sean Rodriguez and Francisco Cervelli were the only players of note acquired during the 2014 calendar year. Cervelli was acquired to essentially replace Russell Martin in 2015.
A great move heading into 2015 was picking up Korean slugger Jung Ho Kang. He bashed his way into the hearts of Pirates fans everywhere. That move later backfired when Kang started online dating and driving drunk. Even the Korean League has suspended him from baseball. Add bad luck to the list of problems.
In 2015, when the team won 98 games but needed 100 to win the division, they picked up some serviceable players but no big guns. Guys like Joakim Soria, Joe Blanton, and J.A. Happ played important roles. As a matter of fact, they hit the jackpot with Happ, who when acquired looked like his career was over. They also picked up Aramis Ramirez exactly 12 years after they traded him to the Cubs in an infamous salary dump.
All of those deals fell in the category of give little, get little. Huntington was adept at those types of deals.
He did make a couple other trades that were beneficial.
In 2009, Huntington dumped Nate McClouth on the Braves and got back Charlie Morton and Jeff Locke. McClouth's career flamed out in Atlanta while Morton and Locke became starters in Pittsburgh. As would be the trend, Morton became much better after leaving Pittsburgh.
At the 2016 trade deadline, Huntington would trade an aging Mark Melancon for flame throwing closer Felipe Rivero, who later was known as Vazquez, who is currently known as Prisoner #32487. Another black cat crossing the Pirates path.
Then the questionable moves, many financially motivated, began. Check out this list of lousy moves:
Getting rid of aging Francisco Liriano's contract was fine. Throwing in two top ten prospects, regardless of how good they end up, was ridiculous.
Trading a solid second baseman for Jon "I haven't been good for years" Niese.
Trading Gerrit Cole, with more than a year left on his contract, for a bunch of spare parts.
Trading anything for another go around with Sean Rodriguez
Trading a good prospect in Taylor Hearn for malcontent Keone Kela.
Having a trade on the table with LA for Vazquez but holding out for too much. A trade of Vazquez would have made his legal issues LA's problem.
After making a solid trade to acquire Cory Dickerson, they trade him away for cash considerations.
In the interest of fairness, during this time period two good trades did occur. The first was sending Tony Watson to the Dodgers and getting O'Neil Cruz in return. Cruz appears destined for good things with the Pirates. Also, though you hated to see him go, getting Bryan Reynolds and Kyle Crick for an aging Andrew McCutchen was a pretty solid return.
Worst Trade Ever
I saved the, um, best of the worst for last.
As the trade deadline arrived in 2018, the Pirates were in pseudo contention. In reality, they had played above their heads for much of the first half of the season. They were held together by spit and baling wire and little to no star power. The wildcard era makes a lot of teams seem like they are "in it". Not to mention, since 2015 ended Pirates fans had been wailing—rightfully so— about the direction of the team. Tearing apart a 98 win team after 2015 rather than "going for it" didn't sit well, and fans protested by not attending games.
Consequently, Neal Huntington went for it. I've always wondered if he was pressured by ownership to do so. He traded high end talents Tyler Glasnow and Austin Meadows to the Tampa Bay Rays for former ace Chris Archer. Both Glasnow and Meadows had their struggles in the Pirates organization but immediately flourished once reaching Tampa. They continue to flourish and have cited the difference in organizational approach from Pittsburgh to Tampa. Oh, and just for the heck of it, the Pirates threw in their 2017 number one draft choice Shane Baz. Baz comfortably hits triple digits with his fastball, and has also mentioned a different approach in Tampa.
The 2018 Pirates immediately tanked, and Archer was somewhere on the adjective scale between abysmal and horrific. 2019 was no better, and word came down last week that he would need another surgery and be unavailable even if there is a season in 2020. I highly doubt the Pirates pick up his option year for 2021 since the buyout is only $250,000, though we are talking about Bob Nutting.
In the end, the Pirates traded two all star players along with a potential third star player for the services of what amounted to a batting practice pitcher for parts of two seasons.
Is this the worst trade in Pirates history?
Fans old enough to remember the Ralph Kiner era may beg to differ. The aforementioned Matt Morris deal and the Aramis Ramirez giveaway—no offense to Bobby Hill(who?) intended—are right up there. This trade is bad now, with a probability of getting much worse. If Glasnow and Meadows continue on their trajectory and even worse Baz becomes a star, this trade will easily be the most lopsided trade in Pirates history.
This is an image I've used before for the Pittsburgh baseball team, but it continues to be appropriate.
The poster child for this image has to be Lonnie Chisenhall. A guy who the Pirates actually drafted back in 2006, was signed as a free agent last season. He spent the entire season sitting on his La-Z-Boy "rehabbing" an injury and collecting his paychecks.
David Littlefield set the bar unbelievably low as a GM. Neal Huntington cleared the bar, but grazed it on the way over.
Awful drafting, poor player development, highly questionable trades, lack of spending, and some plain old bad luck keeps that black cloud hovering.
As an owner, Bob Nutting spends little, ties one hand behind his GM's back, and doesn't seem eager for a salary cap because with it will come a salary floor.
If new GM Ben Cherington continues on a path similar to Littlefield and Huntington, a path of ineptitude, maybe it's time for people to look somewhere else. Maybe it hasn't been a dim witted comedy duo or a group of stooges holding the organization back. Maybe the problem goes higher.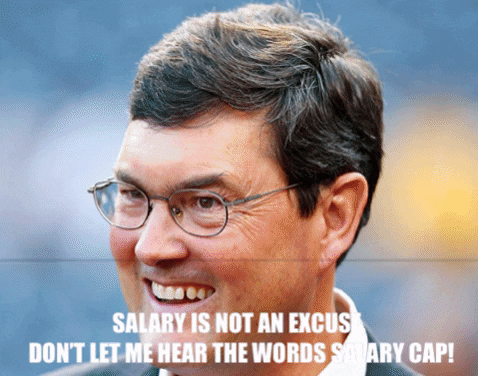 Time for a big change in baseball. And if Bob Nutting isn't on board, then it's time for a big change in Pittsburgh as well.
Two Cent Takes
Protest Fallout
~A group of NFL players released this video.
— Saquon Barkley (@saquon) June 5, 2020
Roger Goodell will now backtrack on his National Anthem rule for players. People will get bent out of shape. Life will go on. Deal with it and repeat after me: It. Was. Never. About. The. Flag.
~Drew Brees spoke. People got mad at him. Then he spoke again. People stopped being mad, but the President got mad. Then he spoke to the President. We all had a front row seat. Ain't social media grand?
~ESPN's Maria Taylor had the take of the week to express something as a white person I can't feel.
"Every time [prejudice] is revealed, and it's someone say you love or you've enjoyed covering, it hurts to your core. It's a death by 1,000 razor cuts. And that's how I feel when I heard about Jake Fromm."

—@MariaTaylor pic.twitter.com/9c5yf9i0ky

— First Take (@FirstTake) June 5, 2020
Football
~I was always in the Kordell Stewart fan club, so it was fun watching the replay the other day of the Hail Mary pass he made in the Big House back in 1994. He amazingly threw the ball 75 yards in the air. Plus it is always fun listening to a great call from Keith Jackson. Jackson always knew how much to say, which words to use, and when to go silent.
A Penny For My Final Thought…
Well, I've finally reached the breaking point.
This weekend I found myself watching a cornhole tournament. I studied each player's form, seeing if I could steal anything for my own backyard games. I was fixated on the telestrator—yes, I said telestrator—as the announcer analyzed potential strategic moves that could play out. I learned terms like four bagger, air mail, and double stack. And, boy, did they give a whole new meaning to putting it in the backdoor.
Then I snapped out of it, realized I was in too deep, and turned the channel to an episode of Two and a Half Men that I had seen 43 times.
I got through March Madness by doing some home improvement projects. I'm not good at them, so I'm not sure about the improvement. But they were projects, and they did fill my days.
The NFL was kind enough to put on its draft, so I didn't really notice baseball not starting up. Since then I've done plenty of landscaping projects, and haven't truly missed baseball.
Lately, though, I feel like I'm climbing the walls. I'm sick of the news. I'm really sick of politics. I'm sick of mean people. I'm sick of dumb people. Obviously that means I'm sick of social media. I'm sick of cooking. I'm sick of reorganizing things. I can only mow the grass so often!
SOMEONE GET ME SOME DAMN SPORTS TO WATCH, AND IT BETTER NOT BE ANY BACKYARD TYPE GAME!
I figured it out. I'm not just a sports fanatic. I'm an addict.
I need a fix.
No, I'll make it. I'm going golfing today for the first time all year. I'm sure a few duck hooks and three putts will level me out.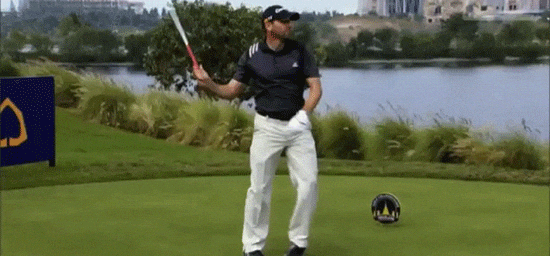 Just my two cents…