Fourth of July.
Hot dogs, apple pie, fireworks, and baseball.
I chose cheeseburgers over hot dogs off the grill. I chose ice cream over apple pie. Fireworks were cancelled. By God, virus or no virus, I was making sure there would be baseball.
Cue my favorite baseball movie of all time, Major League.

Quite literally I've seen this movie 100 times, since seeing it for the first time in the theater back in 1989. It never fails me.
When Lou Brown pumps his fist and tells his team to take the field for the playoff game against the hated Yankees I still get goosebumps. The goosebumps don't leave until Bill Medley starts crooning "Most of All You" as the credits start to roll.
Comeback. Walk off. Championship. Pretty good script for a baseball movie, or the real thing for that fact.
F*** you, Jobu
Pedro Cerrano worshipped Jobu the entire movie. Cerrano thought Jobu helped him hit. It prompted one of the classic lines early in the movie when longtime pitcher Eddie Harris quipped, "Are you saying Jesus Christ can't hit a curve ball?"
Late in the game the Indians found themselves down two when Cerrano scolds Jobu for not helping him, and then he hits a two run blast anyway to tie the game. Lugging his bat around the bases on his home run trot had the crowd going crazy.
The comeback was on.
I hate this f***ing song
With the score tied in the top of the ninth, the Indians find themselves facing a bases loaded jam. Veteran Eddie Harris was running on fumes. Brown elects to pull him in favor of flamethrower Ricky Vaughn.
This leads to one of the most iconic moments in a sports movie. Vaughn comes stomping from the bullpen with the song "Wild Thing" blaring and the crowd going berserk. The scene prompts cheapskate owner Bob Nut…er…Rachel Phelps to angrily state her feelings about the song.
Vaughn pulls his best Al Hrabosky before blowing three fastballs by his nemesis Clu Haywood. Pete Vuckovich, one of the few actual baseball players in the film, played Haywood. From the slow motion tobacco juice spit to the trash talk coming from catcher Jake Taylor, this was an iconic sports movie scene.
A three pitch strikeout, accompanied by a Vaughn fist pump, set up the dramatic bottom of the ninth.
Where you going, Meat?
In the bottom of the ninth, Haywood asks the question of speedster Willie Mays Hayes after he reached first base with a two out infield single.
Willie's reply, "About 90 feet."
Hayes steals second, sliding in just ahead of the tag. If replay were in place the call may have been overturned. But then the walk off could never have happened.
Jake calls his shot
With Hayes now at second base, team leader and veteran catcher Jake Taylor has an idea. His plan is a run and bunt.
First, though, he points ala Babe Ruth to "call his shot". After being knocked down by an irritated Duke Temple, played by former Major League catcher Steve Yeager, Taylor lays down a bunt.
The bunt catches the third baseman off guard. Taylor narrowly beats the throw at first. Meanwhile, Hayes never stops running and screams for home. Haywood notices and throws a strike to the catcher. Of course, Hayes slips a foot across the plate before the tag.
The celebration ensues, while announcer Harry Doyle, played by legendary Bob Uecker, makes a fantastic call.
In the end, the underdog wins. For good measure, the guy gets the girl in the end. It's a giant bonus that the girl is Rene Russo, still gorgeous at 66 by the way.
My Fourth of July baseball fix was satisfied.
The same goosebumps the movie gives me, I get from a great Pirates comeback or walkoff.
Note: Andrew McCutchen was really good.
Let me give the other side of the state equal goosebumpery.
Note: Harry Kalas was really good.
So faced with the grim reality of no Fourth of July baseball, I turned to old reliable.
Time after time after time, Major League delivers. It never lets me down, unlike the real baseball team I cheer for. Come to think of it, the movie probably entertained me far more than if I was watching the Pirates play.
Talk about a team that needs to channel Jobu.
Two Cent Takes
Golf
~Bryson DeChambeau is a real piece of work.
Called out for slow play by many of the actual popular golfers last year, DeChambeau basically just stuck up his middle finger at them and all of the golf world. There is no excuse for marking a ball twice, checking your book, and plumb bobbing all from three feet.
This year he has bulked up to the point that his biceps look at Brooks Koepka's biceps and giggle. He loves to tell everyone how far he is hitting the golf ball. He loves to let out a "crushed it" on the tee. He uses questionable equipment, videos his workouts and protein shake breakfasts, and is forced to tell you what a great guy he is. You see, the rest of the golf world can't stand him.
Saturday he hit a so-so bunker shot, then took an angry swipe of sand ala Sergio Garcia, another (ahem) popular guy on tour. DeChambeau followed with a tirade directed at a cameraman who caught his act on film. DeChambeau felt it is bad for his public image. No, pick yourself off the floor. He actually said that.
He's big, he's bad, he's hitting bombs, but some guys just can't pull off wearing the villain's black hat. DeChambeau is one who can't. We don't love to hate you, Bryson. We just hate you.
~Having said all of the above about DeChambeau, he is changing how golf is played. His power was on display in winning at Detroit this week. DeChambeau is regularly hitting the ball 350+ yards off the tee. He is reaching 400 yard par 4's off the tee. He hit an 8 iron 231 yards out of the rough Sunday to reach a par 5 in two. And he isn't even a good wedge player. If he gets that in line, look out.
20 years ago courses, including Augusta, had to "Tiger proof" their layouts because he hit the ball too long. Maybe it is time to take a look at the equipment being used, including the golf balls. You can't just keep making courses longer. DeChambeau is giving golf something to think about.
College Basketball
~Five star recruit Makur Maker could have gone to Kentucky. He could have gone to UCLA. Instead, Maker announced he was committing to Howard University, a predominantly black university.  Certainly not a college basketball powerhouse. In the wake of the social unrest, will other top tier black athletes take this approach. Basketball would be the most likely sport for this to happen because these players are going to be gone after one year. What they can do for one of these schools in that one year could be immense.
~Kansas will have its infractions case moved to independent review. This is a relatively new system put in place by the NCAA for complicated cases. Why does this feel like the NCAA is trying to get enough people to view the case until somebody deems Kansas, a blue blood program, shouldn't be punished?
College Football
~More positive COVID-19 tests are coming each day. Some schools have shut down workouts. How they expect to play a season when they can't even stay on the practice field is beyond me.
Sandy Barbour, Penn State Athletics Director, said spring football would be a last resort. To quote Charles Dickens, "Never say never."
~Mike Gundy has been under fire for the past month. He avoided getting the axe at Oklahoma State, but he is taking a one million dollar pay cut. He is in a position where he can't be socially and culturally unaware. He is, however, and he probably should have been fired. I have no idea how he will recruit black players moving forward. Oh well, hopefully he will survive on his $4.25 million reduced salary.
NHL

~It looks like the league is eyeing Toronto and Edmonton for its two "hub" cities. I was positive Las Vegas would get the call, but a recent spike in Covid-19 cases has players and league officials looking elsewhere.
NBA

~I'm generally not a big Stephen A. Smith fan, but this is pretty funny. One more problem for the "Bubble".
Stephen A Smith on NBA players breaking the Disney Bubble because they're going to be sexually frustrated and need to go out for "recreational activities"… pic.twitter.com/trgMrAUeAl

— gifdsports (@gifdsports) June 30, 2020
Okay, so there is that. Oh, and the "Bubble" thing is reportedly going to cost the league $150 million. So much for making up for lost revenue.
2019-20 Season: Pull. The. Plug.
A Penny For My Final Thought…
Some Fourth of July traditions were maintained.
Unfortunately.
Remember from this very space two years ago: Sport or no sport?
Thought of this from two years ago when I saw that idiotic hot dog contest referred to as sport. pic.twitter.com/4n5XsuASsJ

— Tim Clark (@TrojanTim66) July 5, 2020
So to review, mini golf is a sport. It has a ball and club involved.
Competitive eating is, and never will be, a sport. Shoving hot dogs in your mouth as fast as possible does not make you an athlete. It makes you a disgusting pig.
Exhibits A and B.
Im not sure why ESPN thinks it is a good idea to cover this event and pass it off as a sport. Worse yet they continue to compare these two idiots to actual great athletes.
Every year ESPN displays this updated chart.
No, just no. And for the love of John Candy quit referring to this clown as the 🐐. Actually can we quit using that term, and/or symbol permanently. It is a touch overused.
Speaking of John Candy, everyone knows the G.O.A.T. for competitive eating.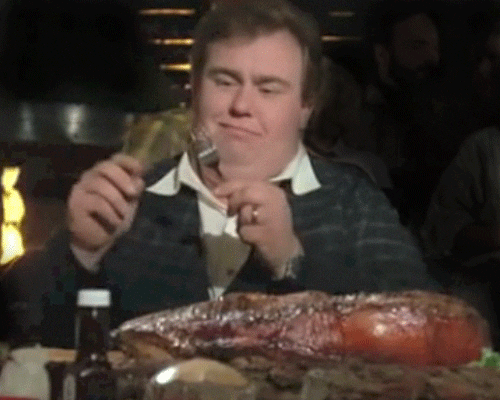 Let me see lil' Joey handle the old 96er. Then we'll talk.
Just my two cents…