I woke up this morning, ran to the calendar, and gleefully tore off the page. I stared at the new page for a moment and soaked it all in. March. Which means Madness. Which means joy. Great joy.
As basketball junkies we were robbed of our great joy last year by COVID-19. With COVID-19 still lingering in the air, it wasn't a given we would get to this point. As a matter of fact, in December I was one of many speculating whether they should be playing college basketball. 
But here we are. With crossed fingers and toes that nothing virus related derails this year's Madness. 
As much as I love "The Big Dance" it is all of the little dances the next two weeks that get my juices flowing. It is here that the Madness begins. Every team, regardless of how great or how awful their season has been, has one last chance to experience glory. One last chance to slip on a pair of dancing shoes.
With the threat of the virus still hanging over teams' heads, some conferences moved their tournaments forward a week. Maybe there won't be fans storming the court, but the change in schedules will bring us Madness a little earlier. And I'm all for it.
The power conferences still have one more week of regular season games. Some of the smaller conferences have already started the fun. Meanwhile I don't remember a season where so many bubble teams are doing their best to pop their own bubble. That fact may allow a couple more of the "little guys" to sneak a bid this year. 
Let's look at who are the best bets to get a ticket to the dance. 
The "Little Guys"
Atlantic Sun 
Best Bet: Liberty
Don't forget: Bellarmine
Unfortunately Bellarmine is not eligible in their first year of Division I play for the tournament, so this becomes the Liberty Invitational. Liberty is turning into a sports factory.
American East
Best Bet: Vermont
Don't Forget: UMBC
Three years ago UMBC shocked the world as a 16 seed upsetting 1 seed Virginia. They split the season series with Vermont this year. I favor the Catamounts because the coin I flipped came up tails. If Vermont advances, their first round NCAA Tournament game will be their first out of conference game of the season. 
American Athletic 
Best Bet: Houston
Don't forget: Wichita State
Houston is in—and a high seed—regardless of what happens here. Wichita State, SMU, and Memphis probably need to win the tournament. The Shockers just had their beloved interim coach, Isaac Brown, named permanent head coach so they are riding a high.
"Now, let's get to business because we have a championship to win."

🗣 Head @Coach_IBrown pic.twitter.com/K4N4qIwBkv

— Wichita State Men's Basketball (@GoShockersMBB) February 26, 2021
Houston may not play with the same intensity, considering they don't need this. Don't be surprised if the Cougars stumble.
Atlantic 10
 Best Bet: VCU
Don't Forget: St. Bonaventure
Both teams will most likely make the field regardless of the outcome of this tournament. VCU has been tested by good competition far more than the Bonnies. If you believe rumors, VCU head coach Mike Rhodes might be Penn State's next head coach. The Bonnies will get in, and you could argue for Richmond as well.
Big Sky
Best Bet: Eastern Washington
Don't Forget: Weber State
I'm pulling for Southern Utah because they are known as the Thunderbirds. Otherwise, get your lucky coin out to predict this one. Eastern Washington has been slightly better than the others in the regular season.
Big South
Best Bet: Winthrop
Don't Forget: Campbell
On paper this looks like a Winthrop scrimmage session. The Fighting Camels from Campbell are on fire right now, so don't count them out. Winthrop could make life miserable for a higher seed in the NCAA Tournament.
Big West
Best Bet: UC Santa Barbara
Don't Forget: Hawaii
UCSB is clearly the best team in the Big West. Hawaii is middle of the pack, but a veteran team. The Rainbows have players from Australia, Belgium, Montreal, oh, and Idaho. Sometimes that plays well in tournament play.
Colonial Athletic
Best Bet: Northeastern
Don't Forget: Delaware
This conference has been devastated by COVID-19. Limited games for all makes it hard to figure out. Northeastern played a tough out of conference schedule and is most prepared for tournament play. The new President is from Delaware, and although the Blue Hens haven't played for a long time they may have some top level secret intelligence to bring to the table.
Conference USA
Best Bet: Western Kentucky
Don't Forget: North Texas State
Old Dominion, UAB, and Louisiana Tech will all have high hopes of winning this one. I favor the Hilltoppers and tournament primed coach Rick Stansbury. Stansbury has been to six NCAA tournaments, and he is looking for his first at WKU. The Mean Green of North Texas could be a sleeper.
Horizon
Best Bet: Wright State
Don't Forget: Cleveland State
Wright State is the best team in this weak league and should win. Mouse McFadden isn't walking through the door for Cleveland State, but they should be a reasonable bet to challenge. This league will maybe be just good enough to escape the First Four.
Metro Atlantic
Best Bet: Siena
Don't Forget: Iona
The Saints of Siena are better. The Gaels of Iona have Rick Pitino on the sidelines. This isn't a good conference, but usually provides a topsy turvy conference tournament. Bet on this conference tournament at your own peril, but I'd hate to go against Pitino.
Mid-American
Best Bet: Toledo
Don't Forget: Ohio
Toledo took on some heavy hitters in the non-conference schedule, which got them ready for the return of the MAC. They are odds on favorites, but will have several challengers from Akron to Buffalo. Let's not forget Ohio, who has the world renown Jed Donahue as part of its alumni.
MEAC
Best Bet: Norfolk State
Don't Forget: Morgan State
A conference destined to be stuck in the First Four play-in game, it is really hard to say which team will stick its head out of the mud. Norfolk seems likely, but so do three or four other teams. Good luck picking this one.
Missouri Valley
Best Bet: Loyola
Don't Forget: Missouri State
Loyola is in. With all of the power conference bubble teams playing their way out of the tournament, I think—win or lose—Drake will join Loyola in the NCAA Tournament. Keep an eye on Missouri State trying to steal either a third bid or Drake's bid. Keep in mind that the number one seed has NOT won this tourney in five years.
Mountain West
Best Bet: San Diego State
Don't Forget: Utah State
You can argue that the MWC should be a four bid league. San Diego State, Boise State, Colorado State, and Utah State are all in the NET top 50. I like San Diego State the most, and I would keep an eye on Utah State. The Aggies are back to back tournament champions, and have a ton of juniors that were a part of those two teams.
Northeast
Best Bet: Bryant
Don't Forget: Wagner
This is another conference that will be part of the First Four play-in bracket. Bryant is the best team. Wagner is close. Another shot in the dark as a bettor here.
Ohio Valley
Best Bet: Belmont
Don't Forget: Morehead State
Belmont is the favorite for sure, but Morehead just beat them for the first time in a four years. Getting that confidence boost prior to the conference tournament is big. Though Belmont has an impressive record, it will need to win the conference tournament to gain a bid.
Patriot
Best Bet: Colgate
Don't Forget: Navy
Colgate shows the Covid effect with the NET rankings this year. They are ranked 10. 10. Ten. X. Wow. This is probably a play-in First Four league. That fact makes one question the efficacy of the NET. Keep an eye on the military schools. Navy and Army are both capable of taking this bid.
Southern
Best Bet: Furman
Don't Forget: UNC Greensboro
Greensboro will get the top seed, but Furman is the best team. This isn't a great year for the SoCon, so it is a little more difficult to handicap. Who doesn't love a Paladin?
Southland
Best Bet: Abilene Christian
Don't Forget: Nicholls State
This league has four really even teams at the top, so I'm throwing darts here. This league has a history of making life tough on a two or three seed in the first round of the Big Dance, so don't sleep on these teams.
SWAC
Best Bet: Prairie View
Don't Forget: Jackson State
This is most likely another First Four conference. These two teams are unbeaten in conference as I type this, so take your pick.
Summit
Best Bet: South Dakota State
Don't Forget: South Dakota
There is a really high likelihood this trophy will end up somewhere in the Dakotas. It will most likely end up in South Dakota. I'll take the Jackrabbits to outrun the Coyotes.
Sun Belt
Best Bet: Texas State
Don't Forget: Coastal Carolina
Texas State's interim coach Terrance Johnson was out with COVID-19 for their regular season clinching game.The team greeted him while he was sitting outside the arena in his car.
There were a ton of good moments to post, but none greater than this one. Shoutout to our leader @tjjohnson1010! #ComebackStrong #EatEmUp😼 pic.twitter.com/b30qeG4Bl8

— Texas State MBB (@TXStateMBB) February 27, 2021
Imagine the celebration if they get to the tournament.
Don't sleep on the Coastal Carolina Chanticleers. They were a basketball school before they were a football school.
West Coast
Best Bet: Gonzaga
Don't Forget: BYU
This is all Gonzaga. I said they would be undefeated going in to the tournament, and I'm certainly not moving off that prediction. BYU will get a bid as well.
WAC
Best Bet: Grand Canyon
Don't Forget: Utah Valley
I'm taking the Antelopes to outrun the Wolverines in this conference tournament. Bryce Drew took over for Thunder Dan Majerle—in a messy coaching change—and he knows how to reach the tournament.
Next week I will put my big boy pants on and check in on the big boy conferences. I'll keep the same format, but take a deeper look through the entire conference to see who's in, who's out, and who better have some Maalox come Selection Sunday.
For now, you get my one part analysis, one part throwing darts in the dark look at the start of the tears, jeers, and cheers that bring us the elimination process known as March Madness.
Go ahead, turn the page on that calendar and revel in the knowledge that the Madness is upon us. Oh, and get those dance moves ready just in case.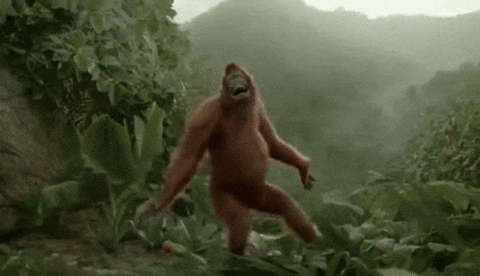 Two Cent Takes
College Hoops
~Lots of talk about the struggles of the "blue bloods". This week:
Kentucky went 0-1with a cancellation to Texas A&M and a loss to Florida. At 8-14, John Calipari should be glad the season is winding down. 20 losses may have sent him over the edge.
Michigan State has been playing tough, Tom Izzo type basketball of late. Sunday, they ran into a hot Maryland team on the road. Sparty took it on the chin, and Michigan State may still have work to do. They play Indiana and Michigsn twice. Indiana is a must win, and will officially bury the Hoosiers, and a split with Michigan would be helpful. I still think the Spartans will get in.
Duke has been rolling since Jaylen Johnson left town. Saturday, despite getting tons of calls, the Blue Devils lost to an equally needy Louisville team in overtime at home. Much like Michigan State, I still think they get in the tournament if they close strong.
Here is just one of the calls that made life easier for Duke.
This was overturned to give Duke the ball back. pic.twitter.com/ipLaIsZ56a

— Tyler Greever (@Tyler_Greever) February 28, 2021
It was called a double dribble. Then the call was overturned. I've never seen a double dribble overturned, and apparently Louisville coach Chris Mack hadn't either as he got a bench warning for his complaints. Any more questions as to why i root vehemently against Duke?
.@LouisvilleMBB gets the OT dub in Cameron Indoor 🔴⚫️ pic.twitter.com/j8hAVWhfmK

— ACC Network (@accnetwork) February 28, 2021
~Louisville could have caved after getting demolished by 45 at North Carolina last week. They came back with two wins to stay on the correct side of the bubble. Carlik Jones is the best transfer in the country. He could win ACC player of the year. Another example of why the grad transfer rule is a good one.
~Speaking of officials, the refs have been keeping the whistle silent the last couple of weeks. I hate this theory. Call the games the same all year. A foul is a foul is a foul. Lately, games have gotten pretty rugged. Coaches and players, alike, have been T'd up while voicing their requests for fouls to be called.
~Colorado beat both LA schools rather handily at home this week. Keep an eye on the Buffs out West.
~I like Mick Cronin. I've always liked Mick Cronin. Here's an example of why like him so much in a series of pictures from Saturday night.

This was a huddle late in UCLA's loss to Colorado. Berate, make a player cry(or laugh), stare him down, berate official for a terrible call, put mask back on for compliance. All in one huddle. For the record, his team plays hard for him as have most of his teams over the years.
~I said back in early February that Gonzaga would go undefeated in the regular season and Baylor would lose one along the way. Gonzaga still has work left, but Kansas took care of Baylor. Scott Drew always makes me nervous come March.
~In 1985 three Big East teams reached the Final Four(Villanova, Georgetown, St. John's). It isn't out of the realm of possibility that we could see a Big Ten Invitational this year. Iowa, Illinois, Ohio State, and Michigan all have the ability to win four to get to the Final Four.
~Dan Dakich is a jerk. I would love to see ESPN finally can him. He is arrogant, self righteous, and abrasive. Not exactly endearing for an announcer. He has said offensive things before, especially on his radio show. He did it again this week, causing yet another crap storm. He shut his Twitter page down Sunday morning but had a epiphany in church(yea, I can't make this up) and turned it back on. This isn't cancel culture, like ridiculously changing names of schools named after George Washington and Abraham Lincoln. This is getting rid of a jackass. The point he was trying to make was fair enough, but he went after the guys appearance as a way to mock him. Does Dakich think he is some Adonis. He does this stuff because he thinks he is smarter, tougher, and apparently better looking than everyone else. It's his shtick. It's tired…so tired. Get rid of him and do us all a favor.
Baseball
~I will get in to more baseball as we get closer to opening day. I did see this gem from the opening day of spring training games.
"Angel Hernandez is in the midseason form" pic.twitter.com/EdJhr3xJIO

— Tony X (@soIoucity) February 28, 2021
Kudos to the Cardinals announcers. How Angel Hernandez is still a MLB umpire is a total mystery.
A Penny For My Final Thought…
Golf will be just fine, but what about Tiger Woods?
Tiger was in a one car accident last Tuesday that left him with a crushed lower leg and ankle that required hours of surgery. Rods and screws were inserted, and to the laymen like me it sounds like it will be really difficult for Tiger to play golf at a high level again.
I thought Tiger's bad back would allow for one more major title. As recently as last week it sounded as though playing The Masters was going to be unlikely. A bad back can be devastating to a golfer. Just ask Fred Couples. Tiger's back problems were severe. Only someone of strong mind, will, and body can come back and play championship golf with a back that can't be trusted.
Now what?
Tiger is 45, so Father Time was chasing him down anyway. Then the back. Now a leg that was crushed in an accident.
Of course, thinking about golf for Tiger isn't all that important right now. Rory McIlroy said it best.
As for the PGA, things are more than okay. Check out the leaderboard mid way through Sunday afternoon.
That leaderboard includes last year's rookie of the year(Scheffler), Mr. Top 5(Finau), a kid that probably doesn't shave yet but is super good(Hovland), maybe the best player in golf when healthy(Koepka), and the winner this week( and also a future best player in the worldMorikawa).
Morikawa becomes just the second player to win a World Golf Championship event and a major(PGA Championship) by age 25. The other player…Tiger Woods. A very classy move by Morikawa in the post round interview. While shedding a few tears he thanked Tiger Woods for all he has done for golf and its current group of players.
Many players woreTiger's patented red and back Sunday colors. Clearly, Tiger has transformed his career. He has gone from distant to approachable. He has become a mentor to many of these young players.
It sounds like Woods will be fine. I would think we will see him around golf, whether on the course or occasionally in the booth. If anyone can overcome an injury like this to play again it would be Tiger. If not, we still have all of the memories.
Tiger or no Tiger, the PGA has a ton of players for fans to latch on to. They are young and really good. The equipment is an issue, but that shouldn't take away from the skill these players have. And, yes, the strength. Maybe there is another Tiger in the group. If not, who cares? Enjoy the talent that so many of them have.
I hope Tiger recovers fully, but in the meantime there are plenty of great players to hold down the fort.
Just my two cents…