The Tennessee Titans are Steelers fans new second favorite team.
Last week the Titans were matched up with the hated New England Patriots. Steelers fans(and most outside the Boston city limits) were wondering if maybe, possibly, would it be too much to ask, could the Titans finally drive a stake through those dreaded Patriots.
Titans 20 Patriots 13. ✔️
This week Steelers fans(and all Harbaugh family haters) had an even bigger ask. Could you beat those ratty bleepity bleeping birds from Baltimore? We know, we know. The Ravens have Mr. All World at quarterback. He's "changing the game". They have been resting for two weeks, and will have a rabid crowd. Just see what you can do because there is nothing worse than listening to your rival fans celebrate playoff success.
Titans 28 Ravens 12. ✔️
Okay then.
Maybe we can slow the roll on the whole Lamar Jackson is changing the game. Quarterbacks still have to throw the ball to win in the NFL, just don't tell Titans quarterback Ryan Tannehill. Jackson is still not a competent thrower of the football. His throws often look more end over end than spiral, he hangs his receivers out with inaccuracy, and despite his athleticism and speed can be rattled in to mistakes.
The other thing with this "game changing" style is that Jackson will eventually get drilled. Quarterbacks that run like that inevitably get knocked around and hurt. What then? RG III? Trace McSorley?
Look, Lamar Jackson is a tremendous athlete. One would assume he will get better at the parts of the game he is deficient in. Give him the MVP this year, but please pump the breaks on the whole game changing thing. This is still the NFL, and quarterbacks still have to throw the ball.
Ahem…
Ryan Tannehill joins Steelers Hall of Famer Terry Bradshaw as the only quarterbacks in the Super Bowl era to win consecutive playoff games while throwing for under 100 yards in each. Bradshaw did it in 1974 in the AFC Championship Game and Super Bowl IX. Tannehill threw for 72 yards last week, and he threw for 88 yards on Saturday.
Last week I compared Tannehill to Trent Dilfer, insinuating not many Trent Dilfer caliber quarterbacks win Super Bowls. Tannehill is doing his best to prove me wrong.
Back to the original point. Thank you Tennessee Titans. Thank you for shoving the Ravens out of the playoffs.
This is awesome. Get the **** outta here!
pic.twitter.com/s8RcYdwC5x

— Tim Clark (@TrojanTim66) January 12, 2020
You may proceed with your playoff experience. Win. Lose. Whatever. You've made Steelers fans' lives a little more bearable. Your job here is done. Yinz did good.
Two Cent Takes
NFL
~Bill Cowher is going to be inducted into the Pro Football Hall of Fame. Good for him, but I'm a bit stunned. He is 1-1 in Super Bowls, and 12-9 in postseason play. His teams lost a ton of AFC Championship games. He was 149-90 overall.
When I think of Hall of Fame coaches I think of Chuck Noll, Bill Walsh, Don Shula, and men of that caliber. There are only 24 coaches in the Hall of Fame. In my opinion, Cowher doesn't fit in that group. The last coach to be inducted was Tony Dungy in 2016. Jimmy Johnson also earned induction, and other than winning back to back Super Bowls his numbers are very pedestrian.
With Cowher going in, Ive got bad news for Mike Tomlin haters. He is on the same career path, and has a good chance of having better career numbers.
I think all Hall of Fames need to be careful with adding too many borderline candidates. I think all sports Hall of Fames are falling in to that trap.
Next up, and a no brainer, is Troy Polamalu. There is a good chance Alan Faneca finally gets the nod, and the Centennial Committee could very well add Donnie Shell. All this means there will be all kinds of black and gold in Canton next August.
NFL Divisional Round
~San Francisco looked refreshed after their week off. That defensive line was back to wreaking havoc. The offense gets a lead, and then much like the Titans, starts grinding it out with a usually productive run game.
~Blown coverage. Allowed a blocked punt for a TD. Fumbled punt return on their own six yard line. Houston 24-0 over Kansas City early in the second quarter.
Final score: Kansas City 51 Houston 31. Suffice it to say, Kansas City's alarm finally went off and they got cooking. The Chiefs offense led by Patrick Mahomes is the best in the NFL. Tennessee has already gone in to Kansas City and won this year, but I wouldn't count on it happening again. Of course there is that whole Andy Reid playoff jinx thing. Hmm…
~It hardly could be considered the deciding factor, but Bill O'Brien passing on a fourth and inches to kick a field goal then running an unsuccessful fake punt on the next possession still up 17 and on his own 30 yard line definitely was a turning point. In any event, it was a terrible decision…both of them, actually. His coaching combined with his temperament has Texans fans ready to help him pack. See below on his temperament(Remove kids from the room).
You mess with the Bill … you get the horns https://t.co/NIkpqQvGAQ pic.twitter.com/w5qWp3qPto

— TMZ Sports (@TMZ_Sports) January 10, 2020
You can't have that from your head coach. His rope has to be very short at this point.
~It sure felt like Seattle was going to come back and beat Green Bay. Green Bay did enough in the end to hold on. Aaron Rodgers is looking old at times, but still made some clutch throws to seal the deal.
~Russell Wilson is really good, but he needs some help in Seattle. Pete Carroll will do everything he can to make another Super Bowl run. He doesn't look it, but he is 68 and can't coach forever.
~Kansas City vs San Francisco would make for a good Super Bowl. In my season preview I had KC, but thought New Orleans would come out of the NFC. I wouldn't be surprised to see Kansas City and San Francisco win by double digits Sunday.
College Basketball
~Another week, another couple of top ten losses.
~Another week, another couple of North Carolina losses. We assume Roy Williams will eventually win another game to pass legendary Dean Smith in all time wins. Of course, you should never assume.
~Penn State has now lost 13 straight to Wisconsin. If there was ever a time to break that streak it seemed this year would be the year. It was not to be, as the Badgers beat up the Nittany Lions and have allowed doubt to creep in to Happy Valley that this will be another Patrick Chambers meltdown.
~As mid January hits, few things are coming into focus in this crazy year of college hoops. A few things seem apparent: very few automatic wins, all road games are tough road games, and there isn't much difference between one and eight in any given conference.
Overrated: Ohio State– The Buckeyes went from a team I thought was as good as anybody to a team who should not be ranked.
Underrated: Baylor– The Bears are underrated if they are anything less than number two. A win at Kansas seals that fact, and don't forget a good win at Texas Tech earlier in the week. That makes for a great week.
Sleeper: Duquesne– Once upon a time George Washington tried to capture Fort Duquesne and failed. So far this season every team to come to the Dukes home court has failed as well. If they can keep this run going, it would be one of the best stories of the year.
~Former Nittany Lion, Jon Crispin, is very good in studio and as a game announcer. His voice reminds me of Dan Dakich, only Crispin doesn't attempt to annoy and alienate his listeners.
A Penny For My Final Thought…
Tonight the college football world will crown a national champion in the Louisiana Superdome. It will either be the Tigers from Clemson or the Tigers from LSU.
I won't lie. I have a rooting interest tonight. Ed Orgeron.
Orgeron is quite the redemption story. Early in his career at the University of Miami he fought personal demons, resulting in a couple of legal issues. After acknowledging those issues, Orgeron got his life together. With it came another chance at division I coaching.
In 1998 Orgeron joined Paul Hackett's staff at USC as defensive line coach. Hackett mercifully got canned, but new head coach Pete Carroll saw the fire Orgeron brought to both coaching and recruiting. Orgeron was retained and eventually was elevated to assistant head coach and recruiting coordinator. He actually won national recruiter of the year in 2004.
As someone who has always followed USC football closely, it was during the Carroll years that I started hearing all of these tremendous quotes from players about "Coach O". He was a big man with a big voice, who would scream at a kid one minute and hug him the next. Clearly the kids loved him, and would have run through a brick wall for him.
After his failed stint as a first time head coach at Mississippi, Orgeron found his way back to USC. When USC's head coach Lane Kiffin was unceremoniously fired on the tarmac at LAX, Orgeron was promoted to interim head coach. He led the Trojans to a 6-2 record, including a huge upset of top ten Stanford. Orgeron, once again, was willing to change. During this stint he decided to lighten up and treat the players like he would treat his own kids. He famously treated the players to cookies after practice, realizing that even a simple gesture could build a bond.
When it came time to pick a permanent coach, AD Pat Haden and his snobby cronies at USC passed on Orgeron. You see, they thought he talked funny and didn't sound like a head coach. They opted instead for Steve Sarkisian, an alcoholic who would further embarrass their program.
Orgeron landed on his feet at LSU, back home in Cajun Country where everyone sounds like him. Once again Orgeron found himself with the interim coach tag when Les Miles was let go. Smartly, he decided to approach this tenure by modeling his style after what he learned from Pete Carroll at USC. This time 6-2 was good enough to get him the permanent gig.
It seems, even though he was named permanent coach, people were still waiting for him to fail. Well, that's going to have to wait awhile. Even at Mississippi, Orgeron never lost the recruiting mojo. He is great at convincing moms to hand over their sons to play for him. He's managed his coaching staff to perfection, and the players still love him. Need proof? Go back and listen to Joe Burrow's Heisman Trophy speech.
So I'll be pulling for "Coach O" tonight. It is fun to see a guy who has worked so hard at climbing a mountain finally get to the top.
Oh, I do have another reason to root for LSU.
Back on August 19, in my college football preview, I wrote this Final Thought:
In the National Title game one thing is certain. The Tigers will prevail. Even The TCCCB can't miss that one. The LSU Tigers will take the fight to the Clemson Tigers and win the title.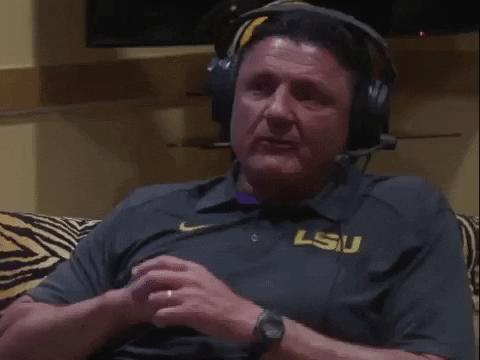 Then we get to try and decipher Ed Orgeron's excited, Cajun victory speech. Whatever he says will be filled with emotion and intensity. This would be personal vindication for a guy who was told he couldn't be a head coach after his less than stellar stint at Ole Miss.
A clock is right twice a day, blind squirrels find nuts, and is it possible that maybe, just maybe…
my crystal ball isn't as cracked as I thought?
Let's be honest, I'm probably more of a blind squirrel.
Just my two cents…