What is the Pittsburgh Steelers' plan for 2021?
Do they have a plan?
An organization who has always prided itself on building teams to win championships is making some mysterious moves that will make it really hard to be in that championship hunt in 2021.
The Steelers have never been about rebuilding. They've never been about having a mediocre year to draft higher the next season. Oh, it's happened before. That's how they were able to draft Ben Roethlisberger. They just don't consciously build a team with that in mind. 
One thing that was going to be championship level for the Steelers in 2021 was the defense. So, of course, the cap strapped organization allowed Bud Dupree, Tyson Alualu, and Mike Hilton to walk away from that defense. They released Vince Williams, and now have told cornerback Steven Nelson to seek a trade.
The Steelers did resign Cam Sutton.
Other than Dupree, none of these players were stars. However guys like Hilton and Alualu were vitally important to the 2020 defense, and they would have been so in 2021. 
Why not do whatever it takes to keep, at least, most of the defense together?
Apparently to appease their long in the tooth star quarterback. 
Money that could have been spent on, let's say, Mike Hilton was instead spent on keeping JuJu Smith- Schuster. 
Why? 
Because Ben Roethlisberger wanted Smith-Schuster back.
Don't believe that?
Why would the Steelers employ Randy Fichtner as offensive coordinator for so long? It was clear early on he wasn't good at his job. Yet the Steelers kept him locked in. They did so to appease Ben Roethlisberger. 
When Roethlisberger was asked about Smith-Schuster after the playoff loss to the Browns, he made it perfectly clear he wanted him back.
After some back and forth with his thoughts of retirement and some back and forth with the team on a contract, it looked like there was no way he would get this wish. JuJu hit the open market, and he would surely get big money somewhere else. Money the Steelers just didn't have.
Then the wide receiver market dried up, or at least the JuJu market dried up. The Steelers made some head scratching moves to free up some money. And here's JuJu. A one year deal worth $8 million, but far less on the salary cap. 
Look, I'm a big JuJu fan. As a USC fan I watched him grow as a receiver there, and I was thrilled when he landed in Pittsburgh. I'm glad I will get another year out of my Smith-Schuster jersey. I think JuJu is a high end receiver, but not in the "can't do without" category.
I don't care that he likes to play video games. I don't care that he likes to Tik Tok. I don't care that he like to dance. He was only 19 when he got to Pittsburgh. I'm not sure why any of this comes as a surprise. Many 23 year olds like to do these things.
I also don't care if he is rude when the cameras aren't on him. Everyone isn't warm and fuzzy. I also don't care about his camera crew. A lot of people benefit from JuJu building his image. A lot of people other than JuJu.
Because he films his good deeds many in the media claim his intentions aren't pure.
 C'mon.
Do you think the charities give the money back? Do you think any of the charities tell him they can't accept the donation if there are cameras rolling? Do the kids he gives toys to at Christmas enjoy them less because the shopping trip was filmed? 
If you or I complain about poor service at a restaurant nobody knows or cares. JuJu did it, and suddenly he's a horrible guy. Oh, it was Primanti Bros, so there is no way there could be bad service in the holy grail of Pittsburgh restaurants.
Between the white lines JuJu plays the game like you would want any player on your favorite team to play. He has since college.
He doesn't beat women.
He doesn't do drugs.
He doesn't get in trouble.
Oh, he likes to dance when he scores a touchdown. That's his crime.
Clearly some in the Pittsburgh media have gone off the edge when it comes to JuJu.
Clearly, I'm a fan. 
However, I'm a bigger fan of my team doing whatever is best to create a winner. I want to be a fan of one of the teams playing the last game of an NFL season.
In that regard I feel like the Steelers are heading in the wrong direction. 
The Steelers have, for the most part, had a ten year window with good to—sometimes—great talent. They have nothing to show for it, apart from, "hey, we haven't finished below .500". Playoff flame outs, fumbling away playoff spots, and babysitting selfish players like AB and Lev Bell is what comes to mind over these ten years.
I like Mike Tomlin, too. Maybe, though, a new voice is needed in that locker room. He remains the Steelers head coach, and appears to do so comfortably.
Ben Roethlisberger certainly appears to be a shell of his former self. A cracked shell at that. He should have retired. If that wasn't his choice, the Steelers should have made it his choice. Employing him for another season simply sets back the future by a year. I would argue that Mason Rudolph or another quarterback would give the team as much—or more—of a chance to win this year. 
My hill to die on is the Sam Darnold hill. It is apparent that Darnold could be had, and I don't think the Jets would require a number one pick to trade him. I would still love to see the Steelers make a play for him, but that isn't happening with Ben, Rudolph, and Dwayne Haskins already on the roster. 
There are a ton of quarterbacks available in this year's draft. They will all go by the wayside with the current roster configuration.
The Steelers still don't have an offensive line or a running game to speak of. Likely they will address both in the draft. They better, or their returning 39 year old quarterback may get killed. Either that or Steelers fans will slowly die inside watching two yard pass after two yard pass.
Ben can't move anymore. His deep ball was putrid last year. He threw way too many interceptions, including a dreadful playoff game versus the hated Browns. He showed he isn't even willing to jump on a loose ball for God sake.
Why he is coming back I will never know.
Why the team is still catering to him is even more puzzling. 
JuJu Smith-Schuster is back. He is a good player. He plays hard all of the time. He has fun playing. These are all positive things. Losing key defensive players to keep him—and in turn keep the QB happy—are not.
Can I still wear my #19 jersey for a meaningless game in December?
Two Cent Takes(March Madness style)...
~After no tournament last year, this was a welcome sight.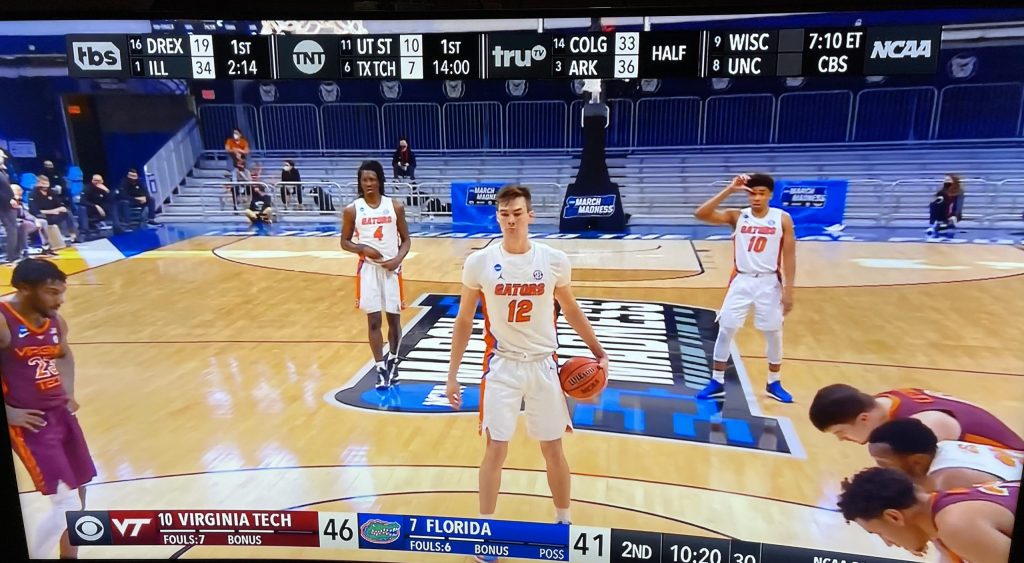 One game on the TV, with the scores updating by the second on the top of the screen. Ah, yes, March Madness returns.
~The ACC was thought to be down this year. The tournament has proven that to be a coherent thought.
~The West Coast gets no love. Games are on late. Teams are thought to be soft. Wrong. The Pac-12 has arguably been the best conference in this tournament to date.
~As usual this tournament has had its fair share of upsets. The crazy thing is that many of the lower seeded teams producing these upsets we're third or fourth in their conferences.
~With the left side of the bracket still having a 13, 11, and 10 seed playing today, the right side of your bracket already has a 15, 12, and 11 seed in the Sweet Sixteen.
~I really like the TNT studio show, and Andy Katz has fit in nicely with Kenny Smith and Charles Barkley. Having said that, I really miss the ESPN studio show during the tournament. I also miss many of the ESPN game announcers who are far better than the pick ups CBS gives us.
~Speaking of Charles Barkley. He spoke eloquently after VCU was shut down due to COVID-19. Here is what he said.
Here is Charles Barkley unfiltered on COVID, re: VCU-Oregon.

Real, authentic TV. pic.twitter.com/NAlORKhBIR

— Troy Machir (@TroyMachir) March 21, 2021
The pandemic has beaten us down this past year, and sometimes I think we forget that. Barkley gets it.
~Me looking at my brackets midway through Sunday afternoon.
February 17, 2021
Okay, let's take a look at each Region as of Monday morning.
South Region
~Ohio State started the NCAA Tournament Big Ten meltdown early this year with their pulse free loss to Oral Roberts. EJ Liddell had a good game but came up soft in crunch time. Dwayne Washington was miserable. A team that looked to have found its mojo again in the Big Ten tourney, is now home before the start of Spring.
~Oral Roberts finished fourth in the Summit League. Fourth. Summit League. They are now going to the Sweet Sixteen after coming from behind to beat Florida. This is the tournament in a nutshell. Take down Ohio State on Friday, and then come back on 7 seed Florida to become only the second 15 seed to make the Sweet Sixteen. They will play Arkansas, who they lost to 87-76 in the regular season.
~Arkansas needed Texas Tech to miss two layups and a free throw—from a guy shooting 80%—to make the Sweet Sixteen. Arkansas may be too athletic for Oral Roberts, but clearly I have no idea what is going on at this point.
~Purdue, not wanting Ohio State to feel lonely, followed suit with a disastrous performance versus North Texas. Good news for Penn State fans, as new coach Micah Shrewsberry can begin the arduous task of scraping together players to start his coaching career in Happy Valley(more on this later).
~North Texas State came back to earth Sunday, getting blown out by long forgotten Villanova. After losing Conner Gillespie for the season the Wildcats were largely written off. I wrote them off. Next up will be Baylor.
~Baylor's road to the Final Four went from quite difficult to quite easy by end of day Friday. Oh, and the Bears look like they are rounding back in to form after a late season COVID-19 pause.
~The possibility exists for an old school SWC match up between Baylor and Arkansas.
Midwest Region
~Easily the most under seeded team in the tournament was Loyola.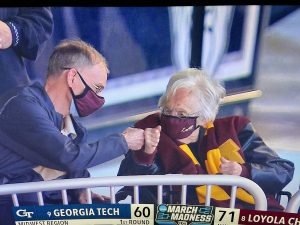 That is a 101 year old fist bump after a round one victory. Because of the poor seeding, Loyola had to deal with one seed Illinois. No problem.
Three years ago Loyola was a neat Cinderella story. This year they are just flat out good. Brad Underwood got out coached by Porter Moser and it wasn't even close. Illinois plays in a league where they don't run offenses. They just play you talent on talent. Illinois didn't have an answer for the back doors and pick and rolls.
I said in last week's column this was the game that worried me for Illinois. Here were my exact words.
The Illini(1) will have a tough second round game with under seeded Loyola(8). The Ramblers are really good, and probably deserved a better fate.
I just didn't have the guts to pick the Ramblers. And for that gutlessness, my bracket is officially in shambles. I guess Sister Jean is greater than Batman(Ayo Disomnu).
~Loyola would surely get a shot at Cade Cunningham in the Sweet Sixteen. Nope. The Oregon State Beavers dam sure weren't having that. Oregon State was predicted last in the Pac-12. They had to win three at the Pac-12 conference tournament just to get in. The Beavers have talent. The young guys and the veterans finally got on the same page and the rest is history.
~On the bottom half of the bracket Rutgers had a fantastic celebration after beating Clemson Friday night. The Scarlet Knights waited a long time for such a celebration. Sunday night they were primed to make me look smart by having them win another game over Houston. Up 58-49 with 4:33 left, Rutgers tried to bleed the clock. A 14-2 run later and they were going home. This was one serious choke job.
~Houston is advancing, but they are not even close to a two seed. The committee needs to understand the AAC is not as good as they think.
~Houston will play Syracuse, an 11 seed. One of the things I'm most frustrated by with my shattered brackets is that I went against the obvious. This is the third time in the last five years Syracuse has just barely made the field and then get to the Sweet Sixteen. I wouldn't bet against them in this one. I actually think they should be favored.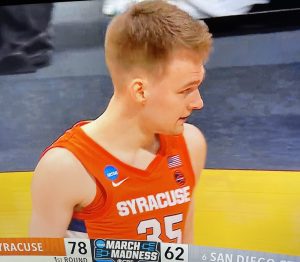 Jimmy Boeheim's little boy can really play. By the end of today, they may be holding up the tattered ACC banner.
~Raise your hand if you had Loyola, Oregon State, Syracuse, and Houston in the Midwest Region semis. That's what I thought...
West Region
~The Ohio Bobcats were the one upset pick I got right. Yes, Virginia won a National title in 2019. They were lucky in four consecutive games that year, which doesn't usually happen. You always need a lucky bounce, but not four of them. Every other year Tony Bennett and his slow down, pack line defense struggles in the tournament. This should come as no surprise. The Cavaliers allowed Ohio to hang around. Ohio only played truly well for the last six minutes, but that was enough to seal a victory.
~UC Santa Barbara had the upset of Creighton on the fingertips of center Amadou Sow. Instead of powering up to dunk the ball, Sow flipped it up for a lay up. The ball rimmed out and Creighton survived. Don't be surprised if, later today, the Bobcats reach the Sweet Sixteen.
~Oregon hasn't played for over a week thanks to the "no contest" first round game with VCU. VCU had Covid issues, leaving Oregon with no game. This may actually hurt the Ducks today when they meet high scoring Iowa. Oregon is better than people think. Keep an eye on this one.
~The Pac-12 has been exceptional so far in this tournament(see OSU Beavers above), and that includes USC. The Trojans made it look fairly easy against Drake. Tonight they get the Kansas Jayhawks. Kansas isn't as powerful as usual, and it will be interesting to see how Evan Mobley stacks up against David McCormack. Look for guard Tahj Eaddy to have a big game in leading USC past Kansas.
~Kansas struggled early, but eventually held off Eastern Washington. The Groves brothers couldn't have found a better home than in the Great Northwest.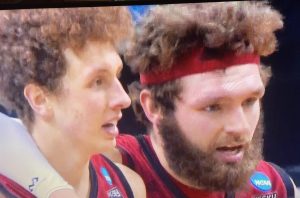 Now that basketball season is over they can get back to being lumberjacks. I also love the cursive on the Eagles' jerseys.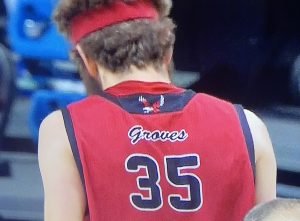 ~Gonzaga may have nothing more than scrimmages until they reach the regional final. They are fun scrimmages to watch, as the Zags are really good.
East Region
~LSU coach Will Wade is a cheater. He is a cheater who was caught red handed on tape cheating. LSU, as usual, doesn't care. The SEC, as usual, doesn't care. The NCAA is moving, as usual, at a snail's pace with the infractions process. Consequently, Wade leads a talented group against Michigan today. I think LSU has a real chance in this one.
~Florida State was wobbly in the first round, and they meet a Colorado team this afternoon that is better than people think. That seems to be a theme with the East Coast biased media. All of the Pac-12 teams are "better than we think." Don't be surprised if Colorado advances. Colorado can shoot, but Florida State usually defends. A month ago I thought Florida State was a Final Four quality team. The last month they looked like they would be lucky to get out of the first round. They might not go much further.
~Some how UCLA, another of those under appreciated Pac-12 teams, may go from First Four to Sweet Sixteen. All that stands in their way is Abilene Christian. ACU was gifted a win in the first round by a Texas team that nearly had as many turnovers as shot attempts. Mick Cronin won't allow that to happen to UCLA.
~Abilene Christian slogged its way to a victory over Texas. The best thing about their team is this kid that never plays.
ACU Senior Paul Hiepler:

Minutes played = 0
BENCH HYPE = ∞ pic.twitter.com/kBh8mVH8TV

— CBS Sports CBB (@CBSSportsCBB) March 21, 2021
I wasn't sure if I liked this cheerleader stuff until the "horns down" at the end. Yea, that kid is all right.
~Texas coach, Shaka Smart, remains on an extremely hot seat.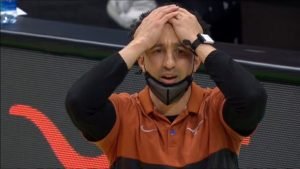 Smart, who has not won a tourney game since leaving VCU, may be left holding more than his head. Keep an eye on this situation this week.
~Alabama is the most talented team left in this region which, of course, means nothing at this point.
A Penny For My Final Thought...
Penn State has an athletic director problem.
Penn State is a university that does so many things well. It is clear the athletic director didn't get that memo.
The latest disaster is the basketball roster. As in it is nearly empty thanks to Sandy Barbour.
Barbour was borderline disastrous at Cal in this same role. Look it up and see for yourself. The longer she stayed, the more Cal's athletic programs slid and more negative storylines followed.
Penn State decided to be progressive and hire a woman. Good for them, as I'm certain there are many, many qualified—highly qualified—women that would make successful athletic directors. Barbour is not one of them. 
The lack of transparency at Penn State is troubling, and has been exasperated by Barbour.
From little issues with football coach James Franklin that got swept under the carpet to much more serious issues and allegations with coaches in some of the women's Olympic sports. All of them mishandled and poorly explained. Actually in some cases that is inaccurate. Most aren't explained at all.
That brings me to the basketball program. 
Sandy Barbour fired coach Patrick Chambers last fall, weeks before this season started. There were a couple of incidents that were in the public eye. The rest was left with an ambiguous statement from Barbour referring to other "incidents" that were uncovered. Clearly a deal was made, as Chambers has never defended himself and Barbour refuses to speak on the issue.
If Chambers had been fired for poor performance, as he should have been, none of this would have happened. Unfortunately, Penn State runs the basketball program on the ultra cheap, and Chambers was cheap.
The players who were recruited by Chambers wanted answers. They got none. When the media pressed Barbour for answers, they got none. It's how she operates.
She also oversaw the shady maneuvering to keep football season ticket holders' money for next year. Ticket holders weren't given an option. Many would have gladly donated the money in order to reserve tickets for this coming season. Again, they weren't given the option. Another example of Barbour's lack of transparency. 
Micah Shrewsberry was hired last week as the new basketball coach. Maybe he will be good. Maybe he won't be good. He has worked with good coaches, however he has never run his own program at this level.
Trying to find out how much the basketball coach is paid at Penn State is like looking for a needle in a haystack. A source told me they paid Shrewsberry $2 million per year. That would be astonishing for Penn State to pay a guy that type of salary who has never been a division I head coach. 
Whatever he is paid, he will earn ten fold this coming year and beyond.
With Barbour stoning the players questions about Chambers firing, six players have hit the transfer portal already. Only Sam Sessoms and Myles Dread remain, and there is no guarantee they stay. 
Essentially Barbour has given Shrewsberry the keys to a car with no engine, no transmission, and three tires missing. Every new coach wants to build the program in their own way with their own vision. Shrewsberry will literally have no choice. He will have to go to great lengths and potentially dig deep in the portal to simply build a complete roster.
At first blush, it appears Shrewsberry has the personality that young people will gravitate to.
🛫 Next Stop: 🔵⚪️🦁 pic.twitter.com/NYHuMdwsK2

— Micah Shrewsberry (@Coach_Shrews) March 21, 2021
He will need personality plus to start building this roster.
Shrewsberry can try to talk some of the former players in to coming back, but Barbour has made that a difficult proposition.
Ask Cal Bears fans if they have seen this show before.
The Penn State football program is at a crossroads in James Franklin's tenure. The basketball team is in its usual state of tumult. And the athletic director, who failed miserably at Cal, seems intent on going 0 for 2 in her career. 
Someone keep her away from the wrestling program.
Just my two cents...