Tis the season when I start getting asked, "Just how bad will the Pirates be this year?"
I offer this as visual evidence of my response.
You never wanna strike out and get hit in the penis at the same time. Bad look. pic.twitter.com/fD5aJbEr8T

— Jared Carrabis (@Jared_Carrabis) March 13, 2021
The Pirates did make one big splash in the offseason.
The Bucs helped Todd Frazier off of his rocking chair and offered him a chance to make the team. He had a good spring training, but was told he would be cut so he bolted. He didn't find any other suckers out there, so now he is back. However, he won't break camp with the major league team.
Look, they already have Adam Frazier on the team. Maybe they didn't want to confuse all of the new guys by having multiple Fraziers. It's the Pirates. Go ahead and tell me I'm wrong.
One thing that does make sense in Pittsburgh is that the Pirates are finally doing the right thing.
Rebuilding.
GM Ben Cherington has gone straight to work at resurrecting the farm system, already having it in the top ten farm systems in all of baseball. But the climb will be long and arduous. Most likely Cherington will look to the Vanderbilt Commodores for his next puzzle piece. Kumar Rocker and Jake Leiter are darn near unhittable, and will almost assuredly be the first two players off the board in this year's MLB draft. 
So while giving Cherington the ample time he needs to build—and while I continue to pray for a competent owner in Pittsburgh—what is there to look forward to in 2021?
The short answer is: very little.
Let's give it a try anyway.
The obvious starting point is budding star Ke'Bryan Hayes. 
Hayes has always been known for his glove. He has future gold glover written all over him. What many were unsure of was his bat. In limited time last season, Hayes showed plenty of pop with the stick. He will most definitely have gap to gap power, but may grow into a 25-30 HR guy.
The question this year is whether he sees many pitches to hit. Considering the lack of punch in the lineup, opposing pitchers may be reluctant to give Hayes anything to drive. As a young player Hayes will have to show considerable patience.
Technically,  that is where this list ends. But that wouldn't be much of a preview, so here goes nothing.
No, really. Nothing.
Pirates fans should hope for bounce back seasons from shortstop Kevin Newman and outfielder Bryan Reynolds. Both are still viable pieces to a future team that may actually be worthwhile. 
Newman has been beyond hot this spring, and Reynolds has been good, too. Unfortunately spring stats mean less than nothing. Two years ago the future seemed as bright as the flames from Manny's BBQ in centerfield at PNC Park. Last year while COVID-19 quelled most things, the flames from Newman and Reynolds circa 2019 were doused as well. 
There is no guarantee that last year was simply a sophomore slump. Neither player came with "can't miss" pedigree. But trust me, there isn't a lot more that will maintain your interest in the 2021 Pittsburgh Pirates. Reynolds, in particular, could provide Hayes with a little protection in an otherwise lackluster lineup.
Next up on the "eh, what the hell else do I have to look forward to" list is hoping Adam Frazier and Gregory Polanco get off to hot starts. Hot starts by these two will increase their trade value.
Frazier is definitely getting traded, as Cherington's first draft pick Nick Gonzales is on the horizon. Frazier has turned himself into a really solid second baseman. A hot start with the bat will allow Cherington to ask for more in return when he moves Frazier.
I have lost all hope that Polanco will ever figure things out. He quite possibly could go down as one of the all time Pirates busts. It will be a must for Polanco to get off to a hot start if there is any hope of the Pirates trading the gangly outfielder. 
Last but not least…well, the Pirates hope it isn't least…is Mitch Keller. 
At 25, the time is now for Keller to start showing all that potential is real. Quite frankly, Keller has done very little to give Pirates fans any hope he will be a top of the rotation guy. The Pirates don't have an ace, and he is the pitcher with the most upside. If not now, then maybe it is going to be never for Keller. Getting bad starts from Keller will make an already suspect pitching staff even worse.
From there, Jacob Stallings works and plays hard. He has made himself into a quality catcher, and he is easy to root for. 
New center fielder Anthony Alford has an athletic skill set that could maybe, possibly make him worth watching. 
Young pitchers like JT Brubaker and Chad Kuhl may keep your attention for a start here and there.
Plus it will be fun to see if Colin Moran got any slower this offseason.
The real fun will come via social media, where some in the Pittsburgh media have decided it is forbidden to criticize the owner. Suddenly Bob Nutting is off limits. 
Here's the thing. I don't subscribe to that notion. 
All that ails the Pirates is not Bob Nutting's fault. There are a lot of directions to point fingers for    nearly thirty years of misery.
A string of incompetent GM's has played a huge part in the organizational quicksand this team has been mired in. Baseball's insistence on not having a salary cap has affected the Pirates as much as any team in the game. But make no mistake, Bob Nutting should bear much of the brunt for the last decade of failed possibilities. 
It is okay to acknowledge both truths. 
Ben Cherington is absolutely doing the right thing, and to date he has been doing it well. It's early in his tenure, but signs point to him actually knowing what he is doing.
The other truth is that the owner is still this guy.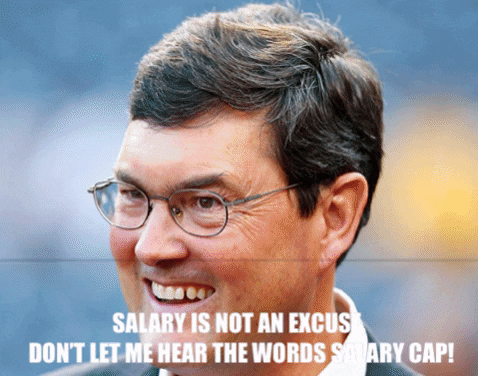 Pirates fans have every right to have doubts that Nutting will allow for proper spending when this team finally gets back to a level where spending is required.
No, everything shouldn't come back to "Cheap Nutting". However Nutting has burned the bridge of good faith with Pirates fans. The atmosphere has been created and cultivated by the owner himself. Therefore I find it hard to blame the fans for their redundant reaction to all things Pirates.
Whichever side of that pressing debate you fall on, 2021 will not provide Bucco fans with a whole lot of joy. It may be 2023 before Pirate fans should come out of hibernation. 
I correctly stated that last year's version of the Pittsburgh Pirates was quite possibly the worst of my lifetime(and I'm old). 
The 2021 Pirates figure to not be much better.
Nobody wants to see their team lose 100, 105, or God forbid 110 games. The 2021 Pittsburgh Pirates figure to finish in that neighborhood considering they lost some "okay" pieces off of last year's flaming pile of poo. 
I'll give them the benefit of the doubt and say 56-106.
When we look back on the 2021 baseball season, it may just turn out that limited attendance due to COVID-19 was the best thing to happen to the Pittsburgh Pirates.
The rest of my Two Cents on Baseball 2021
AL East
Toronto is moving on up. Man, do they have a ton of offensive talent. I assume they will add some pitching along the way this year. I can't imagine the Blue Jays not making the playoffs this season with a lineup that will include Bo Bichette, Cavan Biggio, Marcus Semien, Lourdes Gurriel, Vladimir Guerrero, Teoscar Hernandez, and George Springer. That is seven really powerful hitters. Seven. Good luck to opposing pitchers.
Toronto's boost hurts Tampa Bay more than any other team. The Rays, much like the Pirates, can't spend with the big boys. They make do with what they have until they can't afford it anymore. Tampa still has a good team, and it would be foolish to bet against them making the most of their talent. But will there be a place at the table when the playoffs roll around. If they turn Chris Archer back into a good pitcher they should automatically get a playoff berth.
The Boston Red Sox should be better, but they have far too many question marks to contend in this beast of a division. Rafael Devers is a budding star, and they are getting some pitching back, but the Red Sox just don't have enough.
The Orioles will field a team again this year. Is this the year those three Orioles fans get to see all of those future stars they've been hearing about? Adley Rutschman anyone?
Oh, did I forget to mention the Yankees? Yea, they will win the division again. And they will win the division with two former Pirates pitchers—Gerrit Cole and Jameson Taillon—leading the way. If anyone can mash with those young guns in Toronto it is this bunch. Stanton, Judge, Sanchez, Andujar, LeMahieu, Torres, and Voit ain't exactly chopped liver. However, it will be the pitching that makes the Yankees the team to beat in all of the American League. The bullpen could be an issue for the Yanks.
Yankees
Blue Jays
Rays
Red Sox
Orioles
AL Central
The Minnesota Twins have better pitching—and we should never doubt the Twins—but I'm going to go with the Chicago White Sox here. The Sox have a powerful young lineup, led by Yoan Moncada, Tim Anderson, Eloy Jimenez, and Luis Roberts. Lucas Giolito is an ace, and Lance Lynn was a decent pick up, but Chicago could use another pitcher. Something worth a win or two is the White Sox pulled Tony Larussa away from looking at cemetery plots to manage their team this year.
The Twins have a nice team and just slightly better pitching with Jose Berrios leading the way. Minnesota will be relying on a couple of old guys—Nelson Cruz and Josh Donaldson—to carry their offense. That concerns me, along with Byron Burton's constant lack of health. They will stay in the playoff hunt, but will they have enough to steal a spot?
Nobody is hit harder by a lack of a salary cap than the Cleveland Indians. The Indians acquire or grow great young talent, then watch it walk out the door only to be replaced by more great young talent. Eventually you don't have quite enough to replace what left. The Indians still have the Cy Young winner, Shane Bieber, and all star, Jose Ramirez, but probably won't have enough other pieces to contend. I'm kind of hoping they find a way.
The Royals did the tank thing, and now may be ready to start the climb back up the hill. They will be better, but not nearly enough better.
The Tigers, much like the Royals, will be starting that climb back up the hill. They still have 67 year old Miguel Cabrera on the team, so there is that. On the other end of the age spectrum will be 23 year old pitcher Casey Mize, who should be one of the future stars Tigers fans will love.
White Sox
Twins
Indians
Royals
Tigers
AL West
Could it be? Will it be? Is this the year Los Angeles Angels Mike Trout makes the playoffs? Ha, not with that pitching staff. The lineup isn't exactly threatening either, though Shohei Ohtani is certainly fun to watch. Unfortunately the two way player probably isn't going to end up doing much pitching. The Angels do have a self proclaimed genius for a manager, so the sky should be the limit.
This division is the home of another team that doesn't have money to spend. The Oakland A's find a way to cobble together a winning team more often than not. The roster is not as good this year, but still has the Matts at the corners. Matt Chapman at third base and Matt Olson at first base will carry a fairly pedestrian offense. The A's will hope for a couple of young guns to lead a good rotation. AJ Puk and Jesus Luzardo will look to have breakout years. I'm just not sold on the A's having enough punch to win this lousy division.
Speaking of lousy…wwwwwthis division includes Texas and Seattle. The Mariners got rid of their racist team president, so things have to be looking up in Seattle. The Mariners do have some pieces put together to maybe sniff .500.
Texas will not sniff .500. They still have Joey Gallo, who usually doesn't sniff .225 for a batting average. The Rangers fans—are there any?—will get to enjoy a new ballpark. Maybe someday they will put an actual major league team in it.
It pains me greatly to do this, but I think the Houston Astros will win this division. Their core is getting older, but should still have enough juice to win this division. Carlos Correa, Jose Altuve, and Alex Bregman will be rejoined by stud Yordan Alvarez and young star Kyle Tucker to make up a lineup that scores some runs. The pitching has seen better days, but should be just good enough to win this division.
Astros
A's
Mariners
Angels
Rangers
NL East
This is a really good division, but this division will come down to two teams.
First the others.
The Philadelphia Phillies have Bryce Harper. He has been very good. Unfortunately he hasn't been good enough to justify a bajillion dollar contract like he received from the Phillies. Also, he can't pitch. The Phillies have a good enough lineup behind Harper led by phenom Alec Bohm and returning league best catcher JT Realmuto. It's the pitching that kills the Phillies, particularly that putrid bullpen. How much does Archie Bradley really improve the pen? Aaron Nola and Zach Wheeler are a nice one-two punch in the rotation, but it just won't be enough to keep up in this division.
The Washington Nationals decided to give star Juan Soto some protection in the lineup this year. The problem is they chose to do that with Kyle Schwarber and Josh Bell. That's some bad protection unless one or both find their pre 2020 form. Both also downgrade your defense. If Stephen Strasbourg is healthy then the pitching staff will get a boost. Max Scherzer, Jon Lester, and Patrick Corbin give the rotation some depth. Victor Robles and Trea Turner are still really good at baseball. I wouldn't sleep on the Nationals, but I just don't think they will hold up.
The Marlins were a great story last season. They may very well have the best young rotation in the game. But how many innings can we expect from them in a full season? Starling Marte revitalized his career in Miami and will be back this year to lead the offense. This feels like one step back this year, but the future may start with two steps forward next season.
Okay, the top two teams are going to be really good.
The New York Mets will finally rise from the dead this season. We all know how good the pitching has been, but now the offense will be able to keep pace. Pete Alonso, JD Davis and Michael Conforto will be joined by the electric Francisco Lindor. Lindor adds so much to the offense. He has MVP written all over him. If the Mets stumble it will actually be the pitching that causes that stumble. Jacob Degrom has a lot of new faces surrounding him this year. Luchessi, Carrasco, Stroman, and Walker have all had success elsewhere, but will they handle the bright lights of New York City?Stroman got a sniff of the bright lights in 2019, but the others will have to adjust.
The Atlanta Braves will win this division again if they stay healthy. Ronald Acuna is a star and still has room to grow. Marcel Ozuna nearly won the triple crown last season. The pitching staff will be anywhere from good to outstanding depending on Mike Soroka's status. Don't forget, where Charlie Morton goes, World Series follow—well, at least everywhere outside of Pennsylvania. The Braves almost…almost…got to the World Series last year. I would think that is a major motivating factor this season. I like the Braves in a really potent NL East.
Braves
Mets
Nationals
Phillies
Marlins
NL Central
I already covered the Pirates, so let's look at everyone else in the worst division in baseball.
The St. Louis Cardinals always do whatever it takes to stay relevant. This offseason they fleeced the Rockies to acquire all star third baseman Nolan Arrenado. He takes the Cardinals to the next level. This division will probably only require somewhere around 87 wins to win it. There is a lot of inexperience in the outfield, but this division allows for the Cardinals to work that out. I think this is the Cardinals division to take.
Will the real Christian Yelich step to the plate. The Milwaukee Brewers are hoping it isn't that stinky version from last year. An MVP caliber Yelich gives the Brewers a glimmer of hope in this division. Their lineup is just sort of blah. The pitching also falls into the blah category. It is hard to see the Brewers being much of a contender.
The Chicago Cubs have actually become cautious spenders. The Cubs still have some boppers, but almost all of their usually productive hitters fell off a cliff last year. I think there will be some bounce back, which means they will score some runs. The bigger question is how many runs will this soft tossing pitching rotation give up? The Cubs, with a shrewd move or two, could become a challenger this year.
The Cincinnati Reds built their team for 2020 and then Covid hit. But the Reds always seem to be "on the cusp" then lay an egg. Trevor Bauer is gone, and so is any thought the Reds could contend. Joey Votto returns along with some other good hitters. The pitching staff after Sonny Gray is filled with suspects. Not to worry Cincinnati, the Pirates will prevent you from finishing last.
Cardinals
Cubs
Brewers
Reds
Pirates
NL West
The gauntlet has been thrown down by the San Diego Padres. The Los Angeles Dodgers will not be able to just amble to the division title with ease. The Padres have spent and spent some more to build what they hope is a championship team.
San Diego locked up the most dynamic player in baseball, Fernando Tatis, Jr, for the long haul. Tatis will have plenty of company in the lineup with the likes of Eric Hosmer, Manny Machado, and Tommy Pham. They also have added pieces to an i,pressive starting rotation. Blake Snell, Yu Darvish, and Joe Musgrove were added to the already impressive Dinelson Lamet. The bullpen has a ton of arms to choose from. The Padres have it all, and they still may have to get through a wildcard game.
The Los Angeles Dodgers have even more talent than the Padres. They literally have an all star roster. Literally every position has a high end player. Baseball fans will get a look at young stud Gavin Lux. He won't have a ton of pressure since he has Cody Bellinger, Mookie Betts, Will Smith, Max Muncy, Cody Seager and more surrounding him. Oh and for good measure, the Dodgers added Trevor Bauer to an already incredible pitching staff. The Padres got closer, but they still aren't in the Dodgers stratosphere.
Just enough to stay respectable should be the San Francisco Giants motto. They aren't even close to the top two teams in this division, but they are better than the bottom two teams. Being over thirty is darn near a requirement for the Giants, leaving fans wondering what the gear and plan is in San Fran.
The Diamondbacks are a team that you just can't get excited about. They certainly aren't contenders, but they also aren't really rebuilding. They are just kind of here. Madison Baumgardner is a shell of himself, and Ketel Marte is coming off a horrible year. They picked up some middle of the road talent. Those acquisitions should keep them out of the cellar.
The cellar is where we will find the suddenly retooling Colorado Rockies. The pitching is adequate, led by German Marquez. However, the offense is Trevor Story. Period. It's going to be beautiful in the Rockies this summer, as always, just not at the ballpark.
Dodgers
Padres
Giants
Diamondbacks
Rockies
Ten Headlines I Wish to See This Season
The DH Will Not Come to National League
Dave Parker to Hall of Fame
Doubleheaders to Return in 2021
Owners Willing to Cancel Season for Salary Cap
Replay to be Restructured(or done away with)
Harper and Phillies Fans Agree to Disagree
Commercial Breaks to be Cut in Half Between Innings
Increase in Attendance Permitted for All Teams
ESPN to Give Up Rights to Sunday Night Baseball
Yankees and Dodgers Struggling Mightily
Nutting Sells Pirates
Playoff Picture
The American League has some pretty hefty thump to it. New York, Toronto, Chicago, and even Tampa Bay and Houston have some pretty serious hitting. That's why—in the playoffs—it may be the team with the best pitching that comes out on top. Gerrit Cole is the best pitcher in baseball, and will bring a motivated Jameson Taillon to the table with him. Of course between now and then teams will add and delete from their rosters. As of right now here is the way I see the AL playoffs shaking out. I'm going AL East heavy, though I'm not sure all three teams can reach enough wins to all get in the playoffs.
AL Wildcard: Toronto over Tampa Bay
AL Divisional series: Yankees over Toronto and Chicago over Houston
AL Championship: Yankees over Chicago
In the National League everyone will be looking to the West Coast. The Dodgers and Padres will be throwing haymakers at one another, but back East the Braves and Mets will also be going toe to toe. The Phillies, Nationals, and maybe a couple other teams will wish they were in the NL Central. Then maybe a playoff spot would be in reach. Here is how I have the NL playoffs working out.
NL Wildcard: San Diego over New York
NL Divisional Series: Los Angeles over San Diego and Atlanta over St. Louis
NL Championship: Los Angeles over Atlanta
I feel redundantly irritating picking this World Series matchup again this year. It's so obvious. It makes sense. The numbers reinforce my choice. The odds say I am correct. But I hate it. Hate it. Hate it. I will be thrilled to be wrong. Anyway, here it is…
New York Yankees 4 games to 3 over the Los Angeles Dodgers
Maybe after this year a salary cap will finally be put in place and New York and Los Angeles won't have all of the built in advantages. Wouldn't it be nice for fans in every city to feel like their teams have a fair chance at winning a World Series. Until then the ghosts of George Steinbrenner and Tommy Lasorda reign supreme.
Just my two cents…and PLAY BALL!