Someone has to walk the plank, right?
The problem in Pittsburgh is that those that make the call on who walks the plank— the captain, chief mate, and second mate—are the first three that should be taking that walk.
Bob Nutting, the captain of this Pirate Brig, is perfectly satisfied with status quo. He is perfectly satisfied with a low talent, non winning team that makes a profit. He's perfectly satisfied with his lapdog team president Frank Coonelly. He's perfectly satisfied with his poor drafting, poor player developing GM, Neal Huntington.
The Pirates captain is  busy counting how much money he made with all of the Cubs, Phillies, and Cardinals fans that came through the turnstiles at PNC Park over the last three weeks. Most would be embarrassed to find more opposing fans in your home ballpark, but Nutting just sees dollar signs.
Steve Blass, the ultimate Pirate for 60 years, is retiring at season's end. The organization celebrated the 1979 World Series Championship team on its 40 year anniversary. What a perfect year to put a little extra cash in to your team to have a chance at winning. It could have been one great summer filled with celebrations and winning baseball.
Wrong.
Instead Melky Cabrera, Jordan Lyles, and Lonnie Chisenhall were signed on the cheap to add to a .500 at best type roster.
Chisenhall was the big signing at $2.75 million. He hasn't even made it to the Pittsburgh city limits yet, as he is "rehabbing" a calf "injury". The Pirates actually have $23 million out of the approximately $80 million in roster payroll tied up with players that either haven't played at all or very little this season.
As I've said many times before here, a true rebuild should have happened in 2016 when it was clear management no longer considered the team a viable contender. That became apparent when Jon Niese, Ryan Vogelsong, and Jeff Locke made up 3/5 of the team's pitching rotation. Now we are three more "going nowhere" seasons down the road.
It's time. During the next few days and/or in the offseason, it's time.
The problem with rebuilding is the architects that will be in charge don't give you much faith in having a solid blueprint for such a rebuild.
It's a little like taking your kids to a swimming pool with lifeguards that aren't very good swimmers. They may be able to save your kids, but there's a good chance your kids could drowned. In this scenario the Pirates are your kids and Nutting, Coonelly, and Huntington are the lifeguards.
Let's play along anyway.
Around the Horn
Catcher
This position needs an upgrade. Elias Diaz and Jacob Stallings are both essentially back ups. Decent back ups, but back ups. Francisco Cervelli should never catch again for his own well being, plus he is not a part of the future.
Keep Stallings, and hopefully acquire a high end catcher(Is that the Dodgers calling?). Use Diaz as a throw in for another trade or send him to Chisenhall's house to hang out. Oops, I mean "rehab".
First Base
Josh Bell is either having a breakout season, albeit while in a slump right now, or he had a hot month and a half and has come back down to his natural level. He is signed through 2023 and is certainly a building block. However with his lack of athleticism and poor defense—he still cannot throw a baseball correctly—his ceiling isn't as high as one may think. His trade value won't get any higher. I think you keep him, but I wouldn't bat an eye if they trade him for a package of prospects.
Middle Infield
When this team is good enough, Adam Frazier will be used as a super utility guy. He could start a few times a week at different positions. In a perfect world, Kevin Newman moves to second base and Cole Tucker becomes the shortstop.
The problem is, as always, neither of these guys is a high end talent. Newman has been very solid at the major league level this year. He is a contact hitter and a solid defender. Tucker showed flashes of defensive brilliance in his short stint with the Pirates this year, but he has always struck out far too much.
Unless something shocking happens, these three will make up the middle infield going forward.
Third Base
Colin Moran is a placeholder type of guy. Moran is decent, but certainly not an overwhelming talent. He is slow afoot and that makes his defense average at best. He has improved at the plate but doesn't have typical corner infield power.
Jung Ho Kang should be traded. The grand experiment to see if he could find his pre sober form has failed. A contender may welcome a power bat on the bench like Kang's.
The future of third base belongs to Ke'Bryan Hayes. He has been underwhelming at the plate for AAA Indianapolis this year, but you would have to assume he will be given an opportunity next year in Pittsburgh.
Outfield
Starling Marte's trade value will never be higher. If a true rebuild is to be started then trade Marte for a high end prospect or maybe two.
Corey Dickerson should be traded. Melky Cabrera should be traded. I've said before that both of those guys are great in the clubhouse. Both still have value on the field, in particular Dickerson. Again, if it's a rebuild then you can find clubhouse leaders at a later date.
Bryan Reynolds is a piece to build with and Gregory Polanco has to be kept, with fingers crossed that he gets healthy, to hopefully finally fulfill his potential. The problem with trading off your outfielders is that you have next to nothing in AA or AAA. Help will need to come from outside the organization.
Pitching
Starting Rotation
Jameson Taillon deserves to catch a break more than any human on the planet. His health going forward leaves the Pirates with a black hole atop their rotation.
Trevor Williams and Joe Musgrove are solid middle of the rotation starters. Steven Brault and Dario Agrazal might be bottom of the rotation starters.
Chris Archer should be traded. He has been beyond terrible. Trading Tyler Glasnow, Austin Meadows, and Shane Baz for Chris Archer was an overpay at the time,  and the trade is heading straight toward disastrous. Try to get someone to bite on Archer. Maybe some broken bats and used baseballs from a team that needs a BP pitcher. Cut your losses.
With or without Taillon, the top of the rotation needs major bolstering. Mitch Keller is the only real hope on the horizon, and he didn't fare well with his first stint in Pittsburgh. Trading for pitching is tough because everyone wants more, but the Pirates really have no choice.
Bullpen
There are many gas can carriers in the Pirates bullpen. Then there is Felipe Vazquez, one of the league's premier closers. Vazquez has a team friendly contract that runs through 2023. This is where Neal Huntington needs to hold out for a King's ransom in trade. Simply put, Vazquez will bring back the most talent.
The haul he gets for Vazquez should be similar to the haul he gave up last year to acquire Archer. Vazquez is the Pirates biggest trade chip, and should be traded for the right package. A closer is of little use to a losing team. Just  check out Vazquez's tweet from last week for reinforcement.
Bored! pic.twitter.com/XHIwN971tH

— Nightmare Vazquez (@F_Vazquez73) July 24, 2019
These Pirates need some treasure
During the 1979 team celebration earlier this month, Phil Garner called for the Buccos to start finding their winning ways. Dave Parker said it was hard to believe they haven't been back to the World Series in forty years. The way Nutting and company run the team it feels like it could be forty more.
When your own announcers are discussing at length, as Greg Brown and John Wehner did Saturday night, about how infield pop ups have been a "real problem" for this team you know things are a mess.
More on this group coming in my column this week…
pic.twitter.com/TxsHxZdyph

— Tim Clark (@TrojanTim66) July 28, 2019
Good little league teams don't have "real problems" with infield pop ups.
This team, once thought to be on the cusp of contention, is 2-14 since the All Star break and have lost 8 straight.
It's time.
Rebuild.
And if the Pirates esteemed management team
screws it up like I fear they will, then they can all walk the plank.
Just tell Bob there is a sunken treasure at the bottom of the sea.
---
Two Cent Takes
Baseball
~The Phillies aren't catching the Atlanta Braves, but still have a great chance to get a wildcard spot. There are six teams within two games battling for the wildcard spots. The Phillies didn't bring in Bryce Harper for later. They want to win now.
The Braves have scored 9 or more runs in all six victories over the Phillies. The Phillies will make a move or two for some type of pitching, but I don't think they will be earth shifting moves.
~Are the Cleveland Indians really considering trading Trevor Bauer? They have risen from the near dead to get within a game of first place Minnesota. They obviously want to win, but would love to shed payroll.
Bauer isn't a free agent until 2021, but he won't resign with the Indians. In addition to shedding payroll, Cleveland feels it can get a great haul for Bauer. Most teams want to win for their fans, but Cleveland fans show up as empty seats a lot at Progressive Field.
~Speaking of Bauer, this happened Sunday as he was about to get pulled from the game after a horrible outing.
From those of us who have thrown the occasional golf club, kicked a basketball into the stands, or slammed a baseball glove down, well done Trevor!
pic.twitter.com/piwsxRr4pj

— Tim Clark (@TrojanTim66) July 28, 2019
It appears Terry Francona found it far less humorous than I did!
NFL
~Golden Tate and his wife want to have a child, so Tate started taking a prescribed fertility drug. He got a four game suspension because there was a banned substance in the fertility drug.
Tyreek Hill wanted his three year old son to stop crying and his fiancée to stop yelling at him, so he punched his son and threatened his "bitch" fiancée. He arrived at camp with the Chiefs to a rousing ovation free of suspension.
Ain't life grand in the NFL.
~There isn't much I care less about than early reports from NFL training camps. I know they have to get ready for the season, but just a couple days into camp and players are already dropping like flies, including Cincinnati Bengals all pro wide receiver AJ Green being carted off the field.
The worst thing about this injury is that the Bengals were practicing at Dayton's Welcome Field as part of the NFL's 100 year celebration. Many Bengals players said the turf at the field was very subpar.
~Not one Pittsburgh Steelers player, coach, or fan should be upset this hot air balloon didn't land in Pittsburgh.
🤡🤡🤡
pic.twitter.com/Un8bM8EzuX

— Tim Clark (@TrojanTim66) July 28, 2019
Golf
~Did someone forget to tell Brooks Koepka that the St. Jude Invitational World Cup Championship isn't a major?
Koepka, who finished a combined -36 in the four majors, was on top of his game in cruising to victory over a really good field. His -36 in the majors was 22 shots better than the next best combined majors score. Oddly, winning a non major cements the fact that Brooks Koepka is the star of the show right now. Yes, golf is in good hands(and biceps).
A Penny For My Final Thought…
~Larry Scott, resident genius PAC 12 Commissioner, has proposed starting some PAC 12 games at 9:00….AM. Yes, Lar is "cray cray".
Whether you're a fan of the PAC 12 or not, college football is always better with a West Coast presence. Much the same as it is better when Notre Dame and Penn State and Texas and…well, you get the point. Not that it is bad when new teams pop in to contention, but college football needs its historically strong programs to be strong.
The West Coast has always had a large imprint on the game, mainly coming out of Los Angeles. Crazy Larry is trying whatever he can to regain that imprint. Maybe the problem is he needs Dirty Mary. Ah, Peter Fonda would clean up this mess!
Scott thinks it would be worth it to get some PAC 12 games early afternoon exposure east of the Mississippi River. Sure. Who doesn't want to watch a game where the players are sleepwalking because they had to get up at 4:00 AM?
Mike Leach, the eccentric coach of the Washington State Cougars, said players would have to start prepping for a game that kicks off that early at 4:30 AM.
Is it possible anyone, other than Scott, thinks this is a good idea?
As a USC Trojans fan in the East I hate staying up until 2:30 AM to watch the ending of those late night PAC 12 games, but it's better than players being expected to be at their peak before they've had breakfast.
Here's a thought or two.
First, play better football, especially in LA. USC and UCLA need to be good for this conference to flourish. Throw in Washington, Stanford, and Oregon, and then the occasional run from a Utah or Washington State and you have something.
Also, stop giving in to the networks. Thursday and Friday night games are for lesser conferences, and are particularly bad for your conferences power teams. Playing those games, especially on the road, puts the favorite team in peril. They are upset specials waiting to happen.
Lastly, get your house in order. Officiating has been a joke for years in the PAC 12. The culmination came last year when there was evidence of improprieties with how some replays were handled. The last thing a struggling conference needs is scandals with officiating or other ancillary bodies.
Check off these items and you don't need to even think about lame brain ideas like 9:00 AM kickoffs.
There is still one problem at hand. If you've ever dealt with the "smartest man in the room" you know what it is. They don't listen to anyone else. Logical, coherent responses are nothing but white noise to these people. Crazy Larry is one of these people.
Scott will do what he thinks is best despite any reasonable rebukes from coaches, players, and athletic directors.
Crazy Larry is a little bit like Crazy Eddie from those 80's TV commercials.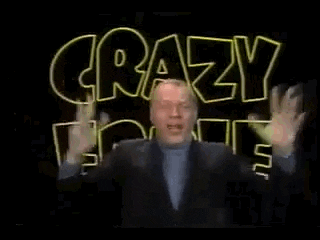 Instead of his prices, it's Crazy Larry's ideas that are…INSANE!
Just my Two Cents…
Tim Clark is a columnist and editor for PennSports.LIVE, and a wonderful writer of words. He is a lifelong sports fanatic with an eclectic mix of favorite teams including USC Trojans football, Louisville Cardinals basketball, and the Pittsburgh Steelers, Pirates, and Penguins in pro sports.