The calendar finally says fall.
I prefer autumn.
Cool word.
Who doesn't like saying things like autumnal colors or autumnal weather.
What about autumnal football.
Okay, maybe that's a bit much. But as the leaves here in Central Pennsylvania begin their trek towards autumnal colors, football is in full swing and filling up this fanatic's fall weekends.
I mean things need to get done, but what are you going to do?
Deciding what to do today: pic.twitter.com/hFg4XuXS63

— Brandon 🏀 🏈 🎥 ⚾️ ⛳️ (@sportsnerd4life) September 23, 2023
Saturday was the day of college football matchups fans have been yearning for all month. We still got some Georgia/UAB, Florida/Charlotte, Oregon/Colorado, North Carolina/Pitt mismatches sprinkled in, but otherwise it was a fantastic day of football.
What's that?
Oh, sorry Prime. You knew you weren't ready for Autzen Stadium just yet. No worries. Did you see USC play late Saturday night? You could be in for a revival this week.
Coach Duzz, I don't mean to pile on but, well, I'm gonna pile on. Maybe in between your thoughts on Penn State ducking your Panthers, you could prepare your team a little bit. And while you're at it, maybe have your backup quarterback more in tune with your "real" offense.
I digress.
It was a great day of college football. It gave me a chance to evaluate my preseason predictions and begin making better evaluations on teams and conferences.
Lunch Time Window
One thing stuck out in the noon window of games. The ACC is probably not all that good this year.
A mediocre Clemson team was one missed chip shot field goal --by a guy Dabo pulled out of a Manhattan office building-- away from beating Florida State. The miss left fans aghast. 
Caption this ____________ pic.twitter.com/EwTdDtkkhw

— KOFSPORTS 👑 (@KofSports) September 24, 2023
At least that fan has a new profile picture for her OnlyFans page.
FSU is supposed to be the class of the league this year. The Seminoles were outplayed for most of the game but found a way to win in overtime. Clemson played well, but if the bulk of the Seminoles offense is to throw fades and jump balls and hope their receivers make plays then trouble could be lurking. Remember that a week ago FSU nearly lost to a putrid Boston College team. If the Seminoles aren't careful, they will end up like the T-shirts the players wear.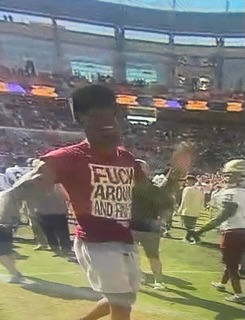 It just may be that Miami and North Carolina will be the teams to beat in the ACC. One thing seems certain. My Pitt pick to win the ACC seems to be getting Narduzzi'd. 
Click.
Michigan went through the motions beating Rutgers. It has to be hard to get kids fired up when your schedule is one patsy after another. Luckily for Wolverine fans, Jimmy Harbaugh usually has a way of getting his kids ready for tough opponents whenever they appear on the schedule. 
Click.
Oklahoma remained undefeated but were less than impressive doing so at Cincinnati. Kentucky and Texas A&M did just enough to have me keep an eye on them going forward. Otherwise, the noon window eased fans into the biggest games. 
Afternoon Snack Window
This window provided a lot of choices, so you had to have your clicker finger limbered up and ready for action.
First, Alabama is not dead yet. I thought the Tide were in for multiple losses going forward —and they still may be— but Saturday's performance may have changed my perception on things in Tuscaloosa.
Nick Saban still doesn't have a stellar quarterback. Regardless, Jalen Milroe may be able to do just enough to keep the Tide in games. Plus, Saban got his defense back on track against Ole Miss. A lot of defense and a little offense may be good enough to keep the Tide out of the loss column most weeks.
One perception that didn't change is how down the SEC is. Ole Miss looked extremely mediocre. Lane Kiffin seems to take teams he coaches so far, then they level out or regress. Kiffin's play calling and time management left a lot to be desired. He looked frustrated and without answers. It was disappointing coming from a team I expected to challenge for an upper echelon spot in the SEC standings.
Click.
Playing at Utah proved difficult for yet another Pac-12 foe. This time it was UCLA. Utah started Nate Johnson at quarterback as starter Cam Rising is still recovering from an injury. Johnson generated very little offense, but the defense chipped in with a touchdown to help out the Utes cause. Utah is easily the best team in the country at winning ugly.
UCLA freshman phenom Dante Moore proved he isn't quite ready for prime time. Chip Kelly is usually good at bringing young quarterbacks along, so don't despair just yet Bruins fans, all three of you.
Click.
Speaking of prime time, Deion Sanders and his upstart Buffalos met their match at Autzen Stadium Saturday.
Every realistic football fan knew Colorado wasn't on that top level yet, and that is where Oregon resides. We did find out a couple things:
Colorado —especially without star Travis Hunter— is still a fair distance away from that upper echelon.
Oregon coach Dan Lanning is very unlikable. I'm sure you've seen it, but watch his pregame speech and then I will explain.
The narrative around Deion is so nasty. "They are fighting for clicks" like Prime ain't single-handily rebuilding the worst team in FBS LOL

We know why folks don't like Prime

pic.twitter.com/j0FwwZCANo

— Swipa (@SwipaCam) September 23, 2023
A guy who coaches at a school that has zero championships but 1,043 uniform combinations and is funded by Mr. Nike was talking about someone else looking for clicks. The same school that is plastering billboards all over New York City saying Bodacious for the Heisman Trophy campaign for Bo Nix. Oh, and why let cameras in to see the speech unless you wanted clicks, too. Can you say tone deaf? Can you say jerk? I don't even like looking at Lanning. I even find that offensive. 
As a USC fan, I am glad Lanning is at Oregon. I'm glad he keeps opening his mouth. I already hate Oregon, so this makes it even easier to hate the quack attack.
Click.
The under the radar, yet very important, Pac-12 game was played on the Palouse between the only remaining Pac-12 teams Oregon State and Washington State. 
To my surprise, the Beavers were not able to impose their will on the Cougars. Washington State was faster and controlled the game from the start. Cam Ward may be the best player in the country nobody knows. He can spin it, he can run it, and he is a really good leader.
I still think Oregon State will be a tough out for other Pac-12 foes, but now Washington State becomes a real factor in the Pac-12. The Cougars have a really good young coach who also used the disrespect card, but in a much less attention getting manner.
Jake Dickert was fired up about the lack of respect shown to WSU on ESPN this morning saying Lee Corso called today's game the "No one watches Bowl" This is 1:32 well worth your time to hear Coach fight for his team pic.twitter.com/l9zZfhiUK2

— Andrew Quinn (@andrewquinny) September 24, 2023
The late afternoon window gave us a lot, but the main event was yet to come. 
Late Supper Window
Hopefully you ordered some pizza or something, because this is where the game of the day was located. You can't afford to leave your seat now.
Ohio State —yet to be tested— in South Bend to take on Notre Dame —yet to be tested. The game didn't disappoint unless you like lots of offense. What the game lacked in offense was made up for by late game dramatics from the Buckeyes and stupidity from the Irish.
The Buckeyes and Irish proved to be evenly matched. Both defenses stepped up to hold the offenses in check. Specifically, the Notre Dame secondary did a great job of containing a couple first round wide receivers for Ohio State.
The game came down to a fourth and goal from the one on the last play of the game. Ohio State eked the ball across the goal line for the win. Amazingly, the Irish helped the Buckeyes out by only having 10 players on the field. Ohio State ran it at the empty spot on the defensive line.
Notre Dame had only 10 men on the field for the final two plays 👀 pic.twitter.com/mVnL87yrxV

— SportsCenter (@SportsCenter) September 24, 2023
The Irish got away with it on the first play, then stunningly they didn't correct the error for the last play.
A disastrous way to lose a big game.
Checking the "I didn't see that coming" box on my scorecard, how about Ryan Day cutting a wrestling promo on former Irish coach Lou Holtz.
This was quite an interview with @KathrynTappen 👀 pic.twitter.com/S0L8QnJciE

— Nicole Auerbach (@NicoleAuerbach) September 24, 2023
Holtz, who I didn't realize was still upright, had this to say about Ohio State football.
Here's what Lou Holtz said on @PatMcAfeeShow that Ryan Day angrily referred to after Ohio St. beat Notre Dame: pic.twitter.com/r1Ju4pwl00

— Adam Schefter (@AdamSchefter) September 24, 2023
I have always thought highly of Day, but that is an odd thing to go level 11 on. McAfee only had Holtz on because they run a skit imitating Holtz on the show.
The reality from the game is that neither quarterback --McCord or Hartman-- impressed me as a championship quarterback. Both must improve if they want to win future big games on their respective team's schedule.
Click.
Happy Valley was all white Saturday night. The weather was a wet blanket on one of the great events in college football. The Iowa offense was also a wet blanket, as it often is. If the Hawkeyes thought they could spice up their always stagnant offense with Cade McNamara they were sadly mistaken.
Iowa's offense vs. Penn State today 😳

- 0 points
- 7 punts
- 6 three-and-outs
- 4 lost fumbles
- 76 total yards pic.twitter.com/eaEjOYcB34

— The Sporting News (@sportingnews) September 24, 2023
I wish people would quit telling me what a great coach Kirk Ferencz is. A great coach wouldn't allow their son to destroy half of their football team. Well, no great coaches except Joe Paterno, who allowed his son Jay far too much access to the playbook.
An athletic Penn State defense held Iowa to those measly 76 yards of offense. Meanwhile, the Penn State offense was methodical, if not exhilarating. The Nittany Lions are giving new quarterback Drew Allar easy throws to make, and he is making most of them. His receivers aren't exactly dynamic, but the running game is a two headed monster that keeps pushing them down the field.
I still feel reasonably good with my Penn State to the Championship Game prediction.
Click.
Texas went to Waco and went wacko on the Baylor Bears. My Quinn Ewers Heisman finalist prediction is looking good so far. As for the team, even Steve Sarkisian may have trouble screwing this season up. The Longhorns will be clear favorites in every game. Thus, my Texas playoff pick still looks solid.
Click.
Arkansas took LSU to the wire in Baton Rouge, again making me question just how good this league is this year. Remember a week ago the Razorbacks lost at home to BYU, who lost this week to Kansas.
Click.
Georgia had another "whatever" game against UAB. The Bulldogs entire schedule is "whatever", so by default I am still okay with my Georgia to the playoffs pick.
Late Night Snack Window
If you have some juice left, and you want more football there is the good 'ol Pac-12 After Dark game, which typically end up being strange.
This week was no different.
Two weeks ago, I felt like USC sent a message by squashing Stanford like a Napa Valley grape. Then they had an odd early season bye week. Needless to say, the Trojans thought they were still on a bye week.
The Trojans were discombobulated from the start. Mid way through the third quarter the Trojans found themselves in a dogfight with Arizona State, who was shutout a week ago by Fresno State and dealing with numerous injuries.
Lincoln Riley spent the week dealing with a media suspension that probably wasn't necessary on his part, and his team looked totally unprepared. Maybe he is finding LA a bit more distracting than Norman, OK. It is bad enough that the defense is still coached by the inept Alex Grinch because Riley is too stubborn to make a change, but the offense looked completely out of sync as well. Delays, wasted timeouts, and countless snaps being made with 1 on the play clock happened from start to finish.
The good news for USC is they won. There were a couple of games like this a year ago, too. You would expect Riley to have this stuff cleaned up by now. Too often the offense gets bailed out by Caleb Williams. He makes plays almost no other quarterback can make.
Needless to say, I am quite concerned about my USC championship pick.
Click.
I do a podcast here on the site fittingly called Wall2WallFootball. From noon until 2:12 AM I watched college football. Sunday, I did it all over again.
Hey the chores aren't going anywhere. And I can run errands in the morning. But starting at noon on Saturdays like we had this past weekend, I am in front of the TV watching as many games as my clicker finger will allow.
Autumnal football. Yea, that has a nice ring to it if you are a fanatic.
Two Cent Takes
College Football
~Not only did I have to suffer through a USC debacle, but I had to listen to Tim Brando. Brando is easily the worst football announcer on TV.
~I really enjoyed listening to Tom McCarthy, Jason McCourty, and Ross Tucker. They did the Alabama/Mississippi game, and the trio was very entertaining and insightful.
~Big noon kickoffs should not be in play for teams out west.
~The White Out at Penn State is one of the greatest scenes in sports. Having said that, I don't think teams are intimidated by it anymore. Iowa, for all of their suckitude, didn't seem rattled at all.
-Like my tweet says, just make Vince Vaughn the permanent guest picker.
Just make Vince Vaughn the permanent guest picker. He's money and he doesn't even know it.
pic.twitter.com/47UxUWz7no

— Tim Clark (@TrojanTim66) September 23, 2023
~My Two a cent Top Ten:
Texas
Washington
Ohio State
Oregon
Penn State
Florida State
Georgia
Washington State
Miami
Michigan
MLB
~Atlanta has been far and away the best team in baseball this season. However, they will enter the playoffs with a banged up pitching staff. Charlie Morton and Max Fried are currently on the DL. Morton is out for the division series, while Fried is questionable. Guess they will have to hit a few more home runs. That shouldn't be a problem.
~Kyle Schwarber is such an enigma to me. He now has 45 home runs and over 100 RBI. Yet he is hitting .198 with a bajillion strikeouts. Still, he makes the Phillies who they are. Amazing.
~Trea Turner has made quite a turnaround. With Turner hitting like they thought he would, the Phillies offense has found a new level.
~The AL West race is fantastic. Heading into the last week, Texas has jumped back to the lead. We call that the Bruce Bochy effect.
~The wildcard races aren't close to decided. Good for baseball. It is exactly what they wanted from the extra wildcard spots.
~Kudos to the Pittsburgh Pirates. Yes, they will have another losing record. Still, they have the sixth best record since June 19. Take that horrific May and early June out of the mix and the Pirates would be playing meaningful games this week. Next year maybe? Please. Pretty please. Check out my column next week for a review of the Pirates season.
~Umpires have taken a lot of heat behind them plate this year. Maybe they have had enough.
Spin this pic.twitter.com/sdXt8rsOMW

— Mike Rutherford (@CardChronicle) September 23, 2023
Golf
~Rome, Italy will be the site of this week's Ryder Cup. I can't wait. It is an event like no other in golf. Playing for your country, gamesmanship, and rowdy home crowds. The Americans have their work cut out for themselves. I just hope it is close enough for the singles matches to make a difference on Sunday morning.
NFL
~Miami, my AFC pick for the record, just looks different from every other team because of all that speed. 70 points in an NFL game is amazing. Keep telling me how Sean Payton is some kind of genius. I have news for him. For as bad as it was, Nathaniel Hackett never gave up 70 in Denver.
~The Ravens got Minshew'd. Gardner Minshew just wins. The Colts may be better than expected. Ravens are so boring. Lamar is inaccurate at big times. Lackluster receivers. No running game. Ravens = mediocre.
~Time to put Ryan Tannehill out to pasture in Tennessee.
~Whatever pasture the Titans put Tannehill in, the Giants should put Daniel Jones. But that contract will prevent that. Well done New York.
~Speaking of New York and done, the Jets and poor Zach Wilson are done.
~I said on Wall2WallFootball last week that I wanted to see Dallas beat someone outside of New York City. I'm still waiting. Losing to a tanking team quarterbacked by Josh Dobbs is not a highlight.
~Brandon Staley should have been fired when he went for a fourth and one at his own 29 yard line with under two minutes, the Vikings out of timeouts, and a four point lead. Just inexcusable. They failed, but only the ineptitude of the Minnesota Vikings bailed him out. I know it isn't like Kirk Cousins has a lot of experience, but clock the ball for God sake.
~Jacksonville is disappointing to me. Losing at home to Houston knocked me out of my Survivor league, and it puts the Jags in a little hole. Luckily their division makes climbing out of an early hole much easier.
~There are some unquestionably bad teams: Jets, Bears, Broncos, Texans, Titans, Giants, Panthers, and Cardinals.
The Weekly Shiny Penny
Travis Rudolph of Florida State shows in this story he is a really good dude.
Did you ever hear this story?

This Florida State football player, Travis Rudolph,
spotted a little boy sitting alone during his visit with
the team to a middle school.

He went over on his own
to sit with the boy.

When the boy's mother found out she wrote a tear jerking… pic.twitter.com/rNnAzRt7m7

— CALL TO ACTIVISM (@CalltoActivism) September 23, 2023
We focus on all the police blotter stories, but these are the stories we should be focused on. Focus on the really good dudes.
A Penny For My Final Thought…
Matt Canada should be fired as Pittsburgh Steelers offensive coordinator.
Fact.
Mike Tomlin will not fire Matt Canada during the season.
Fact.
Tomlin wills his teams to get better.
Fact.
Sunday night you saw growth. Oh, it wasn't great by any stretch but better. In some areas it was significantly better.
Kenny Pickett had his best game by a long shot. He certainly still had some shaky throws, but considering how much pressure he was under most of the night it was a solid game. As fans we can take at least a one week respite from wondering if Pickett is the guy.
Sunday night he looked like an above average quarterback. With better play calls he would look even better. With an offensive line that chose to block some people it would be better yet.
The jury is still out on Pickett to be sure, but there was a stay of execution for now.
The running game showed signs of life. Again, it has to be better but three and a half yards per carry was improvement. Najee Harris ran harder than he has all year. That's his game. Power. Jaylen Warren is a nice change of pace.
The receivers continue to be solid. George Pickens had a nice night, Calvin Austin had a long touchdown catch, and the Steelers resurrected Pat Friermuth from the grave.
The offensive line stinks. For some reason first round draft pick Broderick Jones remains on the bench. He just can't be worse than Dan Moore and Chuks Okorafor. I just won't believe it.
The defense was solid for the most part. The Raiders stink at running the ball, and the Steelers capitalized on it.
Davante Adams is one of the best receivers in the game, and he gave the Steelers secondary fits. Other than that, the Steelers performed well. Even the much maligned Levi Wallace had a decent game with two interceptions.
As always, the defense goes as TJ Watt goes. And he went wild again. Watt had two sacks and a bunch of pressures. His teammates joined the party as well, putting Jimmy Garoppolo in bad spots all night.
Even special teams were good. As a matter of fact, they were outstanding. Pressley Harvin easily had his best game as a Steeler., including burying the Raiders deep in their own territory with 12 seconds left. Chris Boswell is a stud. Three more field goals added to his growing total, including a 57 yarder.
It helped the Steelers cause that the Raiders are coached, for the time being, by a numbskull. Josh McDaniels, down 8 with just over 2 minutes to play, chose to kick a field goal instead of going for it on fourth down. That meant the Steelers offense needed just one first down to ice the game. I get that the Steelers aren't a powerhouse offense, but how ridiculous.
The Steelers did make a first down, leaving the Raiders with 9 seconds and 90 yards to go when they got the ball back.
So good fortune and improvement propelled the Steelers to their second straight victory. This one was slightly sexier that the last, but make no mistake, the Steelers won't win any beauty contests any time soon. 
No new offensive coordinator is walking through that door. It isn't how the Rooneys operate. It isn't how Tomlin operates. This is the Pittsburgh Steelers, and they do it the Steeler way even when all the evidence says they should not. 
Heck there is even a replacement ready and willing.
Antonio Brown rips Matt Canada and wants to be the Steelers new offensive coordinator. #Steelers #NFL pic.twitter.com/euhVTb2e6F

— Blitzburgh (@Blitz_Burgh) September 24, 2023
Well, one thing is for sure. That move wouldn't lack entertainment.
For now, Steelers fans keep those fingers crossed that things improve each week. Hope the confidence level rises a little each week. Hope that playbook opens up just a little bit. Hope we are proven wrong, and the Steeler way proves to be the right way.
After all, hope can be a powerful thing.
Baby steps, right Mike?
Steelers WIN!! #HereWeGo pic.twitter.com/2GgPR9rmaw

— Benstonium (@Benstonium) September 25, 2023
Just my two cents...