You'll have to excuse me if I seem a bit frazzled this week.
I've spent the last few days, with my remote control firmly in hand, switching from game to game watching USC's would be, could, be, might maybe be next head football coach.
Here is what I uncovered.
Urby
I started on Thursday night by watching Urban Meyer lose an aneurysm special at the last second to Cincinnati. His Jaguars are winless, and it could be argued that he is already sick of the rigors of NFL head coaching life.
Meyer would be the closest candidate to a sure thing. USC is looking for a sure thing. Someone they can be sure will restore the Trojans to championship contenders. It has been speculated in La La Land that USC President Carol Folt isn't fond of the Meyer baggage. Boosters, on the other hand, would be totally on board with Urban. 
My attention was somewhat diverted by the latest Miami Hurricane disaster. I assume Miami will soon be joining USC in the coaching search ranks. They, too, will be looking to finally get it right with a coaching hire.
Speaking of baggage with the Urbanator, check this leaked video from over the weekend.
Is this why Urban Meyer is trending? 😳 pic.twitter.com/nFg8kUFVli

— Dude In Texas (@ChiefSVP) October 3, 2021
Hint: That isn't his wife, but he is happy to see her. If Carol Folt was iffy before, she will be very iffy now.
I would swallow hard and hold my nose with good old Urby, because I'm sick of watching my Trojans sink.
Luuuuke
Saturday afternoon is when I had to get my remote control thumb limber.
At 2:30 I tuned in to watch the next candidate for the USC job, Luke Fickell. I had the double pleasure of also watching Fickell's Cincinnati Bearcats beat Notre Dame. In the fall, each Saturday the rule is root for USC and root for whoever is playing Notre Dame. 
Fickell is good. He has molded that Bearcat team into a tough, hard nosed team. It fits his personality. Imagine what he could do with better personnel like he would easily be able to find in Los Angeles. 
Originally I didn't think Fickell would want to uproot his family and leave his lifelong home of Ohio for the bright lights of LA. Now, I am 50/50. I think professionally he would love the challenge of building back a traditional power. It helps that he explicitly trusts Mike Bohn, his former AD and current USC AD.
Fickell Football would be fine by me.
Just a placeholder
At the same time I searched for my Pac-12 Network feed, which is a real ordeal. There I would find my beloved Trojans beating up on one of the worst teams in college football —Colorado— and one of the worst coaches in college football —Karl Dorrell. 
Donte Williams is the interim. He is a good recruiter and has a great work ethic. He has been tasked with the unenviable job of changing a rotting culture at USC. He is doing what he can.
Williams won't be the next coach, but I would love to see him retained. He has value and could be a bridge of sorts to the new regime.
The Lane Train
I've said it before, and I'll say it one more time. I love Lane Kiffin.
Lane Kiffin will not be the next USC coach. 
He has grown up a lot. He coaches offense as well as anyone in the country. He is working to build Mississippi into an SEC power. That is next to impossible, but he is pushing that Boulder up the hill inch by inch.
Saturday, oh, by 3:50, Kiffin showed he hasn't grown enough. He decided to leave his punter on the bus in the first half, and every time Alabama stopped Ole Miss on a fourth down they went down the field and scored. Kiffin was flustered in the pregame interview, and it didn't get any better during the game. 
In fairness, Nick Saban is going to fluster most people he plays. 
Kiffin would be fun. Kiffin would recruit. Kiffin would have a productive quarterback and great offense. 
Even with his growth as a coach, Kiffin would be a risk. I will just have to keep cheering for him elsewhere.
The Great Cristobal 
Sounds like a magician, doesn't it?
Unfortunately, Cristobal's best trick is losing to one team he should never lose to each season. Often times, as was the case Saturday, it is Stanford.
Cristobal is a great recruiter. Oregon easily has the most talent in the Pac-12, particularly in the trenches. Cristobal cannot find a quality quarterback. He inherited Justin Herbert, and has had subpar quarterbacks ever since.
His close to the vest coaching style often prevents his own team from burying teams. The way he coached the last three minutes on Saturday was abysmal. Stanford's Mr. Conservative, David Shaw, was the aggressor. 
By plucking Cristobal, USC would weaken the conference's best team and assure they would get much, much better in the trenches. However, Cristobal's conservative nature may not be a big hit in Hollywood.
The Great Cristobal may be able to pull rabbits out of hats, but I am not sure he can pull USC form the depths.
Frankly speaking
The night games gave me a little break on the remote control. 
Matt Campbell is a guy I really like at Iowa State. However a lackluster start to the season has a bit of the shine off of Campbell. Actually, USC is crazy if they don't at least give Lincoln Riley a call. He is the Big 12 coach they should set their sights on. I think Riley's answer would be no, so let's move on to a guy who I think would definitely say yes.
James Franklin and his Nittany Lions put in a workman like effort in dispatching an overmatched Indiana team. We will see how far Franklin has brought Penn State when they travel to Iowa City for a top five matchup with the Iowa Hawkeyes.
I am wavering on how good I think Penn State is. Their opponents no longer look as tough as we once thought they were. Wisconsin and Indiana both stink, and Auburn's record is deceiving. 
Franklin has always followed the same script, with last year being the exception. He recruits well, except on the offensive line. His teams win just enough games to keep detractors at bay, but not enough to gain playoff relevance. Some think Franklin is good at talking —thus the good recruiting— but not so much at X's and O's. 
I think Franklin's personality would resonate in Los Angeles. Plus he wouldn't have to deal with Ohio State in the Pac-12. I still think he is one of the favorites to take the USC job.
Sunday coordinators
Some rumors have Kansas City Chiefs offensive coordinator Eric Bienemy and Lions offensive coordinator Anthony Lynn as candidates. 
I know what Bienemy has done in Kansas City. He calls plays for the most potent offense in the NFL. He would be an unknown at the NFL level.
Bienemy's problem is he has never been a head coach. USC most likely isn't interested in someone who would be learning on the job.
The most recent name to get thrown out there is Lions OC Anthony Lynn. Watching the Lions, I see a lot from Lynn that I did when he was head coach of the Chargers. I like Lynn, but there isn't a lot of spark there. He, too, would be learning on the job.
By the end of the weekend
As you can probably understand, I am exhausted. So many mental notes on so many would be, could be, might be's. And, man, my thumb got a workout.
I have changed my mind on this a million times already. As of this minute, I think it comes down to Fickell and Franklin. Fickell declines. Franklin accepts.
Which means USC probably hires Chris Peterson.
Two Cent Takes
College Football
~Same thing, different year. Oregon always loses a game it shouldn't. Anthony Brown can't possibly be the best quarterback on the Ducks roster.
~Texas may just have enough to take out an extremely wobbly Oklahoma Sooners team in Dallas this weekend.
~It was only Rutgers, but that was the kind of game Ohio State needed to get its mojo back.
~Cincinnati did what they had to in South Bend. But was it a "signature" win? Notre Dame stinks.
~Clemson just doesn't have it this year, and that isn't going to change.
~Penn State transfer Will Levis brings an edge to Kentucky's entire team. The Cats are 5-0. 
~Iowa will beat Penn State this week. That pick should make Penn State fans happy.
~Miami's season in a nutshell.
What kind of year(or decade) is Miami having? This play says it all…#CollegeFootball pic.twitter.com/uxrCOTWZuu

— Tim Clark (@TrojanTim66) October 1, 2021
And why is Manny Diaz going to be fired in Miami? Despite being down(again) against Virginia his players are more concerned with this stuff.
Miami finally got on the scoreboard with 2 minutes left in the first half and had to take a picture on the sidelines to remember the special occasion. pic.twitter.com/lq0OnEl6Xx

— NCAAF Nation (@NCAAFNation247) October 1, 2021
~Alabama is really good. Georgia is better. Everyone else is neither.
NFL
~Ben Roethlisberger stinks. He's finished. Yes, the offensive line is awful. Yes, the defense has been banged up beyond recognition. But, man, the quarterback gives them zero chance. He twice missed JuJu Smith  Schuster for passes that would have been touchdowns.
wrong. https://t.co/B5oEnSKG6J

— Colin Dunlap (@colin_dunlap) October 4, 2021
I don't think that is what he said, but it should have been. The quarterback who everyone saluted for taking a pay cut should have retired two years ago. Instead he took two more years of huge salaries, so you'll excuse me if I don't gush all over him for the pay cut.
It is painful to watch. He should have retired two years ago when he hurt his elbow. Winning any games the rest of the season is not a given.
~Buffalo apparently thought that first game against Pittsburgh was their last preseason game. They look like the class of the AFC right now.
~I've been told the rules say someone must win the AFC South. Indy scratched out their first win, while the Titans lost to the lowly Jets. Houston is not worth mentioning and the Jaguars coach celebrated his team's 0-4 start in a co-Ed hangout in Columbus. First team to 8 wins.
~So Kliff Kingsbury almost got stuck on Clay Helton's coaching staff. Instead he gets the Cardinals job and may be coach of the year. It is early, but the Cards look like the real deal. They handily took out my Super Bowl pick in their own house.
~The Eagles join Pittsburgh in making what may be the worst state in the NFL. Both teams will go QB hunting in the offseason.
~New York City must have been rocking Sunday night. The Jets and Giants got off the schneid by beating alleged playoff contenders. There was even a Saquon Barkley sighting in New Orleans.
~I challenge you to find anything or anybody more miserable than Bill Belichick in the rain.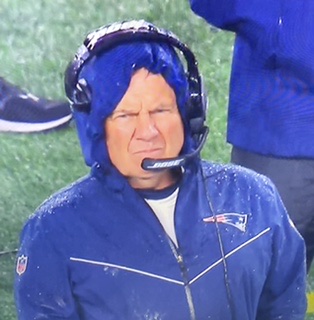 ~And I defy you to find anyone more creepy than his son.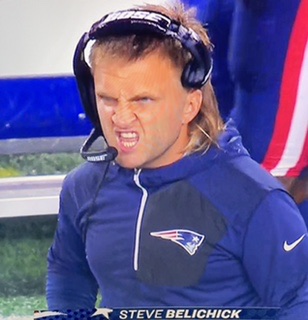 MLB
~The Yankees and Red Sox rallied late on Sunday to avoid a three team cluster for the final wildcard spot with Toronto. The Blue Jays offense is great, but their pitching came around too late. 
~So we get the misfortune of seeing a Yankees/Red Sox one game playoff. Someone call Bucky Dent.
~Baseball should shorten the regular season back to 154 like it used to be back in the day. Then make the wildcard a best of three. 105 win Los Angeles has to play a one game wildcard to advance. That is patently ridiculous. 
~Duly note the calendar. There was a day when the World Series would be getting started right now. Instead we are just finishing the regular season. Game seven of the World Series would occur on November 3. Does baseball think anyone will still be invested in their sport in November? My God. I will be putting up my Christmas tree and watching the World Series. Also patently ridiculous. The schedule, not me putting up my tree. Who doesn't love Christmas decorations.
 
This Week's Shiny Penny
The Pirates lost 100 games this year. They are terrible. Cole Tucker is on the yo-yo program between AAA and Pittsburgh. He is on that program because he isn't very good. He has not come close to living up to his draft status from 2014. It would be a miracle if he ever pans out. He does play hard and has a great attitude. So in the spirit of every dog has his day, here you go.
Cole Tucker had the kind of game #Pirates were hoping for since they drafted him in 1st round 2014 pic.twitter.com/sXV35lcO1o

— Bob Pompeani (@KDPomp) October 2, 2021
A Penny For My Final Thought…
Baseball is over in the Keystone state. 
What now?
Well, in Philly I'm not quite sure where they go from here. 82 wins was not what they paid Bryce Harper a zillion dollars for. Harper is a great player, and will still have JT Realmuto with him next year.
Othersise, one would suspect a lot of changes. I can't imagine Rhys Hoskins returning, nor Andrew McCutchen, Jean Segura, or Odubel Herrera. Can they get Alec Bohm on track? How about Aaron Nola? And massive changes to the bullpen should be expected.
The Phillies ownership will spend money. Unfortunately their farm system is barren of any talent. You can only buy so many players, particularly with the money already spent on Harper and Realmuto. Plus there is an outside —very outside— chance that a salary cap will be negotiated this offseason.
Phillies fans are tough on their teams. They may have a lot to boo next year.
Western PA
The Pirates lost 101 games. That was five less than I predicted.
Bob Nutting is their owner, and he will not spend money. However, the Pirates have some real prospects on the horizon. 
One prospect I can't wait to see more of is 6'7" shortsoptop O'Neil Cruz. He had three hits this past weekend in his MLB debut, including this shot.
ONEIL CRUZ JUST HIT HIS FIRST MAJOR LEAGUE HOME RUN!!! pic.twitter.com/PIMMswXDYl

— Pittsburgh Pirates (@Pirates) October 3, 2021
That is impressive. Cruz went 408 with a pitch at his shoe tops. He has massive power and should be fun to watch. 
The Pirates minor league teams won a lot. It wasn't because they had older players at each level. Quite the opposite. They had good, young players who were performing. If I have one complaint, it would be that Ben Cherington didn't move guys up to the next level faster. 
Next year will be a year to hopefully see steps forward. 100 loss seasons should no longer be accepted. It is imperative the owner spend some money on the major league club, to satiate a starving fan base until the young prospects are ready for Pittsburgh.
Honestly, Brian Reynolds and Ke'Bryan Hayes are the only true potential stars on the major league roster. Obviously others will be retained, but only because they have to keep some.
The Pirates are still trying to come back from the disastrous trade with Tampa Bay a couple years ago. Austin Meadows is a nearly 30 home run guy, Tyler Glasnow is an ace when healthy, and Shane Baz made a successful MLB debut this month at age 22. They should all be part of the core young Pirates team.
They aren't, and Ben Cherington is tasked with overcoming that and a frugal owner to build this team back better( sorry for stealing that line Mr. Biden). Nutting should be the most outspoken small market owner this offseason in pushing for a salary cap. My guess is he won't be.
The Pirates may actually be in better shape moving forward than the Phillies are. 
Either way, Pennsylvania baseball has a lot of questions moving forward. 
Just my two cents…