The NHL playoffs are one of the greatest—if not the greatest—spectacles in sports.
NHL officiating in the playoffs is also a spectacle. Great, however, would not be an accurate adjective for this spectacle.
Fans are aware. Players are aware. Coaches are aware. Apparently the only people who are not aware are those sitting in the league offices.
It's a disgrace, and it is damaging the product greatly.
Instead of talking about great plays by great players or fourth liners who jumped up to have their moment in the spotlight, we are talking about this incompetency.
#NHL refs be like: pic.twitter.com/Ad02KSmIi0

— Charles (@CHGoalie27) May 23, 2021
I just don't want to see anything like the horror show that took place in Florida Saturday afternoon. It would be a black mark for both these franchises. The refs have to call things tighter.

— M. D'Amato (@StGeorgeCross17) May 23, 2021
@EricEngels enjoy your columns & agree the Habs earned their penalties in last nights game, but what I don't get, and I am beating a dead horse here, why the media, such as yourself, won't call the league out for the blatant bias, inept, unfair, call it what you want officiating

— Todd Smart (@todd_smartie) May 23, 2021
Another very bad night for @NHL-Officiating & @NHLPlayerSafety again: Dangerous boarding hits, cross checks, guys from the bench poking with stick, all uncalled. + this tying goal disallowed for goalie interference? EMBARRASSING!!!#HockeyTwitter #mnwild #VegasBorn #FlaPanthers https://t.co/aPeEnDBS0M

— sportpassion.de ⚽ (@Lars_Mah) May 23, 2021
Also keep in mind, McDavid wasn't the one who chipped this puck in. https://t.co/9W5XTwDoi4

— Ryan Rishaug (@TSNRyanRishaug) May 22, 2021
NHL Stanley Cup playoff results: Lightning call out officiating, Maple Leafs win one for John Tavares https://t.co/4CRqLaryzJ

— The Athletic New York (@TheAthleticNYC) May 23, 2021
Typically, I don't put a ton of stock in Twitter tirades. However, when teams—and the Penguins have quietly grumbled as well—start openly calling out the officiating it's not a good look for the league.
Nothing to see here @NHL. The officiating has been atrocious for every series so far. This is as clear as it gets. #NHLPlayoffs #StanleyCup pic.twitter.com/mko7KBRdfd

— Ben Cameron (@bcameron64) May 21, 2021
No call here.
"Hey siri, what's a cross-check?" pic.twitter.com/2srPWCyfkH

— Giles Ferrell (@gilesferrell) May 21, 2021
No call here either.
Ryan McDonagh gets a two minute minor for boarding Anthony Duclair pic.twitter.com/oT0nvrIrUA

— Shayna (@hayyyshayyy) May 17, 2021
This dangerous play only got a minor penalty, rather than a major like it should have.
These hits are literally identical. Angle. Location. Force. Technique. No difference. Hit 1 is apparently fine. Hit 2 is apparently boarding. pic.twitter.com/HKqNCfF3da

— ToughCallPodcast 🇨🇦 (@ToughCallBlog) May 21, 2021
Inconsistency.
Islanders and Penguins doing their best Slapshot impression with this fight.

But the real takeaway is hearing a crowd roar again *chef's kiss* pic.twitter.com/2omvAbz76U

— Josh Hill (@jdavhill) May 21, 2021
After this melee, that officials should never have allowed to get to that point, the Pens some how ended up short handed. Watch as number 24, Jeremy Mayfield, for the Islanders throws the only punch. But the Islanders still got a power play.
@NHL, the officiating in last night's Lightning/Panthers game was an embarrassment to the league. They should never be allowed to officiate another playoff game in their careers. 2 star players for the Lightning were injured on complete non hockey plays. Direct attempts to injure

— KimVitaminR (@Kim64779055) May 23, 2021
This is the biggest issue at hand. Players realize there is no repercussions for their egregious actions, so they are freely making runs at players. This leads to injury.
Hockey is a tough enough sport anyway. Plenty of injuries happen in the natural course of play. There is no reason to exacerbate the situation with officials who refuse to call penalties and control the game.
Look, it's the human condition to enjoy a good hockey fight. That isn't even what this is about. This is about calling things that are clearly penalties. Plays that interrupt the great flow NHL playoff games are capable of having puts a damper on these games.
There are so many skilled players in these playoffs. Unfortunately, they are being clutched, grabbed, tripped, interfered with, and flat out taken out of the game.
These players aren't supposed to be stopped easily. Fans want to see these players do those special things. If the only way to stop them is by penalty then it needs to be called.
That is all that is being asked of NHL officials. Call the obvious penalties. Quit allowing games to look like a playground fight between warring middle schoolers.
Watching both teams pack the penalty box because the referees allowed the game to get completely out of hand isn't comical. It is idiotic.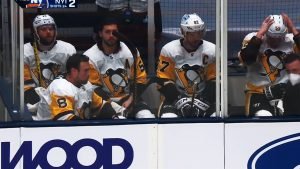 As a friend texted me last week as we watched the Penguins hang on to a one goal lead, "Nothing like a one goal playoff hockey game in the last two minutes."
The NHL playoffs truly are a gut wrenching spectacle that makes your heart race, your stomach churn, and fray your nerves. And that is for the fans. Imagine what the players feel like.
You would think the league would want to do everything possible to make the game the focus of conversation, not the poor officiating.
The NHL has not been a well run organization under the leadership of Gary Bettman. Actually that is a gigantic understatement.
Hockey is a sport that has progressively caught on with people new to the sport. Young people, in particular, are gravitating to hockey rather than being bored with baseball.
Baseball has gone to a home run derby style—it's not working—to score more—it's not working—and attract more fans—it's not working.
Basketball has opened up and become a three point shooting game to accentuate its skill players.
Football is constantly changing the rules—too much, for the record—to benefit the offensive skill players.
Hockey?
Absolutely not true. Superstars would be drawing way more penalties than they actually do if that were the case. Instead the regular season being star-friendly and the playoffs being normal, the regular season is forced parity and the playoffs are extreme forced parity. https://t.co/KfMuhzf9Gm

— Jeff Veillette (@JeffVeillette) May 22, 2021
The directives they have given officials only hinders the sport's stars. In the playoffs it gets far worse. Those numbers would create change in almost every other sport.
Much like football, fans are attracted to the physicality of the game and, yes, the occasional fight. But what they really want to see is the skill. Football fans tune in to watch Patrick Mahomes do his thing. They don't tune in to see some second string linebacker take a cheap shot that could end a star's career. Hockey fans want to see guys like Sidney Crosby work their magic, not to watch a goon like Tom Wilson get away with cheap shots.
The NHL must be better, but under Bettman the league has shown no indication of changing. Oh, they fired an official earlier this year because he was caught on a microphone saying he wanted to call a penalty to even things up. That was a nice show, but as can be seen during this playoff season to date, meant very little.
Sometimes the best team doesn't win a playoff series. Upsets happen all the time. Upsets should happen because the underdog rose up and played spectacularly. Or maybe the favorites were off their games or got outcoached. That is sports.
What you are seeing now is officiating helping decide games in the NHL playoffs. Clutching, grabbing, interfering, cross checking is all going predominantly uncalled. Like anything, if you know you are getting away with something you will keep committing that violation. It has become an actual strategy for many teams.
That is unfortunate.
The league doesn't want playoff games interrupted with a million whistles. I get that.
What they should want is the rule book being enforced. No more. No less. Just enforce the actual rules.
True hockey fans will remain on the edge of their seats during the spectacle that is the NHL playoffs.
It would just be nice if we had one less thing to raise our blood pressure.
Two Cent Takes
NHL: Stanley Cup Playoffs
~Having said all of the above, the Pittsburgh Penguins will need to endure the New York Islanders physicality. All hits are not illegal, and the Islanders are hammering the Pens in this series.
~For all the Pens fans going to full panic mode, remember if they hold home ice they advance.
~It is time for the Pens stars to have a bigger impact on the game. Sidney Crosby does so many things well, including this defensive gem.
Bookmark this tweet and show it to anyone that ever questions whether or not Sidney Crosby is still the best hockey player in the world. pic.twitter.com/THJS1wXArD

— 105.9 The X (@1059thex) May 21, 2021
That said, it sure would be nice to see Crosby, Malkin, and Guentzel start getting some pucks to the back of the net.
~The Boston Bruins eliminated the depleted Washington Capitals 4-1. The series was much closer than that. Washington had to play with back up goalie Ilya Samsonov, who was not great. In game four the Caps dominated the play, including rifling 41 shots at Tuukka Rask. Unfortunately, Samsonov gave up three goals on only 19 shots. The Bruins will get some rest before playing the Pens/Islanders winner.
~Out West Marc-Andre Fleury has been on his game against the Minnesota Wild. If Vegas finishes off the Wild, it will set up a fantastic series against the Colorado Avalanche, who are blasting the Blues.
~Winnipeg is up 3-0 on the Edmonton Oilers, after an overtime victory Sunday night. Conner McDavid has been very quiet. He will need to make a whole lot of noise for Edmonton to get back in this series.
~In all, 13 overtime periods have been played already.
NBA
~For all of the handwringing about the play-in games, it was great theater. The Lakers/Warriors set records for viewer numbers.
~If I were a Phoenix Suns fan, I would be incredibly nervous about seeing the Lakers in round one. The Suns looked good in game one, but the Lakers make a habit of winning series in which they lose the first game.
~The Philadelphia 76ers got the best possible draw in the Eastern Conference. They avoided the Celtics in round one—they are up 1-0 on the Wizards—and avoided the Nets and Bucks until the Eastern Conference finals. Can they take advantage?
~Marv Albert is retiring at the end of the NBA playoffs. I listened to Marv call Knicks games when I was a kid, but maybe the best Marv Albert was Dave Letterman Marv Albert.
https://youtu.be/v_Phe3sUyhg
MLB
~Remember two weeks ago when I wrote baseball was unwatchable? Marlins manager Don Mattingly—a career .307 hitter who never struck out more than 43 times in a season-concurs. Listen.
Had to grab this and post from yesterday's pre game. Marlins Manager Don Mattingly on all of the no-hitters being thrown. Candid. pic.twitter.com/TFo8Um04pf

— Craig Mish (@CraigMish) May 21, 2021
Never a good sign for your sport when people within the sport say something like that.
~As I type this ARod—who is a terrible announcer but knows a little about the game—suggested some no name Cardinal should take 3-0 in the ninth inning of a 0-0 game. No outs you need to get on base for your better hitters. Of course the no namer swung at a 50/50 pitch and grounded out. That, my friends, is modern day baseball.
~The Pirates played an actual team this weekend, losing three of four games to the Atlanta Braves. They were out scored 33-3 in the three losses, including a  20-1 nail biter on Friday night. I'm still standing by my 100 loss prediction. Effort is there. Talent is two or three years away...maybe.
~To reinforce the above statement, only Adam Frazier, Bryan Reynolds, and Jacob Stallings are starting caliber major leaguers.
~Pat McAfee gets it.
Just now seeing that the Pirates lost 20-1.@Pirates, I know this is a "social media department" but..is there any chance yinz could walk into that sack of shit owner's office & tell 'em to sell the team.

Take your Twitter fingers and be a hero.. TELL BOB NUTTING TO TAKE A HIKE pic.twitter.com/yE8u9y2WWl

— Pat McAfee (@PatMcAfeeShow) May 22, 2021
~The Phillies are treading water while waiting for Bryce Harper's return. Everyone in the division is within 2.5 games of first place. Bottom line for the Phillies is they better get the likes of Andrew McCutchen, Alec Bohm, and Rhys Hoskins hitting because the pitching past the first two guys in the rotation stinks.
~Don't look now, but the Dodgers and Padres are about to soar. San Francisco will soon be left in the dust.
PGA Championship
~Two new guys I will root for just a little more from now on.
First, Eric Von Rooyen hit one in the water at 17 Friday. He had gone bogey, double bogey, double bogey before this.
Konica Minolta breakdown of @FredVR_ on the 17th at the @PGAChampionship. This dude is the 🐐. pic.twitter.com/5QgwMmw2k2

— West Texas Driving Range Pro (@jjkilleentcu) May 22, 2021
Then on Saturday it was Henrik Stenson's turn. This far more low key.
@NoLayingUp 😂 pic.twitter.com/ynRKp2NCxc

— Scott Hayes (@sthayes74) May 23, 2021
I can relate, fellas, I can relate.
~One thing about playing golf in the Carolinas is you never know who you might encounter.
🚨 BABY ALLIGATOR ON THE COURSE AT THE PGA CHAMPIONSHIP 🚨 pic.twitter.com/WRf5K6aBC0

— ESPN (@espn) May 21, 2021
A Penny For My Final Thought...
I'm 50 something. I'm left handed. I play golf. I am not Phil Mickelson.
Trust me when I say what we witnessed over the weekend was amazing.
At nearly 51 years of age, Phil Mickelson won a major. Mickelson is the PGA champion.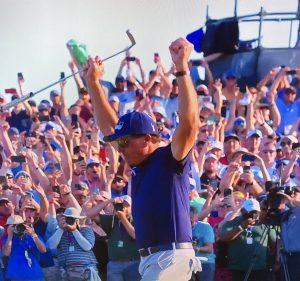 Phil usually makes it interesting, and Sunday was no different. Well, except that he also did things like this.
What a shot from Phil Mickelson.pic.twitter.com/BSpaepdXrD

— Sporting News (@sportingnews) May 23, 2021
And what does he do immediately following that shot? He gives the ball to this kid.
.@PGAChampionship @PhilMickelson Win... Loose... Draw... You are the man for this!#ThumbsUp pic.twitter.com/wyHyRnrXR3

— Russ Norm Normandin (@RussNormandin) May 23, 2021
Great golfer. Great person.
To give you some perspective, Mickelson's playing partner—Brooks Koepka—is 31. Koepka hits it as long as anyone this side of Bryson DeChambeau. Phil blew his drive right by Koepka's on the 16th hole of the last round of the tournament. And Koepka crushed his.
When you look at Phil Mickelson today, he is in much better shape than he was 5 or 10 years earlier. He admits to working and eating better, while having improved focus. Still, this win came out of nowhere.
Mickelson hasn't even had a top 20 in a tournament this year. He did win twice on the "old man's" tour. Oh and he had not won a major in 8 years.
Most, including myself, were sure Koepka would eventually run down Mickelson.
Heck, forget the physical stuff of being 50. Forget the fact that Mickelson has always had a habit of doing something silly to lose tournaments. It's the mental side that impresses me the most.
Every player that has ever played in a PGA major will tell you what a mental grind it is. Surely Kiawah Island's Ocean Course, the longest course in major history, was a grind. From changing winds to difficult rough, players had to maintain focus. I can attest to how easy it is to lose focus when you are on the north end of 50. On a golf course that is beating up pretty much everyone, it has to be extremely easy.
Mickelson acknowledged afterwards that his focus was spot on.
Amazing.
What does this say about the state of golf?
Other than Tiger, Phil is the only golfer today that could cause a scene like this.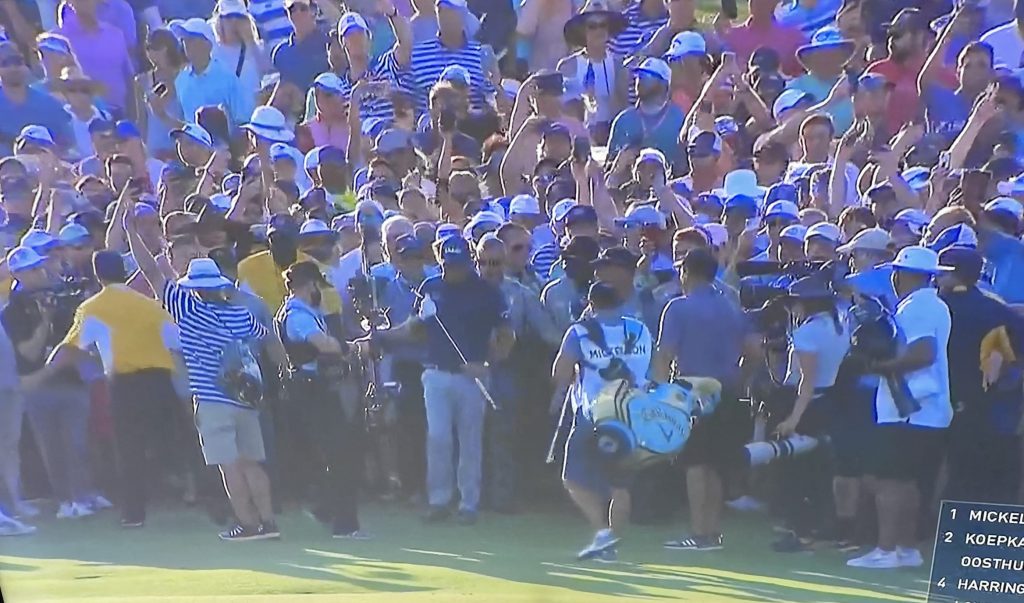 It also says Phil Mickelson is a pretty special golfer. He has committed himself to staying in shape, eating right, and practicing more.
It isn't, however, a negative about the rest of the current players.
Sure, Dustin Johnson, Justin Thomas, and Xander Schauffele missed the cut. But once again guys like Koepka, Justin Rose, Abraham Ancer, Jon Rahm, Colin Morikawa, Will Zalatoris, Scottie Scheffler, and even long lost Ricky Fowler finished in the top ten. These are all good players. So when three really good players miss the cut, there are still a ton of good players in contention.
Koepka has 13 top tens in majors and was playing on a reconstructed knee. He isn't the warm and fuzzy character that Phil is. He was less than happy about getting trapped in the crowd at 18, stating the people "didn't give a sh*t about him or his knee". Regardless, Koepka and these other players have great things ahead.
Maybe none of these guys will be the next Tiger Woods or Phil Mickelson, but they are all really good...and really young.
Young. Ha. Phil Mickelson scoffs at such a word.
I thought Mickelson could win The Masters at 50. I did not think he had any of the other majors in him.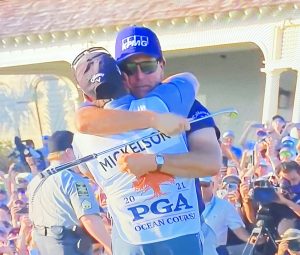 Wrong.
Mickelson needs a US Open to finish the career grand slam. He has been so close several times. In a month he will tee it up at Torrey Pines—a course he is very familiar with—to go for it one more time.
Are you betting against him?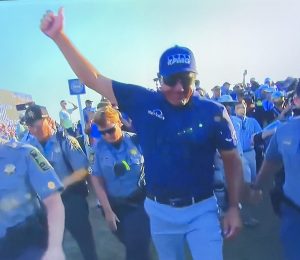 That would be a big thumbs down.
I've failed many times in my life and career and because of this I've learned a lot. Instead of feeling defeated countless times, I've used it as fuel to drive me to work harder. So today, join me in accepting our failures. Let's use them to motivate us to work even harder.

— Phil Mickelson (@PhilMickelson) May 11, 2021
Has anyone heeded their own words better?
Keep hitting bombs, Phil.
I start my diet now.
Just my two cents....