I made my NHL Stanley Cup playoff picks with my heart a couple weeks ago.
We all know betting with your heart is usually a losing proposition.
My heart picked the Penguins to make the Stanley Cup finals.
Tristan Jarry pulled my heart out and stomped all over it. My heart lost.
The Penguins are out, and it's time to assess just where they are as a franchise.
Oh, and for the record, the picks I made on my podcast—with my head— were Tampa Bay and Colorado. Much smarter picks.
Who will be the coach?
Mike Sullivan has iced the puck four straight postseasons. After winning the first round series in 2018, Sullivan and the Pens have gone 0 for ever since.
Sullivan capped this year's dumpster fire by refusing to replace Tristan Jarry in goal. Jarry was beyond bad and, in what would become their farewell game, looked lost from the start. It was inexcusable to not bench him.
NHL head coaches typically have short shelf lives, and Sullivan has exceeded those typical limits. Sullivan did a phenomenal job piecing this team together to win the Eastern division. I think there is little doubt that he would stay unemployed for less time than it takes Sidney Crosby to lace up his skates.
It is commonplace for a new GM, which Hextall essentially is, to want his own coach behind the bench. The question is whether owner Mario Lemieux would be on board with a change.
This all became a moot point—for now—as it leaked Saturday night that Sullivan would return to coach the Penguins. I'm fine with that but a very short leash should be expected. He was my coach of the year in the regular season, but playoff flameouts will eventually get you fired. Well, everywhere this side of Steelersland.
Sullivan is 9-17 in his last four years in the playoffs. He is 3-11 in his last three years in the playoffs, without so much as a series victory. That type of performance, considering the stars you have on the roster, just won't cut it. Hell, he might not even have a leash next season. It will be more like a shock collar.
Sullivan wasn't willing to acknowledge Jarry's shortcomings in the playoff loss to the Islanders. He also brushed off questions about lack of physicality hurting his team. He was right to mention the tilt of the ice in the Pens favor for offensive zone time, scoring chances, and shots. It would have been nice to hear him at least acknowledge the things that still made the Pens come up woefully short in the series.
You can bet that the powers that be—Hextall, Brian Burke, and Lemieux—did notice and plan to do something about it.
Sullivan will need to get on board with the plan.
Easy to say. Harder to do.
Between the Pipes
The Pittsburgh Penguins must find a competent goalie.
I still pine for Marc-Andre Fleury. He should have been one of those players that spent his entire career in Pittsburgh. At the time it made sense to go with Matt Murray, and regardless of which guy they kept, Jarry was the next big thing coming to Pittsburgh sooner rather than later. They should have afforded Fleury the faith he earned.
Well, Jarry came, saw, but did not conquer the job. He is inconsistent, and at times, flat out erratic. That is a bad recipe for an NHL goalie, particularly come playoff time.
I stated weeks prior to the playoffs that I would start Casey DeSmith because he seems more steady. I thought I was right then, and I know I am now. That became a moot point when DeSmith got injured right before game one of the series.
Jarry should be gone. DeSmith provides a steady backup presence, but the Pens should try and find a more trustworthy starter.
Easy to say. Harder to do.
Where's the Beef?
The Pittsburgh Penguins must get tougher.
For most of the series, the Islanders knocked the Pens all over the ice.
Sidney Crosby is your star. Crosby should not have to constantly be the one who comes in to stick up for his teammates who are getting punk'd.
A couple years ago the Pens traded for Ryan Reaves. He would be the enforcer, so that when the other team made a run at one of the Pens stars(or really anyone) they would have to answer to Reaves.
Reaves did his part, and even played a little decent hockey. He became a cult hero in Pittsburgh with the fans.
Then he was gone. A bad fit for Mike Sullivan's system.
This isn't about bringing in a goon. Tom Wilson is the ultimate goon but, truth be told, he can play the game. The Pens need to find some bigger, tougher bodies that can wear on the opposition over the course of a game. The key is finding guys who fit that mold but can still play the game.
Easy to say. Harder to do.
Coming and Going
Who stays and who goes?
I keep hearing about the "core". The core consists of three players. Sidney Crosby. Evgeni Malkin, and Kris Letang.
Money won't factor in, as these guys are actually a steal in the current world of star player contracts.
Letang has the ability of giving me a headache for stretches of games. However, his play down the stretch and in the playoffs shows how important he is to this team. When all of his nuts and bolts are screwed in correctly he is one helluva player.
Crosby isn't going anywhere and I don't think he would allow Letang to go anywhere either. He said he wasn't getting involved in management decisions, but that might be one he would speak up on.
That leaves Malkin.
Crosby said he wants the core to stay together and make, at least, one more run. People who have covered the team for years say you couldn't get the value you want for Malkin at this stage of his career and with his injury history.
I'm not so sure.
I've got to think, at a bare minimum, that Hextall listens to offers for his brooding star. It only takes one team to step up and offer you the value required to pull that trigger.
Malkin can still play at a high level, so bringing him back is certainly not a bad thing. When you are in the market for a goalie and some toughness, trading Malkin may get you those things in one fell swoop.
Jeff Carter was a great acquisition from LA. Being in the hunt again seemed to revive his career. With one year left on his contract, Carter should return. His big body and ability to get to the net is a huge asset for this team.
Jason Zucker was, well, not good this year. He should be gone, and I love Jake Guentzel, Brian Rust, Jared McCann, and Brandon Tanev but it is hard to see all of them coming back. Barring a Malkin trade, these are your next most marketable guys.
Hextall seems to favor youth, so Rust and Tanev both nearing 30 may be up first. Can you get anything for these guys?
Getting bigger and tougher, while maintaining a high skill level is the goal.
Easy to say. Harder to do.
So what will it be?
Hextall will be tested this offseason.
Crosby is an iconic player. Malkin is an iconic player. Letang is an iconic player. Hextall has never dealt with that dynamic before.
He knows a good goalie when he sees one, and I'm pretty sure he knows he doesn't see one in Tristan Jarry.
He favors youth and toughness. He has some youth in Pittsburgh, but not enough toughness.
Apparently he is sticking with his head coach. For now. Much like Mike Tomlin, Sullivan would be unemployed for about 12 seconds if he were to be left go. After all, he did get this team to buy in to a system and win, arguably, the best division in the NHL. But it's all about the playoffs, and that is why Sullivan will be on a shock collar next year.
Some change will come for the Penguins. It could be seismic(Malkin trade), or it could be smaller tremors. Hextall knows what he wants and where he wants to go with this team. Now he has to figure out how to get there.
Easy to say. Harder to do.
Two Cent Takes
Golf
~My podcast partner, Jed Donahue, always says golf needs some rivalries, with heels and faces. I think he is confusing it with pro wrestling, but he is getting his wish.
I wanna watch golf just to watch this rivalry play out 😂😂😂 #BrooksKoepka #BrysonDeChambeau pic.twitter.com/JDZGVIaQ78

— Jorge Cano (@JCano9233) May 26, 2021
That is Brooks Koepka being annoyed by Bryson DeChambeau walking by him as he did an interview. I applaud Koepka. I couldn't play with DeChambeau. It wouldn't be because he is kicking my butt. It wouldn't be because he is out driving me by 200 yards. It would be because he never shuts up. He would be telling me, his caddy, the trees, and the bunny rabbit hopping across the fairway about the shot he just hit. And he would do it every single shot until I wrapped my nine iron around his giant neck and was escorted to jail.
~Some in the golf world don't like Koepka's demeanor. He swears on the golf course. He isn't warm and fuzzy. So what. Don't reporters pine for athletes to be "real" and honest. Then when a guy like Koepka is "real" those same people criticize him.
~Phil Mickelson missed the cut at Colonial a week after winning the PGA Championship. It has allowed him to pick back up with his Twitter game.
Sorry bro @AaronRodgers12

— Brooks Koepka (@BKoepka) May 26, 2021
~Golfers all over Central PA, be on the lookout for these golf balls.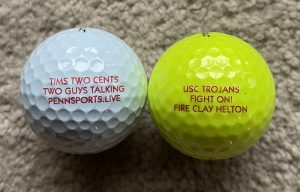 Ive been known to hit a few astray. Thought I'd promote my work at the site and show my support of USC the best way I know how.
NFL
~Since I'm sick of the Aaron Rodgers saga, let's instead talk about the Julio Jones saga. The Falcons star receiver called his uncle Shannon Sharpe while he was on the air to state he was "outta there", in reference to Atlanta. Seattle has reached out and Philadelphia has shown interest. His contract will get in the way for a lot of teams. Will the Ravens, 49ers, Jets or other receiver needy teams jump into the mix? I wouldn't doubt it. I look for Jones to land in Baltimore.
~Why won't Tim Tebow just go quietly into the night. I don't want to see him play. I don't want to see him announce. I don't want to see him...period.
~Something to keep in mind as the season progresses is the difference in teams who had players show up for the offseason work, and those who did not.
College Football
~Fox's "Big Noon Kickoff" is great for fans looking for wall to wall good games to watch on Saturdays in the fall. However, Fox should limit these games to teams in the Eastern time zone. Then, it should limit it to one home game per team.
Oklahoma AD Joe Castiglione is angry that the renewal of their rivalry with Nebraska is slotted in for that time frame. It means the game will kickoff at 11 AM their time. One of the best rivalries in college football history and it gets shoved into the noon slot. Silly.
Fans want to be able to tailgate at the game. People at home don't want to watch these games in their pajamas. It is why I said a team should only have one home game per season in that time period. Teams and conferences have little to no say, as their TV partner controls the schedule. Money talks.
NBA
~Thus far in these NBA playoffs teams have scored: 123, 125, 132, 128, 130, 127, 121, 120, 129, 141, 120, 125, 120, 121, 132, 141, 126. That is 17 times a team has scored 120 points or more. Defense anyone? I know it's more exciting, but someone—anyone— guarding the opposition would be a novel idea.
~Bucks vs Nets will be a heckuva series. The 76ers will be pulling for that one to go 7 games and be very physical.
~A guy that is easy to root for is Chris Paul of the Phoenix Suns. He does the right thing. He says the right thing. He is a great leader. It would be nice to see him win a title. The Lakers aren't going to make that easy...and that's just the first round.
MLB
~It sure is nice to see fans back in the stands.
What in the world? And the security guard is just like casually strolling up https://t.co/UJBw0ZUCYK

— Dan Wolken (@DanWolken) May 27, 2021
Forget baseball. These two should have their parent cards revoked.
We have an early candidate for baseball fight of the year 👀

(Via @nancyshines_)

pic.twitter.com/sYpPV47Jpb

— The Baseball Newsletter (@bbletter) May 25, 2021
A cat fight in Chicago. My Illini man just praying his pants stay up.
Different angle of the Padre fan and Rockies fans fight @Jomboy_ @JomboyMedia pic.twitter.com/pXT816X8U2

— Cesar 😎 (LAD 32-23) (@Cesar_Benitez27) May 13, 2021
Brutal.
These incidents are proof that, drunk or sober, some people are morons.
~The American League East is as good as I expected, and actually better. I did not see the Boston Red Sox having this type of season. There are four playoff caliber teams in this division, which means someone will be left out. As of today, the Yankees may be the likeliest to be left out. The trade deadline should be really interesting with these four teams.
~The team that suffers from the AL East depth? Baltimore. The Orioles get decimated by their four division rivals. Oh, they stink for sure. However, playing in this division makes it look even worse.
~The National League East has turned into a four car pile up on an icy freeway. The only team to get the wreckage so far is the New York Mets. One would assume the Braves will challenge the Mets at some point. Who knows about the other three teams.
~The Marlins are building and have some good young pitching. Give them just a little time.
~The Nationals don't have a great roster. Max Scherzer is trying to prop up an injury riddled and very average rotation. Offensively, the Nats two offseason acquisitions—Josh Bell and Kyle Schwarber—are hitting .206 and .229 respectively.
~The Phillies have dealt with injuries, poor defense, and less than stellar hitting. Bryce Harper has 13 RBI, or $2,000,000 per RBI. Andrew McCutchen is hitting .199, while young sensation Alec Bohm is hitting .205. Jean Segura has been the Phillies best hitter, but he may cause Joe Girardi to stroke out with his mental lapses. To show how bad things are, the Phillies have gone back to Odubel Herrera in center field. The pitching hasn't been great, but it is the least of the Phillies concern.
~The Pirates and Rockies are not good. The weather in Pittsburgh this weekend was record setting bad. They played the first game of a doubleheader at noon on Saturday.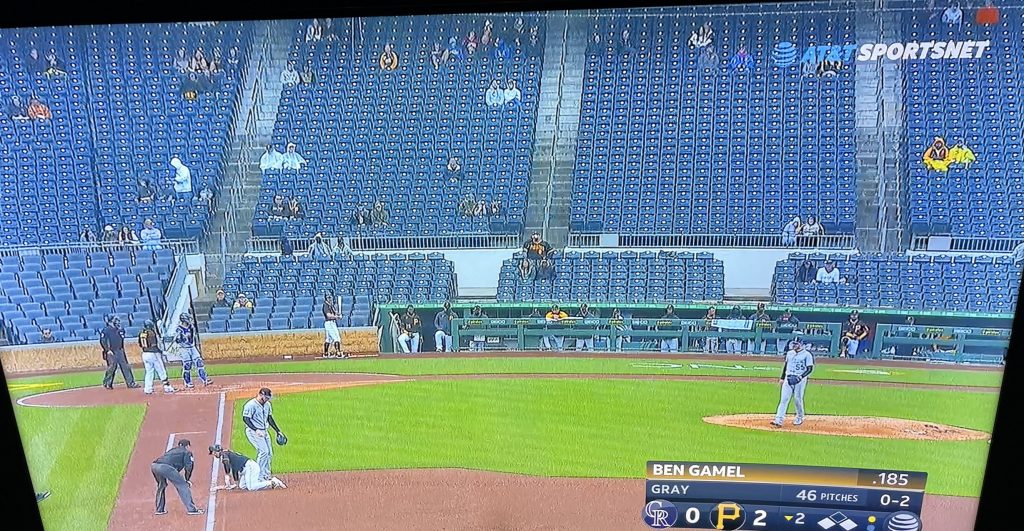 Not a recipe for great attendance.
A Penny For My Final Thought...
A few weeks ago I wrote my main column about how unwatchable Major League Baseball has become.
In case I needed any reinforcement to substantiate my point, the wonderfully, marvelously, always reliably inept Pittsburgh Pirates did this.
Javier Báez.
El Mago.
The Magician. pic.twitter.com/yZX7HgUFCU

— Chicago Cubs (@Cubs) May 27, 2021
My favorite part of this whole sad, embarrassment of a play is Anthony Rizzo not being able to contain his laughter in the Cubs dugout.
I am going to give my(ahem)two cents on this debacle in a minute, but first let's hear from the greatest voice in broadcast history.
Oh my https://t.co/MBzBnA1iOO

— Vin Scully (@TheVinScully) May 27, 2021
Succinct. To the point. Oh my. The play was so bad it made Vin Scully imitate Dick Enberg.
Sunday night ESPN's Tim Kurkjian said it was easily the stupidest play he has ever seen in all his years in baseball.
I asked my son, who played all of two games at first base in little league and is far from a baseball aficionado, what Pirates first baseman Will Craig should have done. He quickly said, "Go touch first base." Somehow, some way, a major league first baseman didn't know what to do.
I can live with physical mistakes. They happen. They've always happened. Bill Buckner was crucified for letting a ground ball go right through his legs in 1986 to lose the World Series for the Red Sox. In 1992 Jose Lind, who rarely made an error, botched a routine play in the ninth inning and opened the door for the Atlanta Braves to come back and steal the National League Championship from Pittsburgh. As any self respecting Pirates fan would do, I have never forgiven Lind. But that is a fanatics thing.
Will Craig made a mental error so ridiculous that it shouldn't be forgiven either.
That play is something that any of us who played little league were taught when we were 8 or 9 years old. We had it reinforced year after year, along with many other routine plays and scenarios that may occur.
Yet, major league players don't seem to have a clue.
We don't hold these current players accountable for anything. Managers accept bad running. They overlook throwing to the wrong base. I'm not even sure the current players know how to bunt. They give everyone the green light to steal despite the fact few players can figure out how to properly steal a base. Everyone is allowed to swing on 3-0 pitches, and God forbid someone tries to hit one the other way to beat a shift.
Oh occasionally a guy like Joe Girardi or Aaron Boone goes off. Don Mattingly acknowledged the unwatchability of today's game. But even an old school guy like Tony LaRussa is more concerned about unwritten rules.
Predictably, Pirates manager Derek Shelton covered for Craig. He actually said it was his fault for not going over that type of play more often with his players.
Huh?
Major League managers should not have to go over plays guys should have learned in little league. And honestly, I can't imagine this stuff isn't covered in the minor leagues. So, no, Derek Shelton is not responsible.
Rather than cover for a marginal player who is trying to show he belongs, how about you cut him. Could we please stop accepting inept plays and basic mental errors. When it comes from a marginal guy like Craig, get rid of him and call up another marginal player. Demand better from these guys.
In Pittsburgh's case they have a million Will Craigs littered throughout their system. Keep the ones who don't do stupid stuff. Get rid of the others. Demand better and maybe, just maybe, you will improve the organization. And in the bigger picture of things maybe the game will get at least a little bit better.
When I first saw this play I didn't even flinch. This was typical Pittsburgh. A franchise who always seems to outdo itself.
Taking it one step further, it has been a rough year for Pittsburgh Sports in general.
This is absolute perfection.
And my life as a Pittsburgh sports fan.

(🎥@MikeDarnay)

pic.twitter.com/WdsoZGO1d0

— Colin Dunlap (@colin_dunlap) May 28, 2021
The Steelers and Penguins making silly plays that cost them playoff games and bring ridicule to the team is not that big of a deal.
For the better part of 30 years the Pittsburgh Pirates have been trying to corner the market on ineptitude.
Will Craig just decided to double down, and Anthony Rizzo isn't the only one ROFLing. All of baseball is.
Congratulations, Pittsburgh Pirates. You finally made it to the top...of every baseball bloopers list until the end of time.
Just my two cents...