A funny thing happened while I was typing my Steelers end of year column.
The Steelers won an ugly —have there been any other kinds— game against the Ravens in overtime. Their playoff hopes still had a dim flame. I say dim because the Colts would still have to lose to the 2-14 Jacksonville Jaguars.
Um, make that 3-14 Jaguars. Not only did the Colts get beat, they got dominated. 
So delete old column and start new column. The Steelers make the playoffs. 
I saved the old column just in case something crazy happened Sunday night.
Good move on my part.
On Sunday night the only thing that could prevent the Steelers from making the playoffs was a tie between the Raiders and Chargers. 
With the Raiders up 12 in the second half I was feeling good because my math said it would be hard to end the game in a tie. Then the Raiders boom a 52 yard field goal and the spread moved to 15. Uh oh. Two touchdowns by the Chargers and a two point conversion ties it.
Guess what? 
A touchdown and a two point conversion closes it to 7.
Column on hold.
The Chargers get the ball back and go on a drive that seemed to last an hour. They converted four 4th downs. There were near sacks, measurements, and reviews. It ended at the buzzer with a game tying touchdown.
Ugh. Back to original column. Surely neither team will try to do anything in overtime when a tie gets them both in the playoffs due to tiebreakers.
Wrong.
The Raiders drive right down the field and kick a go ahead field goal.
Okay, break out new column…again.
Then the Chargers go down the field, with another fourth down conversion and tie the game with a field goal. That's it. Back to original column. Surely the Raiders will accept the tie and move on to the playoffs.
Wrong.
The Raiders do get across midfield and near the Chargers 40 yard line. But time is going to run out.
At this point I actually texted the boss that I was going with original end of year column.
Then Chargers coach Brandon Staley takes a timeout. It was very curious. I am pretty sure the three Chargers fans in LA are baffled, too.
Clearly quarterback Justin Herbert was okay with a tie.
"I never wanted a tie so bad" https://t.co/yB8iWUazla

— Bob Pompeani (@KDPomp) January 10, 2022
Staley did say after the game that he wanted to get the right personnel on the field. Okay, Brandon. Pittsburgh thanks you.
Because…
The Raiders ran another play and made 11 yards to get into field goal range. They call a timeout with two seconds. Then on the last play of the regular season the Raiders made a field goal which sends the Steelers to the playoffs.
Okay. Text boss back. Pull up new column for the 14th time.
The Steelers go to the playoffs even if it took until 12:10 AM to solidify that fact. Mike Tomlin, what do you think about that?
Mike Tomlin continues to be a whole mood pic.twitter.com/0c8jiAmX1J

— Brooke Pryor (@bepryor) January 9, 2022
Coach T has been big on blowing kisses this year. Maybe he has a few more of those in his pocket.
Anyway, with the crazy day finally over let me give you my thoughts on how a very flawed Pittsburgh Steelers team made the playoffs.
 
How?
This Steeler team has some weaknesses to put it mildly. Yet here they are in the playoffs as the seventh seed.
Making the playoffs with a team like this is a fitting way to send Ben Roethlisberger out. If they are smart, the Steelers will put Ben in shotgun next weekend in Kansas City and just let him sling it all over the field. The Chiefs secondary has been susceptible most of the year. That game plan would require somebody kidnapping offensive coordinator —and I use that term loosely— Matt Canada.
The offense on Sunday was as ugly as ever. No running lanes for the backs, no downfield passes, lots of short wobblers from Ben, a couple of drops, and lots of three and outs.
The defense got gashed by Lamont Murray, who has to be close to retirement. Murray ran for 150 yards and the Ravens went for 249 as a team.
Pressley Harvin was back as the Steelers punter and his 30 something yard punts returned with him. 
Yet, with all that said, the Steelers found a way to do just enough to win the football game.
I could have said that same thing about six times this year. Not to mention a couple of close losses that I could have said almost the same thing. 
What a season it has been.
How did this Steelers team make the playoffs? Let me see if I can explain my reasons.
Parity- The Steelers beat the Bills, one of the AFC's best, on the road. The Steelers mustered only a tie against the Lions at home. The Lions are one of the NFL's worst teams. All but a few teams can look at their schedule and say similar things. The NFL wanted parity and they sure got it.
Fight- No matter how bad things got, the players on this team just kept playing. Sometimes not well, but they kept playing. That is how you win ugly. Just keep playing. As much as I have increasingly criticized Mike Tomlin, he deserves credit for creating that type of attitude with his players.
Stars- I have spent so much time focusing on the deficiencies of this team that maybe I haven't talked enough about the good stuff. TJ Watt has to be the defensive player of the year. He is the biggest game wrecker in the NFL. Cam Heyward should be in the top five for that award. He has been the glue for a porous defensive line, and he has made plays all over the field. Minkah Fitzpatrick has covered so much ground on the back end of the defense. He had to make far too many tackles this year. Alex Highsmith is coming into his own, playing opposite of Watt. Najee Harris has never worked harder to make fewer yards in his life. Harris has played a ton of snaps this year and rarely has flinched. Chris Boswell has become nearly automatic as a kicker. This is important for a team that struggles to score.
Divine Intervention for a retiring Hall of Fame quarterback- Ben Roethlisberger deserved to go out making the playoffs. He has authored so many stirring comebacks that a little divine intervention was needed to help him reach the playoffs for one last time. He authored another comeback Sunday. Ben started as a playoff quarterback and will end as a playoff quarterback.
Two Miracles- The Jaguars at 2-14 had no business beating the 14 point favorite Colts. They had endured a miserable season and a miserable Urban Meyer experience. Whether the Colts didn't prepare, overlooked the Jags, or just didn't play well the Jaguars had their number. The miracle happened rather easily. The second miracle came Sunday night in Vegas. 
What happens in Vegas helps Pittsburgh! Thank you Vegas! And thank you Brandon Staley for taking a timeout! #HereWeGo #VegasBaby pic.twitter.com/LlC5rCKOY4

— Tim Clark (@TrojanTim66) January 10, 2022
It certainly hasn't been pretty this season, as the warts on this team have festered. Game 17 was no different. Tomlin actually acknowledged the warts after the game.
I am surprised he could see the warts. Tomlin came dressed like he was more ready for a bank heist than a football game.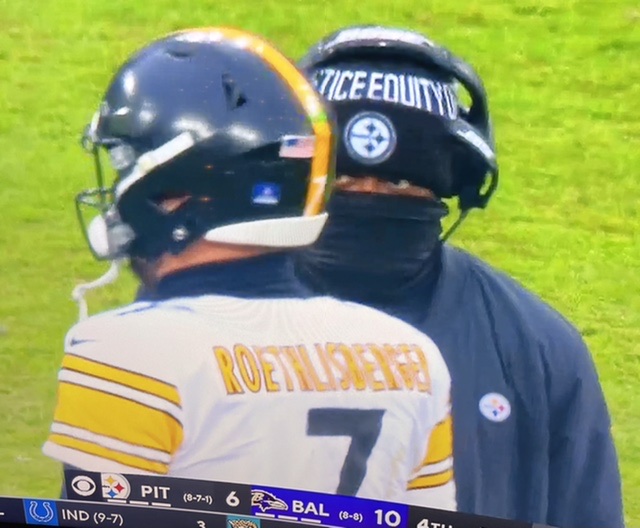 He may feel like he stole a playoff berth, but I bet he doesn't care. 
Don't think Ben didn't care if they won and made the playoffs. Once a competitor, always a competitor.
This old cowboy isn't done yet pic.twitter.com/Cy5L2KUXq8

— Pittsburgh Clothing Company (@PGHClothingCo) January 9, 2022
This season has been anything but smooth, but for a competitor like Ben this was a sweet way to extend his career.
Ben had nervous feet most of the game, trying to get the ball out quickly. When it counted on fourth down in overtime Ben held the ball for an extra count or two, moved just enough in the pocket to find Ray Ray McCloud for a first down. It was vintage Ben. 
Mike Tomlin didn't see nervous feet. As always, he had an interesting way to describe Ben at the end of games.
The most amazing Mike Tomlin quote of the year, on Ben Roethlisberger's poise in big situations: pic.twitter.com/ea8SJ1wMqC

— Dejan Kovacevic (@Dejan_Kovacevic) January 9, 2022
Boy, am I glad because I was feeling funny and tiiiight. And I was just watching.
Even though the odds are stacked against them, making the playoffs is better than not making the playoffs. The only thing you get by not making it is one better slot in the draft. Big deal. 
Plus, once you get in you never know what may happen. This year, especially, could be wild. I remember in 2005 when the Steelers won a Super Bowl from the bottom seed with a retiring Hall of Famer. Hmm…
Roethlisberger's career will end at some point. Someone will drive a stake through his heart. Most think it will come quickly next week in Kansas City.
Logic says it will.
Vegas says it will.
Who knows?
Maybe destiny will take over.
Do you want to question the football Gods?
Stay tiiight Steelers fans.
Coach Tomlin REMIX!! 🤣🎵 pic.twitter.com/mwEA2Qbxx4

— Benstonium (@Benstonium) January 9, 2022
Two Cent Takes
NFL
~I know the Eagles rested their starters, but a 51-26 pasting isn't exactly a confidence booster heading into the playoffs.
~Vic Fangio was fired after Denver's loss to Kansas City. Not that John Elway needed another reason, but Fangio kicking a field goal down 7 late in the fourth quarter sure did give him another reason to move on from the coach.
~Cleveland winning a meaningless game without Baker Mayfield is such a Cleveland thing to do.
~Detroit doesn't have a lot, but it sure looks like they found a number one receiver in Amon Ra St. Brown. Brown caught a touchdown in his last five games and compiled over 900 yards receiving.
~The Colts are so much fun to watch on the in season version of Hard Knocks. I have gained a ton of respect for how Frank Reich does things, but he will have a lot of questions to answer after the disastrous end to their season. 
~Minnesota beat Chicago. Does that mean Matt Nagy gets to be fired before Mike Zimmer? 
~Are the Giants really going to keep Joe Judge as their head coach? Even after calling for a QB sneak on 3rd and 9 in their own territory in a meaningless game?
A sign of difficult times for the Giants' offense as they run a QB sneak from their own 4-yard line on 3rd & 9 from this formation. pic.twitter.com/zFHSHsJikA

— Field Yates (@FieldYates) January 9, 2022
~Turns out the Patriots are who I thought they were at the beginning of the season. Belichick or no Belichick, I can't see this team winning a playoff game.
~Don't look now, but Buffalo has started to use their running back to, you know, run the ball. That can't hurt heading in to the playoffs.
~Seattle ended a dud of a season on a high note. Was it a way to send Pete Carroll off into the sunset? Was it Russell Wilson's final game there? Russell, can I interest you in a Primanti sandwich?
~The 49ers snuck into the playoffs in the final hour. They could be dangerous if Jimmy Garoppolo stays out of the way.
Playoff Thoughts
AFC
~This is wide open. I picked the Bills at the start of the season. I think that is exactly who is going to win the AFC. I think it will come down to the Bills going to Tennessee and beating the Titans, regardless of whether Derrick Henry is back. I think Cincinnati will go to Kansas City and beat the Chiefs just like they did a couple weeks ago. Then the Bills will host the AFC Championship Game and will prevail.
NFC
~This seems like it should be a heavy Green Bay lean. After that it is wide open. I think San Francisco upsets Dallas and sends Jerry Jones home crying. That will adjust the second round. Green Bay will take out the Niners, while the Rams will go to Tampa and beat Brady and the Bucs. I would like to pick the Rams because they were my preseason Super Bowl winner. I just can't see them beating Green Bay in January. Plus I want to see if Boomer Esiason's rumor of Aaron a Rodgers boycotting the Super Bowl comes true.
~Provided Rodgers doesn't boycott, I think the Packers win it all. 
NHL
~The Pens snapped their 10 game win streak when they allowed two late goals in Dallas Saturday. It happens. The Pens are still positioned well, and still await the return of both Jake Guentzel and Evgeni Malkin.
~On my Two Guys Talking podcast I made one of my bold 2022 predictions that the Flyers would still make the playoffs. Ten days in to 2022 I would like to rescind that prediction.
College Basketball
~Miami went in to Cameron Indoor Stadium and beat Duke. The Hurricanes are now 5-0 in conference and 13-3 overall. That would be what we call a signature win. About every three or four years Jim Larranaga has a team to watch out for, although this team was picked twelfth in the preseason ACC rankings.
~The Big East also has an unexpected team atop the standings. Providence was a bottom half of the conference preseason pick, but is off to a 14-2 start. The Big East is very competitive with Villanova, Xavier, Seton Hall, Creighton, and UConn joining the Friars as tournament possible teams.
~Speaking of competitive, the SEC only has two or three teams that are not playing for a tournament bid.
~Baylor and USC are the last two undefeated teams. Both play great defense. USC has only played one game in the last month because of COVID issues. Baylor has played straight through and has a great chance to get through January unscathed.
~Penn State won two of three Big Ten games since returning from a pause. The most impressive game for the Nittany Lions may very well have been the loss to Purdue on Saturday. They played pretty much even up with the very talented Boilermakers all game. Jalen Pickett is a really good player they got through the portal, and Seth Lundy has begun to maximize his talent. Micah Shrewsberry has them playing to their strengths, and doesn't seem to tolerate mistakes. Think where they may be if Brockington, Wheeler, and Jones don't transfer. 
~COVID is still wreaking havoc on the sport and scheduling could get interesting with all of the make up games.
This Week's Shiny Penny
Like a boss.
Rolling up to the tee for the first round of 2022. pic.twitter.com/gxbsRII7Ys

— PGA TOUR (@PGATOUR) January 4, 2022
With that cool demeanor I bet he never misses a five foot putt.
A Penny For My Final Thought…
Tonight we will crown a national champion in college football.
To nobody's surprise it will be an SEC team again. Look, it is a fact that the top end of the SEC is just far superior to the rest of the country. That is especially true with Ohio State and Clemson having slightly down years.
Nick Saban has lost only once to his former assistants. That loss happened this year when Jimbo Fisher beat Saban with his Texas A&M underachievers.
Since Kirby Smart left Alabama for Georgia he has gone 0 for 4 vs Saban and Alabama.
One loss was in the 2017 National Championship Game.
Another was a month ago in the SEC Championship Game. In that game Georgia had no answer for Alabama. Specifically they had no answer for Heisman winning quarterback Bryce Young and his receivers.
Georgia dominated Michigan in the semifinals. Alabama did the same to Cincinnati. 
The key to the game will be Georgia finding a way to pressure Young. If they don't, that exposes the secondary, which is the weak link to Dawgs impressive defense. That is exactly what happened the first time these two played.
Stetson Bennett will also have to make some throws against a defense that has been susceptible at times this season. That has been the biggest question for Georgia. Can Bennett go win you a big game?
It seems silly to go against Nick Saban in a big game. Clemson has been Alabama's kryptonite. The Tigers beat the Tide in 2016 and 2019.
Aside from those games, Saban locks championship games down.
The bottom line is that these are both really good teams. The Tide and the Dawgs were head and shoulders better than the field.
So who will win?
Me and my associate have been pretty good at picking national champions of late.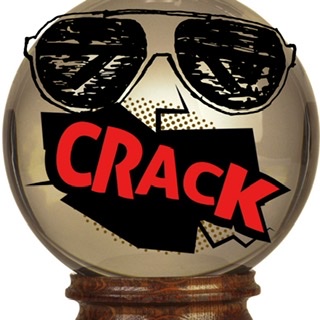 We, ahem, he picked LSU in the preseason two seasons ago. He was correct.
We, ok, ok, he picked Alabama in the preseason last year. He was correct. 
He picked Georgia in the preseason this year. He is looking for the hat trick. 
Boy, he is temperamental. Sheesh!
I still think Georgia is the best team. Whether Kirby can quit getting spanked by his daddy Nick is another story.
Regardless, WE are sticking with the Dawgs. Nick Saban be damned.
Please don't tell him I said that.
Just my two cents…