The first college football rankings are about to be released this week.
Why wait?
It is that time where I give you my midseason review of college football including the only playoff rankings you should really need. Although, nobody ever asks me for some reason.
Here is my November look at the college football landscape. Warning to the more sensitive readers. This could get ugly.
ACC
Let's get ugly right away. 
There is carnage everywhere in this very less than impressive conference.
This was the year, Pitt. You had everything you could possibly want. A weak out of conference schedule. All tough ACC games(on paper at least) at home in front of your raucous 5,000 fans. A horrifically bad conference, including the worst Clemson team in seven years. 
And you blew it! 
Pitt may still win 10 games, the ACC Championship, and garner a New Year's Six bowl, but I wouldn't count on it. Pat Narduzzi is still roaming the sidelines. Kenny Pickett is still the only quarterback in America that has to run to the sidelines to get each play.
In typical Narduzzi fashion, Pitt managed to lose to Western Michigan…at home. Saturday they managed to make Miami look like 80's and 90's Miami, pimping and strutting all over Heinz Field. 
If there ever was the perfect storm for Pitt to go undefeated and knock on the CFP door, this was it. And they blew it. 
Can they beat North Carolina on a Thursday night in Pittsburgh with the Tar Heels desperately trying to find one good win in an otherwise uninspired season? Will they be able to beat the suddenly high scoring Virginia Cavaliers at home a week later in what could be for all the Coastal Division marbles? As usual for Pitt fans —all three of you— the answers to these questions remain murky.
Oh, the rest of the league stinks. Wake Forest is undefeated, but has its toughest stretch ahead. Giving up 56 points to Army tends to make me believe they will get tripped up somewhere down the line.
At this point it appears we will have some mix of Wake Forest, NC State, Pitt, and/or Virginia in the ACC Championship. Boy, won't the TV Networks be fighting over that game?
Carnage, I tell ya, carnage.
Pac-12
Ugly's third cousin twice removed is this.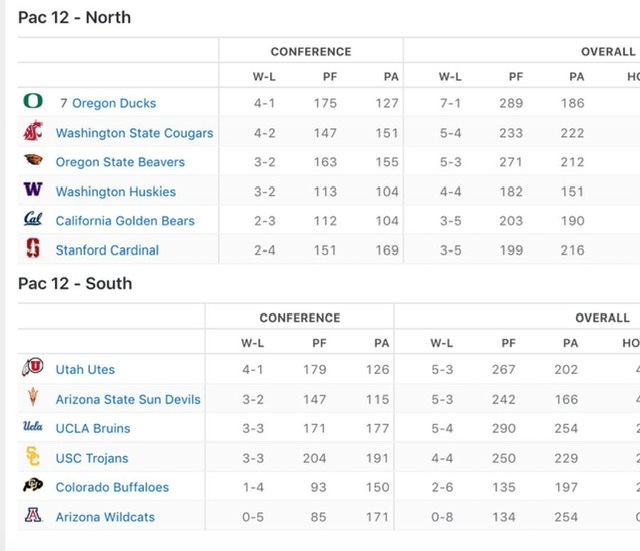 Minus Oregon you don't have a team with less than three losses. BYU would be winning the Pac-12 South if they were actually in the conference, and that will only be enhanced when they dispatch USC in the last game of the season.
There are already two interim coaches at USC and Washington State. The hot seat is in flames at UCLA and Washington, it is warm at Cal, the head coach at Arizona State is under investigation for major violations —oh and he just rolled his kids under the bus after Saturday's loss— and Stanford's David Shaw still thinks it is 1975.
Other than that things are super duper in the Pac-12. 
Oregon would like to build its playoff resume, but how? Oregon State could have helped by taking their early momentum and building on it. That Beaver dam never got built. The Ducks do have to play at Utah, and then probably see the Utes again in the Pac-12 Championship. Knowing Oregon, I wouldn't be surprised if they slip up in one of those games. It is what they do. Plus, quarterback Anthony Brown doesn't inspire much confidence.
This conference desperately needs USC to get this upcoming head coaching hire 100% correct. Here is how I know that is an absolute must, not only for the Trojans but the league.
This is the "fuller" side of the Coliseum today #USC pic.twitter.com/IU5scmJzMm

— InsideUSC (@InsideUSC) October 30, 2021
That is embarrassing. If that doesn't change, USC will fall further into the abyss and take the rest of the league with it. Yes, Duckies, you too.
The Trojans do still have the best mascot of all time.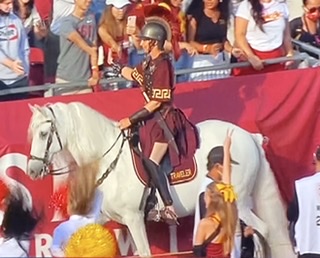 Unfortunately for the Pac-12, most of this league is what Traveler leaves behind.
Big 12
Well, at least Oklahoma has been impressive this year.
What? Oh…
Yea, the Sooners certainly have warts. For most of the season they have bumbled, stumbled, yet managed to squeak by. West Virginia had them beat. Texas had them beat. Heck, the Sooners needed a friendly call to hold off Kansas.
Here is the problem, and it is much like the first two conferences I have written about. Who in the conference is good enough to beat them?
Baylor seems to be the most likely choice.
The Bears host Oklahoma on November 13. New coach Dave Aranda has done wonders in Waco. He has the Bears at 7-1 after a come from behind win against staggering Texas. Their only blemish is a loss at Oklahoma State.
That may be the other team that could upend the Sooners. Oklahoma State also has but one loss and you never know in a rivalry game. It is possible that they would play two weeks in a row, with the rematch coming in the Big 12 Championship. 
Texas has faded and already questions are coming about whether Steve Sarkisian is the right coach to fix the Longhorns. Exhibit A:
8 games into Steve Sarkisian's tenure at Texas, he has:

-Lost by a bigger margin (19) than Tom Herman ever did.
-Blown a bigger lead (21) than Tom Herman ever did.
-Lost more games in a row (3) than Tom Herman ever did.

— Robert Behrens (@rcb05) October 30, 2021
Iowa State was my surprise playoff pick in my preseason preview. Well, the surprise is on me. The Cyclones aren't very good.
One thing is for sure. If Oklahoma tiptoes through unscathed, they will most certainly be in the playoffs.
Big Ten
The Big Ten East is pretty good, though not as good as some think. 
Ohio State is good, but not vintage Ohio State good. The Buckeyes defense is still susceptible to big plays. The good news for them is nobody in the Big Ten is capable of many big plays. 
I really like quarterback CJ Stroud and the weapons he has at his disposal. I think they can score against anyone. Penn State will be the best defense they see, and the Buckeyes did have to settle for a lot of field goals. However, they did move the ball and will have no problem doing so the rest of the regular season.
Can Michigan or Michigan State beat the Buckeyes? I doubt it.
I actually give Michigan a better chance of beating the Buckeyes. They choked away their game against Michigan a state Saturday, however they showed an ability to throw the ball. That coupled with a strong pass rush would at least give the Wolverines a puncher's chance. Unfortunately Michigan's corner man is Jim Harbaugh, who continues to litter his Michigan tenure with bad losses.
Mel Tucker is easily Big Ten coach of the year. He was a fantastic hire, and is quickly erasing the ugly end to the Mark Dantonio era.
Kenneth Walker should be a Heisman finalist, especially in a year where finalists aren't exactly stepping forward. I am just not sold on the passing game or defense enough to trust that they could beat the Buckeyes in Columbus. As a matter of fact, the Spartans will be on my upset alert next week at up and down Purdue. 
Penn State is done. Three losses in a row with Michigan and Michigan State still on the schedule. If James Franklin is planning his exit strategy, as I suspect he is, then it could be real easy to lose this team. 
The Nittany Lions play great defense, unless you run a nine man offensive line. It is the same old story with Franklin's teams. His offensive lines are never close to good enough and his quarterback isn't elite. 
Penn State played as hard, if not harder, than the Buckeyes. The deficiencies with those two units eventually did them in.
Being out of the Big Ten chase will make Franklin's exit much easier. 
The rest of the Big Ten ranges anywhere from not good to putrid. 
The Big Ten West doesn't have one legitimate quarterback, and in turn they all have horrible offenses. Someone has to win the division, and I don't have a clue who will step forward. It won't matter, as Ohio State will roll whoever it is.
SEC
Georgia is clearly the elite team this year, and it is because of that defense. The Bulldog defense is one of the best I've seen in recent memory. They may go all season without giving up 14 points in a game.
The one thing I would caution Georgia fans. The Dawgs haven't played a great team yet. Of course, my argument for weeks has been there aren't any other great teams this year. Arkansas and Auburn are good teams, and Florida and Clemson are average. Everyone else has been a patsy. Playing, say, Alabama in the SEC Championship could be a bit of a shock to the Georgia system. 
If Georgia gets their best receivers back and insert quarterback JT Daniels back in the lineup they may be too much for everyone else, including Alabama. 
Alabama finds itself in a peculiar position this year. Because of their upset loss at Texas A&M the Tide must win out to reach the playoffs. That would include the daunting task of beating Georgia in the SEC Championship. I don't think they have the pieces this year to accomplish that.
This conference is no different than the others. I question just how good the mid tier teams are. I think Auburn, Mississippi, Texas A&M, Arkansas, Auburn, and Mississippi State are good to above average but certainly not close to great. Tennessee is getting better. Florida is getting worse. LSU is coach hunting. Everyone else stinks.
Enjoy watching the Georgia defense. You will be seeing it right up until the season ends in January.
Everyone Else
Cincinnati is a great story.
Cincinnati is not a great football team.
Should they make the playoffs? Well, they may not have a choice if the other *ahem* contenders beat each other up or just plain slip up. Cincinnati shouldn't lose a game, although they haven't played well in two weeks. A game with SMU is looming, plus a game against Houston in the AAC Championship. A loss is not totally out of the question.
Notre Dame is likely going to finish 11-1 without a single victory against a top 25 team. They play at Virginia in two weeks, which will be their most likely chance to slip up. The Irish have no chance at a playoff spot. Join a conference Irish.
Two Cent Playoff Rankings
Georgia
Ohio State
Alabama
Oklahoma
Cincinnati
Michigan State
Oregon
Wake Forest
Oklahoma State
Michigan
This really is a year with Georgia and then parity. 
I think Ohio State is going to win out and get in. If Oregon wins out, they should get in ahead of the Buckeyes. I'm not sure the always curious committee will agree. I still think Oregon will lose again. 
Most likely, Michigan State, Michigan, Oklahoma State, and Wake Forest will fade away. 
If those scenarios play out then you have five teams for the four playoff spots. If Alabama does indeed fall to Georgia then Cincy will take that last spot without much debate. If Oregon does not lose then things get more interesting. 
It is November and that is a lot of "ifs" that will be hashed out in the next month.
There just isn't a lot of good football being played by good teams. A lot of average. A lot of "eh". Unfortunately, a lot of ugly. Yes I'm looking at you ACC, Pac-12, Big 12, and Big Ten West.
Two Cent Takes
College Football
~Hot Seat Temperature Check:
Manny Diaz(Miami)-Flames dying a bit, but still red hot. Better keep winning.
Mike Norvell(Florida St)-Toasty warm, but might survive for one more year.
Justin Fuentes(Virginia Tech)- Red hot. 
Gary Patterson(TCU)- Should be hot. Most overrated coach in the country. ***edit*** He gone. Literally after typing this I read where Patterson has been fired. 
Jim Harbaugh(Michigan)- Not sure how he didn't burn to a crisp already, but is safe for now. He seems to have found a middle tier level, and apparently that is okay in Ann Arbor.
Your updated Jim Harbaugh stat lines:

2-13 vs. Top 10 (54-10 vs. everyone else.)

3-9 vs. OSU/MSU (35-8 vs. rest of the Big Ten)

— Stewart Mandel (@slmandel) October 30, 2021
Scott Frost(Nebraska)- I know he is a Nebraska guy, but his seat has to be hot if for no other reason than never finding a better quarterback than Adrian Martinez. 
Jimmy Lake(Washington)- Flames a plenty.
Chip Kelly(UCLA)- Paid for his own matches. Getting hotter by the game.
Dan Mullen(Florida)- High expectations is making his seat warm. 2-7 vs the top 25 helps put another log on the fire. That and his idiotic antics.
NFL
~Okay, so maybe the Bengals haven't arrived just yet. Losing to the Jets, who were playing a journeyman quarterback, is definitely a step back. 
~Sunday was backup quarterback glory day. The Jets Mike White, the Saints Trevor Siemian, and the Cowboys Cooper Rush all got big wins for their teams. Siemian may have to play a key role for New Orleans if Jameis Winston's injury is as bad as expected.
~How good would 49ers Debo Samuel be if he actually had a decent quarterback throwing to him?
~Thought Detroit would get their first win. Instead they lost by 38 points. Lesson learned. Never trust the Lions to do something right.
~Carson Wentz will be the death of the Indianapolis Colts.
~Most disappointing team of the week: LA Chargers. The Chargers played terribly at home against the Patriots. The loss drops them to 4-3, with more question marks than answers.
~Tom Brady's kryptonite appears to be regular season New Orleans. The Saints won Sunday with a backup quarterback —Trevor Simien— who did what he had to in order to win the game.
~Aaron Rodgers is trying to win another MVP. He led the Packers to victory with guys at wide receiver he probably didn't know. 
~Meanwhile, Kyler Murray finally looked like I thought he would more often. He also got banged up at the end of the game. Murray couldn't maintain his level of play all season. I think the Cardinals will come back to earth very soon.
~11 teams have either 3 or 4 losses at nearly the half way point of the season. That means a lot of teams still hold out playoff aspirations.
~Officiating reared it's ugly head again Sunday. This was called a penalty for helmet to helmet contact, despite the offensive player lowering his head right into the defender.
Mike Johnson lowers his helmet into Bengals defender and Bengals get called with helmet to helmet penalty. Refs are a joke pic.twitter.com/AIwqCmxOoj

— gifdsports (@gifdsports) October 31, 2021
I am not sure what else Mike Hilton could have done. Unfortunately there were a slew of horrible calls this week.
MLB
~Pitching > Hitting. The Braves have better pitching than the Astros, which has allowed them to take a 3-2 lead. They did blow a chance to close things out in Atlanta by blowing an early lead Sunday night. Going back to Houston will give the Astros bats a comfort level. Max Fried will try to make them uncomfortable in game six.
~I am super happy for an old school guy like manager Brian Snitker. Here here to a non-analytical manager winning the World Series.
~I am also super happy for Freddie Freeman, who may just be the nicest guy in all of baseball. 
~I am unhappy to be rooting for the Atlanta Braves, what with 1992 still seared in my Pirates memory bank.
~I am unhappy that they failed to end this thing before I flipped the calendar to November. One more time —just for annoying emphasis— baseball isn't meant to be played in November. 
~The playoffs have been really well played games, for the most part. Stolen bases, sacrifice bunts, throwing strikes, quality fielding, and even some clutch home runs. The worst part —and it is a trend I hope ends soon— was all of the "bullpen" games, where teams use seven or eight pitchers to cover nine innings. I just don't think it is good for the game.
~This week begins an important offseason. Will players and owners be able to hash out a new collective bargaining agreement? Will small market owners like my good buddy Bob Nutting hold strong on bringing a much needed salary cap to the sport? 
This Week's Shiny Penny
This week you are getting two. I went with some lighthearted, Halloween themed fare. 
First, a trick or treat poke at Jim Harbaugh.
Another classic Harbaugh Halloween pic.twitter.com/tLQifVDhSf

— McNeil (@Reflog_18) October 30, 2021
And just for good measure a similar jab at the Cleveland Browns.
Happy HalloWIN 👻 pic.twitter.com/P1KuMuChrl

— Pittsburgh Steelers (@steelers) October 31, 2021
A Penny For My Final Thought…
Anybody in their right mind would take the Cleveland Browns roster over the Pittsburgh Steelers roster.
In this rivalry it doesn't seem to matter who plays for Cleveland. It really doesn't matter when Ben Roethlisberger is playing. Roethlisberger is now 25-2-1 against Cleveland. He is 12-2-1 in Cleveland after Sunday's dog fight in the dawg pound.
It prompted this beauty.
Daddy's home pic.twitter.com/8IUqw2yZBK

— Pittsburgh Clothing Company (@PGHClothingCo) October 31, 2021
Because of COVID-19 and injury this was Roethlisberger's first appearance in Cleveland since 2018. Look at that clip again, and notice the excitement on Ben's face. 
What this win does is allow a Steelers team that can be hard to watch play offense build to a potential 6-3 record. They have very winnable games with Chicago and Detroit coming up, before the schedule takes a noticeably more difficult turn. 
I thought the play calling was a bit better, with some more misdirection, shifts, and throws a bit more down the field. Ben still doesn't look as sharp throwing downfield as he used to, but it is something they must do more of. 
The tight ends are starting to be used more, and Pat Friermuth is going to be a good one for years to come.
MUUUUUUTH pic.twitter.com/uDeINOjl99

— Alex Kozora (@Alex_Kozora) October 31, 2021
I would love to see Chase Claypool become a dominant receiver, but I'm starting to doubt whether that will ever happen. As it stands, the receiving corp is extremely average.
The offensive line's run blocking was clearly better, and Najee Harris has the potential to be a complete stud. He runs hard, and he runs as often as you need him to. 
Pass blocking is still a work in progress, and Sunday left tackle Dan Moore had a rough time with Pro Bowler Myles Garrett. The trade deadline is tomorrow, and it will be interesting to see if the Steelers look around for an upgrade on the offensive line. Otherwise, you will just have to hope for continued progression. 
If Ben gets more time to throw he will get more comfortable. At his age it is obvious he doesn't want to get hit, so comfort is a big deal.
The defense was better, shutting down a potent rushing attack from Cleveland. They finally got a turnover Sunday, which was a welcome occurrence. If the offense continues at its current pace, the defense will have to be extra stingy. They will have to win a lot of 17-14, 20-13 type of games. 
Mike Tomlin had a momentary lapse in judgement Sunday. He called for a fake rather than kick a chip shot field goal to take a three point lead heading to halftime. It got his kicker killed.
Even though Chris Boswell is a kicker by position, on this fake field goal attempt, he is a passer. A defender cannot hit the passer forcibly in the head or neck area. IMO this should have been a 15 yard penalty for roughing in #PITvsCLE. pic.twitter.com/EXnOfledfv

— Gene Steratore (@GeneSteratore) October 31, 2021
That play turned out to be one of the many poor or missed calls on this Sunday. Clearly that was a late hit.
Chris Boswell was knocked out of the game with a concussion. The Steelers have to hope he clears the concussion protocol before the next game. His absence forced the Steelers to go for two after each touchdown and have punter Pressley Harvin kickoff. 
Tomlin accepted blame for the fake field goal, saying it was a bad call on his part. He then thanked his players for having his back by winning the game. It is why they love playing for him, as is this type of reaction after the game.
Let's gooooooo pic.twitter.com/qE8GdxYpMz

— Pittsburgh Steelers (@steelers) October 31, 2021
As for me, I am just thankful he steps to the microphone each week.
Tomlin started the week with this beauty when asked about college coaching rumors.
Steelers head coach Mike Tomlin swiftly rejects any speculation he'd be a candidate for the USC job. "Never say next, but never." pic.twitter.com/EiP1spB4jc

— Field Yates (@FieldYates) October 26, 2021
Then he waxed poetic Sunday after the game.
Coach Tomlin on the win over the Browns ⬇️ pic.twitter.com/OKQ90aCf1x

— Pittsburgh Steelers (@steelers) October 31, 2021
My favorite quote, sure to be added to my list of favorite Tomlinisms, was:
"We're playing to win, the calculated risk associated with the pursuit of victory, we do not run away from, we run to".
Sunday was a really good day for the Pittsburgh Steelers. 
Sunday could have been a really bad day for Mike Tomlin, but instead turned to very, very good..
Sunday was a typical day for the Cleveland Browns when they play the Steelers. 
The Browns may get healthy and start winning games.
The Steelers will have to score a few more points as the schedule difficulty increases.
Tomlin may have to pull more coaching magic out of his hat to keep this team winning.
There will be playoff berths for the taking.
Can this crazy rivalry victory launch the Steelers season upward?
Can Roethlisberger will his body to hold up? Will he throw conservative out the window and throw more balls down field?
Can Tomlin pull another rabbit out of his hat? Will he have more tricks up his sleeve? Will those tricks be more productive than Sunday's fake field goal?
To quote Tomlin again, that story has yet to be written either negatively or positively. 
On this Halloween Sunday Ben Roethlisberger and the Pittsburgh Steelers haunted the city of Cleveland one more time. 
To steal one from Aaron Rodgers, Ben Roethlisberger still bleepin' owns Cleveland.
Just my two cents…