Just when college football season is heating up, the new 'rush every sports calendar' tells me it is time for college basketball. 
I was much more fond of the college hoops season starting on Thanksgiving weekend. But, alas, just as every other sport has done, college basketball has extended the length of its season.
So, despite not being fully invested in the start of the season I must fulfill my obligation as leader of the Fanatics to give you my Two Cents on the 2021-22 hoops season. 
ACC
Favorite
I fully expect the departing legend that has graced Cameron Indoor Stadium for what seems like ever to go out on a high note. Mike Kryziewski has all the intangibles on his side this season, and as always a talented team. He has the best freshman in the conference in Paolo Banchero, plus AJ Griffin and Trevor Keels aren't too shabby either. They will blend with some quality veteran returners to make the Blue Devils the favorite in the ACC and a strong national title contender.
In the Mix
Hubert Davis takes over at North Carolina and will have a veteran group that will keep them in the conversation all year. Time will tell how well Davis adapts to being THE man on the bench.
Virginia will look like it is short on talent. The Cavaliers will make your eyes hurt at times. They won't score a ton of points. This year Virginia will only have one guy —Kihei Clark— that you've heard of. But Tony Bennett is still the coach, so I wouldn't count them out of anything. I am skeptical, but I am always skeptical and Bennett shoves it down my throat.
Florida State lost a ton. They are bringing in some nice pieces via transfer and recruiting. Leonard Hamilton is another coach I have learned not to doubt.
Virginia Tech is my sleeper team to not only win the ACC but make some Tournament noise as well. They have a star in Kevin Aluma and added one of the best transfers(and best names) in Storm Murphy. Look for the Hokies to make their fans forget all about football season.
Chris Mack needs things to go right at Louisville immediately. Between the NCAA cloud still hovering, his lack of success, and his offseason from hell, Mack is nearing must win territory. He changed coaches and style this offseason. Gone will be the plodding dribble fest, and in its place will be an uptempo, fan friendly style. He brought in the best JUCO player in El Ellis, who will have to carry a significant load. They won't win the ACC, but will have to make the NCAA Tournament to keep Mack safe.
Other Stuff
I fully assume Syracuse will slog through most of its regular season, get hot at the right time, sneak into the Tournament, and make a longer run than anyone thinks. Buddy Boeheim can play so don't sleep on the Orange.
Mike Brey could use a return to winning to feel a bit more comfy in South Bend.
Look for this to be the season that Jeff Capel finally wears out his welcome in Pittsburgh. The Panthers have all the ingredients for Stinksville.
SEC
Favorite
Alabama is an easy call here. Nate Oats returns the two best players in the conference in Jahvon Quinerly and Jaden Shackleford. In addition, Oats had a really good recruiting class and is the best coach in the conference. Whether the Tide has enough depth for a long tourney run remains to be seen.
In the Mix
John Calipari has what might be his most transient team ever at Kentucky, and that is saying something. Iowa transfer CJ Frederick is the most interesting pick up to me because he gives Calipari someone who can shoot the ball at a high level. If he gets all these new faces to gel, watch out for the Wildcats come March.
Eric Musselman is trying to match Calipari for new faces. Arkansas added several key transfers, including Au'Diese Toney from Pitt. Musselman can really coach, so much like Kentucky, get the Razorbacks early.
My sleeper in the SEC, and they may be too good to qualify as such, is Tennessee. A veteran group —and good veterans at that— should give Rick Barnes a solid nucleus. Oh, and the best freshman in the league —Kennedy Chandler— won't hurt Barnes's team. 
Other Stuff
Tom Crean could be in big trouble at Georgia. His roster basically had a complete turnover, so Crean is starting over. Which is what may happen to him by seasons end…only somewhere else.
Auburn and Florida will be on the fringe of Tournament teams. Look for at least one to make it. 
Why is slimy Will Wade still coaching at LSU? Here is hoping they lose…a lot.
Big 12
Favorite
Conventional wisdom says to take a veteran Kansas team. Well, I am not conventional, and I have very little wisdom.
I am taking Texas. Chris Beard moves from Texas Tech to Texas, and brings in a boatload of transfers. Two of them, in my opinion, will be huge difference makers. Marcus Carr comes from Minnesota and is a big time playmaker at the point guard position. Timmy Allen leaves Utah and hits Austin with a scorer's mentality. Andrew Jones and Courtney Ramey are two key returners. Beard knows how to win, and now has more pieces to succeed with.
In the Mix
Kansas should be good. They have a ton of talent returning and add transfer Remy Martin, last seen filling it up at Arizona State. I am not as big on Martin as most, which probably means he will be great. Bill Self usually figures things out as the season progresses, so this should be a good race.
Defending champion Baylor lost a lot, but replaced it with high end talent. I think there will be some drop off and maybe a little championship hangover in Waco.
Oklahoma State got the screws put to it last week by the NCAA infractions committee. So how the players respond knowing there is no brass ring to grab remains to be seen.
Oklahoma has a new coach in Porter Moser, fresh from working miracles —with some help from Sister Jean— at Loyola, and West Virginia has an old coach in Bobby Huggins. Both should be on the cusp of the Tournament.
Other Stuff
We will see how much Chris Beard meant to Texas Tech this year. I suspect a lot.
It would probably behoove Jamie Dixon to start winning at TCU. They have definitely stagnated in Fort Worth.
Big East
Favorite
I am never as sure about Villanova as others. Then they win and win and win. Maybe that is because Jay Wright is the premiere coach in college basketball. Look for the Cats to dominate a not so great Big East, with Collin Gillespie returning from injury to lead the way.
In the Mix
I am high on St. John's. I think Mike Anderson has them playing a style that can be difficult to match up with. They also have the best player in the league in Julian Champagnie and a really good point guard in Posh Alexander.
Xavier still plays that typical gritty style we have become accustomed to. The Musketeers should squeeze into the tournament. 
UConn, with Danny Hurley at the helm, is inching its way back to relevance. The Huskies should make it two straight appearances in the Big Dance.
Other Stuff
I love Kevin Willard at Seton Hall, but I am not sure he is getting enough talent to compete night in and night out.
Georgetown was a feel good story last season, and Patrick Ewing brought in his first five star recruit this season. Still, don't look for a repeat performance from the Hoyas.
Shaka Smart will get off to a rough start at Marquette, but can it be any rougher than dealing with the Texas boosters?
Pac-12
Favorite
Mick Cronin is one of my favorite coaches. A lot of people said he wouldn't be a fit at UCLA. Here is the thing, good coaches are a fit wherever you put them.
Cronin and the Bruins were strong out of the gate a year ago, but proceeded to lose their last four games before going on their magical tourney run. They return all of the key parts from that team and add five star stud Jaylen Watson and Rutgers transfer Myles Johnson. I am very intrigued by Johnson, who was really good for Rutgers. Johnson is a shot blocker, which will add another element to this Bruins team. This is a Final Four caliber team.
In the Mix
I often question Andy Enfield's coaching, but he has been able to continue his high end recruiting. He lost Evan Mobley to the NBA, but kept Isaiah Mobley, who really came into his own during the Trojans tournament run. Many key players return and Enfield brings in freshmen Harrison Hornery, Malik Thomas, and Kobe Johnson, plus transfer Boogie Ellis. Ellis will take over the ball handling responsibilities. The USC/UCLA games should be fun this year.
The most underrated coach in America is Dana Altman. As usual, the Ducks will have huge roster turnover. Altman brings in three of the best transfers in all the land with Jacob Young(Rutgers), Quincy Guerrero(Syracuse), and De'Vion Harmon(Oklahoma). Oregon will be right there to challenge the LA teams. 
Other Stuff
Arizona has a new coach, which may take a while to gel. 
Colorado is in a rebuild.
Stanford has another big time recruit coming in, but will Jarrod Haase be able to utilize the skills his players possess. Haase could be in real trouble if the Cardinal bottom out.
Mike Hopkins is quickly wearing out his welcome in Seattle, where his Huskies will once again be at the bottom of the pack.
Big Ten
Favorite
Purdue. Michigan. Michigan. Purdue.
I flipped a coin and it came up Juwan Howard. Howard is quickly proving to be an excellent coach, and certainly a top notch recruiter. Hunter Dickinson is back along with Eli Brooks. The number two recruiting class including Caleb Houston, will blend with the returning players to give Howard all the pieces he needs.
In the Mix
Purdue could easily come out on top in the Big Ten. Matt Painter is as good at X's and O's as anyone in the country. He also possesses the best player in the league in Trevion Williams. The Boilermakers always play a tough style that can wear on opponents.
Illinois returns man beast Komi Cockburn, along with Trent Frazier and Andre Curbelo. They will dearly miss Ayo Dosunmu, who was the best player in the league last year. This is still a high end team in the deep Big Ten.
Maryland got Fat this offseason, as in Fats Russell, a coveted transfer from Rhode Island. I don't typically like to sing the praises of a Mark Turgeon coached team, but I think the Terps will come together for a top five finish in the Big Ten.
Ohio State returns EJ Liddell. Hopefully Liddell added some toughness because he played very soft last season. The loss of Duane Washington and CJ Walker leave me a bit leery of choosing the Buckeyes too high. We shall see if former Penn State guard Jamari Wheeler helps much.
Michigan State, Indiana, and Rutgers will all battle for tournament bids. I am happy to say Tom Izzo's bunch looks decidedly average. Nothing better than watching Izzo cringe on the sidelines. Mike Woodson seems to be off to a good start at Indiana, but they haven't played any games yet. Pitt transfer Xavier Johnson was an excellent get for the Hoosiers. Rutgers lost Jacob Young, Montez Mathis, and Myles Johnson to transfer. The Scarlet Knights return Ron Harper and Geo Baker, which should keep them in the mix for their first back to back tournament appearances.
Other Stuff
Keep an eye on Northwestern. Chris Collins needs to start winning, and he returns nearly his full roster. Before the new year hit, the Wildcats looked like a tournament team. Then the bottom fell out on their season. 
Nebraska is finally going to look like a Fred Hoiberg coached team. They have enough talent with the McGowan brothers and transfer Alonzo Verge to scare the bejeezus out of higher rated teams.
Penn State is going to struggle in Micah Shrewsberry's first season in Happy Valley. But to what extent? Myles Dread can play a little. Seth Lundy can play a lot, sometimes. John Harrar is as tough as nails. The question becomes who else will score a little and who will handle the ball other than Sam Sessoms. Shrewsberry did bring in some veteran transfers who all started a lot of games in their respective careers. This is their chance to show they can play at a higher level. I'm not willing to go out on a limb more than to say Penn State will upset a big boy at some point in the season.
Everyone Else
Obviously this list begins with preseason number one Gonzaga. I was all in on the Zags last season. Not this time. Clearly Mark Few's team will be good, but I want to see more from freshman phenom Chet Holmgren at this level. I also think Drew Timme is overrated and won't be nearly as effective if the guard play drops off from last year, which it surely will. In case you lost track, former Penn State dissenter Rasir Bolton is on his third team with Gonzaga. The Zags will be good, but I am not falling for the hype again this year.
The AAC offers up two potential Sweet Sixteen teams in Memphis and Houston. For Houston it is getting to be old hat to be ranked. Memphis is a bit new to this party, but kids are lining up to play for Penny Hardaway. He may be the best recruiter in the game, but now he must make it translate to the court. Talent is great. Coached up talent is even better.
The Atlantic 10 may have the sneakiest good team in the country with St. Bonaventure. One of the most veteran teams in the country and talented, too. This looks like one of those teams you don't want to see your favorite big name team see matched up against in the round of 32. 
Ten other "little guys" to keep an eye on: Loyola, Belmont, BYU, Colorado State, Richmond, San Diego State, Saint Mary's, Drake, San Francisco, Utah State.
Who Wins?
Well, I hate to do this.  With Georgia looking so good in football this year, my prognosticating partner's head barely fits through the door. But here he is ready to help me give you a way too early Final Four.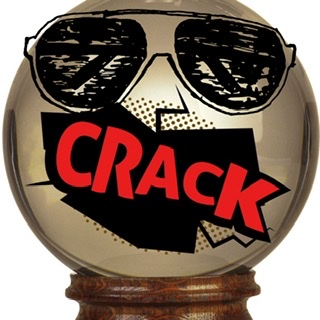 The Two Cent Cracked Crystal Ball has consulted with me and these are our picks.
Final 4: Oregon, Duke, Texas, Michigan
Championship Game: Duke over Michigan
Does anyone doubt that this is how Coach K goes out. It isn't that much of a stretch, considering the talent he will have at his disposal. Obviously Coach K has been great for the game, but let's face it, it's been a little nauseating along the way.
I must start learning to dislike Jon Scheyer this year so I don't miss a step with my Duke hatred next season. 
Until then, Coach K…blah, blah…legendary…blah…Dookies…blah, blah…Cameron Crazies…blah…national championship…blah, blah, blah.
Two Cent Takes
NFL
~Upset Sunday or parity at its peak?
Denver over Dallas
Jacksonville over Buffalo
Atlanta over New Orleans
New York Giants over Las Vegas
~The AFC is certainly filled with parity. Only two teams have less than three losses, and the Ravens have been luckier than any team in the league. At a bare minimum they were gifted the Lions win by the referees failing to call an obvious delay of game prior to the infamous 66 yard field goal.
~The AFC is 12 teams for 7 spots. Buffalo, New England, Baltimore, Pittsburgh, Cleveland, Cincinnati, Tennessee, Indianapolis, Los Angeles, Las Vegas, Kansas City, and Denver. 
~The Steelers desperately need to beat Chicago tonight and Detroit next week, because the schedule becomes one filled with land mines after that.
~The NFC has drawn a line of demarcation. Dallas, Green Bay, Tampa Bay, Arizona, and the LA Rams are most likely claiming five of the seven playoff spots, although the Packers could be without Aaron Rodgers for a while.
New Orleans has a leg up on a playoff spot right now, however they will be playing a backup quarterback for the remainder of the season. The rest of the NFC, along with the Saints, will be vying for the last two spots. Someone better get hot.
~The Giants and Eagles both showed signs of life. Jalen Hurts is playing much better for Philly, and the Giants have been much better the last three weeks.
~Aaron Rodgers is a great football player. I love to watch him play. Aaron Rodgers is also a narcissistic human being who can be as big a jerk as you will find. He turned it up a notch with his vaccination stunt and subsequent lecture on science. His yearly pouting about not being respected and now this. Is it any wonder Green Bay is ready for him to move on? He makes your team a winner, but maybe it is time to find a different way to win. Divas always eventually wear out their welcome. Let me turn it over to Terry Bradshaw for a more succinct thought on this mess.
The moment @AaronRodgers12 lost Terry Bradshaw. "You lied to everyone." pic.twitter.com/sJVxxTtQrU

— Keith Olbermann (@KeithOlbermann) November 7, 2021
NHL
~The Penguins only got 7 of a possible 16 points during this recent 8 game home stand. That won't be nearly good enough in the tough Metro Division. They are banged up beyond belief. They are in last place. They can't fall too far off the pace while waiting for the troops to arrive.
~Saturday was the epitome of the Pens season. Fresh off a great win versus the rival Flyers, they held a two goal lead with just over 3 minutes. Minnesota pulled their goalie on two different occasions to tie the game. The last coming with 2 seconds left. The Pens needed one simple clearing of the puck and couldn't get it. Then, as has become the norm, Tristan Jarry was absolutely dreadful in the shootout. Instead of an easy 2 points, the Pens turned it into a lousy single point.
~The Flyers are off to a great start. 6-2-2 and getting really solid goaltending from both Carter Hart and Martin Jones. In a really difficult division, it is never too early to start stockpiling points.
NBA
~This is exactly why I would want nothing to do with James Harden.
Game ready pic.twitter.com/QlZVEqCbLV

— Russillo (@ryenarussillo) November 6, 2021
~Good on the Sixers for going 8-2 and winning 6 straight since choking one away against Brooklyn. They are dealing with a petulant child in Ben Simmons and have had to deal with Covid issues, yet they keep on winning.
MLB
~Someone told me the World Series ended. Geez, it only took them until November. Good for Freddie Freeman, who seems like one of the best guys in the game. Well deserved for him.
~Buster Posey retired. Can we also retire the Posey rule so catchers can actually catcher the ball while blocking the plate. You know, like the game is supposed to be played.
~Andrew McCutchen is a free agent. The Pirates should absolutely sign him. First, he wouldn't be standing in anyone's way. At least not yet. Second, he would be a great example for the young players. Third, he is exactly the kind of player they should sign in order to put a more respectable product on the field in Pittsburgh while the rebuild continues. Finally, he deserves to come back home(at the right price) and finish his career where he started. He lives in Pittsburgh and named his kid Steel. Sometimes the story would be too good to pass up.
~Pirates catcher Jacob Stallings won his first Gold Glove yesterday. I can't imagine many players work harder than Stallings. He was a fringe major leaguer when he came to Pittsburgh and just keeps getting better and better. Good for him.
College Football
~An actual university hired Clay Helton to be their actual head football coach. What in the actual hell are you thinking Georgia Southern? Helton said the best people in the world were at Georgia Southern. Wait, how can that be? You said the best people in the world were at USC. This man's BS game must be second to none. And Georgia Southern must not have called one person associated with USC.
~Mike Leach's kickers stink. They cost him a game Saturday. His reaction was, well, very Mike Leach like.
Miss State kickers missed three field goals against Arkansas, so Mike Leach announces open tryouts to be the Bulldogs' new kicker. pic.twitter.com/wHfNt7hWfs

— Mason Choate (@ChoateMason) November 7, 2021
I don't like a lot of what Leach does and says, but this is on point. If you don't have kids that can make kicks, challenge them. 
~USC is a train wreck. They have added quarterback roulette to their list of idiotic ideas.
Trying to figure out USC's plan at quarterback like pic.twitter.com/iacJMNLTd0

— Keely Eure (@keelyismyname) November 7, 2021
With each passing game where the interim coach proves to be more incompetent than the fired coach, USC fans will be willing to take darn near anybody as their next coach. Maybe USC fans and Penn State fans can join together to help James Franklin pack.
~PJ Fleck got a juicy new contract extension at Minnesota, where he can continue his "Row the boat" mantra. There wasn't much rowing on Saturday in the Gophers 14-6 loss to Illinois. The Illini punter —yes, the punter— let him know what he thought of his mantra.
Getting a 7 year extension and the opposing punter mocking you just a few days later >>> https://t.co/njRLQ7tGHZ

— Geoff Schwartz (@geoffschwartz) November 7, 2021
This Week's Shiny Penny
I've said it a million times. There are far more great people playing sports than jerks. While Aaron Rodgers was acting the fool and Henry Ruggs bought himself a long jail sentence while depriving a family of a loved one, Emmanuel Sanders was busy doing this.
Classy and caring 👏👏 https://t.co/veaH7qPxS0

— Bob Pompeani (@KDPomp) November 5, 2021
A Penny For My Final Thought…
Let the handwringing begin. 
The CFP committee released their first rankings, and they caused outrage from Cincinnati, Ohio, to Norman, Oklahoma.
Look, any time a committee gets involved it usually ends in hurt feelings, skepticism, and outrage. Much of it is justified.
Committees suck. 
Every year when March Madness comes around teams have to wait for a bunch of suits to decide their fates. Often the decisions don't make a lot of sense. 
Now we have a committee for football, too. Here, too, the decisions tend to be baffling. 
The biggest problem I see is the criteria constantly changes.
Are we simply choosing the best four teams? If that is true, do the game results really matter? Eye test? Schedule strength? Conference championship required? Bad losses?
The committee simply says yes to all of these, and we are left scratching our heads. 
There always seems to be some agendas involved, and that is when eyes really start to roll. SEC bias. Small conference bias. Rank undeserving teams to boost certain teams schedule strength. 
All of these things are probably true.
This is why my 8 team format would be so much better. Don't worry, the committee would still put their dirty fingerprints all over that, too. However, at eight teams there would be room to accommodate every situation. Cincinnati would get in if they remain undefeated. Alabama, or whichever other SEC team is thought to be one of the best teams, would get in. All Power 5 conference champs would get in. 
Of course that isn't happening, and when they do change the format it seems as if they still favor going to 12 teams, which is too many.
Anyway, this year it doesn't really matter what agenda the committee has. Parity has rendered this process somewhat meaningless. 
People were upset that teams like Minnesota and Mississippi State were ranked, thinking it was just to strengthen the case of Ohio State and Alabama. Both teams lost this week, further justifying the angry mob. But who do you rank? Everyone keeps losing. If not this week, then it will come next week. 
Take Purdue as an example. One week they should be ranked, but the next week they should not. People said SMU should have been ranked. The Mustangs also lost this week. You want them to rank UTSA? Really? Do you even know what UTSA stands for. 
My point is someone has to be ranked, and this year teams are making that a difficult task.
Then there is the handwringing going on at the top of the rankings. Other than Georgia, who has looked like an automatic choice? 
Cincinnati has no big wins —no, Notre Dame is not a big win this year— and has struggled mightily against inferior opponents three weeks in a row.
Oklahoma is unbeaten, but should've/could've been beaten by Texas, West Virginia, Nebraska, and Kansas.
Ohio State's defense is a problem, and this week they couldn't run the ball against Nebraska. They could lose again.
Alabama should've/could've lost to LSU this week. They still have to play Arkansas, Auburn, and Georgia(in the SEC Championship). There is a good chance they lose once more. 
Michigan and Michigan State have both lost in the last two weeks. They both have to play Penn State and Ohio State. 
Oregon won in ugly fashion…again. Their quarterback threw for 98 yards, 13 less than Washington's awful quarterback. They may still lose to Utah yet this season.
Notre Dame may win out. They will not have beaten a top 25 team all year.
Again, I am not defending the committee. They are guys in suits that have agendas that change like the weather. I am simply saying that this one individual year it doesn't matter. There is one great team with no flaws. From there you may as well pull names from a hat. No team's resume sticks out. No other team is without warts. 
I don't blame fans for getting ticked off by the CFP committee. I don't begrudge the handwringing of those same fans. 
This year give it a rest. Every team this side of Athens, Georgia, has done things on the football field to hurt their chances and leave doubt that they warrant a playoff spot. 
Someone will have to claim the other three spots.
Maybe UTSA deserves a spot. Did we figure out who they are yet?
Just my two cents…