Two things were uncovered in what was the worst football game I have witnessed in many, many years.
One is the Pittsburgh Steelers don't have a good quarterback on the roster.
Ben Roethlisberger is done. He can't move anymore, and he throws a lot of wobblers that are off the mark. He is more comfortable with check downs and one yard slants than intermediate routes he used to thrive on. He is one more Dan Moore whiff at left tackle from ending his career on a stretcher.
When Roethlisberger went on the COVID-19 list Saturday, Mason Rudolph got a chance to prove, once and for all, that he can be the next starting quarterback in Pittsburgh. What he proved is that he is terrible. Okay, so he can beat Roethlisberger in a foot race. So can I. He throws duck after duck. His wobblers make Ben's wobblers look like rockets. Everything is a floater, except when it should be. Then he puts extra mustard on it. He has no feel for the game. He can not be the next starting quarterback. 
I don't know how good Dwayne Haskins is. What I do know is according to the Steelers depth chart, he apparently is still worse than Mason Rudolph meaning he is atrocious. I also know the WFT rid themselves of his nonsense. When the WFT's douse your flame you know your career is doomed. Maybe he can turn things around, but I'm not counting on it happening in Pittsburgh. 
This makes the future for Mike Tomlin and the Pittsburgh Steelers very murky. They will need to either pony up some money for a free agent or draft a quarterback.
Here is a list of free agents:
1. Tyrod Taylor, Houston Texans
2. Teddy Bridgewater, Denver Broncos
3. Jameis Winston, New Orleans Saints
4. Cam Newton, New England Patriots
5. Ryan Fitzpatrick, Washington Football Team
6. Taysom Hill, New Orleans Saints
7. Marcus Mariota, Las Vegas Raiders
8. Ben Roethlisberger, Pittsburgh Steelers
9. Jacoby Brissett, Miami Dolphins
10. Andy Dalton, Chicago Bears
Mmmm…yummy. Who doesn't want to see Andy Dalton or Jameis Winston lead the Steelers offense? When Ben is number 8 on the free agent list that isn't a great sign.
Some are still holding out hope for Aaron Rodgers and his traveling circus to come to Pittsburgh. Yea, that ain't happening.
As far as the draft goes, it isn't loaded with high end quarterback prospects. Maybe Boston College quarterback Phil Jurkovec will fall to the Steelers. He is a Pittsburgh kid who was hurt much of this year. He might be worth the pick, but certainly far from a sure thing. 
The second thing the dreaded tie with the worst team of all time shed light on is the rest of the team may not be what Steelers fans thought it was.
The offensive line is bad. Yes, it is young minus Trai Turner. They could and should get better. But how much? Dan Moore and Kendrick Green didn't come with a high pedigree. Moore, in particular, has looked overwhelmed. Green has a mean streak, but he will need more than that going forward. Chuks Okorafor, Zach Banner, and Kelvin Dotson won't ever be confused with Pro Bowlers. The backups are all veteran types. They showed even against the meager Lions that they can't get much push. 
The Steelers have a stud running back in Najee Harris, but without better offensive line play it won't matter how good he is. If Harris wasn't such a beast, the Steelers would have no run game to speak of. He spent Sunday like he has spent most Sundays, making something out of nothing while taking great punishment.
The pass catchers are the most overrated position group on the team. Neither Chase Claypool nor Dionte Johnson will ever be a number one receiver. Neither ever gets much separation when running routes. Watch games some Sunday and see how many receivers on other teams are getting open. These guys rarely are open. Claypool's success comes from being able to win jump ball situations. Johnson has a ton of athletic ability, but Sunday's overtime fumble is yet another example of him having ball security issues.
Pat Friermuth has a real chance to be good. How much better will he look with a more competent quarterback. 
The defense has to be the most puzzling piece of this Steelers puzzle. What was supposed to be a lockdown defense has been anything but at times this season.
Before I get on the field let me lay the first criticism at the feet of defensive coordinator Keith Butler. It takes Butler far too long to make adjustments to stop what is working for the other team. Sunday was no different. The Lions ran for 200 yards before Butler made some changes mid way through the third quarter to plug the gaping hole where the Lions were running.
On the field this unit plays sloppy undisciplined football. They often over pursue plays and get themselves out of position, and the tackling is beyond atrocious. They look like players that were never taught proper tackling technique, which I refuse to believe. Sunday, at least for two and a half quarters, it looked like another tackling optional game. Steelers fans have seen that show before this year.
I'm not sure any of us could imagine how much the Steelers defense misses Stephon Tuitt and Tyson Alualu. Unfortunately both players have trouble staying injury free. Teams continue to exploit their replacements, thus avoiding the ageless wonder Cam Heyward. Heyward has been player of the year good this season.
TJ Watt has been TJ Watt, and Alex Highsmith has proven a solid replacement for the departed Bud Dupree. Joe Schobert, a late acquisition this summer has been okay. Unfortunately I think we all had our sites set on more than okay from him.
Okay would be a major improvement for the other inside linebacker Devin Bush. Bush has been nonexistent most of the year. The Steelers gave up a lot of draft capital to move up in the first round to grab Bush. He is perilously close to "bust" status.
The secondary has been inconsistent, to put it kindly. James Pierre is learning on the job and should keep getting better. Tre Norwood, a late round rookie, has been solid. Joe Haden is getting old and at times it shows. Cam Sutton has been okay. There is that word again. 
The disappointing player in this unit is Minkah Fitzpatrick. Again, the Steelers gave up great draft capital to acquire Fitzpatrick from the Dolphins. He is built on creating turnovers. He has done little in that regard this season. Sunday he had his first interception in overtime, but it got called back because the other major disappointment, Bush, was called for holding on the play.
Let me not forget the special teams. Ray Ray McCloud is an upgrade from Ryan Switzer. That means he is better than a seventh grader returning punts. He should have been cut after fumbling —nearly fumbling the game away— last Monday night against the lowly Bears. Of course that would have eliminated Mason Rudolph's number one target this week.
That brings me to the disaster we all watched for 3 hours and 39 minutes on Sunday. 
The fact that McCloud seemed to be Rudolph's primary target on most plays brings in to question whether Matt Canada is also in over his head. Spoiler alert: he is.
All of the things mentioned so far were amplified Sunday against the worst team the NFL has seen in years. To top things off, Lions quarterback Jared Goff got hurt early and clearly was even worse than he normally is. He had no intention of throwing down the field. Yet the Steelers still weren't prepared to stop the run.
The offense continued to be woeful. Even with Roethlisberger the offense lacks creativity, down field throws, and splash plays, as Tomlin refers to them. Rudolph, in his small sample size of playing in his career, seems to prefer hits down the field. Still, most of Sunday it was check downs and other short passes that ruled the day. 
Rudolph was awful. Period. 
His teammates, minus Harris, Heyward, Highsmith, and Watt were awful, too.
To rub a little salt in the wound Joe Haden, TJ Watt, and others left the game and did not return. If Watt misses more time the defense will really be behind the eight ball. He changes the game just by taking the field. Losing Haden would thin the herd in the secondary. 
Kelvin Dotson and Trai Turner were also injured Sunday. Their absence would force back ups into the starting lineup. There is a chance that won't necessarily be a downgrade.
Ben Roethlisberger could very well miss one more week on the COVID-19 list. That means another week of this guy.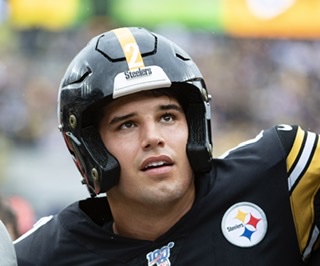 Mike Tomlin has never had a losing record in Pittsburgh. He also has not won a playoff game for what seems an eternity. This 16-16 debacle highlights the fact that maybe it is a miracle that the Steelers have won five games already. Winning five more seems like a pipe dream right now. Winning three more to avoid a losing season seems like a stretch as well.
Tomlin frittered away a lot of years with talented teams. Now he is faced with an uphill battle to just have a respectable team. 
That game yesterday was like a beacon from a lighthouse warning Steelers coaches, players, and fans that more improvement than the team probably has in it will be required to compete the rest of this year with their increasingly more difficult schedule.
Tomlin certainly won't be fired, but does he want to rebuild with a new quarterback? A quarterback clearly currently not on his roster. 
Maybe Tomlin should actually go to USC. I guarantee he would find a better quarterback waiting for him there than he will in Pittsburgh next year. Plus the standard has been lowered there recently and won't be nearly as hard to meet. 
Win or lose, I hope there are no more draws. At least not like Sunday's draw. Those of us north of 50 can't afford to give up three and a half hours of our lives only to be sickened and tortured. 
Unfortunately my imagination isn't good enough to picture this thing getting any better. 
As Coach Tomlin says, there is a fine line between drinking wine and squashing grapes.
Mason Rudolph doesn't throw the ball hard enough to squash a grape and the defense tackles like it has been drinking too much wine.
Tying the Lions may very well be the beginning of the end for this Steelers season.
Two Cent Takes
College Football
~As I look across the parity filled landscape of college football I realize that each power conference has a similar problem. Okay, it's really not a problem in the SEC, but we will let them play, too.
Each of the Power Five conferences need their traditional powers to play like, well, traditional powers. See for yourself.
ACC: Florida State beat Miami Saturday making the Seminoles 4-6. The Hurricanes fell to 5-5. For the ACC to be more than Clemson and a bunch of basketball schools, it needs the once powerful Florida schools to get back to the Jimmy Johnson/Bobby Bowden glory days. I am not sure if that will ever happen. Adding Notre Dame to the mix would also be a shot in the arm.
Pac-12: This one is easy. USC has to hire the right coach and get back to being the West Coast power it was under McKay, Robinson, and Carroll. Oregon is carrying the flag right now, but there isn't enough Nike money to give the Ducks the same cache as a team from LA. That reminds me, it wouldn't be the worst thing in the world for UCLA to figure things out, too.
Big 12: Everything is bigger in Texas except the win totals in football since Mack Brown left Austin. Obviously in a few years Texas will join Oklahoma in leaving for the SEC. In the short term, the Big 12 gets hurt by Texas stinking. Oklahoma has been the bell cow, and a great one at that. I am pretty sure —judging by the SEC chant from Kansas players— nobody who will be left in the Big 12 minds a little stench coming out of Austin. I bet they are even happier that Steve a Sarkisian is the head coach.
Big Ten: Fans want someone to step up and challenge the Ohio State Buckeyes. The Big Ten traditional answer is Michigan. Jim Harbaugh has been miserable, to date, at bringing the Wolverines back to prominence. He has yet to beat the Buckeyes. The other traditional power that has not been able to climb that mountain is Penn State. James Franklin is 10-9 in his last 19 games and seems to be more interested in what comes next for his career. The Big Ten needs Michigan and Penn State to resurrect the Bo and Joe days to give Woody and the Buckeyes some consistent competition.
SEC: This is clearly the best conference in college football. Still, a consistent LSU, Florida, and Auburn wouldn't hurt. The other schools in the SEC have their occasional moments, but Alabama, Georgia, Auburn, LSU, and Florida make the conference what it is when they are consistently good. It isn't like those other teams have been terrible, but they just haven't been consistent.
~Why do teams keep recycling clowns? Steve Sarkisian wasn't great in Washington. He was a disaster at USC. Somehow he gets the keys to another traditional power in Texas. The Kansas loss Saturday has Texas fans wondering if Sark should be behind the wheel.
~Jimmy Lake is out as head coach at Washington after two seasons, and the coaching carnage continues in college football. Next up: Dan Mullen. 
~USC was the first team to axe its coach. That seemed smart at the time. However, with five star DB Domani Jackson decommiting yesterday it may not have been so smart. Keeping Clay Helton until the end of the season may have helped keep the recruiting class together. It would have made the new coach's job of holding recruits easier. Now it will be next to impossible for the new coach to bring these recruits back into the fold.
~Forget James Franklin, USC. Call Dave Aranda at Baylor. He kicked a field goal at the end of the Oklahoma game Saturday, nearly causing Lincoln Riley to explode. Aranda did this because of the tiebreaker in the conference. That is a guy that pays attention to details. That would be a guy I would want leading my football program.
~The aforementioned Franklin had his team dominate the first quarter Saturday versus Michigan. Unfortunately they only led 3-0 after a ridiculous failed fake field goal. Eventually not putting more points on the board would cost him the game. Franklin continues to fail miserably against ranked teams. 
College Basketball
~"Buy games" are supposed to be easy victories. Don't tell Virginia, Georgia Tech, Pitt and Louisville. The ACC quartet lost to Navy, Miami(OH), Citadel, and Furman respectively. Not good for the ACC. 
~Nebraska lost to Western Illinois and Cal lost to UC San Diego. The best "buy game" ending was this beauty.
November 12, 2021
That was UC Riverside causing Arizona State coach Bobby Hurley to have a meltdown with the three quarter court dagger.
~We could be in for a great basketball season. There are a lot of really good teams. However, we may have already seen the best game of the year. UCLA rallied at home to beat Villanova in overtime. Good teams. Good coaches. Good atmosphere. Stupid timing. Game took place at 11:30 EST. 
NFL
~This was called roughing the quarterback on Thursday night.
"ROUGHING THE PASSER" SERIOUSLY pic.twitter.com/cXGsfUkEmD

— Warren Sharp (@SharpFootball) November 12, 2021
The Steelers got called for one because they touched the quarterbacks shoe which the referee said was a low hit. This has to change.
~In general, NFL officials need to keep their flags in their pockets more often. Way too many penalties are being called.
~Aaron Rodgers was not suspended. He was fined less than guys who violate the uniform code. Sometimes the NFL is fantastic. Sometimes it is a joke. This was a joke.
~Parity has created more competition for playoff spots. It has also created bad football. Injuries galore mean lots of backups are playing. Most teams don't have quality depth, which is creating a lot of bad games.
~The world is back in balance: Cleveland is Cleveland once again. 
~I said Mac Jones was the quarterback I would have wanted after Trevor Lawrence. Jones has a chance to make the playoffs in New England and be rookie of the year. Apparently Bill Belichick still knows what he is doing.
~Cam Newton is in with Carolina and Sam Darnold(injured) is out. I really thought Darnold would break the cycle of USC quarterbacks who failed in the NFL. It doesn't look like that is going to happen.
~I hate to say it, but I think the end is near for Pete Carroll. Seattle looks lost, even with Russell Wilson back. Carroll should exit Seattle gracefully, grab a microphone and start working on someone's studio show. 
This Week's Shiny Penny
With the transfer portal loaded to the gills with disgruntled players looking for a new home, and players sulking across the country because they aren't getting enough playing time this was good to hear.
This is the culture we've created. pic.twitter.com/x43vryURI5

— Purdue Mens Basketball (@BoilerBall) November 13, 2021
That is Trevion Williams, a preseason candidate for Big Ten player of the year. He is coming off the bench to start the year. No whining. No complaining. Show every high school athlete this clip.
A Penny For My Final Thought…
I love being a sports fanatic. 
As a kid I picked out my favorite teams for a variety of reasons. One of those reasons was they were winners.
The Steelers of the 70's need no explanation. Four Super Bowls in 6 years.
The Pirates were always first or second in the NL East, usually battling the rival Phillies. They capped the decade with another World Series win over Baltimore. 
USC football made the ultimate comeback in the 1974 Notre Dame game and I was hooked. The Trojans were dominant in the 70's and early 80's. 
Louisville basketball had the Doctors of Dunk, which as a kid I thought was fantastic. They also won. National titles in 1980 and 1986 put Denny Crum and the Cards at the top of the sport.
I didn't become a hockey fan until later, and Mario Lemieux made that an easy choice. He passed the Penguins torch to Sidney Crosby and a flurry of Stanley Cup Championships were won.
Well, every fanatic goes through ups and downs because all teams experience ups and downs. The good thing about being a fanatic of multiple sports is that usually at least one of your teams is playing well.
I have hit a rut!
The Pirates seem like the logical place to start. Minus a three year period, the Pirates have stunk for nearly 30 years. I am used to it. I hate that it is that way. I keep hoping they put it together. But I am used to the losing.
Not to worry because I have my other teams.
Well…
The Steelers haven't won a playoff game in quite some time. As mentioned in the main part of this column, they could be on the verge of a real slide. The 70's spoiled Steelers fans, but we managed to survive the 80's to see more success in the 90's and on to present day. 
It is possible I need to brace for some lean years with the Steelers.
No problem since I have the always reliable Penguins.
Uh…
Washington beat the Pens 6-1 Sunday, a night after lowly Ottawa put 6 on the board against the Pens, too. Many thought this season might be rough, and it is looking like that could be the case. Plus, it is highly possible that this is the beginning of the end for the Crosby era.
Then what?
Lightning struck twice with good fortune finding both Lemieux and Crosby. Pittsburgh may have to wait quite a while for another player of their ilk to come along. Still, one hopes finding a way to win post Crosby won't be a long process. For now, Pens fans should brace for the worst. 
Eh, I still have college sports to hang my sports hat on.
Umm…
The NCAA put an exclamation point on the end of the Pete Carroll era with unforgiving sanctions that gutted the program. There have been some good times since then, but not many.
Mercifully, Clay Helton was taken out behind the shed at the start of this year. Our loss is now Georgia Southern's nightmare. Minus the Rose Bowl win over Penn State, the Helton era was the worst of my lifetime of Trojan fandom. And now they may hire the losing coach from that Rose Bowl to be the new coach. I really need USC to get this right.
At least it is basketball season and Louisville is bound to bounce back from missing the Big Dance last year.
Huh? What's that?
Louisville lost at home in November for the first time since they opened the YUM Center. To Furman. 
Things started to unravel in Louisville during the Rick Pitino era after a great run that included the 2013 NCAA Championship. 
Pitino got extorted by a woman he had sex with on a restaurant table. He allegedly knew nothing about strippers being used during a recruiting weekend visit. Before the memory of the punishment of Strippergate could fade, a Pitino assistant tried to pay for a recruit. That punishment is hanging somewhere in the NCAA cloud.
Meanwhile Chris Mack has been an abject failure after being hired away from Xavier. Mack really needed to win this year. Oh, except he is suspended for six games because he got extorted by a former assistant coach who revealed broken COVID-19 protocols. 
The loss to Furman won't be the last. Worse than the losing is the boring style of play Mack has installed. He desperately wants to be Virginia. Maybe he can get an assistant coaching job with Tony Bennett after he gets canned at Louisville.
So there it is. I'm a fanatic without a decent team to cheer for. 
It is rough. Losing year round with no respite wears on you. Alas, it is the risk one takes being a fanatic.
So if you run into me and I seem to have a twitch don't worry. It is just my PTFS. Post Traumatic Fanatic Syndrome. 
I could really use a Ben Roethlisberger miracle run right about now.
Just my two cents…