The Steelers did it their way in the 2021 draft.
That has been a recurring theme in this column over the last handful of months.
The Steeler Way.
In this case, the Steelers listened intently to what a man named Rooney had to say. When I was a kid, one of the most popular commercials tag line was," When E.F. Hutton talks, people listen."
In Pittsburgh when a Rooney talks, everyone listens.
Art Rooney II made it pretty darn clear he wanted the Steelers to get back to having a premiere running game. He also made it clear he thought to do that they needed a "stud" running back. Who can blame him?
Franco Harris....✔️.
Barry Foster....✔️.
Jerome Bettis....✔️.
Le'Veon Bell....✔️.
The Steelers have a history with stud running backs and powerful running games.
Harris and Bettis have Super Bowl rings and Hall of Fame careers. Foster led a powerful rushing attack that unfortunately couldn't get it done in the playoffs. Bell, despite his off field saga, did everything for the Steelers from rushing to receiving. He was probably the best back in football for a couple of his years in Pittsburgh.
Najee Harris Throwing A Draft Party For The Homeless Shelter He Spent Time At As A Kid Was The Best NFL Draft Moment https://t.co/LbZ6sK34EJ pic.twitter.com/p0Y8AUvDn6

— Barstool Sports (@barstoolsports) April 30, 2021
T
Next man up—at least he better be—is Najee Harris.
Steelers just got a guy in Najee Harris who likes to jump over human beings on the football field pic.twitter.com/v4q9DcVjde

— CBS Sports (@CBSSports) April 30, 2021
The Steelers usually play things close to the vest, but this year it seemed pretty obvious who their target was. The video above gives a pretty good indication as to why he was their man.
I wrote last week—and still feel that way—that the offensive line should have been the main priority. I liked Tevin Jenkins and Landon Dickerson. Both were available, and both would have been huge upgrades to the offensive line.
That is not a complaint of the choice of Harris. I've said for the last six months I would love the Steelers to have him on their team. He has star written all over him. Over draft weekend we came to find out he is a star off the field as well, which is an added bonus.
Najee Harris Throwing A Draft Party For The Homeless Shelter He Spent Time At As A Kid Was The Best NFL Draft Moment https://t.co/LbZ6sK34EJ pic.twitter.com/p0Y8AUvDn6

— Barstool Sports (@barstoolsports) April 30, 2021
It appears the Steelers have more faith in BJ Finney, Zach Banner, and Chuks Okorafor than I do. And, hey, they probably know a bit more than I do. Just a bit. That doesn't ease my concern.
As luck would have it, when the Steelers got back on the clock in the second round another plug in starter at center was available. Creed Humphrey, out of Oklahoma, was widely considered the second best center in the draft.
With that said, the Steelers selected TE Pat Freiermuth out of Penn State.
Oof.
Again, I'm not complaining about picking a tight end. Friermuth won't conjure up memories of Mark Bruener with his blocking. However, he has a great set of hands and seems to catch the ball whether wide open or tightly covered. That will be a nice change from current tight end Eric Ebron's mantra of, " at least I didn't drop 'em all."
Again, I just hate that they didn't look to shore up a line that was exceptionally miserable a year ago.
Getting Ben Roethlisberger some new toys can't hurt, but if he is being carted off the field because the line stinks then what good are the toys.
Again, I like both players. I actually like them a lot. I'm just not sure the Steelers took the right approach.
The Steelers did address the offensive line in the third round by picking Illinois center Kendrick Green, and then again in round four with the choice of Dan Moore from Texas A&M.
Green was a good choice at that point in the draft, although the Steelers appeared to have him higher than most "experts" on their boards. He doesn't look, at first blush, like a guy who will come in and be better than what you have.
Moore sort of seemed like a "whatever" kind of pick.
Once you get to the back half of the draft, every team is throwing darts. The Steelers were no different. They grabbed some linebacker depth—both inside and outside—with ILB Buddy Johnson from Texas A&M(4) and Quincy Roche from Miami(6), a CB in Oklahoma's Tre Norwood(7), and a defensive tackle they liked enough to trade up for in the fifth round—which seemed odd—in Isaiah Loudermilk out of Wisconsin.
The most interesting pick the Steelers made all weekend was their last. The Steelers went off script and selected 256 pound punter Pressley Harvin from Georgia Tech.
Current punter Jordan Berry must be the most uncomfortable man in Pittsburgh. He was cut last year, and brought back when the Steelers figured out his replacement—Dustin Colquitt—punted like his 66 year old daddy, Craig. Now, the Steelers spend a draft pick on a punter who is built like a linebacker and throws better than Duck Hodges.
Important FYI: new Steelers punter Pressley Harvin III also throws dimes. pic.twitter.com/VLsLwsGD1Z

— Field Yates (@FieldYates) May 1, 2021
Oh, and he averaged 48 yards per punt as a senior.
In fairness to Berry, he had his best year in 2020 by averaging 45.8 yards per punt. Much maligned throughout his Steelers career, Berry was so good last season my circle of Steelers friends hooked him up with the hashtag #BerryBombs.
So, a linebacker/quarterback charading as a punter, some "might be's", hopefully at least one challenger for an offensive line much in need of upgrade, and a couple of new toys for Ben Roethlisberger.
It is folly to try and attach grades to a team's draft a day after it ends.
But, hey, what is wrong with a little folly?
"Love him or hate him" Mel Kiper has the Steelers draft dead last on his list, giving it a C+. Most of the other major NFL outlets gave a similar grade to the Steelers draft.
Similar to my opinion, most of these experts were curious with taking a tight end in the second round when Creed Humphrey was sitting there.
I like the players chosen in the first two rounds. I'm just not enamored with the strategy.
As always, time will tell.
One thing is certain.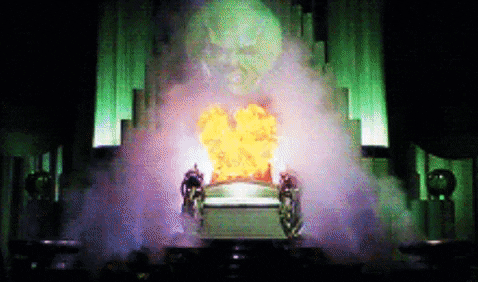 Now if someone could stuff an oversized stogie in his mouth, and take me in the way back machine to the '70s, I'd have a lot more faith in his words.
Two Cent Takes
NFL Draft
~My first, and maybe only complaint, about the draft is the front end delay. I'll let Frank Caliendo as Mel Kiper fill you in.
Mel Kiper doesn't understand why the picking doesn't actually start right at 8pm eastern. (and neither do I) #NFLDraft #trevorlawrence pic.twitter.com/b0byn0ltAz

— Frank Caliendo (@FrankCaliendo) April 30, 2021
All sports do it, and I don't understand it. Why not televise events at a decent hour, without delays, so kids can watch. And old men who want to get to bed!
~Easily the best draft announcement came from Daryl McDaniels of Run DMC. A lifelong Steelers fan letting the Cleveland crowd know.
Best #NFLDraft pick announcement ever?

It's like that. That's the way it is.@THEKINGDMC | @The_fridge53 | 📺: 2021 #NFLDraft on NFLN/ESPN/ABC; Draft-A-Thon on @NFL pic.twitter.com/GY05KcORGl

— Pittsburgh Steelers (@steelers) May 1, 2021
~With Detroit you never know what they are thinking. This year they definitely win the all name contest.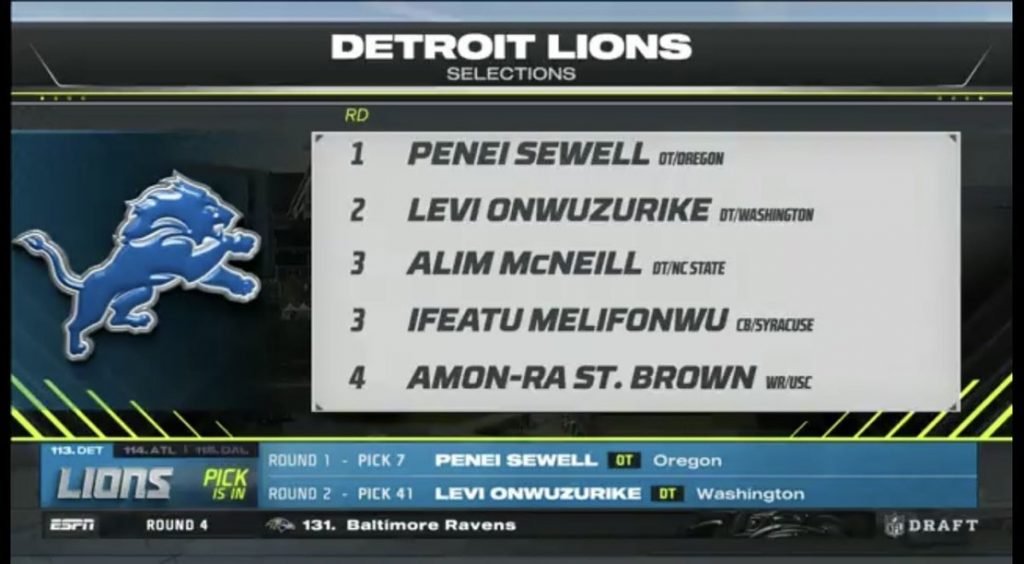 ~The surprise early in the draft for me was SanFrancisco. I thought for sure they were going to draft Mac Jones, with Justin Fields as a possibility. Instead they chose a guy who threw for 149 yards in his only game this year...at the FCS level. Trey Lance may turn into a Hall of Fame quarterback, but it is still surprising.
~Is Alabama turning into an actual football factory? Well, one fourth of the first 24 picks were Bama guys. 8 out of the first 38 were Bama guys. In all, they had 10 players drafted including the freakin' long snapper. Seems pretty factory like to me.
~Being a USC fan, I rant a lot in this space about head coach Clay Helton. The draft displayed another reason why. Despite having good to great recruiting classes, USC had one first round pick and a few third day guys drafted. These guys just aren't being developed under Helton.
~So many guys declare for the draft when they shouldn't. Being a second or third day pick certainly comes with no guarantees. It is an uphill climb for those players. Then there are the guys that dont even get drafted. That is a total disaster.
Take it from former USC player Dion Bailey, who knows first hand.
Man, I really wish kids advisors would tell them you should NOT come out early if you haven't graduated early or you aren't projected to go in the first 2 rounds. You have to see the bigger picture!! Capitalize on that free education unless you got MM's staring you in the face!

— Dion Bailey (@dbailey_18) May 2, 2021
~While the draft was winding down, a couple stars showed up at Churchill Downs for the Kentucky Derby.
Apparently when you win as many Super Bowls as Tom Brady, you dress however the hell you want to.
As for Rodgers, I assume he is wearing sunglasses to hide his tears. He is doing his yearly whine tour of how the Packers don't respect him and he doesn't want to play for Green Bay anymore. I like Rodgers, but this act has become nauseating.
MLB
~The Pittsburgh Pirates have lost four games in a row. It was bound to happen. This weekend they employed someone named Ka'ai Tom in left field. He misplayed a couple of balls, and for good measure made a completely boneheaded base running faux pas. At least they have been playing veteran Todd Frazier. He is 1-20 so far. Oh, that's right. He's washed up. Don't count out 100 losses just yet.
~Hitting has been deficient to start this season, to say the least. This doesn't help the situation.
I'm sorry, MLB can't just ignore this problem — certainly not with hitters across the league batting .230. https://t.co/3WT9aAsSKc

— Joe Posnanski (@JPosnanski) May 1, 2021
Players today tend to know the strike zone pretty well. If you don't have to throw any strikes to get a strikeout, that makes hitting even harder. Umpires have to be better.
~Andrew McCutchen was called out for leaving the baseline on this play.
The umpire somehow called Andrew McCutchen out for running out of the baseline, and then doubled down and ejected Bryce Harper for arguing the obviously wrong call from the dugout

pic.twitter.com/4hfbjH9OmP

— Bad Sports Refs (@BadSportsRefs) May 2, 2021
If you want the definition of a straight line, watch McCutchen run from first to second base on this play. The best thing about this play is replay was used...for the call at first base. Replay sucks. Umpires suck. They must be better.
~Define intensity.
'how dare he even swing' pic.twitter.com/6ikpIJ3szp

— Jomboy (@Jomboy_) April 30, 2021
I love that guy. So good. So competitive. So loyal.
~Baseball is a game. Sometimes guys just have fun.
Anthony Rizzo K'ing Freddie Freeman. #RakersWhoPitch pic.twitter.com/yQr1Jqii5W

— Rob Friedman (@PitchingNinja) April 29, 2021
~Amir Garrett is a clown. He often likes to chirp and puff his chest out.
Amir Garrett strikes out Anthony Rizzo, words are exchanged and then both benches clear during the Reds and Cubs game. pic.twitter.com/dGX508V2Gh

— Bally Sports Cincinnati (@BallySportsCIN) May 1, 2021
Garrett's ERA as of this minute is 10.38. Puff out that chest when you can, Amir. Apparently the outs are few and far between.
NHL
~With four games remaining this week, the Pens are in first place. They have two with the Flyers and two with the Sabres. Clearly the Pens are in the driver's seat for the top seed in the East. Regardless, this is the 15th straight year making the playoffs for the Pens. That is the longest such streak in all of sports.
~Across the state...
The greatest tradition in sports. Each year better than the next. pic.twitter.com/8S9CucD0fj

— SinceFlyersLastCup (@SinceFlyersCup) April 30, 2021
Tee times available.
~Marc Andre Fleury. First class goalie. First class human.
Congrats to Marc-Andre Fleury who is now tied for third ALL TIME on wins list after Vegas won tonight in OT

Fleury matches Roberto Luongo. ##489. AND counting 👏👏👏 pic.twitter.com/SStDIa2P7A

— Bob Pompeani (@KDPomp) May 2, 2021
NBA
~Another reason to love Julius Erving. The good Doctor decided not to include LeBron James on his all time list of players because he has orchestrated the loading of rosters on three different occasions. Good for Dr. J. The thing I hate most about the modern version of the NBA is loading up rosters to form these unbeatable teams. For the record, I think Lebron is one of the all time players. However, I still respect Erving for stating an accurate premise.
A Penny For My Final Thought...
I've decided to throw you a curve ball with my final thought this week.
Yard sales.
I live in a small town, and I participated in a yard sale this weekend. Man, are there some hardcore "yard salers" out there. Young, old, men, women, all looking for incredible bargains. Some look for specific things, while others touch each and every item on each and every table.
Let me give you a few of my favorites.
The couple that pulled up in a Lexus and then proceeded to try and get me from $5 to $3 on my watch. I'd throw it in the trash first.
The people that look at every shirt hoping to find one that is a different size. Not gonna happen.
The people that want to tell you their life story. Let me tell you, these people don't hold anything back.
The people that show up the night before while you are setting up. Apparently this is now a thing.
The people who bring kids and scream at them, "No, you aren't getting that. We have enough junk!" Um, it's a yard sale. I don't have any diamond necklaces on the table with a $2 price tag. It's all junk!
The "does it work?" people. Whatever it is costs a dollar. Sometimes you have to take that leap of faith.
There was even a guy strapped up with a pistol, and no, he wasn't a cop. Im guessing he got all of the deals he wanted. Oh, and it's just a yard sale Macgyver. Relax.
Inevitably sports get involved.
I had a Penguins Stanley Cup picture for sale. Oh, don't worry, I replaced it with a better one the last time they won the Cup. So, of course, the lady who bought it told me all about how her son became a Penguins fan.
After many attempts I finally sold my Antonio Brown salute to the military official jersey. I won that thing a couple summers ago at the beach playing a beer pong game. The next season Brown turned into #CrazyAB and left Pittsburgh. The only time I wore the jersey was for a Halloween costume. Fittingly, I was a clown. The lady who bought the jersey still loves AB, and she is married to a Cowboys fan whom she wanted to taunt. Gotta love sports!
I got a lot of inquiries on my USC stuff. People wanted to know how I became a Trojan fan. Of course I told them it is my love for Clay Helton that turned me on to the Trojans.
The freakiest moment of the two days came when a gentleman pulled right into the driveway, hobbled out of the car with his cane, a giant gold cross necklace, and a bible. He had no interest in looking around at my items. He saw my Steelers pillow and decided to give me his two cents on the organization.
As he held up his bible, he let me know that there is too much talent on the team not to have won more Super Bowls. Hell...I mean heck...at this point I just assumed he was a loyal reader of my column.
Then he proceeds to tell me that the Rooneys went from conservatives to raging liberals. They won't fire Tomlin because he is black, and they give him a free pass. He finished by saying the players are retiring from Pittsburgh because of reverse discrimination.
All of this with bible held high and gold cross necklace shining.
At a yard sale.
I can't make this stuff up.
One would assume the only new Steeler this guy will root for is Pat Freiermuth. Wait until he finds out that even the new punter is black.
Having a yard sale is always an adventure. Yard salers are a different breed. I may have found the wackiest one of all.
As always sports was a common link. Even at a yard sale. Even for a bible toting racist.
It's always sports!
Just my two cents...