The first organized football game involving a high school team is believed to have occurred in 1894.
In 1920 the NFHS was set up to create organization and rules for high schools all over the country.
More than 13,000 schools play high school football. This means fall Fridays all over the country are filled with flying footballs.
Attending high school football games is an American tradition. Communities come together on Friday nights for this longtime ritual. I've done it for most of my life. I went to games when I was a kid, played drums in the band so I attended all games when I was in high school, and have gone to games for most of my adult life. 
As I watched the game at my local high school Friday night I realized high school football really doesn't have all that much to do with how good the teams are.
My alma mater, sadly, is lousy. Their opponent Friday night wasn't a whole lot better. Both teams played hard. They made plenty of mistakes. And nobody will confuse these players with five star recruits. 
As I leaned against the fence surrounding the field I took in everything happening and realized the product on the field is probably only important to the players, coaches, and parents of the players. And if those parents are reasonable, it probably doesn't matter a whole lot to them either.
First of all, autumn weather, which has been slow to arrive in my area, makes for a pleasant Friday night. This past Friday fit the bill.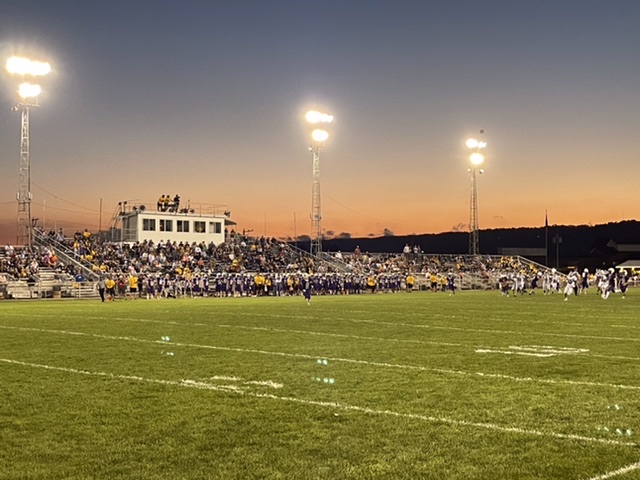 It was a beautiful evening to be out, so why not go out to a high school football game with others from the community.
 This truly is a school and community wide event. Many of the fans don't even have kids playing. Some don't even know any of the kids playing. They show up to meet friends and catch up on life, while watching the game occasionally. It is sort of a sports version of a coffee shop.
Most schools have an enthusiastic student section. Friday night didn't disappoint as the home team student section was sporting yellow shirts that were purchased as a fundraiser for their mini THON drive for childhood cancer, a la Penn State. 
It is another example of young people doing good things. Despite not having a lot to cheer for, these kids were very vocal in support of their team.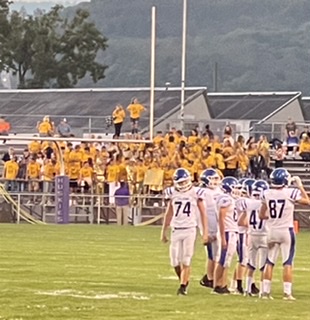 On this particular night, fans were treated to a couple of really good marching bands, who not only played spirited music to support the football team, but put on great performances during pregame and halftime. These two groups of kids really added to the enjoyment of the evening.
Finally, both schools had very energetic cheerleaders, who coupled with the bands do their best to inspire the players. And let's not forget my favorite part of the cheerleading squad. The mascot. The two mascots had a mock fight that had the student section's attention. On this night the falcon came out on top. All night little kids came by to high five the Falcon. Is it too late for me to be a mascot? I always thought that would be a blast.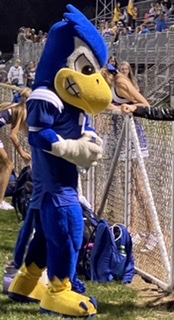 All of the same things that make college football so great on Saturday afternoons work on Friday nights at high school stadiums and fields all over America.
If you have an opportunity to go to a high school football game on an autumn Friday night, you should do it.
Maybe you see a great game like this one from this past weekend.
Bishop Gorman (NV) was up 24-7 with 1:10 left in the game…AND LOST THE GAME pic.twitter.com/SIeB0WMgDu

— BetOnline.ag (@betonline_ag) September 18, 2021
Maybe you don't.
It won't really matter. It is a community wide gathering that just happens to have a football game going on. Plus it's another reason to support young people.
Friday Night Lights was a good book, a good movie, and a good TV show. Your Friday night under the lights will be good, too.
Friday night high school football games are one of the longest standing positive community events we have. And this day in age, with all the rifts and splits in our communities, isn't that a pleasant thought.
Two Cent Takes
College Football
~Florida head coach Dan Mullen has made a nice adjustment to a different style of QB. Florida could be more dangerous than I originally thought.
~Alabama practices won't be pleasant this week. 
~The state of Florida is struggling.
Florida lost, but the Gators gained a measure of respect nationally with how well they played against Alabama.
Manny Diaz will not survive at Miami. He still allows players to pose on the sidelines with turnover chains and touchdown rings in games they are losing. The Canes could use a dose of discipline.
I thought Mike Norvell deserved more time in Tallahassee, but the first 0-3 start in decades coupled with last week's debacle has his seat becoming very warm. Turns out week one was more Notre Dame playing poorly than the Seminoles playing well.
~The ACC, in general, is wobbling.
Clemson has looked anything but scintillating so far this year, with their latest being a 14-8 sleepwalk over lowly Georgia Tech.
Virginia Tech lost to middle of the Big 12 pack West Virginia.
Pitt pulled off one of their yearly Narduzzis, by losing at home to Western Michigan in front of the same 57 fans that always brave Pitt games.
~The Pac-12 did the exact opposite of what I said they needed in my season preview. Aside from Oregon beating Ohio State, the PAC-12 has failed to win any of their inter conference games. This week the Pac-12 South provided more of the same:
 Arizona State losing to BYU
 Utah losing to San Diego Astros a week after losing to BYU
Arizona lost to Northern Arizona
Colorado got blown out by Minnesota while gaining a meager 77 yards on offense
UCLA pulled the plug on their exciting start by falling at home to Fresno State
Not only are these losses, but they are bad losses. Oregon is now the only undefeated team in the league, and it is only week three. Not a great way to gain respect for your conference.
~USC provided a glimmer of hope by scoring 45 straight points to wipe out Washington State. Interim head coach Donte Williams took over for the finally fired Clay Helton and immediately went to work on changing the culture. No more hoods or hats will be worn at meetings. He also called out players late for meetings—along with their roommates—in order to improve accountability that was sorely lacking.
For the record, I would like to take some credit for Helton's firing. Not just my column calling for it last week, but also my choice in golf balls this summer.
I'd like to think the golf balls I used this summer played a role in this glorious moment in #USCFootball history. #FightOn #USC pic.twitter.com/ZrGsNyOQwe

— Tim Clark (@TrojanTim66) September 17, 2021
USC also may have found their new quarterback. Kedon Slovis has regressed badly this year and went down with an injury early Saturday. Freshman Jaxson Dart was fantastic. He can hum it, but he can also run. This is important considering the level of play from the offensive line. Plus, he looks LA, which never hurts at USC.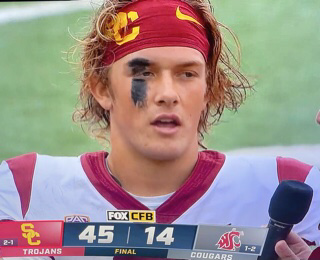 ~In a season where parity seems a great possibility, Cincinnati is one big win over Notre Dame from being squarely in the playoff conversation. Clemson and Ohio State have already lost. Alabama looked mortal. Oklahoma has been average. Oregon may or may not be for real. So this could be the year we are left saying, "Why not Cincinnati?"
~The best catch this weekend—and maybe the entire year—along with a great call from my man Gus Johnson.
No better person to call this INSANE interception than Gus Johnson pic.twitter.com/3hua156ouK

— Barstool Sports (@barstoolsports) September 18, 2021
MLB
~Just when I think they are out, they pull me back in again. Playing the role of Michael Corleone is Bryce Harper. Harper is seems to be trying to will his team to an NL East division title. They aren't entirely out of the wildcard race either.
Beware Phillies fans, as your team plays host to the Orioles and red hot Pittsburgh Pirates. The Orioles have won 2 of their last 10 so they may be due, and the Pirates almost got their first sweep of the season over the weekend and are frantically trying to avoid 100 losses.
The real fun will come next Monday when the Phillies play three in Atlanta. That series could determine the NL East winner.
~The Yankees, and their ace Gerrit Cole, are falling apart. Toronto clings to a one game lead in the AL Wildcard race. The Oakland A's are two back. Toronto's offense will make them dangerous in the playoffs.
Steelers
~The Steelers defense will have to carry them until the offensive line grows up(if they ever do). So this is the worst case scenario, especially this early in the season.
Injuries on defense have been too much to overcome.

No Watt.
No Bush.
No Haden.
No Alualu.
Still missing Tuitt.

The guys stepping in just haven't been able to step up and make the plays when needed.

— SteelerNation (@SteeIerNation) September 19, 2021
~Ben Roethlisberger has taken a lot of hits in the first two games. It is hard to envision him making it through the entire season unscathed. When he has to move Ben looks old. Very old.
~Najee Harris probably wishes he had his Alabama offensive line. If and when he gets some competent blocking, he will stand out. Right now he does a lot on his own, and it has opened eyes.
my god, najee 😳 pic.twitter.com/Ltnl9n0Qfh

— Benstonium (@Benstonium) September 19, 2021
~Mike Tomlin still does curious, mind numbing things. Sunday was no different.
Punted on 4th and less than a yard more than midway through the fourth quarter and down two scores. His defense was hurt and gassed. 
Opted to kick a 56 yard field goal rather than go for a 4th and 7. He did need two scores, but going for it seemed like better odds. Premiere kicker Chris Boswell bailed him out with a stadium record long field goal.
With the game over Tomlin elected not to just take a knee on the last play. Instead a pass to their best receiver, Dionte Johnson, resulted in a knee injury of some sort to Johnson. Now granted Johnson has a 50/50 chance of getting hurt climbing out of bed in the morning, but it was still a stupid decision.
Rest of the NFL
~On a scale of 1 to 10, Sam Darnold is an 11 and a half on the happy to be out of New York scale. His Panthers are 2-0, and probably the second best team in the NFC South.
~Meanwhile Darnold's replacement in New York, Zach Wilson, threw four interceptions Sunday. Sam Darnold wasn't the problem in New York, and Zach Wilson won't be the answer.
~There have been a ton of injuries already through two weeks. Good thing they added an extra game this year. 
~Only three teams have won the Super Bowl after an 0-2 start. In the last thirty years only 12% of 0-2 teams made the playoffs. The following teams will have an uphill climb.
Colts
Vikings
Jaguars
Giants
Falcons
Jets
Lions(yes, I've already given them the loss tonight)
The first two teams had—at a bare minimum—playoff aspirations. Carson Wentz will undoubtedly sink the Colts. Kirk Cousins is too erratic, as is the Vikings defense. 
Golf
~Here comes the Ryder Cup from Whistling Straits. I think the Americans pull this out, and Brooks Koepka and Bryson DeChambeau hug it out afterwards. Or not. But I do think America wins a close one. Either way, it will provide an exciting end to the golf season.
This Week's Shiny Penny
Too many parents and coaches just don't get it. Sports are one avenue to happiness. They aren't necessarily the be all end all for every kid. Kurt Hines gets it. Wish there were more coaches that did.
Just had a young man come in before practice and quit, and I couldn't be happier! pic.twitter.com/P0zsmbUQzU

— Coach Hines 🇺🇸 (@CoachKurtHines) September 15, 2021
A Penny For My Final Thought…
Hey Happy Valley, settle down.
The White Out is over.
Thankfully.
I'm not sure I could listen to Chris Fowler and Kirk Herbstreit lose their collective poo every time they came back from commercial. So Homer Fowler grew up a Penn State fan? Jeez, I could hardly tell during the telecast. 
Anyway, enough about the broadcast Saturday night. I actually have something good to tell you Penn Staters. That is if you are done whining about the SEC officials trying to screw you.
Lean in here, and listen up.
I think you guys are going to win the Big Ten.
Look, I still have doubts about Sean Clifford. I would like to see the offensive line be more consistent. But there are a lot of other things to like about this team that other Big Ten teams don't have. And, yes, that includes Ohio State.
Jahan Dotson is the best receiver in the league. He is a difference maker. It took a while in week one for new offensive coordinator Mike Yurcich to figure out Dotson must touch the ball. Provided a sometimes shaky Clifford can get him the ball down field, he will give you a seven point advantage over everyone else.
Yurcich is another thing to like about the Nittany Lions. His play calling is light years better than anything Penn State has had in recent memory.
Ohio State has great receivers, too, and a good quarterback. Here is the difference. Ohio State doesn't have anyone to cover Dotson. Penn State has guys to cover the Buckeye receivers.
Penn State's defense has difference makers, which every great defense has. Joey Porter, Jr. is a difference maker. Arnold Ebiketie is a difference maker. Jaquan Brisker is a difference maker. And the line backing Corp of Brandon Smith, Jesse Luketa, and Ellis Brooks, if not difference makers, are really solid. I would like to see them be more stout against the run. Otherwise this group has been excellent.
Obviously it is too early to start printing Big Ten Chanpionship shirts. Home games with Indiana and Michigan could be testers. Road games at Maryland and Michigan State won't be gimmes. Ending the season in Lansing could be really tough the way the Spartans are playing. And the two obvious tough games at Iowa and at Ohio State have the makings of monumental tilts. 
Sitting here today, I think Penn State would be favored in all of those games except for Ohio State. Penn State has more playmakers than all the other teams on their schedule.
If the Nittany Lions end up 8-4, don't blame me for jinxing them. Growing up hearing Penn State, Penn State, Penn State has conditioned me to not say nice things about your team. So enjoy my moment of kindness for your beloved team. With parity appearing to be the theme this year, I think your Nittany Lions have a chance to unseat those bully Buckeyes.
I have said since this summer that I thought this may be the year to get the Buckeyes. I also predicted ten wins for Penn State. Then I thought that was the max amount of wins Penn State fans could expect. Now, I think that is the minimum.
The Lion is roaring, James Franklin's sunglasses are shined up, and Zombie Nation is blaring.
I just hope the team doesn't get distracted when Franklin flies to LA to take an interview with USC AD Mike Bohn. 
Fight on, PSU, fight on.
Just my two cents…