Is James Franklin really worth it?
Despite a horrific loss to Illinois Saturday, many "experts" still seem to think Franklin tops the list of coaches in line to take over at USC or LSU. Supposedly, Franklin is particularly interested in the USC job.
Again I'll ask…is Franklin worth it?
Has he done enough at Penn State to warrant such adoration?
When he first arrived at Penn State I referred to Franklin as a snake oil salesman. He was a fast talker who seemed good at glad handing and wore slick black sunglasses. He seemed more con than coach.
Since then my perception has changed a bit. I still think he is good at selling ice to an Eskimo. However, I now see him as a good dad and a coach who genuinely cares about his players.
That could be said of many, if not most, coaches across America. So there has got to be more that teams are attracted to with Franklin.
Franklin can recruit. He potentially has the number one recruiting class for 2022 at Penn State. Franklin has always been a good recruiter. That whole ice and Eskimo thing. Looking deeper you see he has never recruited the offensive line all that well, nor has he been able to bring in a game changing quarterback.
That quarterback may be coming next season, as the top ranked quarterback in the 2022 class —Drew Allar— is committed to the Nittany Lions. Allar could allow the Nittany Lions to finally take that next step from good team to great team.
Look no further than the current quarterback situation to see Franklin's failure to this point. Sean Clifford, who is slightly above average on his best day, had to play hurt Saturday because the coach didn't trust his backup options.
The lack of a running game all season, as well as years of watching Trace McSorley, Clifford, and Will Levis run for their lives highlights the deficiencies in the offensive line during Franklin's tenure. If it isn't recruiting then player development comes into question.
Aside from recruiting and player development, what about the results Franklin has produced in Happy Valley. And remember, presumably USC and LSU want a guy that will have their teams challenging for national championships. Franklin hasn't been able to climb that mountain at Penn State.
In Franklin's second year —trying to build Penn State back up after sanctions had limited the roster— he had his team at 7-2, then lost his last four games to finish the season.
The following season started poorly at 2-2, with a blowout loss to Michigan and an upset loss at rival Pitt. Then Franklin got his team rolling, winning 9 in a row including a blocked field goal victory over Ohio State and a Big Ten Championship win over Wisconsin. It is the only time Franklin has beaten Ohio State and the only Big Ten Championship he has won while at Penn State.
That season ended in a Rose Bowl classic with USC. Thanks to some conservative decision making in the fourth quarter by Franklin, USC managed to fight back and win that game. Franklin lost to Clay Helton, the very clown USC is eyeing Franklin for as his replacement.
Should USC be eager to hire a man that lost in a big game to Clay Helton?
The 2017 season was arguably Franklin's best at Penn State, ending with a Fiesta Bowl victory over an overmatched Washington team. Still, that season saw the Nittany Lions lose two heartbreaking games. A one point loss at Ohio State was followed up by a three point loss to Michigan State.
Losing the next game after his first loss of the season has happened to Franklin 4 times in the last 5 seasons. That is a disturbing trend.
Other black marks on Franklin's record include:
3-3 in bowl games, including a loss to basketball power Kentucky.
3-4 vs Michigan and Michigan State, three of which were total blowouts
1-6 vs Ohio State
2 losses each to Maryland and Illinois
3-6 after a bye week
Franklin is coming off a 4-5 COVID-19 season, so the current season seems like it should be a crucial season for Franklin. Two straight losses —including one of the worst losses in school history to Illinois —with Ohio State, Michigan, and Michigan State still on the schedule leaves this season close to running off the tracks.
One more time for the people in the back…is Franklin worth it?
He is 7-14 against the other three traditionally good teams in the Big Ten East. And to be perfectly honest, the two Michigan schools haven't exactly been powerhouses of late.
He has losses to Temple, Pitt, Maryland, Illinois, and Indiana, so you can't say he always wins the games he should.
He can recruit for sure, and maybe that would even get better in Los Angeles and Baton Rouge. He usually has a good staff, with Kirk Ciarrocca being an exception. He lets his coaches coach. You often see Franklin in the background of team huddles. He has personality.  He would also be the first African American coach at USC or LSU, and by his own admission he wants to be the first African American to win a national championship. One would think that being the first African American head coach at either school would be enticing to Franklin.
Wait, but is he worth it?
Let's look at the coaching eye test. His time management has been questionable. Going into a shell at the wrong time has reared its ugly head in crucial games. Sometimes his teams don't look ready, which Franklin admitted after Saturday's loss. He flat out said he didn't have his team ready to play. Not the kind of admission you want to hear from your head coach.
Maybe Franklin's mind was in LA or Baton Rouge on Saturday. Maybe it has been for a while now.
Maybe a change of scenery would help Franklin. It goes that way sometimes. Maybe getting away from Ohio State would be a positive. If that's the case then playing Alabama every year can't seem too appealing.
I still think USC is the most likely Franklin destination. A fast talking, sunglasses wearing, CEO type of guy seems like a fit in LA.
As a USC fan I want to dig deeper and find out if he is worth it.
All I can uncover is that he isn't Clay Helton. After six years of Clay, even Ben Franklin would look good to USC fans.
Ben Franklin was definitely worth it. You know, the kite, electricity, and all that good stuff.
But is James Franklin electric enough to be worth it?
Two Cent Takes
College Football
~When USC does hire a new head coach, look for a completely new staff to be hired. Nobody, including interim coach Donte Williams, is proving worthy of consideration. That USC team that lost to Notre Dame Saturday night was extremely poorly coached.
~Oregon looked good in the Rose Bowl beating UCLA. Don't be surprised if the Ducks lose at Utah or at home against Oregon State in one of their last two games of the season. Oregon plays to the level of its competition. 
~It appears Pitt is the favorite to win the ACC. What a ratings boon a Pitt vs Wake Forest ACC title game will be. Give Kenny Pickett credit. He is lighting everyone up and deserves to be in serious Heisman Trophy consideration. The question becomes whether the Panthers "Narduzzi" any of their remaining games.
~Maybe we will finally have a meaningful Ohio State/Michigan game. I am still not sold on Michigan, but they just keep winning. I think Ohio State is clearly better than everyone else in the league. 
~Oklahoma continues to wobble through their season, albeit undefeated. Cincinnati struggled with a bad Navy team. Ohio State, Michigan, and Michigan State will beat each other, and by that I mean Ohio State will beat the other two. Alabama gave up 24 points to Tennessee at home. At the end of the day, Georgia is the only truly great team. Alabama and Ohio State are good. Everyone else is just, eh. Oklahoma, Cincinnati, and Oregon are all lining up to take the remaining spot or two in the playoff field. It will be two spots if Alabama loses to Georgia in the SEC Championship.
~Kudos to Aaron Suttles for being a good dad and still getting his job done. And kudos to Nick Saban for his classic reaction.
What an adorable moment! Coach Saban jokes with @AaronSuttles after his son joins the press conference. (SOURCE: Alabama Athletics) https://t.co/VSKW7Rgl9x pic.twitter.com/7cjxhfSUPR

— WBRC FOX6 News (@WBRCnews) October 21, 2021
NHL
~Love the Kraken uniforms and name. Fans loved their first home goal.
IT'S A KRAKEN GOAL 🦑🏒

The first in Seattle's Climate Pledge Arena!! pic.twitter.com/w3EzYZFbkl

— SportsCenter (@SportsCenter) October 24, 2021
~Never doubt Mike Sullivan. Never doubt Mike Sullivan. Never doubt Mike Sullivan. He has this young Penguins team playing really well early on without its two biggest stars. Then Jeff Carter and Kris Letang went on the Covid list and all they did was bash Toronto 7-1 Saturday night. Pens fans should feel much better about their team's prospects after these first two weeks.
NBA
~It was only the second game of the season, but it may have set a tone. The 76ers led Brooklyn all game long until the last 4 minutes. They led by double digits most of the night. Doc Rivers always takes out his entire starting unit for long stretches of fourth quarters. He did so Friday night, and it takes Joel Embiid out of rhythm. He also didn't challenge an obvious game changing charge call against Kevin Durant. I am no longer sold on Doc Rivers. Second game or not, that was a really bad loss.
~I like the new replay challenge rule. Rather than review every play, now it needs to be challenged. This should speed up end of games.
MLB
~Braves vs Astros. Let the screaming begin about the cheating Astros making the World Series. Seems about right for MLB. The Braves are doing it all without Ronald Acuna, arguably their best player. Think how good they will be when they get him back next year. They actually had to rebuild their entire outfield. Braves have better pitching, so I like them to win it all.
~If the World Series goes six games we will get to have another November World Series. How stupid. Think if the Twins, Tigers, Red Sox, or any other team further north were in the Series. The World Series should end in the middle of October like it used to. November is no time to be playing baseball.
NFL
~Is it possible that the AFC North goes through Cincinnati? I said last week the Bengals were close. I was wrong. They are here right now. Burrow to Chase is going to dominate defenses for years to come.
~Maybe the Ravens lucky start will start to even out.
~The Steelers and Browns will play next week to avoid the AFC North basement.
~After losing to the Jets earlier in the season, Tennessee has looked like the best team in the AFC.
~Kansas City may finally be fading. It happens to the best of them.
~After Sunday, maybe the Eagles, Bears, Jets, Panthers, and Texans should start there own division. All five teams were beyond inept.
~Tom Brady threw his 600th touchdown pass on Sunday, and he barely broke a sweat. 
~Michael Pittman had 4 catches for 105 yards and a TD. I really had hoped the USC receiver would drop to the Steelers in the second round two years ago. He didn't, and the Steelers took Chase Claypool instead. I was fine with that, but Pittman would provide an identical skill set with far less drama.
This Week's Shiny Penny
The harsh irony isn't lost on me that Dick Vitale, a man who has raised so much money for cancer research for kids, now has to battle cancer himself. 
I am so appreciative of the many words of encouragement in starting my journey to beat cancer . Yes 6 months of CHEMO will be a challenge but with ALL the love, support & 🙏🙏🙏🙏🙏I am receiving I plan on WINNING the toughest battle I have ever faced!❤️❤️❤️❤️❤️ pic.twitter.com/aMtAsVeiuQ

— Dick Vitale (@DickieV) October 20, 2021
Next time I criticize his announcing, someone come slap me around a little. Good luck to Dickie V in his battle.
A Penny For My Final Thought…
Change the college football overtime now.
Do not wait until next season. Do it now.
Nobody should be subjected to the idiocy we witnessed Saturday at Beaver Stadium ever again.
Some geniuses in suits —never a good sign— decided for the safety of the players that overtime should be shortened in some way. Said geniuses decided that if a game got to the third overtime that each team would get one two point try until there was a winner.
Clearly these same geniuses didn't look at the statistics and thought making a two point conversion was a piece of cake. The success rate for two point conversions is less than 50%. And really that isn't even the point. 
The point is that this is a gimmick. You really want a game decided by who has the best gadget play? Why not just have the captains play rock, paper, scissors instead. 
What we were subjected to during the nine overtime's in the Penn State loss to Illinois was simply ridiculous. 
This insane idea did not shorten the game, it actually lengthened it by quite a bit. Not only did we have each team try their play, but we had to switch ends of the field after each set of attempts.
Miss. Miss. Walk the length of the field.
Miss. Miss. Walk the length of the field.
Miss. Miss. Walk…well, you get it.
Idiotic.
College football needs to get rid of the gimmick overtime and institute the NFL system. Ten minutes of regular play wouldn't be anymore injurious than that garbage we watched on Saturday.
The NFL system isn't perfect. The coin toss winner gets the ball and a chance to end the game without the other team getting the ball. So what? Play enough defense to prevent a touchdown. If the ten minute period ends and the game is still tied, so be it. We lived with ties all those years, a couple more won't kill us. Obviously in the playoffs you would keep playing just like the NFL does.
For those that said Saturday's nonsense was exciting, I think you are confusing excitement with having bamboo shoots shoved under your fingernails. Plus, who wants to see a truly meaningful game decided that way? 
So get the geniuses in suits back in the hermetically sealed room pronto. Then bring in someone that actually has common sense to save the geniuses from themselves.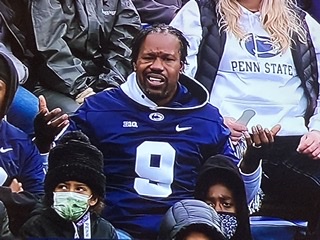 Exactly, Joey. I couldn't agree more.
Just my two cents…