The greatest playoffs in sports is underway.
The battle for Lord Stanley's Cup is a grueling battle of attrition. Toughness, Will power, and a little bit of luck over the next two months will go a long way in determining the new NHL champ.
This year the playoffs will feel a bit different.
For 56 games the same 8 teams have been banging heads...and every other part of their bodies. This year you must survive two series with two of those same 8 teams in order to advance to the conference final.
That is a lot of familiarity.
The realigning of divisions was a good idea for a pandemic shortened regular season. It actually installed some extra interest because of some of the rivalries going head to head so often. The back to back ga,es provided an uptick in tension and hostility.
At this stage, however, it sure would be nice to see some new faces. That won't happen unless you are fortunate enough to squeeze through to the conference finals.
Commissioner Gary Bettman has stated he expects next season to start on time, be a full 82 game schedule, and go back to regular divisions and scheduling. Of course, this is the same man that allows Tom Wilson to maintain employment so maybe we should take a wait and see approach on the scheduling issue.
For now, let the fun begin.
Saturday night, the Caps and Bruins already had an overtime tilt. The Caps survived that one, and I am on record as saying the Caps are going to win that series. Although, if I put the 'ol Two Cent jinx on them that would be okay, too.
In all, four games have been played in the 2021 playoffs. Three have gone to overtime, and the fourth was decided with 1:14 left in regulation.
Yes, it's going to be a wild ride.
Penguins Chances
Do the Pittsburgh Penguins have what it takes to win another Stanley Cup?
The short answer is yes.
I've never been known to be short on words, so here is a longer look at the Pens road to the Cup.
The Penguins will have to reverse the last two plus years of playoff misery if they want to hoist the Cup.
Obviously it always starts with 87. Sidney Crosby has been fantastic for most of this 56 game season. The playoffs have been known to make stars disappear. It has happened to all of the games top players at one point or another. Crosby will have to be visible for the Pens to still be playing into July.
Evgeni Malkin hasn't been right all year. Just when he was finally starting to look like himself, his progress was halted by injury. He has been back with the team for a handful of games, but still looks tentative. He starts the playoffs out with a recurrence of his original injury.
The addition—and, boy has it been a good addition—of Jeff Carter makes Malkin's lack of potency less of a problem. Carter is a veteran who isn't afraid to go to the net. He is a big body in front that opens things up, all the while getting some pucks to the net while he is there.
Brandon Tanev's return is quite welcome. He plays the game a bit like the Tasmanian Devil. A guy who can disrupt the other guys while giving his guys a lift is always nice to have come playoff time.
Probably the deciding factor in these playoffs will be if the Penguins get "good" Tristan Jarry between the pipes or "bad" Tristan Jarry. If bad Jarry shows up, the Pens can start booking tee times. If they get good Jarry then they might want to block of the first half of their summer.
It always seems to come down to goaltending.
The biggest advantage the Pens have may very well be standing behind the bench.
When GM Jim Rutherford walked out the door early in the season and Ron Hextall was hired as new GM, the team was floundering and many—including me—wondered if head coach Mike Sullivan would survive the year.
Shortly after Rutherford quit—on Groundhog Day to be exact—the Pens got a short Covid pause. They were 5-5, with 4 of the wins coming in either overtime or a shootout.
After that mini pause the Pens went 32-14, and only 4 of those were overtime victories.
Mike Sullivan went from unemployment speculation to coach of the year certainty.
Sullivan finally got his stars—and everyone else for that fact—to buy in to a change in style. Minus a few games along the way, the Pens are solid in the middle of the ice, back check like never before, and are solid in front of their goalie.
There have been a few lapses. Kris Letang can be counted on for the occasional bonehead play. There are still times they get careless with the puck.
Those mistakes have been drastically limited.
For that reason, I have a better feeling than usual heading into the playoffs.
Here is how I think the Pens run to the Cup will go, along with the rest of my fearless predictions.
New York Islanders
The Islanders bring one of the NHL's best defenses to the ice. On the flip side of the puck, the Pens have one of the best offenses in the NHL.
Because of the familiarity provided by this season's schedule, few surprises should arise. The ice always tends to tighten a bit in the playoffs so mistakes get magnified.
The Pens put themselves in a hole with a game one overtime loss to the Islanders.
The Islanders had far more get up and go from the third period on, and "bad" Tristan Jarry showed up. Actually, it was awful Jarry. Casey DeSmith is a capable backup, but is injured. How long he is out is unknown. I would not hesitate to go to a healthy DeSmith in this series if need be.
The Pens will find ways to get the puck in the net enough to handle the Islanders in six games. I think. I was far more confident before Sunday's third period began.
Caps/Bruins
I think the Caps beat the Bruins in seven hard fought games, although I would feel better about that pick if the Caps get back goalie Vitek Vanecek from his game one injury.
This would be great for the Penguins. The Caps are a much better matchup for the Pens, even with their full roster. Plus, who doesn't want to see another Pens/Caps playoff series? Crosby vs Ovi V.
Minus 2018, the Pens have owned the Caps in the playoffs.
This would be more of the same. Pens will roll in six here.
On a side note, I would not be nearly as confident if the Bruins advance. Two words. Tuuka Rask.
Carolina/Florida/Tampa Bay/Nashville
Carolina was the best team in the regular season which, if you are a hockey fan, you know means nothing.
Carolina should dispatch of Nashville easily. Florida won 5 of 8 from Tampa in the regular season. Again, so what. Tampa is finally at full strength. The Lightning strike down the Panthers and move on to play Carolina.
Logic tells me to pick the Hurricane. At the end of these picks you will see logic plays little part in this endeavor.
I will take the full strength Lightning, in what could be the best series of the playoffs.
That means the Pens would play Tampa Bay.
If you want the picks I made with my head, listen to my Two Guys Talking podcast I do each week here at PennSports.LIVE with Jed Donahue playing the role of the other guy.
I'm going to go with my heart in this column.
Sidney Crosby will catch fire and team with Jake Guentzel to skate past the Lightning in a 7 game thriller.
Vegas/Colorado/St. Louis/Minnesota/Toronto/Edmonton/Winnipeg/Montreal
In the Canadian North divisionals I think Toronto and Edmonton advance rather easily.
From there, I'm taking the better player over the better team.
Conner McDavid is hockey's best player right now, and most likely for years to come. Honestly, this division was lousy so I'm not overly hyped about either team. McDavid will be fun to watch in the playoffs. Edmonton will advance to the Western Conference Finals.
Out west there are two really, really good teams. Vegas and Colorado will advance to the West division finals, although Minnesota has given Vegas fits all year. Despite a 1-0 overtime loss in game one, Vegas will get by the Wild. That will set up an epic showdown between the Knights and Avalanche.
I think Colorado just might be the best team in the NHL, but I've already stated I'm going with my heart here. Marc-Andre Fleury will find that magic once again and lead Vegas past the Avalanche.
Fleury will then have all the answers for Conner McDavid and the Edmonton Oilers.
Vegas advances to the Stanley Cup Finals for a date with the Pittsburgh Penguins.
This is the matchup my heart wants to see, and why can't the heart be right from time to time?
Old friends will battle as Marc-Andre Fleury takes on his former team.
It is hard not to root for a good guy like Fleury. He was great on and off the ice in Pittsburgh, and has been the same in Vegas. He has a 92.8 save percentage this season, which is a tick better than his career average. By comparison, Tristan Jarry has a 90.9 save percentage.
The Vegas defense will not be able to contain the powerful Penguins offense. So, despite Fleury's best efforts the Pittsburgh Penguins will hoist the Cup once again.
How fitting would it be in a COVID-19 shortened season, with a weird condensed schedule, and many pitfalls to avoid, that a team whose GM walked out on them unexpectedly after just a few games would get to drink from Lord Stanley's Cup.
I may have made these picks with my heart, but they aren't completely devoid of logic.
Plus, this guy helped out as he always does.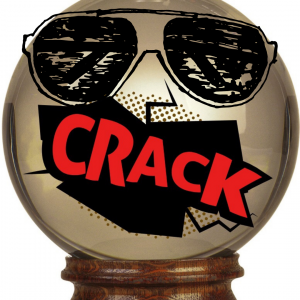 After the debacle that was his NCAA basketball tournament picks, he has donned the sunglasses in an attempt to go incognito.
After seeing my Two Cent Cracked Crystal Ball in sunglasses, another Penguins Cup seems quite logical.
Two Cent Takes
NHL
~The NHL delayed and delayed their schedule release for the playoffs. It is this kind of stuff that makes the league look bad, and it happens far too often.
~I'm sad to see ESPN get hockey. Most of their hockey guys are working elsewhere or have been dropped by the network. Just let Barry Melrose do it all. Everyone else...stay quiet.
~I never missed Doc Emrick more than this weekend when the playoffs kicked off.
~Speaking of great announcers, it is great to see this guy behind the microphone.
Mike Lange is in the building today. pic.twitter.com/kdNUXIgXlR

— Dave Molinari (@MolinariPGH) May 16, 2021
And as always, Mr. Lange was in great form just like Sidney Crosby on this goal.
OH, START FRYING THE JUMBO, HOMER.

EXTRA CRISPY, PLEASE! pic.twitter.com/pUjQnkp3Bk

— Pittsburgh Penguins (@penguins) May 16, 2021
College Football
~I am on record as thinking James Franklin isn't that great on the sideline. I would also like to go on record as saying it sure does appear that he is fantastic as a dad.
First dose for the Franklin girls! One step closer! #WeAre pic.twitter.com/xCf4OgcZjl

— James Franklin (@coachjfranklin) May 15, 2021
~Ohio State had a rogue masseuse infiltrate their football program. Apparently she would schedule the players for a massage, then she would attempt to engage them in sex. These escapades supposedly occurred between 2018-2021. Also supposedly, no current staff members had knowledge of said escapades(wink, wink). She has been barred from campus and lost her license. Has anyone questioned Urban Meyer? Honestly, I just want to see if this story has a happy ending.
~The Pac-12 chose their new commissioner last week. George Kliavkoff, who was the president of sports and entertainment for MGM Resorts. He will be the second straight Pac-12 commissioner with no real experience in the field. There are two reasons to think Kliavkoff will be an improvement over the dunce Larry Scott.
New #Pac12 commissioner George Kliavkoff believes Pac-12 Network is part of the conference's media future, but says it has to get the network distributed everywhere on every platform that Pac-12 fans want to get it.

— Shotgun Spratling (@ShotgunSpr) May 13, 2021
Getting the Pac-12 Network up to par is priority number one. Then there was this gem of a tweet from a few years back.
The streak stand at 1! And @graysonjallen is the most unsportsmanlike crybaby choker in @duke history https://t.co/hk4bNYxRga

— George Kliavkoff (@Kliavkoff) January 27, 2018
Speaking the truth and Duke bashing both have great merit.
Miscellaneous
~My disdain for youth sports grows daily. Some adult thought this was okay.
This isn't funny at all. This culture at the youth level needs to change https://t.co/coO65QZlPY

— Geoff Schwartz (@geoffschwartz) May 11, 2021
Youth sports have become more for the adults than the kids. Pee Wee and midget football should be cancelled. Do a 7 on 7 and let kids develop their skills. Blocking and tackling can come later when they are more physically developed.
~A story came out of Pittsburgh last week that three boys were allowed to play girls lacrosse at Greensburg Salem High School in order for the team to have enough players to compete. I'm sure the boys were just trying to help their friends have a team. But where were the adults? Why didn't the AD and principal simply tell the girls there weren't enough players to field a team. Sometimes that is how life works. Instead they made a mockery of the situation.
Golf
~The PGA will be played this week at the Ocean Course at Kiawah Island, SC. The wins will be blowing off the ocean, and the course will play tough.
The usual suspects are the favorites. Rory McIlroy, fresh off of last week's victory is the favorite at 10-1. He is closely followed by: Dustin Johnson(12-1), Jon Rahm(12-1), Justin Thomas(14-1), and Bryson DeChambeau(14-1).
My pick to win is Xander Schauffele at 16-1. He plays so well in majors, and he is due to win one. Three mid range picks worth a flyer are Daniel Berger(33-1), the long overdue to win a major Tony Finau(33-1), and the fresh face on the majors scene Will Zalatoris(40-1). And if you want to take a chance on a big pay day with a true long shot go with Kevin Na at 125-1.
Baseball
~If Phillies manager Joe Girardi wants to see good defense it is very likely that he has come to the wrong city. Saturday night, after the game, he simply told reporters they had to "catch the ball". One day later, a would be double play ball clanged off Jean Segura's glove. Segura, who is known to be lackadaisical, was confronted in the dugout by an angry Girardi. Girardi's mood didn't change afterwards.
Joe Girardi made it clear he was NOT going to talk about this incident in the dugout after Jean Segura made a costly error pic.twitter.com/uF3Vbt1FRJ

— Jomboy Media (@JomboyMedia) May 16, 2021
~The Pirates aren't good, but there have been some bright spots. Adam Frazier leads the league in hits. Bryan Reynolds is back to hitting this year, and the pitching has been better than expected. Another guy to watch is catcher Jacob Stallings. He is as good defensively as anyone in the league, and he is solid at the plate. Stallings has worked his butt off to become a good major league catcher. He is quiet and competitive. I think this reaction to his walk off home run Saturday night is the latter.
Stallings knew it as soon as he hit it —#BatFlip 8-6 #Pirates WALKOFF pic.twitter.com/EwLd5kirHY

— Bob Pompeani (@KDPomp) May 16, 2021
A Penny For My Final Thought...
File this as item number 5,358 in the time sure flies category.
Baseball has already reached the quarter pole.
Last week I told you baseball is unwatchable. It's true.
I told you the Pirates would lose 100 games. I still think that is true, but I'm getting less sure by the week.
So what else has happened in the first quarter of the MLB season? Who is a contender? Who is a pretender? Who will keep rolling? Who will stumble?
In the American League the Chicago White Sox look like the best team, with Tony LaRussa at the helm. Cleveland is trying to hang with the Sox in the AL Central, but they look like a team that will fade back to the pack as the season progresses.
The AL East is loaded, as I suspected. The one thing I certainly didn't see is the Boston Red Sox leading the way. The Red Sox have enough offense for sure, but I'm not as sure about their pitching. Having said that, I still think they will hang around deep into the summer. The Blue Jays have the best lineup in the league, led by Vlad Guerrero, Jr. Tampa Bay just hangs around, but this may be the year they fade as the season grows longer. The Yankees will start hitting. The pitching depth is questionable. I picked them to win it all, and I think they can still do that.
Out west it seems to be a two team battle between the "how do they do it" A's and the cheating Astros. The city of Oakland is going to lose this quality team and nobody in town seems to care. The Astros need some pitching, but have the bats. Then there are the Angels, who have the two most interesting players in baseball—Shohei Otani and Mike Trout—but have little else. Otani should be the face of the game, pitching and hitting his way into the MVP race.
In the National League the surprise team is the San Francisco Giants. They are old, and they will fade away before the fireworks go off in July. The west will still be the battle of LA and SD. I still think the Padres and Dodgers are the two best teams in the National League.
The St. Louis Cardinals are off an running, and may make the Central Division a runaway. The Brewers will try to hang around, but I'm not sure they have the parts to do that. The Cubs will have an interesting trade deadline. The Cubs aren't terrible, yet they aren't very good either. It may be time to retool things in Chicago. The Reds are the Reds, and the Pirates are one of the three worst teams in baseball despite playing better than expected.
In the East Division every team is within three games of one another. The Braves will get rolling eventually, despite the really poor start, and the Mets and Phillies will try to keep pace. Both of those teams have looked for short stints like true contenders.
It is far too early to back off any of my preseason picks, and actually things are going mostly as I expected. The Twins, Nationals, and Cubs are worse than I thought. The Giants and Red Sox are better than I thought. Otherwise, baseball is filled with a lot of mediocre teams. It has led to a lot of really blah baseball. Thus the unwatchable column last week.
Hopefully the style and pace of play will improve. It will be a long summer without any good baseball to watch.
Surely you don't want me to have to find a new hobby.
Just my two cents...