Other sports have seen parity infiltrate the cracks of their leagues.
The NFL is chalk full of parity, thanks to a salary cap that allows all teams to retool quickly if they are run competently.
College football, on the other hand, has been dominated for the better part of a decade by the same four teams: Alabama, Ohio State, Clemson, Oklahoma.
Sure, Georgia, Notre Dame, LSU, and the occasional outlier from the Pac-12 try to nudge their way in, but mostly it is that group of four teams that dominates the landscape.
That isn't going to happen this year. 
Clemson stinks. Here is how the Tigers Saturday went.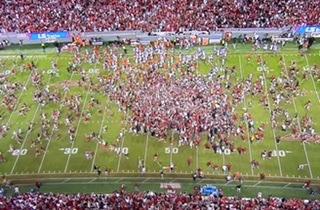 That is an NC State field storming after upending the stinky Tigers in overtime.
Oklahoma is an extremely wobbly undefeated team that seems on the brink of losing.
Ohio State has lost. At home. Now they have kids walking off the field during a game. They are no longer a lock to win the Big Ten.
Alabama even looked shaky while holding off Florida a week ago. Presumably Nick Saban ran the shaky out of the Crimson Tide this past week at practice.
Georgia and Oregon have been the closest thing to dominant this year, and I don't trust Oregon not to have their yearly mystifying loss.
We are a month into the season, which means a third of the season is gone. That is long enough to reexamine things conference by conference.
ACC
This certainly isn't Clemson's playground in 2021. The Tigers don't have the quarterback they thought they did in DJ Uiagalelei. Thus, Clemson has no offense to speak of. Some key injuries on defense and a road loss to NC State has the Tigers completely out of the playoff picture.
The ACC may have to hang their hopes on…..Wake Forest. They have been the best team in the first third of the season, and if they can navigate a November stretch of at North Carolina, NC St, and at Clemson the Demon Deacons will go knocking at the door of the playoff committee.
Trying to figure out the rest of this league is next to impossible. Florida State and Miami are in a race to see who gets their coach fired first. Pitt lost to Western Michigan in front of their usual 57 fans at home. North Carolina can't beat any of the Tech teams, and Mack Brown may be ready to go back to the rocking chair. Virginia Tech can send a message in two weeks when Notre Dame enters Sandman, er, Blacksburg. NC State and Louisville can't beat teams from Mississippi, and the rest of the teams aren't worth mentioning.
End of September Two Cents: Clemson wins the ACC. I trust them to fix their issues more than I trust any of these other awful teams. This league is the pits.
Big Ten
Ohio State is still the team to beat in the Big Ten. Well, that is if they don't have more of their team walk off the field during games. CJ Stroud is good, and they have the best group of skill players in the league. They just have to figure out that porous defense before it is too late.
Is Penn State good? I think they could challenge Ohio State. They have the best single skill player in the league in Jahan Dotson. The Nittany Lions have issues in the trenches. They aren't great at stopping the run, and they are even worse at running it themselves. The other thing that became clear this past weekend is Wisconsin stinks and Auburn does, too. So I am waffling on my Final Thought from last week's column. In two weeks Penn State can prove my final thought right by beating Iowa at their place.
Graham Mertz is horrible at quarterback for Wisconsin. Only Paul Chryst would choose Mertz over Jack Coan, the current QB at Notre Dame. Chryst has had far more success than he deserves with his ultra conservative, ultra boring style. He is a bad coach that found just the right situation. 
Iowa was on the ropes with Colorado State. Minnesota lost to Bowling Green. Indiana has two losses already. Purdue beat Illinois 10-6 so it is safe to assume they both stink. Northwestern is awful. Rutgers is climbing, but still has a ways to go. They played Michigan tough this weekend, and could potentially stun somebody before the year is out. Michigan State is better but needed overtime at home to hold off a bad Nebraska team. Adrian Martinez is still quarterbacking the Huskers, which is all you need to know about them. Mr. Michigan, Jim Harbaugh, has the Wolverines looking sharper than they have in three years, but let's see what they do against better teams. That is if there are any better teams.
That leaves my preseason sleeper team, Maryland. They become an interesting team because they are the only other team that has moved their offense into the 21st century along with Ohio State and Penn State. The rest of this league still plays offense like it is 1977. 
End of September Two Cents: Ohio State still wins the Big Ten by sneaking by Penn State in a game in the 30's, then beating Iowa in the Big Ten Championship game. The Buckeyes will have an outside shot at a playoff spot.
Big 12
Two things became clear in September. I was dead wrong on Iowa State. Not only will the Cyclones not make the playoffs, but they may not even make a bowl game. I still like Matt Campbell, but he is going to have to work magic to get them to respectable this year.
The other thing that is clear is this will conference will most likely come down to Oklahoma and Texas again. And you can bet both are wishing they weren't going to the SEC. In the SEC this year, these two teams would be middle of the pack. Texas was already thumped by SEC powerhouse Arkansas. 
Spencer Rattler is overhyped and overrated, but should still be good enough to squeeze by most of these other Big 12 teams. The question becomes can Steve Sarkisian whip up enough offense to beat Oklahoma in Dallas this year. 
West Virginia, my Big 12 sleeper team, had the Sooners dead to rights in Norman Saturday night and left them off the hook with self inflicted mistakes. Texas will have more offense, but not the defense to stop Oklahoma like the Mountaineers did. 
Oklahoma State and Kansas State are, well, Oklahoma State and Kansas State. They are okay. No more, no less. TCU lost to SMU in a Southwest Conference flashback. Gary Patterson continues to be the most overrated coach in America.
Baylor is the surprise team so far, although they only played one decent team. Dave Aranda was a good hire when Matt Rhule left. The Bears probably won't challenge this year, but in the year of parity you never can tell.
End of September Two Cents: Everyone loses one in this conference. Ultimately I am going to go with Lincoln Riley to out maneuver the rest of this mediocre pack.
Pac-12
Oregon has carried the banner so far for the Pac-12. Historically, the Ducks lose one they should not. They will need to avoid that yearly occurrence if they want to secure a much needed playoff berth for their conference. 
The rest of the conference is a train wreck. If you are looking for some bright spots it would be UCLA and Oregon State. UCLA stumbled a week ago at home against Fresno State. Typically that is the beginning of the end for the Bruins. This year they came back with a dominant performance against Stanford. Oregon State is one bad half away from 4-0. They destroyed USC Saturday night in the Coliseum. How big was this victory?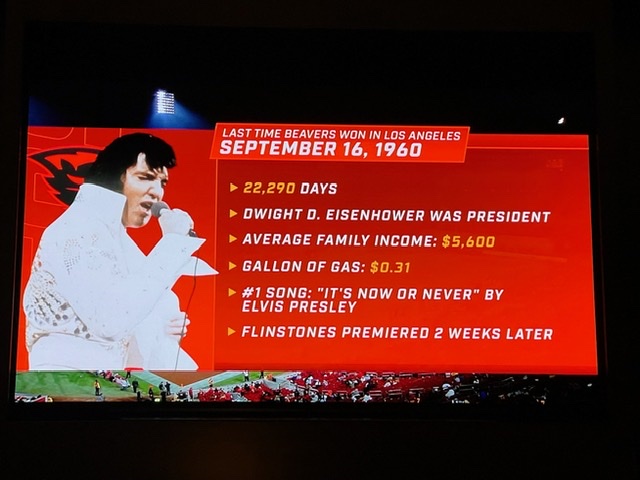 I have been saying for years now that Clay Helton was destroying the program at USC. The last two home performances should make everyone who doubted me believers. This is far worse than the Paul Hackett era. The next coach, be it James Franklin, Luke Fickell, Urban Meyer or someone else, will not have an easy fix. And the fanbase feels a bit like the players.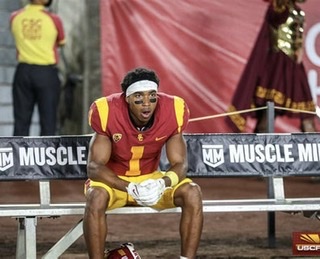 Everybody else in the conference has lost at least one game they shouldn't have, which is something that never seems to end.
End of September Two Cents: UCLA will play a one loss Oregon in the Pac-12 Championship game. Oregon will win and await its fate from the playoff committee.
SEC
Alabama looked fallible in the Swamp last weekend versus Florida. I wouldn't read too much into that. The Tide are really good. They welcome Mississippi this weekend and that one could become a shootout. Never underestimate a Lane Kiffin offense. Quarterback Matt Corral is a legitimate Heisman contender. I'm just not sure Mississippi has enough defense. 
Another team that should be on everyone's radar by now is Arkansas. Sam Pittman may have already won coach of the year for what he is doing with the Razorbacks. They have a brutal schedule, but have already taken down Texas and Texas A&M. Keep a watch on the Hogs.
Kentucky is improved with Will Levis at quarterback and Florida may be better than I thought. However, Georgia will still roll through the SEC East. 
Texas A&M and Auburn are overrated, LSU is just blah, and Mike Leach will soon get fired at Mississippi State. So if Arkansas or Mississippi doesn't get the Crimson Tide nobody will in the SEC West. 
End of September Two Cents: I am not moving off of my preseason prediction. I think both Georgia and Alabama will make the playoffs, and Georgia will win it all.
Others
Shoutouts to Cincinnati, BYU, and to a lesser extent SMU. All had great Septembers and you could certainly argue that Cincy and BYU are playoff contenders. Oh, and Notre Dame is undefeated, too. Let's face it, nobody—including some Irish fans—want to see them in another playoff game. The Irish have certainly not been dominant, and will more than likely lose a game or two before season's end.
One month down, two to go
Maybe this isn't as much parity as it is the dominant teams stepping back for a year. Maybe next season will go back to normal.
For now, enjoy all the topsy turvy results. It would be nice to see some different faces in the playoffs.
As for me, it will be nice to look forward to a different face on the USC sidelines next year.
Two Cent Takes
NFL
~Is there a more jilted fanbase than the Detroit Lions. The Lions fans showed up Sunday and were loud. The Lions took a late one point lead. They forced a 4th and 19 as the clock was running low. The Ravens managed to convert the 4th and 19, then spiked the ball. Next, a delay of game was ignored by officials as was an intentional grounding by Lamar Jackson. This set up kicker Justin Tucker for an NFL record 66 yard field goal. And…
JUSTIN TUCKER 66-YARDS (NFL RECORD) FOR THE WIN 🤯

(via @NFL)pic.twitter.com/RWI4FWmAcO

— FanDuel (@FanDuel) September 26, 2021
Tucker managed to doink it over the crossbar. Somehow, the Lions lost. 
~My Super Bowl pick looks good through three weeks. The LA Rams pretty much dismantled the defending champion Buccaneers. Matthew Stafford looks happy and comfortable in his new home.
~The powerful Chiefs are showing some early chinks in the armor. Losing at home to the Chargers puts the Chiefs at 1-2. I wouldn't be too concerned just yet.
~Buffalo somehow lost in week one to the Steelers. They have been steamrolling teams ever since. They still look like the best team in the AFC to me. 
~Aaron Rodgers was a step better than the Joey Bosa led 49ers defense. Never leave time on the clock for Rodgers. He had 37 seconds, which was plenty of time to get into field goal range.
MLB
~Two pennant chases remain as we head to the last week of the regular season, and two series will take center stage. 
The Phillies will visit Atlanta for three with the Braves. In all reality, the Phillies will need a three game sweep. They enter the week three games back in the loss column in the NL East race.
The Yankees go to Toronto for three games while leading the Blue Jays by two games in the wildcard race. The Red Sox are sandwiched between, one game ahead of Toronto with Seattle still lurking one game behind Toronto. Why do I think we will be stuck with a Yankees/Red Sox one game wildcard?
~I will never doubt the Cardinals. I will never doubt the Cardinals. I will never doubt the Cardinals. I made the cardinal sin of dismissing the St. Louis Cardinals from the playoff chase. They started September by losing 5 of 6 games and were 69-68. They were treading water at best. Then the Cards rattled off 18 of 19 and are currently on a 16 game winning streak. They may not lose again. I would not want to face St. Louis in the one game wildcard.
~That unlucky team just might be Los Angeles. Despite winning 100 games already, they are still two back of the miracle Giants. This is precisely why this playoff format is unfair. Just ask the 2015 Pittsburgh Pirates who won 98 games and were arguably the second best team and got knocked off in a one game playoff. 
~Speaking of the Pirates they will have to win 5 of 7 this week to avoid 100 losses. If they don't they will join Baltimore, Texas, and Arizona with 100 losses. That many 100 loss teams is not good for the sport.
This Week's Shiny Penny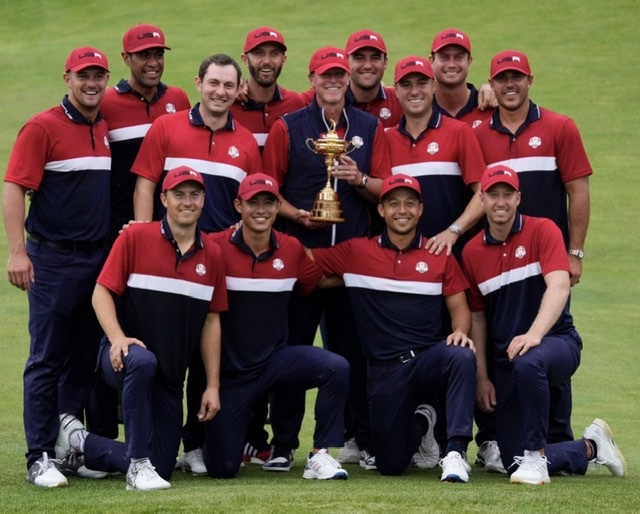 The USA won the Ryder Cup on Sunday. Correction: The USA dominated the Ryder Cup. The Americans won 19-9 over Europe, setting a modern Ryder Cup record.
I have been preaching in this very space how good this young group is. Johnson, Koepka, Thomas, Cantlay, DeChambeau, etc. Plus there are more young American players like a Will Zalatoris that weren't even on the team. America has the potential to dominate this event for some time.
Maybe there isn't a Tiger Woods or even a Phil Mickelson in this group, but the depth of great players is far more. Plus, Tiger and Phil often would let Ryder Cup victory slip away when they were playing.
This was a fantastic weekend of golf, particularly for America.
Some have tried to tell me the Ryder Cup has lost its juice. That players don't really care about the event anymore.
Wrong.
Rory McIlroy was in tears talking about how special the event is. 
Ian Poulter was in tears over losing the event.
US captain Steve Stricker was in tears explaining what winning the Cup meant.
Each and every member of the US team commented on how important this was. 
There is nothing like it in golf. Playing for your country brings out more personality and intensity than any major can.
Take Justin Thomas, who could be seen yelling at the American crowd, "I can't *bleeping* hear you!" He pumped the crowd up at every turn. Ryder Cup Justin Thomas is fantastic.
It is fun for golf fans, who get to see players team up for matches. You just don't get that any other time. 
We got to see shots like this.
Incredible !!! USA 6 Europe 2 🇺🇸🇺🇸🇺🇸. pic.twitter.com/Jd4535znaZ

— Bob Pompeani (@KDPomp) September 25, 2021

We get to see Justin Thomas and Daniel Berger chugging beers on the first tee to fire up the pro American crowd.
Justin Thomas and Daniel Berger chugging beers on the 1st tee box at the #RyderCup

They're out for blood. pic.twitter.com/W7EC1lnXRJ

— TJ Eckert (@TJEckertKTUL) September 25, 2021

And we even got to see the unthinkable.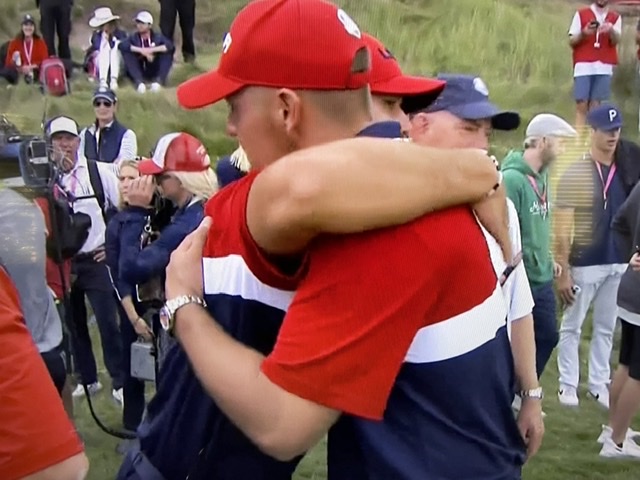 Stricker even said Koepka and DeChambeau agreed to pair up if that would be best for the team. That's the Ryder Cup. That's playing for your country.
Don't tell me this event has lost its juice.
A Penny For My Final Thought…
I said all summer that the Steelers season would be dependent on the offensive line.
Knowing that it would be a potential weakness, I wanted the Steelers to draft an offensive lineman in the first round of the draft. I'm thrilled that the Steelers have Najee Harris. He will be a star, as soon as he has some semblance of an offensive line.
When I suggested the Steelers could win ten games and have a decent playoff run it was dependent on the offensive line coming together to create running lanes so Ben Roethlisberger doesn't have to throw the ball 50 times. They would also have to keep Roethlisberger upright.
Three games into the season, and none of that has happened. 
Yet, if you are a Steelers fan, that shouldn't be your biggest concern.
The biggest concern is the 39 year old quarterback looks more like he is 69, both mentally and physically. 
Exhibit A.
Even when he's not getting hit, Ben Roethlisberger ends up on the ground. #Steelers pic.twitter.com/ShOwvIes7f

— Alex Kozora (@Alex_Kozora) September 26, 2021
Exhibit B.
Ben Roethlisberger throws this INT right into Logan Wilson's hands. #Steelers pic.twitter.com/XJjj8vRHto

— Alex Kozora (@Alex_Kozora) September 26, 2021

The first play above is Ben just falling down clumsily while rolling right and throwing the football.
 
The second play is Ben forcing a ball into triple coverage literally five yards down the field.
The guy is a first ballot Hall of Fame player. He has won two Super Bowls and appeared in three. He has been the architect of many great Steelers moments. His throw to Santonio Holmes to win Super Bowl XLIII is iconic. Ben Roethlisberger has nothing to remotely apologize for.
Ben Roethlisberger is finished.
I don't think either Mason Rudolph, nor Dwayne Haskins is the future quarterback of this organization. However, it may be time to try one of them in Ben's place. It couldn't be any worse.
That will never happen, although one wonders what Mike Tomlin was pondering at the end of Sunday's game.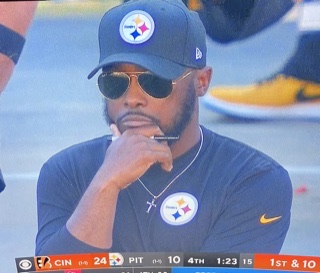 It seems clear at this point that the offense the Steelers are running is totally Ben driven. I no longer think Randy Fichtner is an idiot. I don't think Matt Canada is an idiot. No coherent offensive coordinator would call the plays that have been called for a year plus by these two different coordinators. Hell, Adam Gase wouldn't call this many one and two yard passes. 
My goodness, on 4th and ten from the Bengals 11 yard line—and down two scores—Ben threw a quick pass at the line of scrimmage that gained zero yards. He had no explanation for the play call after the game. He really had no explanation for any of it.
The Matt Canada offense is the same as the Randy Fichtner offense, which is because in reality it is the Ben Roethlisberger offense. 
Ben is not Tom Brady or Aaron Rodgers. He is frail and looks scared in the pocket. His days of sidestepping rushers is long past him. His arm isn't what it used to be either. 
I honestly think Ben figured they could win with this style of offense, which he clearly requested to keep himself in one piece. They cannot win like this.
For me to say I would rather see Mason Rudolph in the game tells you just how bad things are. 
The defense is banged up and guys like Devin Bush aren't making—as Mike Tomlin would say—splash plays. The kicking game has been erratic. Tomlin time management has remained consistently questionable. The offensive line needs to grow and improve in a hurry. 
Those things, alone, are going to make winning games difficult. 
The erratic play of a 39 year old—going on 69–quarterback will make it next to impossible. And it isn't going to be the type of swan song a two time Super Bowl winner would want to have.
Just my two cents…