In columns from years gone by, I have opined on the search for the game I grew up loving.
Baseball.
In the nearly fifty years I've been an ardent fan of the game I have watched it change to the point of being nearly unwatchable. Yes, I know being a Pirate fan doesn't help my psyche when it comes to "watchability".
Still, the game I watched in the 70's has morphed into a game of really bad home run derby, with only an occasional sprinkling of fundamentals thrown in.
I've gone from decades of watching every Pirates game televised to not being able to make it through five innings without grabbing the remote for dear life.
Today's game is truly becoming unwatchable.
So what is wrong?
Fundamentals: Base Running
A friend of mine was complaining the other day that the second baseman on her son's little league team didn't know that he had to tag the base runner on a stolen base attempt.
"How do you not know that by the age of twelve?" she shrieked.
I asked, "Have you watched a Major League Baseball game lately?"
Okay, so major leaguers know when to tag a runner...I think...well, most of them do, anyway. But watch some of the other basic fundamentals that players fall short on between the white lines.
Base running is atrocious. I've whined repeatedly in this column about the number of guys that try to go from second to third on a ground ball to the SHORTSTOP! Unless the defensive team screws up—and that is becoming more regular by the season—you are a dead duck.
Guys are getting picked off way too much. The Pirates had multiple players picked off in the same inning this year(feel free to insert Pirates joke here). Base runners get lousy leads and bad jumps. They rely strictly on their speed. Sometimes it works, and sometimes it doesn't.
Tagging up has even become an adventure. Or is the real problem keeping track of the outs. Either way it is disgraceful.
Fundamentals: Defense
The defense is just as bad.
Fernando Tatis, Jr. just signed a contract that will pay him $330 million. He has two more errors—a whopping 11 in one month—than home runs. But, hey, he does look cool flipping his bat after a home run. Maybe he should flip his glove after each error.
Errors happen, although you would like them to happen less frequently. It is the other stuff. The fundamental—or just plain mental—lapses are making the game hard to watch.
Bad jumps on fly balls. Lousy angles. Throwing to the wrong base. Not covering a base. Double pumping or double crow hopping on throws from the outfield. Lackadaisical play. Missing cutoff men.
Last week Rhys Hoskins, the Phillies alleged first baseman, booted a ball then lackadaisically picked it up and tossed it to the second baseman. All the while Mets Jonathan Villar was circling the bases to score a run. Awful.
Just Saturday night, the Phillies blew a game not once, but twice against the Atlanta Braves. A play that could have staved off the second comeback and preserved a Phillies victory didn't happen because veteran left fielder Andrew McCutchen missed the cutoff man. The Braves Dansby Swanson scored the tying run on the play, but sure looked like he would have been in big trouble had Cutch hit the cutoff man, allowing for a relay throw to the plate.
I love Cutch. He is my favorite player, by far, from this past decade. But he is a typical modern day player. He uses his athletic ability to mask a lack of fundamentals.
Analytics
Another thing killing the game today is analytics.
Shifts. Pitch counts. Launch angles. Exit velocity. When to change pitchers. You name it, and modern day baseball nerds will come up with an analytic to fit the situation.
Tampa Bay manager Kevin Cash may very well have cost the Rays a World Series last year because he refused to deviate from analytics. Starting pitcher Blake Snell was cruising, yet analytics told Cash to go to the bullpen. He did. It blew up in his face. A few innings later the Dodgers popped the corks on the champagne bottles.
Look, we loved numbers back in the day, too.
My friends and I constantly studied the backs of our baseball cards looking at statistics of the players. Silly things like batting average and ERA. We thought Dave Kingman was a bum. Even though he hit lots of home runs, Kingman struck out constantly and sported averages in the .220 range.
Today a guy that hits .215, but slugs 40 home runs, is considered a star.
No Hitting
Today's game has become a glorified game of home run derby. The only thing is, the hitters aren't very good at it.
It is May 10 and we have already witnessed 4 no hitters. Plus Madison Baumgardner should have been credited with one in a seven inning double header. Alas, baseball stepped on its...well, they stepped in it, when they wouldn't recognize it because it was not a nine inning game. THEY MADE THE SEVEN INNING RULE!
Nonetheless, we may see a record number of no hitters in 2021. Hitters swinging for the fences. Hitters that quite frankly stink. Defensive shifts that hitters refuse to take advantage of. Pitchers spin rates and velocities. Yep, the stars are aligning for a record number of no hitters.
The record for no hitters in one season is eight. That was in 1884. In the modern era three seasons(1990, 1991, 2012) have seen seven no hitters. We are on pace to reach 16 by season's end.
The guys that threw the no-no's aren't exactly prepping for the Hall of Fame.
Cincinnati's Wade Miley, who is the poster boy for average pitchers everywhere.
Chicago White Sox Carlos Rodon, who would finish runner up in the average pitcher competition to Miley.
San Diego's Joe Musgrove, who wishes he was as average as Miley and Rodon. His no hitter this year was also his only complete game of his illustrious career.
Baltimore's John Means, who puts the other three on this list to shame and nobody outside of the state of Maryland even knows who he is.
In other words, the no hitter throwers won't conjure up visions of Sandy Koufax or Bob Gibson.
Alas, this is the state of baseball.
The Real Numbers
For all those numbers nerds out there swarming all over my game, here are the numbers that you should be focusing on. They are what is ruining baseball.
I will use 1979 as my reference point for the "good old days".
League Batting Average
Hits per 9 Innings
Strikeouts per 9 Innings
Walks per 9 innings
On Base Percentage
Home Runs per 9 Innings
Runs per 9 Innings
Slugging Percentage
OPS
Hmm...seems like a problem to me. What say you number crunching nerds?
Sure home runs are up. That extrapolates to approximately 55 more home runs per season. Great.
Yet, runs per game are down. Slugging and OPS are down despite all of the home runs. Obviously hits and on base percentage is down.
Strikeouts are through the roof. The strikeout rate is a smidge over 24%. If players continue to whiff at the current rate, it would be the 14th consecutive season that number has increased.
Yikes.
You may think players today walk more, but not by much. They are too busy striking out. I do think players today approach the strike zone differently. Modern players take a lot of fringe pitches, waiting for a sweet one.
When I was a kid the strike zone was wider, not to mention different between the two leagues. American League umpires still wore the outside chest protector, making for a higher strike zone than in the National League where inside chest protectors were worn.
Umpiring aside, players looked to put the ball in play back in the 70's.
I asked Bill Madlock, one of the best hitters of his era, about this during an interview two summers ago. He concurred. Madlock said pitchers weren't as wild, more strategy like hit and run was used, and most hitters didn't have true power swings.
Consequently you see a low strikeout rate and a low walk rate in the 1979 stats above.
Look Away
When a sports "watchability" wanes, that sport has big trouble.
Baseball already has pace of play issues. This is brought on mostly by everything mentioned already. They have attempted to mitigate some of the things that bring the game to a snail's pace.
Baseball also has a major umpiring/replay problem.
Why is Joe West still umpiring? How does Angel Hernandez still have a job? Why does replay still miss so many calls that folks at home can see clearly?
One thing the horrific umpiring has caused is an uptick in brouhahas. I love a good brouhaha, and have missed them during the replay era. The last year or two, umpiring has plummeted to the point that you are seeing some good spit flying, head bobbing, in your face squabbles.
Baseball fought through the steroid era. They cruised past the juiced ball era. The umpiring is frustrating, but not a deal breaker. Pace of play is pushing it, but baseball has always been the one game without a time limit.
But "watchability"?
That's a whole other beast.
It is one thing to have people complaining about your product, but when they start turning the channel to a rerun of Gunsmoke or some dating, singing, or dancing show that's another story. And it is a story that doesn't have a happy ending.
Baseball used to be America's pastime.
I would be satisfied if it just got back to helping me pass the time.
Two Cent Takes
NHL
~The Pittsburgh Penguins are East Division champions. That fact will matter very little in a week.
~The above fact is amazing considering the GM quit early in the season and the Pens have lost more games to injury than any other team.
~Evgeni Malkin is back. Evgeni Malkin doesn't look right. Of course, it could be argued that minus a two or three week stretch in March that Malkin hasn't looked right all year.
~Fans and media were debating just weeks ago who the goalie would be when the playoffs roll around. Clearly that will be Tristan Jarry. It is nice to have someone as solid as Casey DeSmith as a back up.
~The Pens got some help from an unlikely source in order to claim the top seed in the East.
Kudos to the @ap for this pic.twitter.com/N94wlhawZW

— Randy Baumann (@DVERandy) May 5, 2021
Thank you Gritty for inspiring the Flyers to take three points from the Caps last week.
~Tom Wilson will never be permanently suspended by the idiots that run the NHL. Heck, he was fined five times less for his continued goonery than the Rangers were for complaining about it. Thus, he brings out the worst in most fan bases.
I hope that ***ker's knee ligaments look like spaghetti chopped w/a meat cleaver. https://t.co/mpnHSxMAcd

— Mark Madden (@MarkMaddenX) May 9, 2021
Be honest Pens...Flyers...Rangers...Islanders...Bruins...NHL fans, you were thinking the same thing.
College Football
~Nick Saban never misses a beat, even at a golf tournament. Here is a great response to a question about Jimbo Fisher suggesting his Texas A&M team will kick Saban's butt.
Jimbo Fisher said the other day he was gonna beat Saban's ass.

Nick Saban had the perfect reaction to that 😂😂😂 pic.twitter.com/UI4kfZmji2

— Unnecessary Roughness (@UnnecRoughness) May 7, 2021
~Mark Emmert was given a sneaky contract extension a few weeks ago. Why, nobody knows. One of the issues he has bungled is the NIL situation. Now several states are going to pass laws that will allow college athletes to profit from their name, image, and likeness. Looking ill prepared as always, Emmert is now asking Congress—who probably has bigger fish to fry—to pass a nationwide law. Why doesn't the NCAA just suck it up and make their own ruling. This guy is a total putz. The NCAA is a disaster.
College Basketball
~Izaiah Brockington made it official last week by transferring out of Penn State and landing at Penn State West, also known as Iowa State. He is the third former Nittany Lion to land in Ames, Iowa. His athletic ability will be missed at Penn State next season.
~In all of the rules proposals brought forth by the rules committee, a rule that flew under the radar was one that would allow a called timeout to replace TV timeouts to limit the disruptions to the flow of the game. Who wouldn't love that? Uh, has anyone informed the networks and advertisers? Yea, that's what I thought.
~LSU's Will Wade just reeled in one of the top transfers in the country and then one of the top 20 recruits in the country. Another example of what a joke the NCAA is. Will Wade was caught on tape making money offers for recruits. LSU has become a cesspool, with one lawsuit after another. A guy that shouldn't even be allowed to coach is recruiting like he knows there aren't any punishments coming. Interestingly, LSU is Nike's biggest school in the SEC. Yep, even bigger than Alabama. Hmm...
Beach Volleyball
The @USCBeach championship celebration, now with the proper soundtrack. pic.twitter.com/9s1VAg4fGF

— The Spirit of Troy (@USCTMB) May 9, 2021
USC beat UCLA to win the national title in beach volleyball. The USC fight song makes me feel good, and I need to feel good before getting to my final thought.
A Penny For My Final Thought...
A large part of my disdain for baseball right now is that I am a Pittsburgh Pirates fan.
The Pittsburgh Pirates have become a joke. Oh, I am on board with the rebuild process GM Ben Cherington is orchestrating. It had to be done.
It is still hard to swallow. Six years ago the Pirates won 98 games.
Then this guy decided that was enough.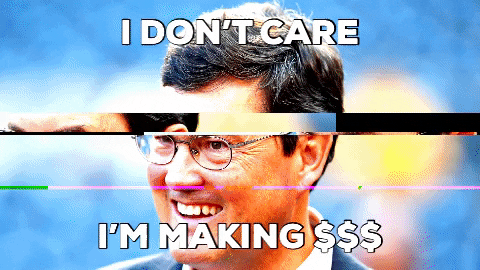 The team was torn apart. The former GM had no idea what he was doing, and he was hamstrung by an owner not willing to spend.
Six years later and the Pirates will have to overachieve to not lose 98 games.
The team has been overachieving to a certain extent. They eked over .500 for a brief minute. Then the team posted this on Twitter.
Us waving goodnight to the haters. pic.twitter.com/IQ0jwOLoxn

— Pirates (@Pirates) April 28, 2021
A team—more specifically an owner—that has shown time and again they don't care about their fans had the audacity to call frustrated fans "haters". Again, when the team is owned by a clown, the team will do clown things.
Predictably the Pirates have gone 2-8 since that tweet and is getting closer to the 100 loss pace that was expected.
This is the lineup the Pirates fielded on Sunday.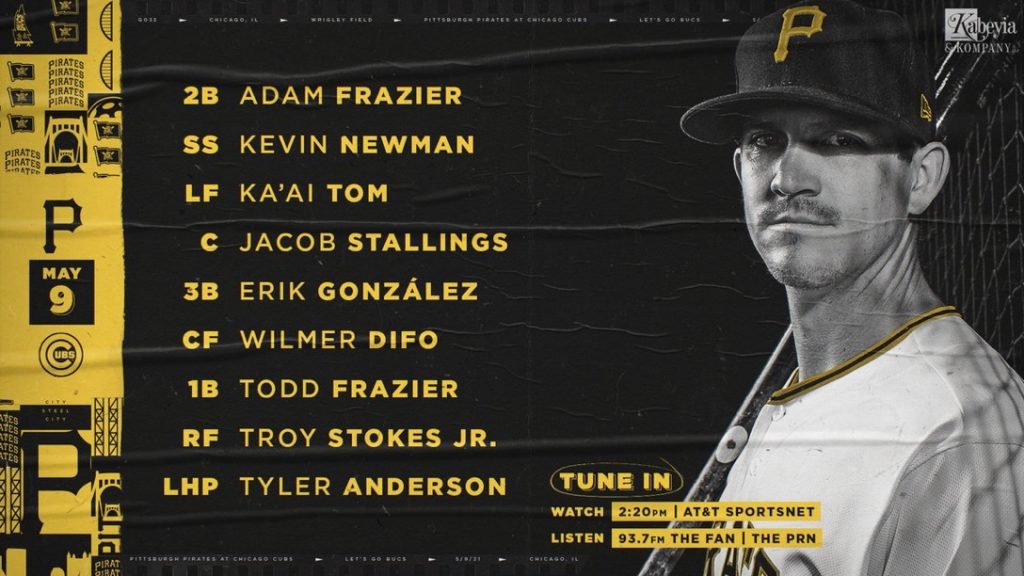 I defy you to tell me with a straight face that you have heard of more than four of these guys.
And they won.
The Pirates managed four first inning runs without hitting a ball hard enough to break a ceramic plate.
Exit velocity of the Pirates' five singles in the first inning that led to a 4-0 lead, per https://t.co/sej4jkTvZm:
A. Frazier 89.7 mph
Newman 73.9
Difo 81.9
T. Frazier 70.3
Stokes 54

— Jerry DiPaola (@JDiPaola_Trib) May 9, 2021
This is another example of how bad baseball is right now.
Baseball needs a salary cap, which simply exasperates the Pirates situation. They don't have the same opportunity as other teams.
Still, there is no excuse to have a roster this bad. Except the Pirates are the latest example of a team "tanking" to get a top draft choice.
The Pirates have the top pick this year, and would like to go back to back.
Just don't expect the fans to smile and enjoy the bumpy ride over all of these potholes to get back to contention...maybe.
This roster is a joke.
A couple of injuries and suddenly you get a lineup filled with guys nobody knows.
Kai' Tom hitting third?
Who is Troy Stokes?
Wilmer Difo?
I mean they did go get Todd Frazier. Then cut him. Not one other team wanted him. They brought him back. Thank goodness they were willing to spend on a winning veteran. Frazier blistered two singles Sunday to raise his batting average to .086.
The team absolutely plays hard. They are easy enough to pull for. They just aren't very good. In some cases they aren't truly major leaguers. The effort is commendable. The lack of talent is a disgrace.
It is a sad state of affairs for Pirates fans.
You can try to forget the last 40 years of misery and blindly cheer a team that will have to continue to overachieve to avoid 100 losses. I've chosen the other option. I take naps or change the channel whether the Pirates are winning or losing.
Win or lose, the games are snoozefests being played by substandard players. So, for the first time in forever I don't watch full games. I just can't do it.
The Pirates are years away. Cheer if you want. Turn the channel if you want.
It's okay to be angry and disinterested.
You have suffered enough over the last 40 years.
Just my two cents...