Remember at the end of 2020 everyone had those funny memes queued up saying good riddance to a crazy, lousy year. 
2021 would be better. 
It was better. 
I mean I didn't have to wear a mask to go to the beach this year. My son only had to do a little online school. He did still have to wear a mask to school and on the bus.
Stores were open on a somewhat regular basis. Restaurants remained mostly open, though some have still not gone back to dine in status. 
More people have been vaccinated, though some still take the lead of noted medical wizards like Dr. Joe Rogan. Rogan gained his medical knowledge while hosting a show where contestants ate various insects to earn money. 
So, yea, 2021 was better…in a spinach is better than kale kind of way.
Sports had a better year until they didn't.
Fans came pouring back to stadiums and arenas across the country. Seasons were more normal, although college basketball, NBA, and NHL seasons were altered to a degree. 
The biggest issue was whether players and coaches were following proper health protocols. For the most part, players did what was necessary to not mess up their respective seasons.
Well, no, not you Aaron Rodgers. You either Kirk Cousins, and sit back down Carson Wentz. Nope, Crazy AB. You went back to Crazytown and didn't want to discuss it because you don't like drama.
This video is outstanding and entitled "Drama Man creates drama and when asked about drama, Drama Man doesn't want to talk about drama."

pic.twitter.com/loIIGWgoUN

— Colin Dunlap (@colin_dunlap) December 27, 2021
Aside from some of that *ahem* drama, things were going fairly smoothly considering we are still in a pandemic.
Then December rolled around, and all hell broke loose again.
Up until this past month I thought omicron was a planet on Star Trek. And I'm not even a Trekkie.
Unfortunately omicron is a new variant of COVID.
Consequently, we are back to watching third string quarterbacks play in NFL games because the other guys are on the COVID list. Teams are playing without kickers. Practice squads are being taxed beyond belief. Games were rescheduled already, with the threat that it could happen again. 
The NHL paused their season, while Canada is saying no to fans for the time being. 
NBA teams are playing multiple games with limited rosters and many college basketball games have been canceled. 
I guess what I am saying is, get those memes ready again as we usher out another less than stellar year.
Through it all, there were some great sports stories in 2021. Here are my Two Cent top stories for 2021.
Brady, the Energizer Bunny
Tom Brady just won't go away.
Brady became ultra annoying in New England unless you were a Patriots fan. He was annoying because he did the same thing every year. He never looked flashy, but rather just worked his team down the field time and time again.
Last year he turns up in Tampa. He was dealing with a new coach and new teammates. It didn't matter. as Brady continued his workmanlike performance. He took Tampa Bay from a decent team to a great team. When the playoffs rolled around the 40whatever year old quarterback some how raised his level of play. 
The result was yet another Super Bowl ring. This one came without Bill Belichick. 
Brady is bordering on the super human. Not to mention, it turns out that he is very personable and engaging. The odds aren't with him, but I wouldn't put it past Brady to go back to back in Tampa Bay.
Now, can we go back to Shakira for the halftime show? Asking for a friend.
Freddy Freeman gets a ring
There may not be a nicer guy in baseball than Freddy Freeman.
Baseball has turned their playoffs in to more of a tournament, allowing the hottest team to win it all as opposed to the best team. Though I would prefer less teams making the playoffs, I was happy the Braves got hot and won a championship.
You know how highly I think of Freeman, if I am saying I was glad the Braves won it all. As a Pirates fan I have been obligated to hate the Braves ever since 1992. 
Freeman is great with fans, and specifically kids. He also plays the game the right way. Oh, and he is really good at baseball.
Sometimes good guys like Freeman play their entire career without getting a crack at a ring. It actually happens quite often. Therefore, it is nice when one of the truly nice guys gets to raise the World Series trophy and get that ring.
Good for Freddie Freeman.
Baylor Basketball best of the bunch
I never thought Scott Drew was good enough to get his team to reach the pinnacle of college basketball. Then 2021 happened.
While guys like me were busy being enamored with Gonzaga's undefeated season, Juwan Howard returning Michigan to prominence, or UCLA's magical run, Baylor just kept cruising. 
Baylor never stopped cruising. The Bears rolled through the regional, destroyed Houston in the semifinals and dominated the aforementioned undefeated Zags in the championship game. 
It was the return of a dominant team running the tournament table. It just wasn't the team most of us thought it would be. 
Oh, and by the way, Drew has a mostly new cast of characters this year and is still dominating. It probably should be noted what a bad idea it is to doubt a coaching Drew.
The Greek Freak hits his peak
As most know that read my stuff I am not a huge NBA fan. I am, however, a big Giannis Antetokounmpo fan. Though not a fan of spelling or pronouncing his name.
Giannis falls right into the same bin as Freddy Freeman. He is the nicest, most generous guy in the NBA. His back story is great, and his game is greater. 
This story is made better by the long wait Bucks fans had to endure before returning to the mountaintop in the NBA. It was made that much sweeter to know it was led by a freak…the nicest freak you will ever see.
PGA Champion: Phil at Phifty is Phantastic
Phil Mickelson, a great steward for the game of golf, proved age doesn't matter but size does.
Mickelson gave himself a physical makeover, changing his diet and workout regimen to turn his body into a temple at age 50. He can often be found on social media bragging about the size of his calves and, of course, hitting bombs.
Mickelson outlasted all the young bucks, specifically Brooks Koepka, to win a major —the PGA Championship— at the age of 50. It wasn't always a thing of beauty, but then no Mickelson round is. He did enough in the final round at Kiawah Island to hold off all charges. For those of us in that same age bracket it was a sort of validation. 
Golf, in general, was a great story in 2021. 
The feud between Brooks Koepka and Bryson DeChambeau is real and we should all be down for it. It is just what golf needs. Also, the USA dominated the Ryder Cup like never seen before. Another validation of the great young players this country has, and why the PGA Tour post Tiger will be just fine.
Speaking of Tiger, it was really cool to see him playing with his son in the PNC pro-am event a week ago. His son is going to be a great player, and Tiger showed he is going to make it back from the horrible injuries he suffered in his car accident a year ago. 
Plus, for those of us not in peak condition, it was cool to see this blast from the past win the tournament with his son.
When Tampa Santa is done delivering child support to all them bad ass kids pic.twitter.com/UVzYLMwwkm

— Bunkie Perkins (@BunkiePerkins) December 19, 2021
They're baaaack….
Look, NIL is the real story in college football for 2021. Despite oldsters —and Dabo Swinney— whining about it, NIL was a long overdue. In a billion dollar industry, a free education —extremely valuable for the record— being the only pay back for the kids, who allow those billions to be made, hardly seemed right. Yes, it will need some reigning in at some point because boosters with fat billfolds will go crazy. Still, it was time for the players to get theirs.
Anyway, it is my column and by God that wasn't the biggest story in my college football world.
USC finally came to their senses and fired Bozo the Clown —aka Clay Helton— and hired Lincoln Riley.
Riley was the absolute best the Trojans could have done with this hire. He wasn't perfect at Oklahoma, but he was close. 
In two weeks he already signed 4 five star recruits, all West Coast kids. He will lock down the West Coast and restore USC to its seat at the head of the PAC-12 table. Something the school desperately needed. Something the conference desperately needed. Something college football desperately needed.
The other big story tied to this hire was that USC spurned the rumor of hiring Penn State head coach James Franklin. When it seemed that may be the direction USC was going in, I tried to talk myself into thinking Franklin would be an okay fit at USC. I have to say I am thrilled he wasn't the hire. 11-10 in his last 21 games doesn't inspire confidence.
Not to worry though, Franklin signed with super agent Jimmy Sexton and somehow convinced the PSU Board of Trustees and incompetent AD Sandy Barbour that he should get a raise and an extension. Apparently mediocrity doesn't come cheap.
Riley will have USC back in the mix quickly, and my blood pressure will be reduced significantly. So, 2021 wasn't a total bust.
That's a wrap
So, onward and…um, well…onward.
Yes, 2021 occasionally caused us to make the stink face.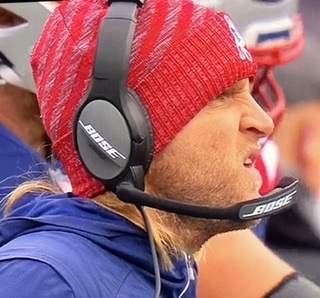 Every now and then it made us want to gag ourselves.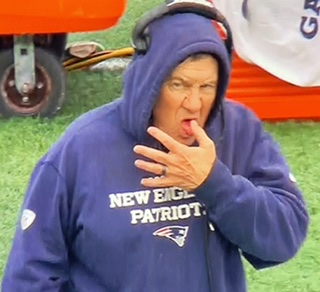 We still have five days to navigate this year, but remember 2021 was fractionally better than 2020. Plus 2022 is an even number and it has 3 twos in it. That has to mean good things, right?
I think the best advice is to be ready.
If you are young enough and in marginally decent shape you may want to stay by your phone. Some NFL or NBA team may be calling you next to come in for a tryout. 
Another piece of advice is to be vigilant and do what you should to help the situation. In other words, turn off Joe Rogan and follow actual medical advice. I don't want to be typing these same sentiments again next year.
If the world can navigate another COVID variant, and then another and another which are sure to come, the sports world will continue to provide us with great stories. It always does.
Sports never fails us. 
Two Cent Takes
NHL/NBA
~One of these leagues is run by a progressive commissioner who has found a way to keep the season going in the face of a new COVID variant. The other league is run by Gary Bettman. 
~The NHL shutdown couldn't have come at a worse time for the Pittsburgh Penguins. They were riding a seven game win streak and were inching closer to the top of the standings. The one silver lining is Evgeni Malkin will now miss fewer games.
College Football
~My podcast partner, Jed Donahue, used a great term this week for the early bowl games. He called them "just in case" games. If you can't find anything better to do or watch these games are there for you just in case. 
I would rather have fewer games like the good old days. We looked forward to those games, and it made the week between Christmas and New Years fly by. 
~The "just in case" games are dropping like flies. COVID,  transfers, injuries, and opt outs are a bad combination.
~The only thing worse than bowl games being canceled is going out and finding a 5-7 team who was off for the last three weeks to fill in. Welcome to this year's Gator Bowl.
NFL
~When you aren't old enough to understand not hurting grandma's feelings about the Christmas gift she got you.
Tom Brady now 0-4 regular season against #Saint since he became TB QB. 9-0 final tonight. pic.twitter.com/RTX4D0XPvj

— Bob Pompeani (@KDPomp) December 20, 2021
~The Colts have the best running game in the NFL, a stout defense, and Carson Wentz at quarterback. Meat Loaf said two outta three ain't bad. He never watched Carson Wentz play. Wentz will eventually prevent the Colts from being a Super Bowl team this year.
~Is Cleveland still thinking about signing Baker Mayfield to a long term, big money contract? That would be a totally Cleveland Browns thing to do. The guy stinks, but then again, so does the Browns organization.
~Two other teams with quarterbacks that won't be good enough to win a Super Bowl played Thursday night. Tennessee beat San Francisco, but Ryan Tannehill just isn't a championship quality quarterback. The Niners know Jimmy Garrapolo isn't championship quality, which is why they drafted Trey Lance in the last draft. The problem is I don't know that Lance was a very good pick.
~I am starting to wonder if Matthew Stafford is a championship level quarterback. He makes anywhere from three to four really stupid passes per game. I hope I am wrong because that is my Super Bowl pick. He is giving me great doubt in my pick.
~Proof that winning trumps values. Bruce Arians said when he brought Antonio Brown to Tampa that he wouldn't allow it to be a circus. There would be no second chances. Well, until the other receivers got hurt, that is. Now Mr. Fake Vaccine is welcome back with open arms. Lost respect for Arians with this one, but I am not totally surprised. #12 is running that team.
~Buffalo was my AFC pick to make the Super Bowl, and it is clear that quarterback Josh Allen will have to play Superman for that to happen. He did it on Sunday at New England, and he will have to keep doing so.
~On the other sideline, Mac Jones isn't quite ready for prime time. I think he will be one day, but not right now. The rest of the Pats roster is very pedestrian. The coach is getting the absolute maximum out of that roster. 
~The coach did not give maximum effort answering the most absurd postgame question ever.
This is the single-most courageous journalist I've ever seen in my life. pic.twitter.com/kDJdzgym6N

— Jimmy Traina (@JimmyTraina) December 26, 2021
~Bills wide receiver Stefon Diggs with my new favorite TD celebration. 
Haha…this my new favorite celebration! https://t.co/E2IvyE8vaS

— Tim Clark (@TrojanTim66) December 26, 2021
~The on again, off again Bengals are on again. Joe Burrow sliced up a decimated Ravens defense for 525 passing yards. The Bengals will win the AFC North. 
~The Ravens may not win again, but have shown really good depth at quarterback. Both backups have proven more than suitable. Every bit as suitable as Lamar Jackson, another guy that won't win you a championship.
~The Chargers are officially the most baffling team in the league. In a blowout loss to the lowly Texans, the Chargers defense allowed Rex Burkhead to run for 149 yards and 2 touchdowns. I didn't even know Burkhead was still in the league. 
~Jalen Hurts just won't go away. Eagles fans have tried to send him away, but he won't go. He has the Eagles in the playoffs as of now. A road game at Washington and home against a Cowboys team that could be resting their starters in the last week stands between them and a berth. I don't think anybody had Philly as a playoff team this year. 
~The Chiefs, under Andy Reid, have won 22 straight games in November and December. That is some serious closing power.
~The ice is cracking under a few coaches feet:
Pete Carroll- Great run by a great guy. It's over for him in Seattle.
Matt Nagy- Good as gone.
Joe Judge- May get saved by love of him by Mara family.
Matt Rhule- Compared his situation to Jay-Z who took 7 years to make it. Rhule may not get 7 more days.
Mike Zimmer- May be a race for the door between Zimmer and Kirk Cousins.
~Erin Andrews has become very annoying. She wailed and whined about wanting to be treated like a professional earlier in her career. Then this.
*Holds socially distanced interview*

*Hugs immediately after interview*

Makes sense. pic.twitter.com/YhmGUqHc19

— NFL Memes (@NFL_Memes) December 26, 2021
Do professionals hug their interview subjects? I guess the cool kids do. Oh, and how stupid is doing a socially distanced interview then hugging afterwards? 
~Another week. Another rambling Tony Romo performance. I mean, I get it. The Steelers do make you want to drink. 
Pittsburgh Steelers
~All you need to know about this disaster is Mason Rudolph actually got in the game.
~Ray Ray McCloud got flagged for taunting while down 30. Ray Ray stinks. James Washington rarely gets in the game. When Washington requested a trade this past summer he must have buried himself in the Tomlin doghouse. He has to be better than McCloud and I know he wouldn't get called for taunting.
~Ben flew his family to Kansas City for the game. He must not like his family too much. His wife looked thrilled.
Ben's wife like, "you made us fly out here for this sh*t" #HereWeGo #Steelers pic.twitter.com/yhp53iuhxk

— Tim Clark (@TrojanTim66) December 26, 2021
~This team needs a complete overhaul. Again, I will ask if Art II is paying attention. The GM did a lousy job of roster construction, with a huge assist from the head coach who thought Kendrick Green could play center in the NFL. The coaching is abysmal. Both coordinators need to go. Matt Canada is in way over his head. I don't have enough time or patience to discuss all of the ridiculous play calls. Keith Butler at least has injuries as somewhat of an excuse.
~Back to my biggest pet peeve with this Tomlin led team. Culture. Down 23, a guy who is lucky to be on the roster, —although playing well— Akhello Witherspoon, thought flexing would be a good idea.
Steelers in a nutshell. Down 23-0 but yea let's flex…🤦‍♂️ #HereWeGo #Steelers pic.twitter.com/AH2aYFsL3Z

— Tim Clark (@TrojanTim66) December 26, 2021
~Amazingly the Steelers could still make the playoffs. They need two wins and a little help. The two wins are the hardest part of that equation to fathom. The Browns may run for 300 yards against the Steelers next week. 
~Mike Tomlin's non losing season record is on the line, which I feel masks how bad this team is. This is a four win team talent wise. 
This Week's Shiny Penny
When I was a kid I thought Walt Frazier was the coolest dude on the planet. Turns out he still is.
Clyde. Is. Back. 🐐 pic.twitter.com/30b5tt0m8N

— KNICKS ON MSG (@KnicksMSGN) December 23, 2021
don't want you to forget

Clyde is BACK tonight pic.twitter.com/G23s7nB36h

— KNICKS ON MSG (@KnicksMSGN) December 23, 2021
Hey, at 76 pimpin' ain't easy.
A Penny For My Final Thought…
This week I have a bunch of end of year, holiday season random thoughts.
Almost all my teams sucked this year, but even that couldn't spoil the joy I get from my sports Christmas tree.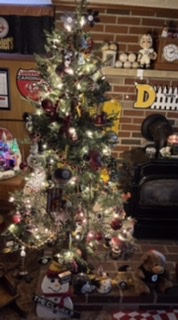 The older I get, the faster the Christmas season goes by. I put my trees up super early, and yet it seems like just a week ago.
I long for the Mizzlou Network this time of year. For you youngsters reading, that was the network that carried many of the small bowl games back in the day.
My must watch great eight Christmas movie list:
Christmas Vacation
Bad Santa
Christmas Story
Elf
The Grinch(Jim Carey version)
Home Alone
Polar Express
Miracle on 34th Street
I also watch Rudolph, Frosty, Santa Claus is Coming to Town, and The Year Without a Santa Claus every year. I swear I am not a child.
I also watch Die Hard every Christmas just because. 
Lest we forget #YippeeKiYay pic.twitter.com/mBefe34sbX

— Ruud 🏆#55 (@Dutch_Shot) December 24, 2021
The biggest question with Die Hard isn't whether it is a Christmas movie, but why in the hell was the terrorist at the desk betting on the USC vs Notre Dame game…on Christmas Eve? 
Does anyone else still eat mince pie? 
How about the cranberry sauce that we all got in school that jiggles when it oozes out of the can?
I miss the Bluebonnet Bowl on New Years Eve. I once turned down going to a party so I could stay home to watch West Virginia thump TCU. 
I miss Dick Clark. After the Bluebonnet Bowl, you switched to ABC for Rockin' Eve. No offense to Ryan Seacrest, but he is no Dick Clark.
This is a homer statement, but the Rose Parade loses something when the USC marching band isn't involved.
I miss Keith Jackson calling the "Grandaddy of them all".
If USC is not involved in the Rose Bowl I can take my upstairs tree down while watching the game. The sports tree stays up for a bit for ambience purposes.
I would feel more melancholy after the decorations are down if I didn't know my good friend college basketball would get me through the next three months.
Those that have been reading through these last 3+ years, thank you.
Those that are new readers, I hope you will keep reading my weekly ramblings.
To all, I hope you finish this weird 2021 strong, and have a prosperous 2022. Happy New Year!
Just my two cents…