Boy, time flies!
Those calendar pages seem to flip at warp speed.
Here we are prepping for Thanksgiving yet again. That can only mean one thing.
Well, yea, stuffing, mashed potatoes, cranberry sauce, and another Detroit Lions beat down. 
No, I am talking about the fourth annual Two Cent Turkeys from across the sports world. These are the players, coaches, teams, and figureheads that laid eggs this year.
Do turkeys lay eggs? And if they do, do the eggs have stuffing in them?
Sorry, I digress.
Before I make myself more hungry, and Thursday is still a few days away, let's get down to serious business.
Here are the 2021 Two Cent Turkeys.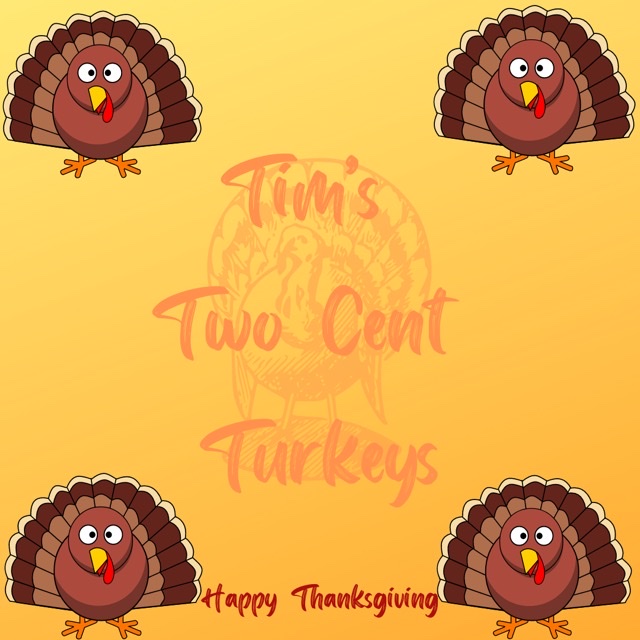 MLB
🦃Rob Manfred🦃
The commissioner of baseball continues to preside over a sinking ship. He perpetually puts bandaids on gaping wounds.
Baseball may have the worst instant replay system of any sport, and that is saying something. Umpiring, in general has gotten worse during Manfred's tenure.
My favorite change in the offing is increased base size. The theory being that it will increase stolen bases. Of course there will always be the lame slap on the wrist he gave the cheating Astros. The list of baffling decisions and stupid ideas is too lengthy to mention.
Manfred will preside over what figures to be contentious labor negotiations this winter. If baseball doesn't change its labor dynamic, Manfred may keep gobbling right out the door.
🦃Trevor Bauer🦃
Trevor Bauer slowly became the people's champion(no offense to The Rock who still owns the rights to the People's Elbow). He became unofficial spokesperson for the fans. He certainly spoke up on the player's behalf. 
Bauer became a Twitter sensation. He was loved by fans of the teams he played for and liked by most others.
Then this year he turned into a turkey. Whether he ever faces legal punishment or not, Bauer will forever be despised for his off field dalliance. My take has remained unchanged. Whatever kink he runs up the flagpole is up to him, as long as the other party consents to said kink. My issue is the complete stupidity he showed. A superstar shouldn't be so stupid as to pick up girls in that fashion. 
Bauer is no Felipe Vazquez, but he easily makes the Two Cent Turkey list.
🦃Bob Nutting🦃
You would think making this list on a yearly basis would make Nutting want to sell the team. I mean, c'mon, there can't be a bigger insult.
Nutting continues to run the Pittsburgh Pirates on the cheap. Another 100+ loss season was enjoyed by the 50 Pirates fans still left in Pittsburgh. Absolutely no money was spent on the major league roster, with the excuse being "we are rebuilding". I have little left to say about this clown, that I haven't said a million times.
Listen for Nutting's words during the labor negotiations. He should be screaming for a salary cap. However that would also mean a salary floor, and that may not be as palatable to penny pinching Bob. Nutting does have the honor of longest running Two Cent Turkey, so there is that.
NBA
🦃Ben Simmons🦃
This was too easy.
Ben Simmons was a bad shooter when he was drafted. 
He still can't shoot, and it has gotten so bad he has the yips at the free throw line. So the Sixers realized he had to go.
The problem is nobody wants him, at least not at the price tag the Sixers set. It appeared the Sixers would have to at least start the season with Simmons.
Except he held out. Then he got fined. Now he says he is having a mental breakdown because of all of it.
Yet another reason I can't stand the NBA. 
Have some turkey, Ben. Then go practice your damn nonexistent jump shot.
🦃Kyrie Irving🦃
This, too, is very easy.
One minute Irving is waxing poetic on the flat earth theory that made Copernicus rise from the grave. Now, Irving waxes poetic about the dangers of vaccinations. 
Oh joy. What's next Mr. Science? Just please no one ask him about global warming. 
The anti-Bill Nye of the NBA is suspended for violating the leagues vaccination mandate. He is costing himself money. He is costing his NBA Finals caliber team wins. He is costing the fans who paid to come see him play. 
Irving is a fantastic basketball player. He is a lousy scientist. I have long been done with the anti-vax crowd. Gobble gobble Kyrie, gobble gobble.
NHL
🦃Tom Wilson🦃
The gooniest of goons in the NHL can actually play the game. Unfortunately his goonish acts overshadow his play. 
Wilson is lucky to have not been given a career altering suspension. He is a repeat, repeat, repeat, repeat offender. And I missed a few repeats. Lucky for him the guys who enforce the rules for the league are also turkeys. And old school turkeys that think possibly ending someone's career with a cheap shot is just good, physical hockey.
Wilson is bad for the sport, and it is fitting he plays for the Caps. It makes it even easier to hate this turkey.
🦃Gary Bettman🦃
This actually is a group of turkeys. Everyone who ignored the sexual abuse of Kyle Beach in Chicago is a turkey. Joel Quenneville, Kevin Chevaldayoff, et al. are big turkeys.
In yet another incident of looking the other way in a sport's abuse scandal, the NHL looks weak in how they handled this situation. Gary Bettman, in particular, looks weak. Nothing new for this Two Cent Turkey. 
Bettman allowed Queenneville to coach the night after this revelation was brought to light.
He then fined the Blackhawks $2 million, which may sound severe. It is not. New Jersey was fined $3 million for trying to circumvent the league salary cap. 
Bettman has long been a joke, and joins fellow commissioner Rob Manfred on the Two Cent Turkey list.
NFL
🦃Aaron Rodgers🦃
Man, this guy is some kind of football player.
Man, this guy is some kind of jerk.
Aaron Rodgers, who has both pouted and produced his way to an MVP season last year and first ballot Hall of Fame career, keeps proving that second statement up there to be the one people will remember.
Another science wizard, Rodgers decided the vaccine wasn't for him. He potentially had legitimate health related concerns, but as he is apt to do, he decided to be sneaky and deceitful to his team and everyone in the league rather than explain his concerns. 
To make matters worse, Rodgers latest famous side piece, actress Shailene Woodley, threw fuel on the fire. Woodley, also a science wiz, defended her man. She also made the matter ten times worse. 
Rodgers, according to most reports, is hard to get along with. He is also quite engaging and entertaining off the field. It is too bad he always seems to let the jerky side come to the forefront, as he did once again these past couple weeks. 
I guess that makes him a jerky turkey.
🦃Jon Gruden🦃
Yet again we have one that falls in to the way too easy category.
Gruden was always a bit of a cartoon character, making Chucky come to life. Turns out Chucky was a racist, misogynistic, homophobe. The Raiders seemed like the best place for a character like him, but even in Vegas they weren't about to put up with that kind of crap. What happens in Vegas stays in Vegas, but what happens before you get to Vegas gets you fired.
Gruden will go away, and hopefully be a cautionary tale to others that eventually the true you will come to light.
Gruden is a true Two Cent Turkey.
🦃Roger Goodell and the owners🦃
These guys, desperate to jam more wads of cash into their greedy pockets, decided adding a 17th game would be a good idea. 
Already we have a ton of injuries causing way too many backups to play at the varsity level, as Mike Tomlin would put it. Nobody wants to watch second stringers play against other second stringers. 
The level of play in a lot of these games is undesirable. Players bodies already take a beating. Why add one more game for them to get abused?
I grew up with 14 games and never thought I was getting short changed. 16 games has always been fine. Now it is 17, with the possibility they push for 18. Insanity.
The product you put on the field should matter most. When is enough money enough?
Evidently these turkeys haven't reached that point.
College Football
🦃The ACC🦃
All you need to know is Pitt may win this conference.
Clemson is down. Miami and Florida State can't find their mojo. Nobody woke Mack Brown up and let him know the season started. Wake Forest has no defense. Everyone else is, well, everyone else.
Never once was their a real possibility that this conference would have a playoff contender. Pitt may win the conference in a year they lost to Western Michigan at home.
The ACC was a real turkey this year.
🦃Steve Sarkisian🦃
Steve Sarkisian was not great at Washington. He was an absolute embarrassment as he drank his way out of USC. His biggest claim is being offensive coordinator at Alabama, a job I probably couldn't screw up. 
Texas hired him. Texas is 4-7.
He inherited a team with enough talent to be in contention in the Big 12. Instead the Longhorns are out of bowl contention and longing for the Tom Herman days.
Sark is a longtime turkey, but now he is a Texas turkey, too.
🦃James Franklin🦃
Franklin seems to have reached his apex at Penn State. Actually he reached that point a couple years ago. 
This season, not only has Franklin continued his trend of losing big games but made himself available to other schools. Franklin hired super agent Jimmy Sexton in the middle of the season. He did that with the intention of getting a new job. 
After mishandling the backup quarterbacks, dancing around questions of his future, and losing four more games, it appears that maybe the other schools who were interested in Franklin have cooled. He announced this past week to a private club that he would be back at Penn State. 
If that holds true, I say good for you Penn State. You get your turkey back.
🦃The Playoff Committee🦃
These guys are as shady as a giant oak tree.
They change the criteria they are judging teams on by the second. Nobody ever knows what they are really looking at.
They rig up their top 25 to benefit certain Power Five teams schedule strength. This year they may get lucky with everyone dropping off and leaving four teams to be the clear choice.
But what if Alabama has two losses? 
Stay tuned for two more weeks. These turkeys could still pull another shady move before it is all over.
🦃Clay Helton, Pat Haden, Lynn Swann, Carol Folt, Mike Bohn🦃
The above list are the people responsible for turning USC football into a laughingstock. I have been a fan of Trojan football since 1974, and this is easily the lowest point I can remember. This year's team is the least competitive, least talented team I have ever seen at USC.
The main turkey is Clay Helton.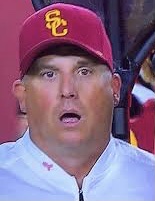 Helton was a disaster. Using his "oh shucks" approach led the program to new lows.
Haden was the turkey that hired him. Swann was the turkey that gave him a joke of an extension when nobody else wanted anything to do with him. Folt and Bohn were the two turkeys that decided it wouldn't be prudent to fire him two years ago when they arrived. Bohn doubled down by keeping him after last year.
USC football is the thing that stands above all else in my sport's fandom. This situation has been hard to swallow. Every time a new season began in the Helton era, I knew no matter how much I hoped that his team would disappoint. Even when they did have decent seasons, the team underachieved.
These West Coast turkeys get no pardon from me this Thanksgiving.
College Basketball
🦃Dan Dakich🦃
Dakich is another lifetime member of this exclusive club. 
Dakich is opinionated and relentless in his pursuit to prove his misguided point and annoy listeners. Recently he went off the deep end, mainly on his podcast. Fortunately he was offensive enough to have ESPN wash their hands of him.
Fear not. You can still listen to Dakich rage on with his new show on Outkick, a network founded by the only guy that is a bigger clown than Dakich, Clay Travis.
Turkeys do seem to flock together.
🦃Chris Mack🦃
So, this one is personal. As a Louisville basketball fan I am really disappointed in the Mack era to date. 
Mack seemed like a great fit, and appeared to have to mindset to navigate the mess he inherited from the end of the Rick Pitino era. So far he hasn't fit at all.
Mack is currently suspended for the month of November for Covid violations that came to light when Dino Gauddio, a former assistant, tried to extort Mack. Last year, a video of an intoxicated Mack chiding John Calipari and Kentucky after a rare victory in that heated rivalry went viral. Mack looked like an idiot.
On the court his teams have played a boring, dribble too much type of offense. He has tried to copy Tony Bennett's system at Virginia. He is not Tony Bennett. 
This year's team has looked disjointed and soft in his absence. They have switched to an uptempo style, which seems like a sure sign Mack is grasping at straws.
Here is thinking Louisville got the short end of the wishbone with this turkey. 
Two Cent Takes
College Basketball
~Colgate hung 100 on Syracuse this past weekend. Yet another example of how wacky this season could be. Last night Arizona pounded Michigan. Wacky, I tell you.
~Penn State had a lot of players transfer. They better hope if, and when, they play the other transfers that they don't go off like Trent Buttrick did for UMass last week. He lit up the Nittany Lions for 19 points and 9 rebounds. He took his best buddy John Harrar to school. 
College Football
~Mel Tucker has Michigan State well ahead of schedule in his rebuild. But can we now please stop acting like they were truly a playoff contender. Oh, and about that Heisman Trophy, Mr. Walker…
~A meaningful Ohio State/Michigan game. Will wonders never cease? Let's hope Jim Harbaugh doesn't screw it up. I still think Ohio State will have too many athletes, although the defensive ends from Michigan may have something to say about that.
~Oregon did what Oregon always does. Only this was a bit different. Earlier in the season they played down to a bad opponent and lost to Stanford. Saturday they lost to the best team in the Pac-12, Utah. The Utes have the best coach in the conference, and took Oregon to the woodshed.
~Sam Pittman has Arkansas playing so well. A chance for eight wins with a brutal schedule is amazing. The Razorbacks had Alabama on the ropes. They just couldn't stop the Tide's offense.
~Alabama QB Bryce Young threw for 559 yards. He will be a top five Heisman candidate.
~Dan Mullen is out at Florida. He compiled a good record at Florida, but he just is a weird guy and he isn't big on recruiting.
~This means USC, LSU, Florida, Washington, and Virginia Tech are all searching for their next coach. Plus, Miami, UCLA, and a few others could still pull the trigger on their respective coaches. There just aren't enough good coaches out there to fill these jobs. Look for some top assistants to get the call.
~So, apparently Penn State did have a backup quarterback. Surely Christian Veilleux would have been a better option in the Iowa and Illinois games. For those saying he wasn't ready back then, c'mon. The coaches should have him ready from day one, or at the very least ready enough to be a better option than Ta'Quan Roberson.
~USC sucks worse than I have ever seen them suck, and UCLA isn't exactly great. However, they still have the best uniform game each year.
Simply gorgeous pic.twitter.com/f5e0z3RlTf

— Timothy Burke (@bubbaprog) November 20, 2021
~How far has college football faded in LA?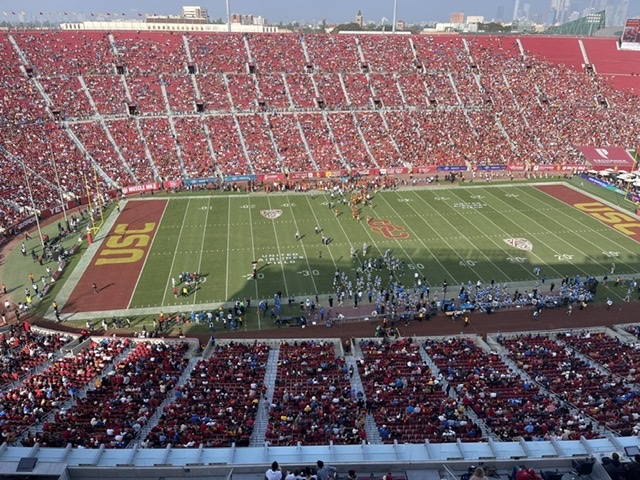 That is at the end of the first quarter of the USC/UCLA game. That is flat out embarrassing.
~UCLA has always had this guy, or some pretty boy just like him, on their sideline.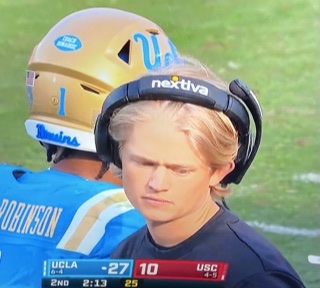 ~Pitt outscored Virginia to earn a spot in the ACC Championship. Provided they beat Syracuse Saturday, the Panthers will have a great shot at 11 wins. As I said above, thank the weakest ACC in years for that.
~How bad has Steve Sarkisian's first season in Texas been?
One Shining Moment:
2021 Texas Football edition pic.twitter.com/SQSM5Pkpnz

— Kieran (@carebearkieran) November 19, 2021
~There is one or two scenarios that may give us some suspense with the playoff selections. Georgia is in. Ohio State/Michigan winner is in provided they win championship game. This most likely will be Ohio State. Cincinnati is in if they win out. The big question will be what to do if Alabama loses in the SEC Championship Game. Take a two loss Alabama or take a one loss Oklahoma, Oklahoma State, or Notre Dame. My bet is they take Alabama.
NFL
~The Ravens have been as lucky as any team in recent memory. They are 7-3, and it is not an exaggeration to suggest that they should be 3-7. The Bears are the latest team to hand the Ravens a late win.
~I no longer have any idea what is going on in this league. Almost everyone in the AFC within two games of each other. Parity with a capital P.
~The Eagles are going to make the playoffs. Then what do they do at quarterback? Jalen Hurts has played very well. 
~Pete Carroll is finished in Seattle. Russell Wilson may be done as well. He may look pretty good in black and gold. Just sayin'.
Steelers
~The Steelers thought their starting defense was playing bad. The backups of the backups struggled mightily to get off the field in Los Angeles. The other disturbing fact from Sunday night is the Steelers got zero push from there offensive line versus the worst run defense in the league.
~Play calling was questionable again, especially near the goal line. It seemed to baffle Ben as well.
Me when my dog $hits in someone's yard and I ran out of plastic bags.#Steelers #HereWeGo pic.twitter.com/troRA8AoT1

— Obviously (Not) Tomlin (@Tomlin_Sense) November 22, 2021
~Having said all of that, Cam Heyward is a beast. He should be very much in the defensive player of the year conversation.
~That was a gut wrenching loss for the Steelers who won the special teams battle, had Ben make just enough plays, but couldn't run the ball and just had way too many holes on defense. The last TD by LA that won the game was a disastrous misplay by the defense.
~At Cincinnati next Sunday is a must win.
Golf
Making progress pic.twitter.com/sVQkxEHJmq

— Tiger Woods (@TigerWoods) November 21, 2021
A welcome sight for golf fans. Love him or hate him, Tiger Woods is good for golf. It will be interesting to see if he can actually get back to Tiger Woods level golf.
This Week's Shiny Penny
For all the people in the back who are still screaming and wailing about how NIL is going to ruin college sports and turn these kids into money grubbing jerks.
Michigan running back Blake Corum used his NIL money to purchase turkeys distributed today in two Ypsilanti communities in what he calls "Giving Back 2 Give Thanks" pic.twitter.com/bXSPKagiUS

— angelique (@chengelis) November 21, 2021
A Penny For My Final Thought…
Thursday is Thanksgiving.
After I eat as much as humanly possible —turkey, stuffing, sweet potatoes, mashed potatoes, corn, more stuffing, cranberry sauce, and a piece of pumpkin pie— I will slog to the couch.
There I will stay. And watch football for the remainder of the day.
It is tradition.
No, Detroit hosting the Bears isn't an NFC Championship Game preview. But it is tradition, and it must be upheld. Thanksgiving football, no matter the teams, is part of a fanatics culture.
Raiders/ Cowboys and Bills/Saints will follow. Oh, and don't forget the Egg Bowl Thanksgiving night between Lane Kiffin and Mike Leach, the two crazy coaches of Ole Miss and Mississippi State. And never forget this game brought us quite a moment in 2019.
Mississippi State is bowl eligible because Ole Miss pretended to be a peeing dog pic.twitter.com/mZ0f13Z4Nd

— Timothy Burke (@bubbaprog) November 29, 2019
Nothing says Thanksgiving like a player imitating a dog peeing on your rivals logo.
So fanatics, don't worry about the level of play. Thursday is Thanksgiving, and that means massive amounts of food, lots of football, and maybe a tryptophan induced nap.
We get rid of so many traditions. This one must  remain.
And I'm calling it now. The Detroit Lions will win their first game. That plus Lane vs Leach.
Thanksgiving football is tradition. Thanksgiving football is America. 
Happy Thanksgiving!
Just my two cents…