The Pittsburgh Pirates payroll for 2021 is currently $30 million. Maybe Big Spender Bob will allow for that to get close to $40 million. 
Trevor Bauer, now of the Dodgers, will make $40 million.
Mike Trout will make $37 million.
Jacob DeGrom and Gerrit Cole Will each make $36 million. 
How ticked off is Cole that his rival Bauer will make more than him? 
In all, 15 individual players will make as much as the entire Pirates roster.
Baseball is badly broken.
Anyone that has read my stuff knows what I think of the current owner of the Pittsburgh Pirates. If you are new here, then let me show you.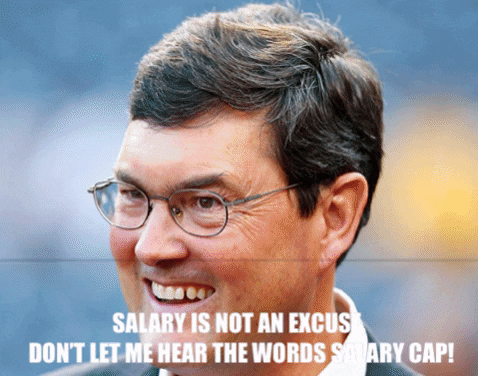 Nutting is a real problem, no doubt. There is ample proof—none more vivid than from 2013 to 2016–that Nutting is far more concerned with his bottom line than spending for a winner. 
Having said that, there is no way any owner of the Pirates, Rays, A's, et al. could keep up with the spending of the big market teams with no salary cap. There is just no way.
Baseball is broken.
Before I get to the salary cap issue, imagine common fans being asked to stomach seeing these types of salaries. And for the record this goes for all sports and entertainment. Using the average teacher's salary, Trevor Bauer is worth 645 teachers. For throwing a baseball.
Broken. Badly.
Baseball's popularity has been waning for a generation or two. Certainly there are many issues the sport could address to make the game more appealing. None of those issues even come close to the issue of financial disparity.
Baseball has needed a salary cap for years. If they want to save the game, and broaden a dwindling fan base, then they better get to it pronto. Baseball has obvious models to study.
Every major sport has some type of salary cap. They all work a bit differently, but they all work. 
A salary cap isn't about limiting players' ability to make money. It is about more evenly distributing that money. Plus, with a salary cap, comes a salary floor. 
Some say guys like Nutting just won't spend. Guess what? A salary cap(with floor) will force them to spend a certain amount. It is precisely why an owner like Nutting never utters a syllable about wanting a salary cap. A cap puts Nutting on the spot. It will allow well run organizations to thrive, rather than just reward those who can spend the most.
The Dodgers starting rotation will make almost $95 million. The Pirates could trade for Bryce Harper and JT Realmuto from the Phillies and still not have a payroll equal to the Dodgers starting rotation. How can anyone think that is a just system?
Forget Pittsburgh for a minute. 
Cleveland consistently builds a winner. When good players get close to free agency the Indians have to trade them. Fortunately Cleveland has been exceptional at trading for good prospects.
Tampa Bay and Oakland have become a somewhat consistent presence in the playoff picture each year. The unfair part here is both teams have to do everything absolutely perfectly in order to contend. If the finances of baseball were fair, imagine how good these teams would be. Clearly they have smart people calling the shots. They just can't go out and get enough good players to get over the top.
Look no further than last year's World Series. Tampa Bay was still referred to as a "Cinderella". David vs Goliath. Why? Because the Rays built their team on a tiny percentage of the money of the Dodgers roster. It is idiotic.
Pittsburgh proved in 2013-15 that if you build a winner the fans will show up, and show up big and loud. Imagine giving fans in 30 markets something to look forward to, rather than just 6 or 7 markets. Think of the increase in fan bases you could create. Maybe, just maybe, the popularity of the sport would increase. You wouldn't be doing something crazy, rather joining the other sensible professional leagues. Most importantly you would increase the marketability of your sport.
Does this make too much sense for baseball?

Here is evidence that money matters when it comes to building a World Series caliber team.
In the past 26 years the World Series champion had one of the top three payrolls 10 times. Only once did the winner have a payroll in the bottom half. Money may not be everything, but it sure seems to help those who eventually win a championship.
The little guys should take action. Small market teams should charge a fee—and a large one—for big market teams to come in and televise games at their ballparks. The league would never allow that because they have never been able to see the value in competitive balance. Honestly, the small market teams should be shouting from the mountaintop and doing anything they can to make life miserable for the big boys.
It shouldn't matter what it takes to bring about a salary cap. If owners in smaller markets, such as Bob Nutting, aren't on board then they should get out.
Ironically, it is some bigger market teams—Chicago and Colorado to name two— that are making moves that seem to indicate they are ready to change the financial system in the game.
Unfortunately, too many owners take the money and run, competitive balance be damned. Like I said, the powers that be seem more than happy to placate those big boys. Players want to win—most of them want that badly—but their union is most concerned with them bleeding every penny out of the owners.
Greed is destroying baseball, and to this point nobody wants to address the elephant in the room. Maybe that is because the elephant hasn't been allowed into the room. Might I suggest someone opens the door.
Baseball is broken. Boy, is it ever broken.
A salary cap may just save the sport I grew up loving.

Two Cent Takes
College Hoops
~COVID-19 has wreaked a lot of havoc in our lives. Who knew it would wreak havoc with the Blue Bloods of college hoops.
As of today, none of the four programs in the picture are ranked.
~Kentucky will need to win the SEC conference tournament to earn a tournament bid. John Calipari is about to suffer his first losing season since his first year at UMass.
~Duke will need to get hot down the stretch in order to earn an at large bid. Quite frankly, Coach K just doesn't look interested during this strange year.
~North Carolina and Kansas will get in, but don't expect much.
~Speaking of COVID-19, Louisville, Michigan, and Florida State went on pause. Louisville had to extend their pause because head coach Chris Mack tested positive. Michigan also extended their pause. The Wolverines will have missed an extensive amount of time. It is hard to gauge how much of an impact these layoffs will have on teams.
~One team I underestimated in my column last week was St. John's. The Red Storm are led by freshman point guard Posh Alexander. With a name like Posh, you know he is a baller. As of now, St Johns would be a tournament team.
~On a list that is rather long of what ails the Pac-12, basketball officiating may have moved up a spot or two this weekend. Here was the most, um, interesting call.
Originally this shot(it went in for the record) was called good, and the half was over. After review, the officials realized it was actually a shot clock violation. However, they still deemed the half over. The funniest part is that UCLA coach Mick Cronin didn't even question why his team didn't get the ball with 1.7 seconds.
~So, who had a good week and who bombed?
Good: St. John's, Illinois, Ohio State, USC
St John's was mentioned already. Illinois was dominant this week, and Ohio State wasn't far behind. USC is trying to seize control of the Pac-12.
Bombed: Minnesota, Iowa, Kentucky
Minnesota and Iowa have hit the skids. That is easy to do in the Big Ten this year. Minnesota needs to turn it around to stay on the correct side of the bubble. Iowa needs to start playing defense, and I was glad to see coach Fran McCaffery get a T Sunday. He has spent most of the season like this.
Hands in pocket Fran is way <<<< entertaining than Meltdown Fran.
As for Kentucky, they got mixed into the bad week bin. They will be transferred to the proper bad season bin immediately.
NHL
~The Pens were forced to take a COVID-19 pause. They came off pause Saturday night, but nobody told goalie Tristan Jarry. The Pens need three things to happen:
Better goaltending. I hated when they left Marc Andre Fleury go, and I hate it more now. Even at an advancing age, he would be an upgrade over Jarry. Jarry sits perpetually deep in the net and rarely makes big saves. Additionally he doesn't control rebounds well.
Stars need to be stars. Sidney Crosby and Evgeni Malkin need to get out in the open and skate. They are aging and need to change their style a bit, but it would still be nice to see them creating in open space. Malkin has been irrelevant for most of the season. Young players like Kapanen and Joseph have been good, but the stars need to step it up.
Kris Letang needs to go away. I've been on board with this for a couple years now, and apparently former GM Jim Rutherford was, too. Letang is good for two or three horrific plays a game and not much else.
~The Flyers will be just fine if they can avoid the Boston Bruins. The Flyers are 8-1 against the rest of the division, while going 0-4(2 OT losses) vs the Bruins.
~Just because…
Gritty getting X-rated on national television. pic.twitter.com/SatvrsSVkD

— SB Nation NHL (@SBNationNHL) February 4, 2021
NFL
~Suddenly the offseason has turned into quarterback roulette. Matthew Stafford and Jared Goff traded places. DeShaun Watson may or may not be on the trade block depending on who you talk to. Apparently Carson Wentz will be traded in the next day or two. Now Sam Darnold may be available.
~Ben Roethlisberger is meeting this week with Steelers management. Will they come to an agreement on money so that he can play one more year? Probably. Is that the best thing for the Steelers? Probably not. All of those quarterbacks on the roulette wheel will land somewhere, while the Steelers muddle through a final season with a quarterback that is already finished.
~Alan Faneca finally got the call to the NFL Hall of Fame. For Faneca this is a well deserved honor. The pandemic postponed the 2020 Hall of Fame induction which means Donnie Shell, Bill Cowher, Troy Polamalu, Faneca, and long time scout Bill Nunn will all get inducted together. Canton, Ohio, will be all black and gold come induction day 2021. What an organization. It is what makes the current state of the organization so frustrating.
Super Bowl LV
~Well, well, well…this guy is going to be hard to live with.
No, not him. This guy.
The Two Cent Cracked Crystal Ball called last year's Super Bowl within one point of the exact score. This year he had 31-28 Tampa Bay. Not many were on the Bucs here, but #TCCCB was right on it. The crown is a little much though.
~The Chiefs offensive line owes Patrick Mahomes an apology. Mahomes is fantastic, but spent the entire night running for his life.
~Tom Brady now has seven Super Bowl rings. How would his career have gone if the other team was allowed to hit him without getting a penalty. Then there is deflate gate and spy gate. Yes, that is sour grapes. Sports are a results oriented business, and nobody can match his results. I've been saying he is like Dracula, and nobody—not even Father Time—has found the wooden stake.
~As I said last week, the Bucs defense wasn't getting enough credit. They are fast to the ball. They hit like sledgehammers. They are well coached. It showed on all accounts.
~Steelers fans went to full meltdown when this happened.
Here is that great route and catch by Antonio Brown #Superbowl pic.twitter.com/oiaJCDOuXJ

— Steelers Depot 🎄 (@Steelersdepot) February 8, 2021
Look, Antonio Brown is a class A jerk. He is also a class A receiver, and more specifically a class A route runner. He is now a Super Bowl champion. It is what it is.
~Tony Romo acted as if Antoine Winfield committed some heinous act with this move.
Winfield is giving Tyreek Hill some of his own medicine. Hill shoved his trademark gesture in Winfield's face earlier in the season. I thought it was fantastic. Any time someone taunts that clown it's a good thing.
~Speaking of Romo…enough already. He talks too much, and he forces humor. People told him how great he is, and it went to his head.
~The game was a complete dud, but there was one great run. A fan wearing a bra ran on to the field and headed for the end zone. Here is radio broadcaster Kevin Harlan's call.
Here is Kevin Harlan's audio call of the guy who ran onto the field of #SuperBowl #kevinharlan pic.twitter.com/cybtH2iyvs

— Bill Geiger (@thebillgeiger) February 8, 2021
~Finally, the halftime show by Weeknd had everyone talking. The show was, um, different. It also created some great social media posts. Here is one I can relate to.
Me trying to find my golf ball after I snap hook it in the trees pic.twitter.com/LztNizuxuk

— Paige Spiranac (@PaigeSpiranac) February 8, 2021
A Penny For My Final Thought…
Penn State basketball was left for dead.
Lamar Stevens, a star who stuck around to have one last crack at an NCAA tournament, finally graduated.
That team he stuck around for missed out on a sure bid to the tournament because of COVID-19.
Head coach Patrick Chambers was fired with little transparency in October.
Many players on the current team were upset, even threatening to transfer because of the lack of transparency in the Chambers firing.
Jim Ferry, an assistant under Chambers,  was quickly thrown in as interim head coach.
Penn State basketball was left for dead.
Jim Ferry has prevented that impending death from occurring.
Barring a February collapse, Jim Ferry deserves actual, honest to goodness consideration for the permanent head coaching position with the Nittany Lions. Not the lip service AD Sandy Barbour gave him at her recent press briefing.
Ferry has done a more than commendable job with the Nittany Lions. He has the team on the bubble. A 5-2 finish to the season gets Penn State a bid. A 4-3 finish keeps them squarely on the bubble. Anything less and Penn State stays home, and Ferry can probably pack up his belongings.
The team plays looser and more free under Ferry. Under Chambers there was so much standing around and reliance on one guy to get it done. There were defensive collapses that cost them games. And of course there was the barking, in your face style that Chambers did try to tone down last season. It just feels different watching this year's team play.
Some things still haven't changed under Ferry. Penn State is still that engine repeating, "I think I can."
They lost a close game to Seton Hall at home that they should have won.
The Nittany Lions are still looking for a Big Ten road win. They lost close games that were certainly winnable at Michigan, at Indiana, and at Ohio State. That may seal the fate of this team and Ferry. Can they find a road win at Michigan State tomorrow night or later at Iowa or Maryland? To get where they want to go, and to give Ferry a fighting chance, they will have to find a way.
Having said all of that, this team plays hard, seems to enjoy one another, and seems better coached.
One player that has improved immensely under Ferry is John Harrar. After the win against Maryland Friday night, Harrar said Ferry sees them as people first, not basketball players. It may just be possible that the players, who mostly loved Chambers, see there is another way to be coached.
With all of that said, we all know Penn State won't pay top dollar for a basketball coach. Over the years, administration hasn't even shown any interest in taking basketball seriously. So with those parameters in mind, what coach will they find that is more suitable than Ferry?
Most people will tell you they loved Ferry at Duquesne. That is a really tough place to win at, and Ferry just didn't win enough to stay. Sound familiar?
Penn State basketball has been a historically difficult job. The gauntlet that is the Big Ten compounds that difficulty.
Jim Ferry was thrown in to a no win situation, yet might do just that. Win.
The AD doesn't give me much confidence. She bumbled her way through at California, and somehow landed the gig at Penn State. It would be nice if she gives Jim Ferry ample consideration.
He would be relatively cheap. He knows the program. Most importantly, one would think he could keep this group of underclassmen together, add something in recruiting, and make another run at the tournament next year.
By Penn State basketball standards, that is about all you can ask for.
Just my two cents…