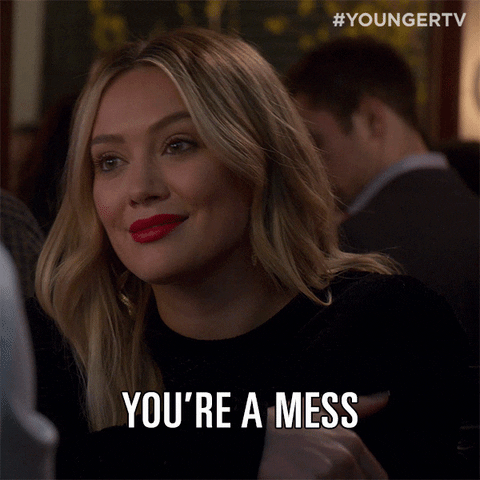 Or as a colleague of mine likes to say, "You're a hot mess."
College football, I'm talking to you.
At this point we have some games being played, some games being cancelled, some games being scheduled one week in advance then cancelled, two power five conferences not playing, but now they are, a coach with the virus not coaching, teams with limited players for some games, a few fans here and a few fans there, and a partridge in a pear tree.
Got it?
Oh, and I think the President has taken credit for all of it.
Yea, it's a hot mess.
Big Ten
The Big Ten made the news this past week by announcing they would now be starting their season on October 24. Presidential phone calls, threatened lawsuits, and watching other conferences get some TV time spurred the university presidents to reconvene and hold a vote. Supposedly it was a unanimous vote, though the Big Ten's lack of transparency makes me wonder. Whatever the case, all teams are in play.
Make no mistake, it was the third thing on the list that pushed this decision. Seeing other teams on TV put dollar signs in the eyes of the university presidents and AD's. The President's call and potential lawsuits most likely were meaningless in the decision making process. This is all about the money. The TV money the conferences will get will help offset all of the lost revenue from having no fans.
The Big Ten changed courses because they now have a better testing method in place. They also said that they have a better idea of how to monitor myocarditis, the heart ailment some players have been dealing with as a result of COVID-19. That's fair. Science changes as new information arises. Maybe they should have suggested they were waiting on better testing to the public five weeks ago.
Much like colleges bringing back students, charging them tuition/room and board, then in some cases sending them home without a refund, college football is willing to take the health risk in order to recoup some of the lost money. The dollar signs were blinding these presidents and athletic directors.
How might the meeting have gone last week. Annie Agar takes a fun look.
The BigTen is back! Here's how that zoom call went…🏈 https://t.co/WW9e7SRsCd pic.twitter.com/ttLYwPFDb8

— Annie Agar (@AnnieAgar) September 16, 2020
The Big Ten is in play, but it sure has been a mess getting there.
Pac-12
I gave commissioner Larry Scott and the Pac-12 a rare compliment last week. They had been far more transparent than the Big Ten and then made a deal with Quidel for rapid test kits that each team would have for daily testing. With results coming back in 15 minutes, contact tracing would be much easier. I actually felt they were the first conference to do this the right way. Plus, they contacted the Big Ten about coming along with them together. As they have always done, the two conferences would stick together.
Something happened as they skipped out to the playground to have some fun. The Big Ten was gone. They turned their back on the Pac-12. They were busy trying to catch up to the "big boys" of the SEC. The Pac-12 was left looking silly. And it really wasn't their fault. They postponed their season until they had quality testing in place. They did the safe thing.
To make matters worse, Larry Scott went back to being Larry Scott. First, he waited far too long to contact California and Oregon governors about waving the restrictions on practicing. Both governors did so immediately. His lack of urgency caused teams to lose weeks of practice time. Speaking of lack of urgency, now Scott has put off a conference meeting until Thursday. Coaches and players want to start the season by Halloween. This would give them a chance to be considered for the playoffs. Scott apparently doesn't see the value.
It is pretty obvious the other Power 5 conferences, including the Big Ten, could care less about them. The Pac-12 has become a non-factor. They won't stay that way. The Pac-12 presidents will fire Larry Scott soon enough. USC will eventually fire Clay Helton and find a competent coach. Their recruiting is already on an uptick. Plus people seem to forget that Oregon has become a perennial top ten team.
Take Clemson out of the ACC and you have the Pac-12. Take Oklahoma, oh shoot, leave them in, and the Big-12 is the same as the PAC-12. Take Ohio State out of the Big Ten and other than a bit more depth it looks very similar. It is foolish for the other conferences to treat the only major conference west of the Rockies as an ugly stepchild.
So just a couple weeks ago, the Pac-12 looked united and organized. Now you have discord. Coaches and AD's are furious at the delay. They realize how people are viewing them. They don't want recruits viewing them this way.
I hope the Pac-12 remembers this, all of it, and uses it as motivation to start making progress. Ridding themselves of Scott is a very big step one.
All Aboard
Now that everyone is in, let's call this what it is. A money grab.
Please stop telling me about the College Football Playoffs. Sure they will hold the playoffs. Like all the other sports it will have a huge asterisk. It will make money, and that's what it's all about.
All teams are playing only conference games. With that in mind it will be all about the eye test. Problem is that some are playing 10 games, some 9 games, and some 8. If the Pac-12 gets up and running, they will probably play 7 games. So will 9-1 be viewed the same as 7-0? Will they simply pick the four conference champs(they should)? Will the Pac-12 even be considered?
Not only are they playing all conference games, but some teams have significantly harder schedules than others. Take the Big Ten for example. Looking at their schedules that were released Saturday, clearly they fixed it so Ohio State has an easy path to the playoffs. Other than a tricky Halloween tilt with Penn State, the Buckeyes have an absolute cakewalk. Then there is Nebraska. Here is what a source told the always reliable Dan Patrick.
Big Ten Update: Dan hearing from source that conference officials upset with Nebraska Governor, AD and coach for being outspoken and intentionally handing them difficult schedule that starts out with trip to Ohio State and then Wisconsin at home.

— Dan Patrick Show (@dpshow) September 19, 2020
Here I thought you were allowed to speak out in America. You know, freedom of speech and all. It's right there with freedom to not wear a mask in the…oh, never mind. But punishing the Huskers for speaking out makes you question the integrity of the entire league.
So schedules are far from balanced, to go along with the different number of games being played. Then add Covid-19 issues. What if some games have to be cancelled? It's hard to see that not happening, considering how many have already had to be cancelled. Then there is the possible scenario of a star player, such as Trevor Lawrence or Justin Fields, getting quarantined. How will the committee treat those events?
Conclusion

I hope this goes well, or as well as possible. I hope the upgrade in testing makes things safer. It's a shame teachers, nurses, EMT's, factory workers,and others aren't valued the same as athletes as far as access to rapid testing. But good for the college athletes for being given that safety net.
I haven't watched much, but will when games ramp up. It's what I do. I watch sports. When USC takes the field I'll have the fight song on blast and have my list of Clay Helton memes at my disposal. Just because my fellow fanatics and I will be cheering on our favorite teams doesn't mean this is a good idea. But, again, I hope it works out.
My issue continues to be the utter lack of leadership in college football. We know the NCAA is useless, but there needs to be something. Something that would have brought uniformity to this mess. Something that would have said we are all starting in September. Or something that would have said we are all starting in November. With the revenue garnered by the sport, its popularity, its cultural presence, yet not one ounce of leadership. It's disgraceful. University presidents, conference commissioners, and AD's should all be ashamed.
All of these folks had since March to start planning for best case, worst case, and all scenarios between. Instead, we have a mess. 10 games. 8 games. 7 games. Not playing, then change to are playing. Conference games rather than a regional schedule. Start on time. Start late. Start very late.
One. Big. Mess.
And can we tone down the faux excitement? Hey Louisville, ESPN College Gameday showed up because nobody else was playing. Appalachian State in the top 25? Maybe this should finally be the year to hold off on a top 25. And announcers…you are doing a thrown together Tulsa vs Oklahoma State game, not the national title. Yes, I know your glad football is back but turn it down a notch or three.
I hope that a mess turns into a glorious mess, and by December I don't remember what I was complaining about. Oh, and that the confusion of this season got to be too much, and Clay Helton resigns.
2020 has to give me something, right?
Two Cent Takes
Baseball
~The American League has four teams that have clinched a playoff berth: Tampa Bay, Chicago, Minnesota, and Oakland. Small market teams rising to the top. Should be an interesting playoff tournament with small markets trying to hold off the big boys as joining Chicago will be New York and Houston. Cleveland and Toronto will be the "wildcards". The American League should be very interesting.
~The National League should just fast forward to San Diego vs Los Angeles. I know Atlanta and Chicago don't like that idea. The Phillies will make the playoffs and maybe see their old manager, Gabe Kapler, who may sneak the San Francisco Giants into the party. The Reds are a half game up on the Giants right now. The team to keep an eye on is Miami. They have made a run at the Braves for a division title, and no longer should be considered a fluke.
~One team that won't be invited to the party is Pittsburgh. In line for the first pick in next year's draft, this is how their season has gone.
Josh Bell had another opportunity to try out his new Kent Tekulve delivery. Um…it worked as well as every other throw he's ever made. #Yikes #LetsGoBucs pic.twitter.com/lGLhbNRKNi

— Tim Clark (@TrojanTim66) September 19, 2020
I said it before and I'll say it again. This is the worst Pirates team since 1985. With 15 wins, the Pirates would be on pace for a 46-116 record if this were a full season. Just in case there are still some who doubt my claim of worstitude made above.
NFL

~Lets change it up this week and take a division by division look after two games.
AFC East
Sam Darnold needs to get out of New York or his career will be toast. His coach Adam Gase may get out of New York by October.
Mike Gesicki showed up this week in Miami. When will Tua Tagovailoa? I'm not sold on him, but they are simply treading water with Ryan Fitzpatrick.
I'll say it again this week after a 417 yard performance. Josh Allen is going to be a Star.
Bill Belichick can definitely coach. He has revamped a team short on talent to still be productive. The bigger question is if his son is a serial killer.
Can you really say for sure?
AFC North
Cincy and Cleveland played Thursday. One team has a quarterback who makes his team better. The other has Baker Mayfield.
Nobody uses a roster like Baltimore. Nine players caught passes and four players ran the ball. They weren't all that impressive, yet they still won easily.
Pittsburgh knocked Denver QB Drew Lock out of the game. Did they let up? Jeff Driscoll made a lot of plays in relief of Lock. In the end the Steelers defense won the game with another big sack. The defense is lightning fast, but went a little soft at times Sunday. Ben Roethlisberger is still rusty. His ball is wobbly, and he isn't as shifty as he used to be. He will get oiled up, and has a bunch of weapons at his disposal.
In case you thought Mike Tomlin press conferences couldn't be any more entertaining, check out the Zoom post game media session with a Tomlin.(NSFW)
😂😂😂😂

"LIVE MIC!!"

Tomlin's reaction to this is priceless 😂 pic.twitter.com/li7Bd3IsJf

— patrick (@muldowney) September 20, 2020
The face is priceless. Welcome to 2020, the year of the hot mic. I guarantee you that face will be coming to a screen near you in the form of a GIF.
AFC South
Jacksonville is not tanking. Gardner Minshew may not be Trevor Lawrence, but he will win them too many games this year for the number one pick.
Houston lost another big game. Bill O'Brien is simply not a good NFL coach.
AFC West
Sometimes an injury forces a team to do the right thing. The LA Chargers had to start Justin Herbert due to a Tyrod Taylor injury. Herbert was great, throwing for over 300 yards. The Tyrod Taylor era presumably ends after just one game in LA. Or does it? Head coach Anthony Lynn says Taylor starts upon his return. Talk about stubborn.
In addition to all the other offensive weapons the Chiefs have, they also have on of the league's best kickers. Harrison Butker kicked two 58 yard field goals, including the game winner in overtime.
NFC East
The Eagles stink. I've lost faith in Carson Wentz. He wasn't sacked but threw two interceptions. One was in the end zone while driving for the go ahead TD. That changed the entire game.
Dallas almost joined them in Stink City. Then the Falcons pulled the classic Falcons collapse(more on that later). I still have little faith in Dak Prescott despite the huge numbers.
Saquon Barkley needs to get on the same train out of New York as Sam Darnold. Barkley will be out for the rest of the season with a torn ACL. He is wasting his best years in the New York purgatory.
NFC North
Green Bay looks really good. Everyone else does not. Matt Patricia's days are numbered in Detroit. Kirk Cousins without Stefon Diggs is awful. Mitchell Trubisky quarterbacks Chicago. Enough said.
NFC South
Tom Brady is slowly learning what a weapon he has in Mike Evans. Otherwise he was very average again.
Dan Quinn must be fired in Atlanta. Ever since the 2017 Super Bowl collapse the Falcons have been crap. They outdid themselves Sunday. After having a commanding lead in Dallas most of the day, they simply had to recover an onside kick to win the game. Instead they stood and watched.
The onside kick that set up the comeback!@dallascowboys NEVER QUIT.

(via @thecheckdown) pic.twitter.com/4RtilBgsa3

— FOX Sports: NFL (@NFLonFOX) September 20, 2020
Clearly Quinn's players didn't know the rule. They are allowed to fall on it before ten yards. They didn't, and that's on Quinn. He needs to go.
NFC West
San Francisco was another team hit by injuries Sunday. They took double damage to the great defensive front four. Nick Bosa and Solomon Thomas were carted off. That and an injury to quarterback Jimmy Garappolo could derail the season.
The Rams would win the NFC East.
I was wrong on Kyler Murray. He is going to lead the Cardinals to more wins than I thought. It helps to have DeAndre Hopkins to throw to.
Russell Wilson is a flat out winner, and Pete Carroll loves it.
~My early season announcer rankings:
Jim Nantz and Tony Romo
Al Michaels and Cris Collinsworth
Joe Buck and Troy Aikman
A Penny For My Final Thought…
He's slow.
He's overly meticulous.
He looks in his book. He looks in his book again. He asks his caddy what he thinks. He checks his book again.
He talks nonstop, usually telling anyone who will listen how great his shot was or how he can't believe the ball bounced left or right.
He is annoying.
He's Bryson DeChambeau, and he is the US Open champion.
Winged Foot, as expected, brought everyone to their knees except for DeChambeau. He finished -6, won by 6 shots, and was the only golfer under par.
As you can see, it was as tough as it always is at Winged Foot. That didn't faze DeChambeau.
Despite his annoying tendencies, DeChambeau is revolutionizing golf. He decided to bulk up his body and swing really hard. The goal is to just hit it as far as he can. A lot of young players are following suit, but none have mastered the method quite like DeChambeau.
Chicks dig the long ball. The NBA has become a game of bombing long three point shots. Major League Baseball is home run derby. Football ignites when a quarterback slings a long bomb for a TD. Golf, and specifically Bryson DeChambeau, is following suit.
I must admit that I didn't think his style would play at a US Open course like Winged Foot. Quite frankly I thought he would miss the cut. He didn't. He crushed drive after drive, hitting far more fairways than anyone thought he would. When he didn't, his sheer strength allowed him to extract himself out of deep rough and back into play. It really was quite a display.
Unlike NBC's Paul Azinger, who referred to DeChambeau as a scientist and genius, I'm not ready to anoint him as the next Jack Nicklaus or Tiger Woods. I am willing to admit he is damn good at golf. He may be single handedly forcing golf to make some type of change. Even for professionals, golf shouldn't be driver-wedge, driver-wedge, nine iron from 212 yards.
For now I suggest golf fans sit back and enjoy this new wave of young studs permeating the PGA tour. DeChambeau is 27. Wolff is 21. PGA champ Colin Morikawa is 23. And there are plenty more where they came from. Sprinkle them in with grizzled veterans like Justin Thomas, Jon Rahm, Dustin Johnson, Ricky Fowler, Tony Finau, Xander Schauffele, and Brooks Koepka, with an occasional appearance from old men like Tiger Woods and Phil Mickelson, and you may be seeing the brightest days of professional golf in a long, long time.
I'm afraid to look. Is DeChambeau still thanking all of his sponsors at the podium? Hey, every sport is better with a bad guy.
Golf's bad guy will drill a ball 350 yards, then annoy the $#*@ out of you all the way up the fairway.
If he gets too annoying maybe we can just get Carl Spackler to cut his hamstring.
Just my two cents…