I love baseball.
I already knew that, but this crazy mixed up period we are going through has reinforced that notion.
Don't get me wrong, I love all the other sports, too. I isolate myself to watch USC football. I commiserate with friends via text during every Pittsburgh Steelers football game. Penguins hockey and Louisville basketball get me through the long, cold winter months.
As for baseball, well let's just say it's been a bleak past two score and one year. Hey, I'm sure Abe Lincoln would be okay with me channeling his words. And he surely would sympathize with the pain and suffering a Pittsburgh Pirates fan has endured during that stretch.
Regardless, I love baseball.
I thought, and wrote as much in this column, that the 60 game season would be a bit of a sham. I still maintain there will—and should—be an asterisk next to this season in the record books. However, to date, baseball has done a commendable job not only pulling off a season, but making it very intriguing. Oh, not for the Pirates, of course, but in general terms.
I'm an old school guy, but even I have come around to like some of the changes implemented this year.
My favorite change is the seven inning doubleheaders being played in this shortened season. Continuing this practice moving forward would be a plus. The baseball season is too long.
World Series games in November? No thanks.
Assigning each team five of these shortened doubleheaders would take away one week from the schedule. Owners have proven to be reluctant to throw away ticket sales, but sometimes doing something for the betterment of the game is more important. Yea, I know, I laughed when I typed those last two sentences, too. A guy can hope, right?
I also like the batter limits for relief pitchers. At first I thought this would limit manager strategy, but all it has done is highlight the number of pitchers who should not be in the major leagues. That's an issue for another day.
I am not a fan of the universal DH, though I think I better get used to it. I am also not a fan of the extra inning rule of starting with a runner on second base. I know the intention of the rule, but I'm not sure it works.
One thing that has been used for some time now should be thrown out the window. Instant replay. Check out these two beauties that happened in recent Pirates games. Both calls were challenged. Both calls were upheld as a fair ball home run and a hit batsman.
For the 200th time I'll ask what is the purpose of instant replay??? Just awful. #Pirates #GetRidOfReplay pic.twitter.com/F6vBKZOCGF

— Tim Clark (@TrojanTim66) August 19, 2020
This was upheld by instant replay as a HBP. Again, #MLB, just get rid of replay. It became a joke a long time ago. Now it is just piling on. #LetsGoBucs #BanReplay #MLBIncompetence pic.twitter.com/1s6M3DIqdt

— Tim Clark (@TrojanTim66) August 26, 2020
2020 is weird. 2020 MLB season is weird, too. But with all its weirdness that I had doubts about, it has reaffirmed what I said at the top: I love baseball.
Now a look at the actual 2020 baseball season at the halfway point in this kooky season.
AL East
Tampa Bay is amazing. If you are a small market team, until there is a salary cap, follow the Rays blueprint. Good drafts, shrewd moves, and great analytical analysis has led the Rays to the top.
Glasnow w a career high 13Ks tonight. #Rays https://t.co/smCb3Ew2gh

— David Todd (@DTonPirates) August 26, 2020
The Pirates were kind enough to aid the Rays cause. Above is former Pirate Tyler Glasnow mowing down 13 Orioles. He is joined by leadoff hitter, and also former Pirate, Austin Meadows as key players in the Rays success.
The Yankees, my World Series pick, will be tough if they ever get everyone healthy. They have a lot of good young players and backed up the Brinks truck to acquire a Gerrit Cole to anchor the pitching staff. Luke Voit is blossoming this year at first base.
After GM Dave Dombrowski gutted the farm system, the Boston Red Sox finds themselves out of contention. Little did I think they would be arguably the worst team in baseball.
The Blue Jays are a fun team to watch. If you are a longtime baseball fan you know the names Biggio, Bichette, and Guerrero. These are the offspring of those former stars leading Toronto, and they are joined by names like Gurriel, Hernandez, and Tellez to make a young, exciting group of mashers. When they get a little more pitching look out.
The Orioles are finally starting the slow climb up the hill. Good for them. It stinks to be terrible for long stretches.
Tampa and New York will make the playoffs, while the Blue Jays will enter as a wildcard.
AL Central
The Cleveland Indians are amazing. Since 1995, the Indians have won the AL Central 10 times. They finished second 5 times. That is called being consistently good. They've done it without a huge payroll. Players come and go. The Indians make a ton of good moves. The Cleveland fans don't seem to notice. Again this year a top two finish in the division seems likely.
The Minnesota Twins, and their manager Rocco Baldelli, seem to be experts at using smoke and mirrors. Taking after their elder statesman leader, Nelson Cruz(40), they like to bomb home runs. But there are no real stars. The pitching is decent, but they are the team that makes me scratch my head the most. I see .500 talent, but they are exceeding that record right now.
The Chicago White Sox are going to be fun to watch. Much like a Toronto, they have a bunch of great young talent. Listen for names Moncada, Robert, Jimenez, and Anderson for years to come. Plus they have an ace in Lucas Giolito to anchor the pitching staff. They are neck and neck with the Indians and Twins. The expanded playoffs may allow them a spot at the table.
Detroit and Kansas City will continue building for the future the rest of this season. Detroit has actually been the biggest surprise of the season.
Look for Cleveland, Minnesota, and Chicago to all enter the expanded playoffs at year's end.
AL West
The Oakland A's are amazing. They have a team batting average of .223. They have three starters with an ERA over 4.85. And I dare you to name any of their players. The scene from Major League where they film a commercial stating, "You don't know us, but we're a Major League Baseball team" comes to mind. They are 22-11. Proof, again, that a small market team can succeed. Nobody is quite sure how, but the A's get it done.
The Astros are cheaters. They are also good baseball players. They have earned every pitch that has come at their collective rib cage, but if they can get another pitcher into the fold they will be a tough out.
Part of the success of the A's and Astros can be attributed to playing a lot of games against Texas, Seattle, and Los Angeles. Maybe the Angels should change their first name again, because this one just isn't working for them. How a team with Mike Trout can be this bad is baffling. Plus someone said manager Joe Maddon is a genius. Oh, wait, that was actually Maddon that said that, so please disregard.
The A's and Astros are in, while the rest of these dumpster fires will go home.
NL East
The Miami Marlins are amazing. Despite being the poster team for how not to protect from COVID-19, the Miami Marlins are still in this thing. I feel like an 8 game losing streak is right around the corner, so I'm not betting on the fish being a playoff team.
For a few days the Braves look clearly like the best team. They seem to have the most balanced team. I still think in the end the Braves will win this division, especially if they pull off a trade for more pitching today.
The Phillies offense is finding some consistency and they traded for a reliable closer. Maybe, just maybe, the Phillies will mount a legitimate challenge. Bryce Harper is playing really well, and what's not to like about JT Realmuto? And kudos to management for not hesitating to bring up top prospect Alec Bohm.
The Mets front office is a mess, and sometimes the nonsense in New York can affect the on field performance. The sooner the sale of the team is finalized the better.
Washington started slow last season before winning a World Series. Problem is, this year they only have 60 games and time is ticking. I think the Nats are toast.
Atlanta will win the division, and Philadelphia will enter the playoffs as well.
NL Central
The Chicago Cubs are amazing. I don't know how the Cubs are surviving without resident genius Joe Maddon at the helm. They will have to collapse to not win this pathetic division, although pitching could be a problem.
The Cardinals are always right there, but because of their COVID-19 faux pas they have a ton of make up games. This will tax their pitching staff, and make it difficult to catch the Cubs. A playoff spot certainly isn't out of the question.
When Lorenzo Cain opted out of the season, the Milwaukee Brewers lost their leader and second best player. In addition, Christian Yelich has been awful. That is a bad combination.
The Cincinnati Reds are, well, the Cincinnati Reds. On paper it seems as though they should be challenger. On the field, well, they are the Cincinnati Reds.
Speaking of staying within your limits, there are the Pittsburgh Pirates. The last team in baseball to reach 10 wins. They are doing the right thing in getting a look at a lot of their players. The problem is those players aren't any good. Moreover, what are they waiting on to call up some of their "top" prospects like Ke'Bryan Hayes? As I stated in last week's column, new GM Ben Cherington has his work cut out.
The Cubs win. The Cubs win. And I never doubt the St. Louis Cardinals, so I think they claim a playoff spot. Finally, since someone else has the make the playoffs in the National League, I think Christian Yelich gets hot and leads the Brew Crew into the postseason.
NL West
The Los Angeles Dodgers are amazing. The Dodgers are the best team in baseball, and it's not close. They've got veteran talent, young talent, and pitching depth. They should cruise to a division championship and are still my pick to win it all.
The team with the fun factor at 100 is the San Diego Padres. They have the best young player in the game in Fernando Tatis, Jr. Manny Machado is playing like prime time Manny Machado. And Eric Hosmer is having a bit of a rebirth. They have an ace in young Dinelson Lamet, but could use some pitching depth. When all else fails, the Pads just crush another grand slam. The Padres are playoff bound.
The Rockies are the best of the rest. San Francisco has some hope, as does Arizona. I just don't think the pitching is there for any of these three teams. The Rockies offense isn't as good as you may think. The Giants pitching is awful, which takes them out of consideration. The Diamondbacks have four regulars hitting over .300, including Starling Marte who is enjoying life outside of Pittsburgh. The Dbacks problem is Robbie Ray has an ERA of 7.84, Luke Weaver is at 7.77, and before an injury sidelined him Madison Baumgardner was at 9.35.
The Dodgers are in, the Padres are in, and the rest of the division will try to find some pitching.
So, yes, this weird baseball season has been more enjoyable than I ever thought it would be. I like some of the new rules. I like some of the new uniforms. The coverage has been good, all things considered. I haven't minded not having fans at games.
In less than a month, a crazy expanded playoff will commence. I'm still calling a Dodgers over Yankees World Series, but the extra teams could make things interesting.
I still want baseball to fix itself. A more fair economic system—aka salary cap—is long, long overdue. Still, I'm now glad they quit bickering long enough to put in place some type of season.
I'm a Pirates fan, and I certainly hate where they are at as an organization. They have been awful all season. This is the worst Pirates team since 1985, yet I've watched every one of their wretched games because…
…I love baseball.
Two Cent Takes
NHL

~The Pittsburgh Penguins pulled the trigger quickly after being embarrassed in the bubble. GM Jim Rutherford traded more high end draft picks and prospects to try and win now. Gone is the number 15 pick in the upcoming NHL draft along with forward Evan Rodrigues, forward Filip Hallander, and defenseman David Warsofsky. In return the Pens acquired forward Kasperi Kapanen, forward Pontus Aberg and defenseman Jesper Lindgren.
Giving up a high pick and a good prospect in Hallander is, once again, a high price. The Pens will try an turn Kapanen into the player they thought they had drafted years ago. He brings much needed speed to the table and adds scoring punch to the top three lines.
With Sidney Crosby and Evgeni Malkin still playing at a high level, it makes sense to try and go win another Stanley Cup now. I think this puts extra pressure on head coach Mike Sullivan to find a way to put all these pieces in the correct spot to maximize their chances.
If they don't win now, they certainly will have problems in the future after gutting the system.
~Two teams who haven't sniffed the Cup in a long time are battling. The New York Islanders lead the series 3-1 over the Philadelphia Flyers. The Flyers are probably going to need Travis Konecny and Claude Giroux to start scoring some goals, and fast. Neither has one in these playoffs. On the other side of the ice, Islanders coach Barry Trotz is proving to be a great presence on the bench. Remember, the Islanders were only a fringe playoff team when the season was halted back in March.
College Basketball
~How does LSU coach Will Wade still have a job? I know the NCAA is incompetent, inconsistent, and often times incorrect in their enforcement of infractions. But this guy is caught on tape and text messaging giving cash payments to 11 prospective players. I know LSU thinks they may still sway the infractions committee, but why would you want this guy on your sideline? The answer probably lies in the fact that the football program is also under the gun for a former booster, now behind bars for embezzlement, giving impermissible benefits to players and coaches. Obviously the administration doesn't care; the definition of lack of institutional control.
~Lute Olson passed away last week at the age of 85. Olson was a fantastic coach, and I'm not sure he ever got the credit he deserved. He looked the part of a college professor, always well dressed and gentlemanly.
Olson's first year of coaching was a tidy little 24-2 season at Long Beach St. He headed to Iowa where he turned the Hawkeyes into a perennial winner with 5 straight 20 win seasons and NCAA Tournament appearances(1 Final Four). Then he simply dominated West Coast basketball from 1983-2006 as coach at Arizona. After one losing season to start he never missed the NCAA Tournament again. He won 11 PAC-12 titles, made 4 Final Fours, and won 1 National Title. If there is one knock, you could argue his teams should have done more in the postseason. Otherwise, Olson was pure dominance.
College Football 
~Can we please turn down the fake excitement about having a college football game to watch. It was Austin Peay and Central Arkansas for crying out loud. If it's Ohio State vs Cincinnati or even something like Colorado State vs Wyoming I would get it. Those are Division I teams and would feel like the start of a season. This felt far more like a high school game. Plus, in the best of times I hate when they play August football. So turn down your fake excitement meter and let me know when there is a real game.
~Ja'Marr Chase, All American WR from LSU has decided to opt out of the season. He is the biggest name opting out from a team still intending to have a fall season. Some playing, some not, Conference games only, few or no fans, and a sure first rounder makes this decision perfectly understandable.
~The Big Ten apparently decided to toss around the idea of starting their season at Thanksgiving. Maybe they think tryptophan will reduce the risks associated with COVID-19 that concerned them enough to postpone their season. Here was a tweet that says it all to me.
One source described the situation as "a circus," and said some coaches won't listen to their presidents. "Everyone is pushing their own interests."

— Pat Forde (@ByPatForde) August 28, 2020
A circus. Yep, that sounds about right. But it is the last sentence that is the real problem, and not just for the Big Ten but all of college football. It's all about money and self interest.
At this point, I don't know who is right—the cautious conferences or the forge ahead conferences. Only time will tell. I do know this. It is a high crime that college football, with all its power and marketability, doesn't have a governing body to run the sport so that we would have a consistent approach to whatever this season is going to be—or not be.
While I was typing that sentence Mark Emmert and the NCAA were like…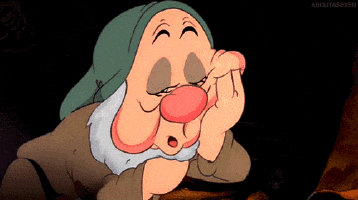 PGA

~The PGA Tour is having a fantastic year, considering all there is to deal with. The latest spectacular show was put on by  world number one Dustin Johnson and world number two Jon Rahm. First up was Johnson, who needed this putt on 18 to force a playoff.
Dustin Johnson to force a playoff. Ice in his veins. pic.twitter.com/ktvudrerjg

— Barstool Sports (@barstoolsports) August 30, 2020
Then it was Rahm's turn on the eighteenth, the first playoff hole, to return the favor.
This is the equivalent to a full court buzzer beater. Holy shit Jon Rahm you psychopath pic.twitter.com/fW7591CAhD

— Fore Play (@ForePlayPod) August 30, 2020
Spectacular. Next week at the FedEx Championship the same two guys will be paired up. To quote Bart Scott, "Can't wait!"
A Penny For My Final Thought…
The "stick to sports" folks had a field day last week.
That's the popular refrain from people who don't want athletes, particularly black athletes, to speak about anything but the game they play. They make ten tons of money and have no right to speak out about inequality and injustice. You know the type. They are all over social media.
Another unnecessary police shooting of a black man—7 shots to the back—is the latest event to throw the country into more upheaval. Many have spoken out in the past week, reminding that this is a recurring problem that doesn't seem to get better.
Professional athletes have a platform. They chose to use that platform last week to send a message. It would be easy for them to do nothing, so as not to risk all that money they make. Instead they stood up for what is right. They stood for a cause.
Unfortunately there are still a lot of people who are close minded to the issue. It's fake. It's overblown. It doesn't exist. Stick to sports. All you are doing is putting on some fake outrage for public perception.
Watch and listen to these comments. Does any of this seem fake or staged?
New York Mets Dominic Smith.
Incredibly raw, powerful, emotional reaction from Dominic Smith after tonight's Mets game. If you have a heart, this is a must-watch interview. pic.twitter.com/mK7eBWvbBj

— Anthony DiComo (@AnthonyDiComo) August 27, 2020
He also puts his money where his mouth is.
A lot of players speak out none moved me like Dominic Smith. Real words, real emotions pic.twitter.com/6mJf8xuJyZ

— Sal Leto (@SalLetoFF) August 27, 2020
Chris Webber.
Wow. This message.

An emotional Chris Webber speaks from the heart. pic.twitter.com/7eByd0gO5s

— Complex Sports (@ComplexSports) August 26, 2020
The Milwaukee Bucks.
This is good.
A clear, defined, unified statement with an actionable quotient to it that they'd like to see met. Well done.

— Colin Dunlap (@colin_dunlap) August 26, 2020
All articulate. All on point. All heartfelt. Some said it wasn't specific enough. What is the end game? Enter the Baltimore Ravens.
Statement from the Baltimore Ravens: pic.twitter.com/Q8kOzQ8qAZ

— Baltimore Ravens (@Ravens) August 27, 2020
Professional athletes using a platform to spread a message far and wide.
Sure, they make too much money. I've said it here a bunch of times. Yes, I'd rather be talking about their sports accomplishments. I also understand they are human beings, and most of them—like Dominic Smith—try to be positive members of their communities. And when there are issues as important as this, athletes have the ability, and dare I say responsibility, to reach a far larger audience with their message. Good for them.
Maybe the "shut up and play" crowd is angry because they don't like the message. And isn't that what is at the heart of this issue? Far too many people still don't see it as an actual issue.
My golf partner and I had an interesting day a couple of weeks ago. We have spirited conversations while we play, and on this particular day he told me he didn't think systemic racism was a thing. "Overblown," he said. 
He backed his stance by quoting Herschel Walker, a black athlete, who suggested that since we had a black President we couldn't have systemic racism. I said, "You mean the President they insisted on seeing a birth certificate from?"
Later in the round we caught up to a group. While playing through we were treated to a conversation where they made numerous racial comments and used the "N word" at least four times. My friend was flabbergasted. He didn't think that kind of stuff existed. He didn't hit many good shots after the incident. 
My friend was willing to have a conversation, and he was able to be affected by disgusting comments. Unfortunately, many are not.
Again, isn't that at the crux of the issue? People that don't know, think they know. Those same people are unwilling to listen and learn from people who do know.
Allow Pete Carroll to emphasize my point.
Pete Carroll dropping bar after bar after bar

"Black ppl know the truth, White ppl don't know" pic.twitter.com/KGRtUf4RO7

— WeeklyNewsical (@WeeklyNewsical) August 29, 2020
At least be willing to hear people out. Be willing to listen. Be willing to learn.
Nobody better than my favorite wordsmith to wrap it up for me this week. Athletes have a platform and it should be okay for them to use it.
We stand united. pic.twitter.com/I3OcL50qjz

— Pittsburgh Steelers (@steelers) August 28, 2020
Just my(and Mikey T's) two cents…